You have a great branding strategy and it's working well enough.
No need to mess with it, right?  
The truth is, your branding strategy may be working fine, but it's always important to stay ahead of the curve. Trends change, and if your branding doesn't keep up, you may start to lose customers. In a world where competition is fierce and customers have so many choices, you can't afford to rest on your laurels.
So, what exactly does a rebrand entail?
A rebrand is a significant overhaul of the way your brand looks, feels, and what it represents. When done correctly, it will update your image, refresh your look, and help you communicate your company's values and message more effectively.
Of course, you shouldn't confuse a rebrand with a seasonal rebrand. While a rebrand updates how your brand looks, making it noticeably different from how it used to be, a seasonal rebrand updates your brand for a limited time. A seasonal rebrand helps to boost sales during a specific time of year and form a connection with consumers that goes beyond the usual brand recognition.
A rebrand can do more than that — you can attract more customers, increase engagement, close sales more easily, command premium prices, and increase brand recognition and value, for example — but only if it's done for the right reasons and with a lot of forethought.
Back in 2006, Mastercard managed to transform an iconic logo into a cluttered, confusing, and unsightly mess, which allegedly cost a whopping $1.5 million.
It may be one of the biggest financial brands in the world, but Mastercard is proof of why a rebrand requires a lot of thought. In this case, a brand refresh would have sufficed in place of a complete overhaul that damaged brand image.
In 2018, Weight Watchers lost 600,000 members after a rebrand. While the brand may have been right in wanting to keep up with the online 'body positivity' movement, it failed to consider the damaging effects of changing names.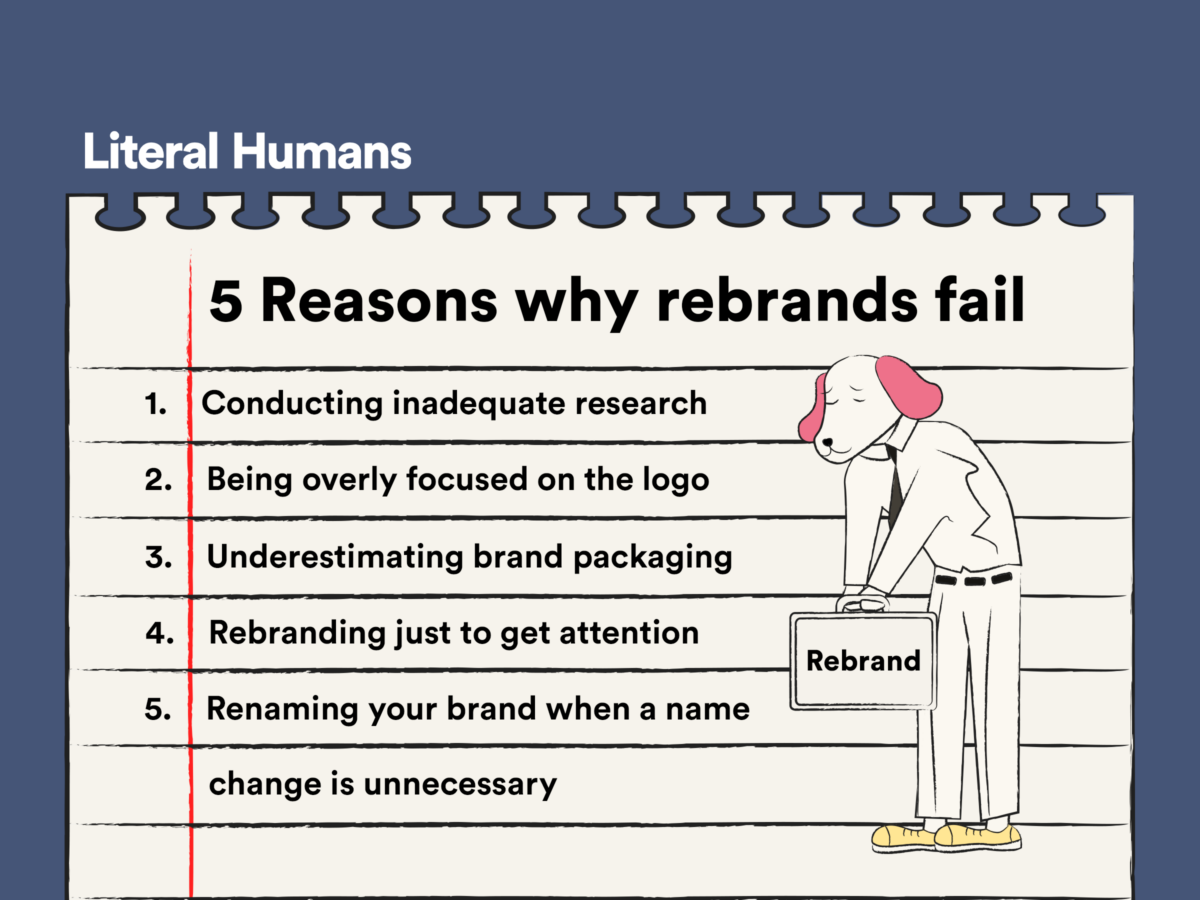 If you're considering conducting a rebrand for your company, this guide will help you do it right, starting with when you should have a brand makeover.
Top 8 reasons to rebrand your company
When Formation Ventures recognized that they were not doing a great job of reaching their core audience with their out-of-date branding, they knew it was time for a revamp.
Formation Ventures approached the Literal Humans team, and together, we updated their brand messaging, brand visual system, and website design.
The results:
After the rebrand, Formation Ventures launched their presence on Instagram, growing their following from

0 to over 3,000 accounts in 30 days

.

The brand has managed to engage its target audience. You know you've hit the mark when your Gen Z audience tells you that your brand has "such a cool look and feel."
Why the rebrand worked:
We didn't skimp on research. The entire rebrand strategy was based on robust user research.

The rebrand was based on a valid reason. In fact, one of the top reasons for rebranding a company — outdated branding.  
Here are seven more scenarios that may warrant a rebrand: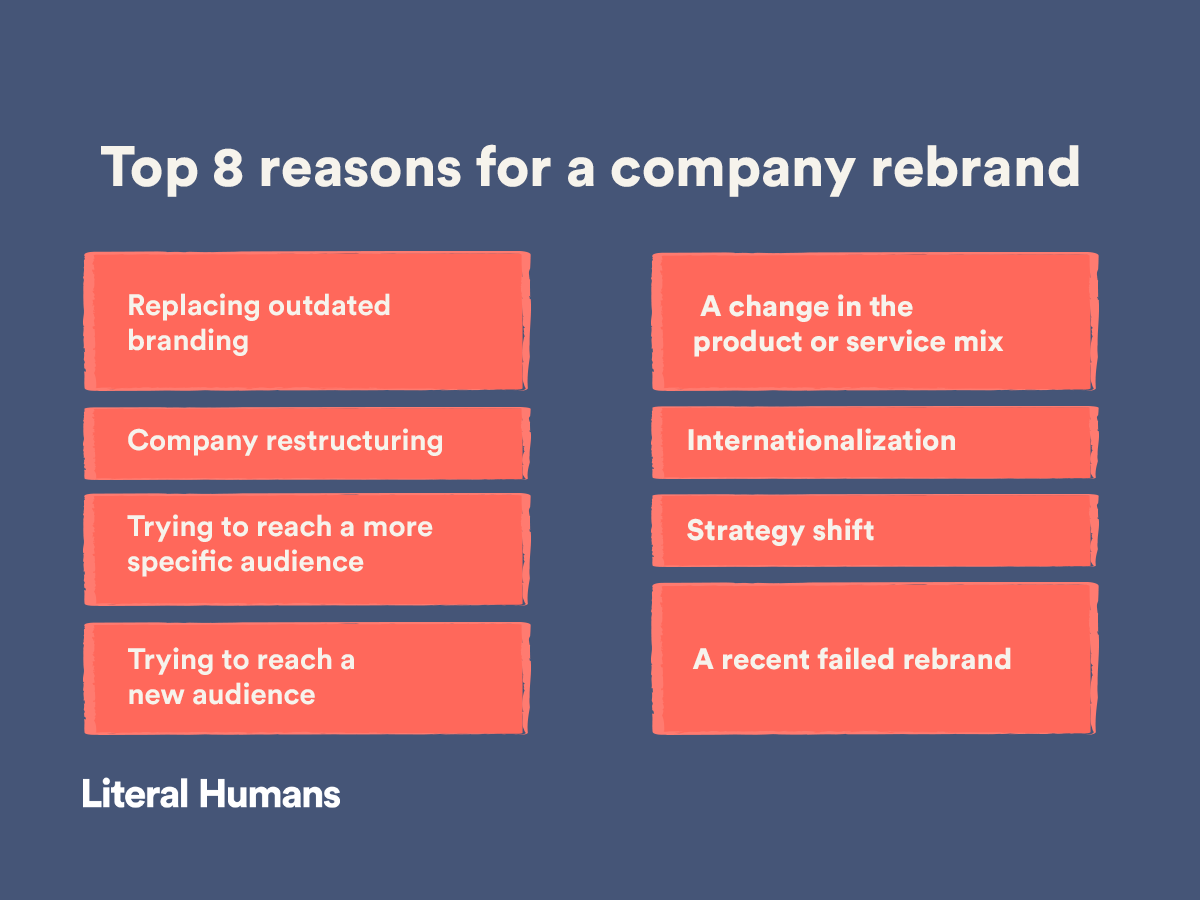 Your company restructures
A merger, acquisition, or demerger represents a new chapter for a company, which may need to be marked by a new brand look, tone, and feel. A rebrand is usually one of the fundamental elements of a successful brand merger, acquisition, or even a demerger.
In the event of a merger, the merged brand most often needs to reinvent itself to signify the merger and forge a new path forward — either by creating a completely new name or by using one of the merging parties' names. In the event of a demerger, the party that splits off is required to rebrand to distinguish itself from the original company.
Either way, when your company restructures, you will probably want to refine your mission, brand story, and messaging.
When Budweiser's parent company, Anheuser-Busch, was purchased by Belgian firm, InBev, the new company needed to assure both customers and investors that the new ownership would not have a negative impact on the product or market share.
The new company literally merged the two company names and imagery to form Anheuser-Busch InBev (ABInBev).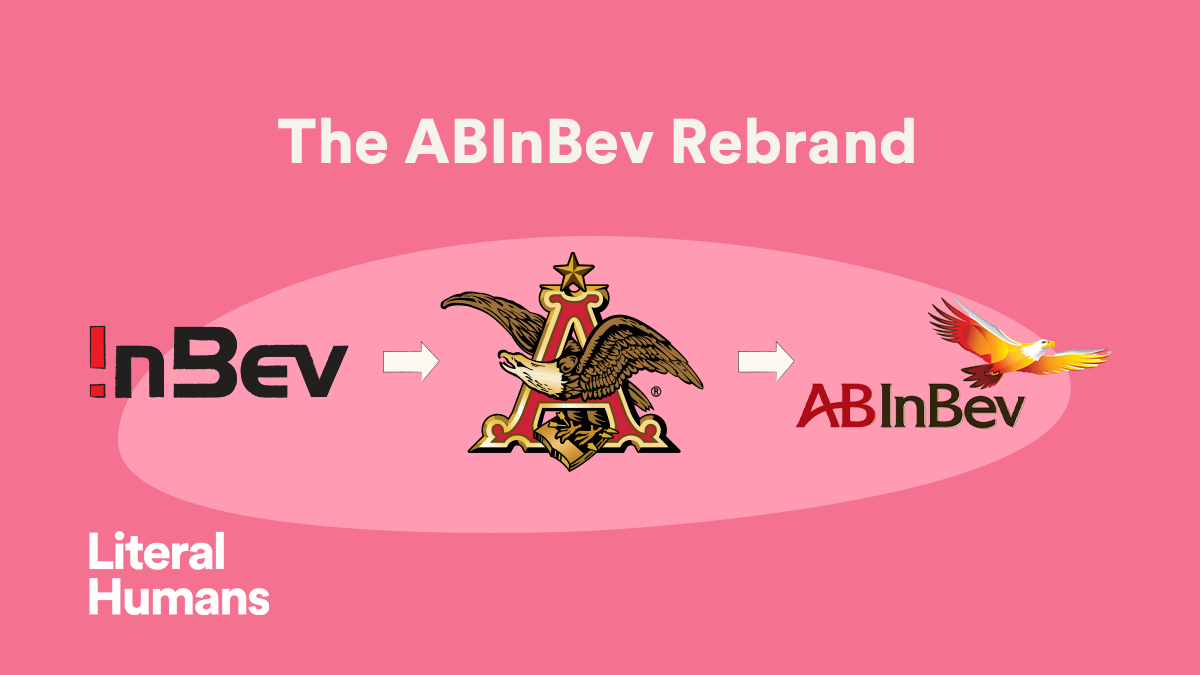 The rebranding paid off because it:
Explicitly transferred the good values from both merging companies to the new one; and

Preserved positive feelings among customers, employees, investors, and other stakeholders
Today, ABInBev has: around 200 breweries, over six million customers, and an organic earning growth of close to 12%.
That said, rebranding is all about strategy and figuring out what works for you as shown by L'Oréal. The company has acquired over 30 international brands, but it always keeps itself separate from the acquired brand.
Instead of drastic rebranding after acquisition, L'Oréal's rebranding strategy focuses on investing in each brand's brand identity design. By rebranding each acquired company based on its unique identity, L'Oréal has managed to leverage its growing list of diverse acquisitions to reach new consumer groups, secure innovative technologies, access niche markets, and dominate the beauty world.
You want to reach a more specific target audience
Trying to market to everyone is the perfect way to fail.
Similarly, if your brand isn't speaking directly to your target audience or ideal customer profiles (ICPs), then you also risk failing badly. In such cases, you need to rebrand to ensure that your brand identity resonates with your audience.  
Rebrands done to target a specific audience often turn a neutral-looking brand into something a lot more evocative and relatable, making it easier to effectively communicate your value proposition to your target audience.
Will this type of rebrand exclude other people? To an extent, yes, in that the brand doesn't directly market to them. This is undoubtedly a worthwhile sacrifice, though, and one that often paves the path for a bright future in the market.
You're going after a new (not necessarily larger or smaller) audience
Quick question: are you the same person you were ten or even five years back?
Probably not.
We humans, at least most of us, constantly experience some kind of growth, and so change is inevitable.
Brands work the same way. They experience growth and change, and this sometimes warrants refocusing on a new demographic or target audience. When this happens, a rebrand is usually necessary.
Take Tiffany & Co., for example. The company may have spent a good few decades being popular as a classy brand, conjuring images of the late Audrey Hepburn and the iconic "Tiffany blue box," but its client base was getting older by the day.
To remain relevant. Tiffany & Co had to get the attention of a younger buying audience. So, rather than clinging to its existing identity, the company decided to save itself from decline with a bold brand reinvention. The "Not Your Mother's Tiffany" slogan is proof of just how edgy this new branded look is.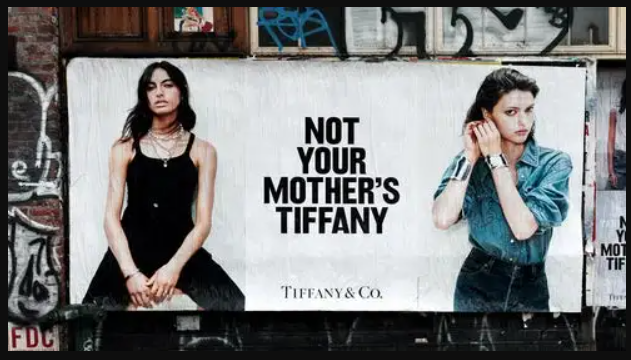 Naturally, the rebrand has been controversial—moms who grew up with the original Tiffany & Co. brand, with its elegant and muted colors, have not taken too kindly to the new branding. However, the brand's message is clear: focus on marketing to younger people, and emphasize what distinguishes you from the culture, values, and brands that your target audience associates with their moms.
Your service or product mix has changed
Markets and products change, business evolves, and audiences shift.
When there's a lot of change taking place, it may be time to consider a rebrand. 
When Instagram launched in 2010, it was a photo-sharing service. Six years later, the brand had over 400 million users, a growing focus on video, plenty of new features, and a suite of sub-brands, including Boomerang and Layout. A rebrand to reflect this change was necessary.
Instagram got a complete branding overhaul, with a new logo, app icon, and an app and website redesign.
The brand:
Didn't completely cut ties with its old camera logo, they just made it more minimalistic with a new flat and clean feel.

 

Made the app simpler, putting more focus on user content and advertisers.

Gave both the app and website a more

organized layout and easier-to-use interface

Better integrated its sub-brands in a more intuitive, user-friendly way.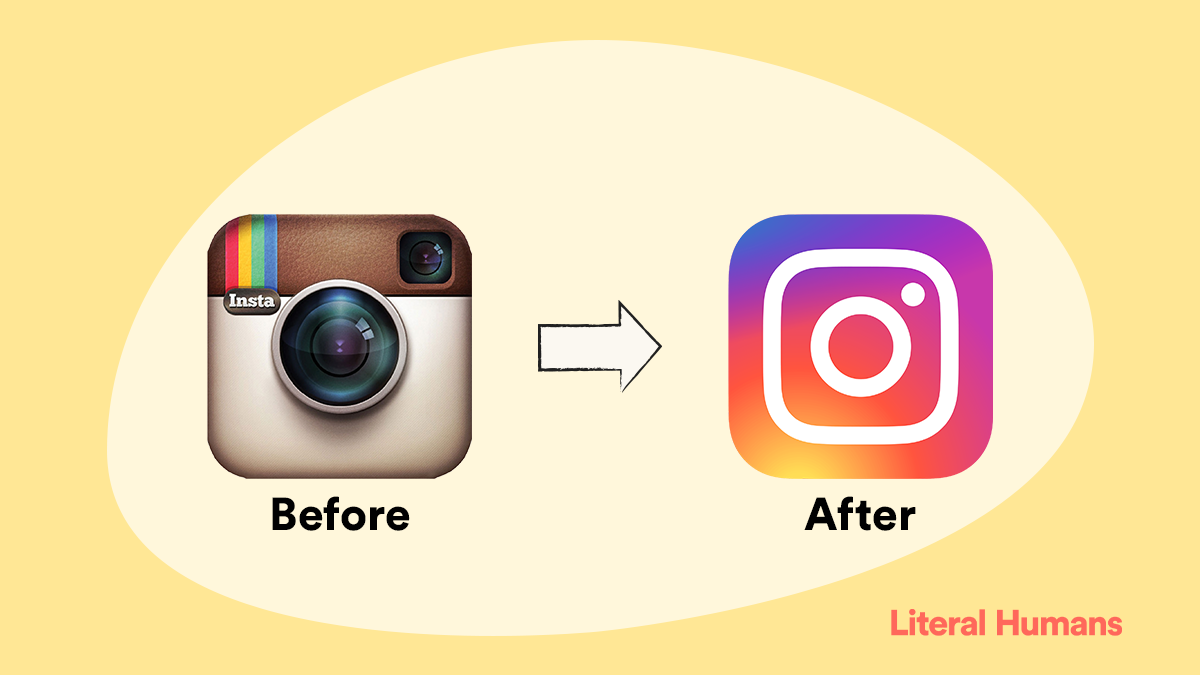 The result:
The 2016 rebrand played a big role in taking Instagram from between 400 and 500 million users to over one billion by June 2018.
You're going international
When a brand goes global, altering certain aspects of brand identity is often necessary. This is because a brand identity (the look and feel, brand colors, and brand name) that sells in one country due to cultural associations may not elicit the same associations in another. In certain regions, a brand name may even conjure up the wrong associations.
Twix is a good example of rebranding when going international. Twix chocolate bars were originally called the 'raider' bars when the company operated only in the UK market. When they expanded to the US, they renamed themselves Twix, combining 'twin' and 'bix' (British shorthand for biscuits) to create a shorter, 'snappier' name that most of us now know the product by.
You've had a strategy shift
Many companies start as small businesses. But growth tends to occur over time, defining new markets, ushering in new challenges, and creating new products or services. During this time, business strategy may shift to give a new vision for the company.
When a company finds this new "why," it may be time for a brand makeover.
In some cases, a business strategy shift is necessary to negate the impact of a bad brand reputation. A rebrand may also be necessary in such a situation. 
In 2017, Uber was embroiled in several scandals, including allegations of sexual harassment, a "macho" office culture, and multiple senior executives resigning from the company.
One of the steps the company took to rebuild its reputation was to rebrand. This rebrand included a new simplified logo, an updated color palette, a new custom typeface, as well as an improved in-app experience.
Parts of the rebranding process:
Uber reasserted itself as more than just a tech startup, but a global mobility platform by basing its logo, typography, iconography, and other visual elements on roadside and navigation imagery.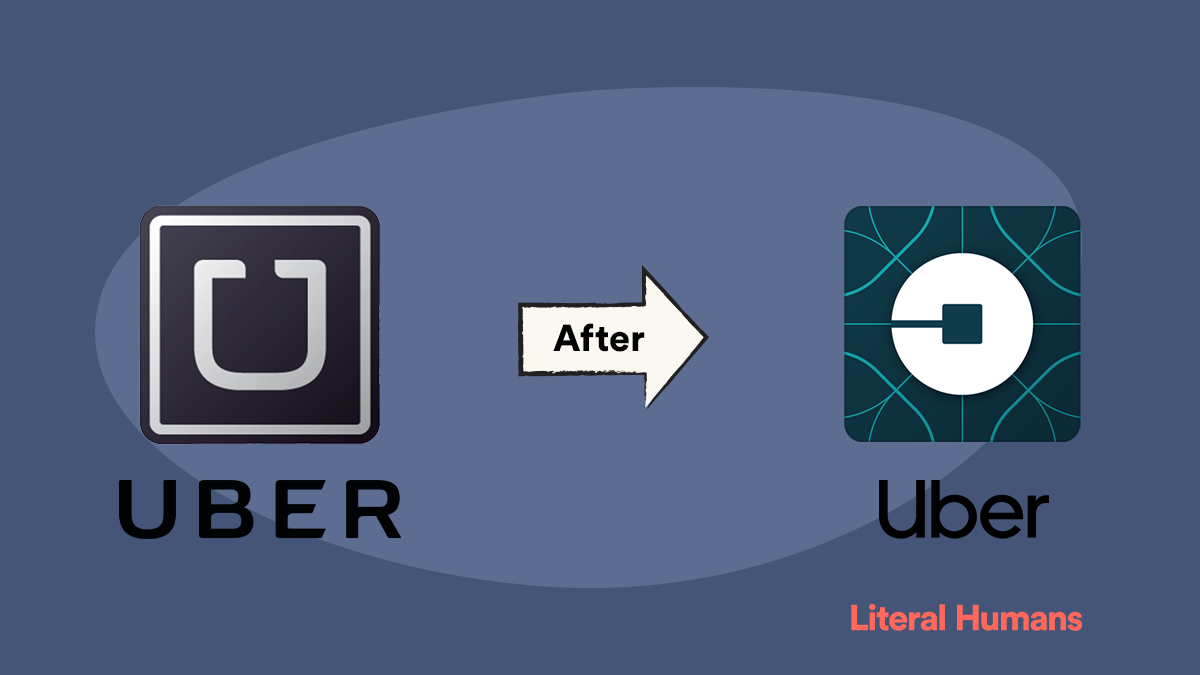 To help dispel the negative image which had started to surround the brand, Uber changed its brand colors. For example, the brand introduced safety blue to calm and reassure users.

The brand's photography

and tone of voice became much warmer and more inspirational.
The entire process was about putting the audience first and creating a sense of connectedness.
Why the rebrand worked
Uber interviewed people all over the globe to see how their brand was perceived in different markets and to shine a light on where the disconnect was between users and the brand. They built their visual brand and brand messaging strategy based on research, not assumptions.
There's a conflict with stakeholders over a recent rebrand
When the internal and external stakeholders of a company aren't happy with a rebrand, they may influence company leadership enough to rebrand the company a second time, with hopefully better results.
What could make stakeholders unhappy?
A rebrand could stand in the way of the organization's success, for example. This was the case when Gap rebranded in 2010. The brand's decision to change its logo received immediate protest on social media. Over 2,000 Facebook comments and nearly 5,000 Twitter users criticized the decision.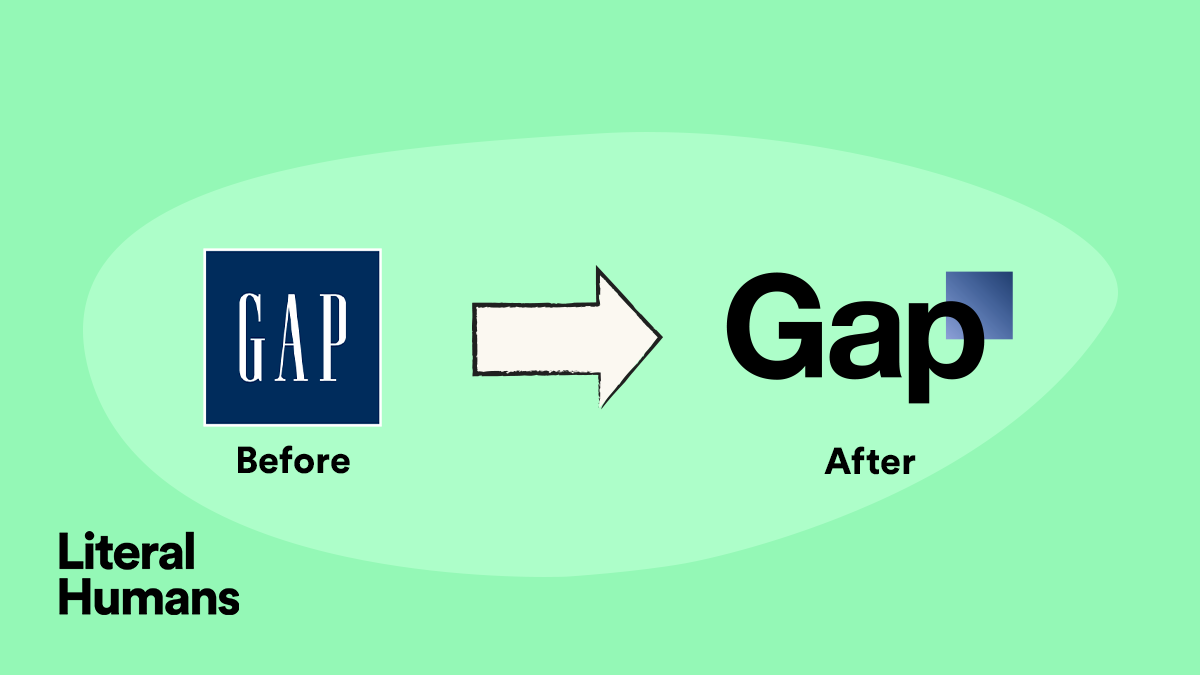 Within a week of its rebranding, Gap decided to go back to its original logo.
Another scenario that may prompt a rebrand reversal is when a brand's new style is too similar to an existing brand. Multimate, a Dutch construction company, faced a lawsuit against IKEA when the former's rebrand made the two company's brands too similar. Multimate was ordered to remove its logo across any touchpoints within six months.
Knowing when to rebrand will help ensure your success, but you should also keep some rebranding best practices in mind.
Best practices for rebranding your company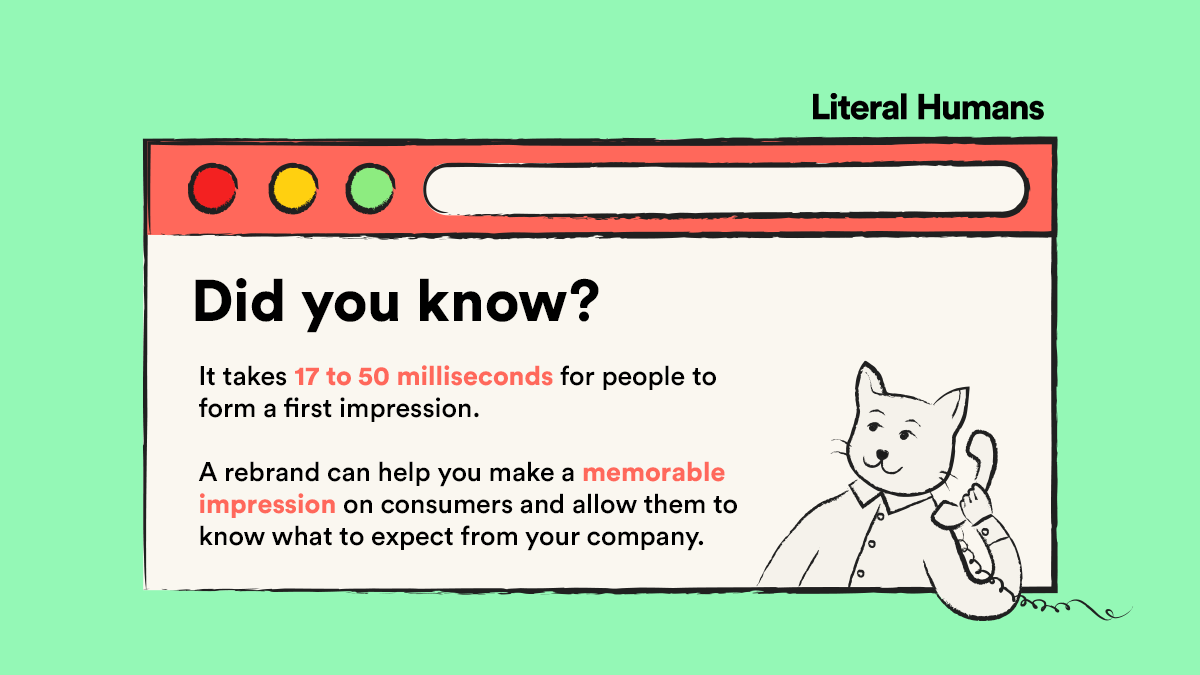 As already highlighted, getting the most out of a rebrand requires doing it properly. Here are some best practices to help you do just that.  
Get buy-in from leadership.

It's critical that upper management understands the value of rebranding and is willing to play an active role in the process.

Communicate your rebranding reasons.

Make sure your team and other stakeholders understand the reasons behind your rebrand, as this will influence every decision they make throughout the process.

Define your goals, budget, and timeline.

Setting specific, achievable goals for your rebrand, as well as a realistic timeline and budget will make it easier to stay on track and get the most out of your efforts.

Research very well.

Take a deep dive into understanding your target audience, and then take a step back to examine how your company's goals and mission align with your audience's needs and wants.

Consider all the key components of a rebrand.

Rebranding goes beyond the logo. You will also need to focus on your

brand mission and values,

brand guidelines

, brand messaging (including your voice, tone, and tagline), and brand visual system (including your brand colors, typography, and photography).

Introduce your rebranding efforts methodically and thoughtfully

. Keep your customers engaged and informed as you launch your new brand experience.
So, you want to rebrand. Now what?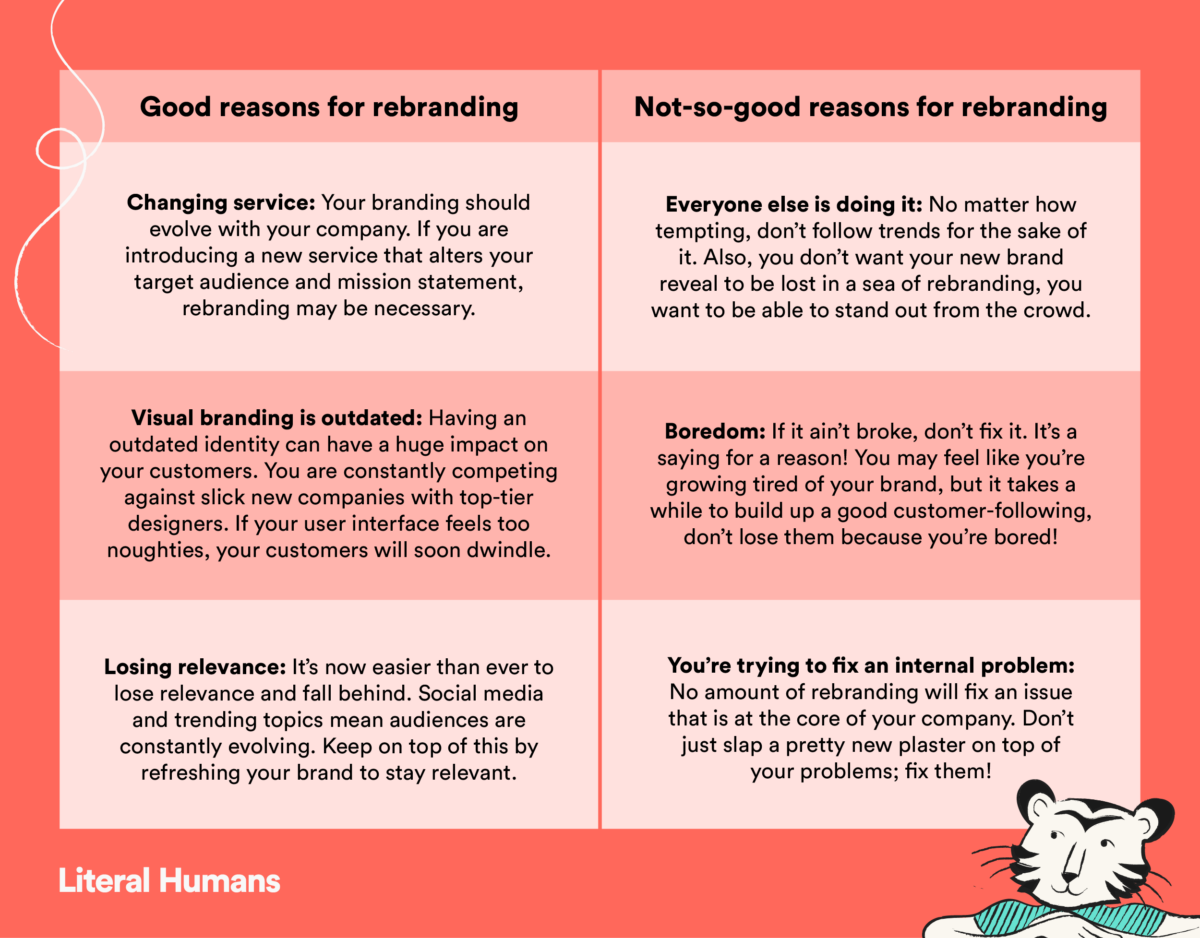 A strong brand identity is one of the most important investments you can make for your company's long-term strategy, and it can pay the most long-term dividends.
Rebranding is often necessary to maintain brand strength and give your business better positioning within the markets. Granted, it's a lot of work, but it's worth the effort when done correctly.
And how do you rebrand the right way?
You need a well-developed branding strategy.
The great news is that this is one of the things we specialize in here at Literal Humans. We can help you gather all the insights vital for a successful rebrand, and develop a strategy that takes you from concept to finished product. Plus, we bring lots of creative energy to the process.
Want to know more? Book a call with us.