Who will create the best content strategy for my company? Should I build a content marketing team, partner with an agency, or hire a freelancer? This is a question most CEOs are asking as they hire for marketing positions.
Anyone can create and share content. But that doesn't mean you should do your own content marketing or you may waste at least 25 cents for every dollar you spend, according to recent research by Gleanster and Kapost.
The decision on who creates your content is so important because 84% of consumers expect brands to provide content that solves a problem while remaining entertaining.
Your customer is well-informed and smart. Before buying a product or service, they read reviews and conduct thorough research. They want brands that educate, not just sell to them.
In other words, content matters and only the brands that get it right will enjoy the highest ROI.
So, how do you make the decision?
In this article you'll learn:
When to build an in-house team
The problem with in-house staffing for content marketing
The true cost of in-house staffing
8 Reasons to partner with a content marketing agency
The financial cost of partnering with an agency
Agency vs. Freelancers vs. In-house: Why a hybrid solution is best for your business
When Should You Build an In-house Content Team?
The traditional method of building in-house teams to create and manage content is being overturned with flexible and scalable solutions only freelancers and agencies can provide. However, nothing is ever a one-size-fit for all brands. Here are three situations that may require an in-house content team.
Well-funded startups and nonprofits
Startups and nonprofits that just received a massive capital injection have the funds to build a great team. Venture-funded companies are expected to have an in-house team to help them scale quickly, which is part of the reason for receiving funding.
You can also entice the best talent by offering equity in addition to attractive salaries to poach them from competitors.
Access to talent
Is your business located in a city where you'll have access to talent? Do you have a vast network through your personal connections on social media platforms like LinkedIn? You could leverage these advantages to build an in-house team.
You can also entice the best talent by offering equity in addition to attractive salaries to poach them from competitors.
Extremely niche market
Some products are so niche and disruptive, that only an in-house team working closely with the product division can execute a content strategy.
It's harder to find a content marketing agency with content experts that specialize in very narrow or obscure markets.
Examples include:
Enterprise-level innovative products that require technical expertise
Obscure markets that depend on specific marketing channels and can't be scaled in a predictable way. For instance, brands that depend on seasonal cycles, government contracts, and in-person meetings to land clients.
The Problem with an In-House Content Marketing Team
Difficulty finding the best people for the job
Recruiting the best talent is getting harder by the day. A UK Deloitte study revealed that only 25% of digital leaders believe that their workforce has the expertise to execute digital strategies.
Another collaborative study between MOZ and Fractl found that as demand for marketing skills increases, it's becoming more challenging to find the right mix of analytical and creative skills in candidates.
Inability to scale with a small team
There's only so much work a small in-house content team can handle before they feel overwhelmed and quality suffers. To ramp up your output, you'll need to hire additional team members, which is not only expensive but time-consuming.
The True Cost of In-House Staffing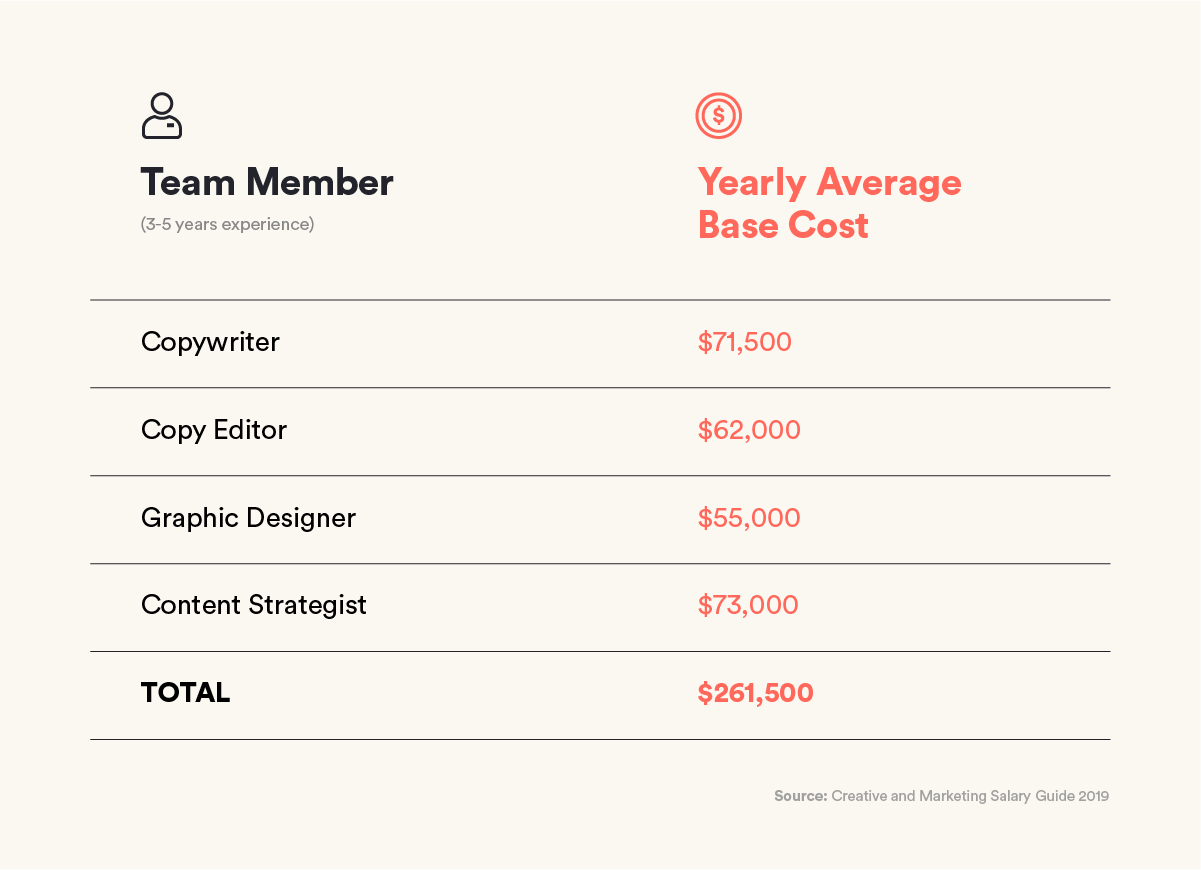 Recruitment costs
When factoring recruitment costs, it's important to include the time spent creating a job ad, reviewing applications, interviewing applicants, and training successful applicants. On average, you'll be spending around $4,000 to fill a position in the US according to a Bersin by Deloitte report.
Salaries
There's no single salary for all content marketers. Salaries vary based on location, type of industry, and experience.
But as the Robert Half Salary Guide for 2021 reveals, the salary range for a content strategist in California is between $82,170 to $151,800. If this figure seems high, consider that most content marketing jobs are in cities with higher costs of living.
For small to mid-sized businesses, you'll need a copywriter, graphic designer, editor, PR specialist, and content strategist. The annual cost for this team ranges from $220,000-$420,750 a year.
Larger companies will spend roughly one million dollars to build an in-house team with more writers, PR staff, and graphic designers. It doesn't include the cost of payroll taxes (roughly 10% of each employee's base income) and other benefits.
Lack of specialization
Very few companies can build an in-house team with specialists in each area of content marketing. The usual scenario is for writers and strategists to wear many hats and be knowledgeable across many fields.
This is not a sustainable way to build a content team. You need people who excel in social distribution strategy, creating artwork, community building, analytics, and project management. These skills are crucial to a well-functioning content engine and can't be performed by a writer exclusively.
Need for training and upskilling
As best practices continue to evolve in marketing, so should your team's knowledge. You'll need to budget funds for regular training and upskilling to ensure your team stays ahead of the curve.
According to the 2019 Training Industry Report, here's the breakdown of training costs for US companies:
Small businesses – $1,511 per employee
Midsize companies – $829 per employee
Nonprofits – $1,889 per employee
Large companies – $1,511 per employee
However, when you hire a content marketing agency, you don't pay for training costs as it's already baked into the overall monthly retainer.
8 Reasons to Partner with a Content Marketing Agency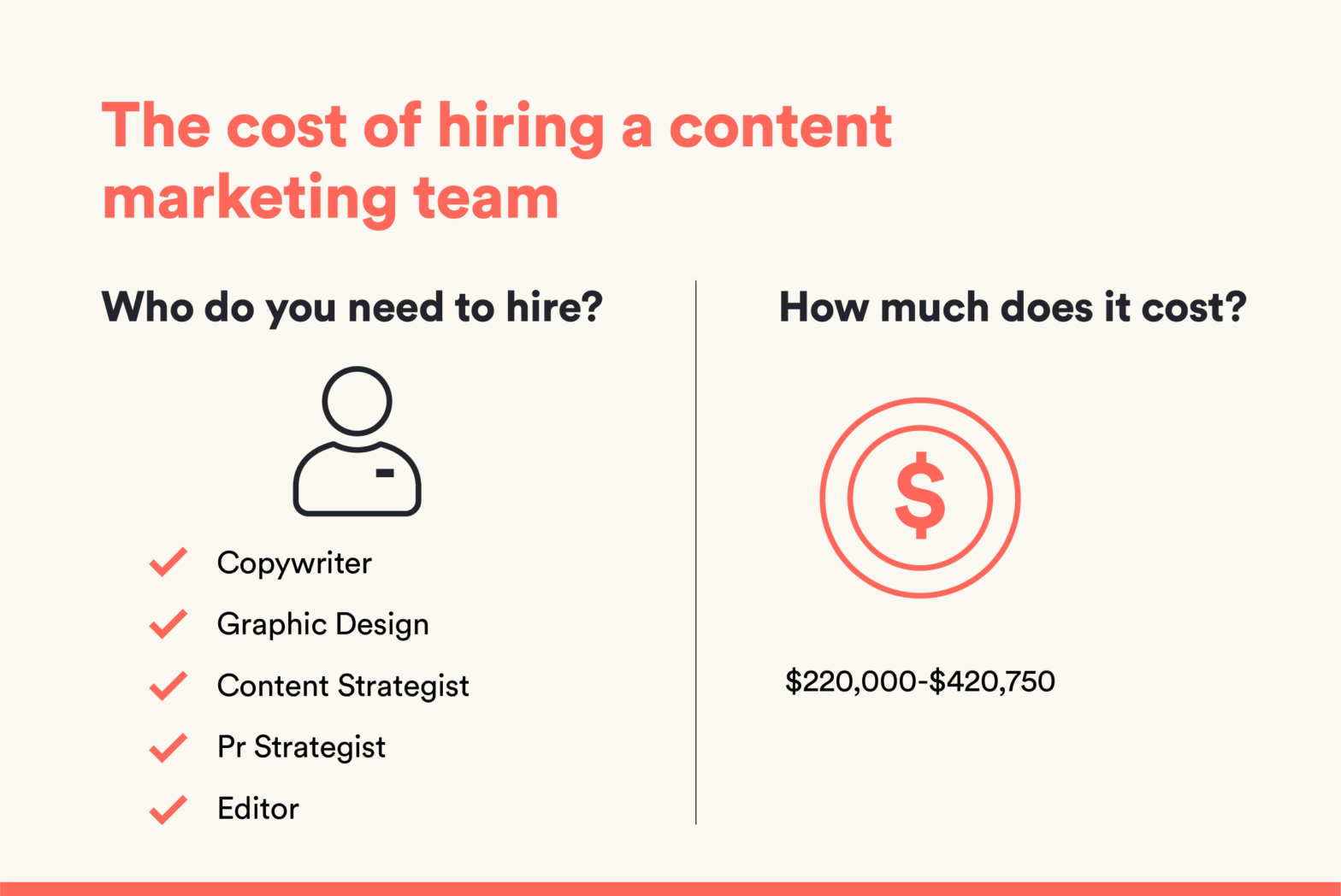 Results-oriented partnership
The circumstances between hiring an employee and working with an agency are different. An employee is part of a hierarchy where orders flow from top to bottom. Their strategic contribution is limited if they aren't occupying a management position.
Conversely, everyone at an agency is result-driven. They understand that the agency's ability to fill the sales pipeline hinges on visible client results. If they don't deliver, they lose the client. Incentives are aligned and there's a higher level of efficiency that's not achievable with an in-house team where things move more slowly.
Content marketing teams also provide an external perspective to help you see hidden problems with your current strategy.They're thinking on a higher level about how to grow your business within budget and at scale.
Quality assurance
To utilize the full power of your in-house team, you need a large content team, managed by a professional with deep marketing experience at the helm, and a robust budget to execute content strategies.
Meanwhile, an agency gives you the entire team with high-quality standards, proven expertise, and the right training. They also have internal quality guidelines and quality control structure that each employee must follow to ensure optimal results.
Meet delivery deadlines
While there's no summon for missing deadlines in an in-house team, deadlines are crucial to an agency's reputation.
Usually, agencies create proposals with an established set of deliverables and deadlines. The client receives periodic reports detailing performances and goal completion throughout the lifetime of the project. Missing deadlines for projects could jeopardize an agency's reputation, not only with the client but with future prospects.
Access to specialists with deeper expertise
The major differentiating factor between a specialist and a generalist is that they've made all the mistakes. A specialist spent a lot of time overcoming hurdles, testing theories, and taking the wrong steps to see where it leads.
They know what to avoid, which activities yield quick wins, and how to scale a brand with content marketing.
When you work with a content agency, you get access to specialists in copywriting, SEO, content strategy, analytics, and more. You're hiring professionals at a fraction of what it cost to build an in-house team. There's also a higher likelihood that they've worked with a client in your industry.
Built-in relationship to get your content in front of the right audience
Creating content is just one aspect of content marketing. You need to take your content where your target audience hangs out to have the biggest impact.
Rather than sending pitches to editors that never get a response or starting from scratch, agencies have built strong relationships with blogs, PR sites, and publications where your target demographic spends time.
Scale on demand
You can't run a small business like a large business – hiring when you have a growth surge, and firing when demand is low. As your business grows, you need to scale your content marketing to stay competitive. The major challenge is finding and hiring the best talent.
Content marketing agencies are built to manage high workloads. You don't have to worry about talent because agencies provide the team for you.
A content marketing agency responds quickly to the changing needs of your business. They can apply software solutions, insight, and expertise to help you through the growth stage. Your internal teams focus their efforts on core functions.
Diverse team with fresh perspectives
Inclusive content marketing is important for visibility. Your audience should see themselves in your content. They want brands that get their pain points, needs, and thoughts.
A 2019 survey by Google and the Female Quotient found that 64% of respondents took action after viewing an inclusive or diverse ad.
You need an agency that:
Digs into your audience to understand representation
Hires specialists who focus on SEO, PR, copy, graphic design, and more
Prioritizes diversity in hiring
Edit for inclusion without going overboard
A diverse team brings a fresh perspective that helps you solve problems faster. They see things from unique positions and ensure you're on the right side of history when making decisions.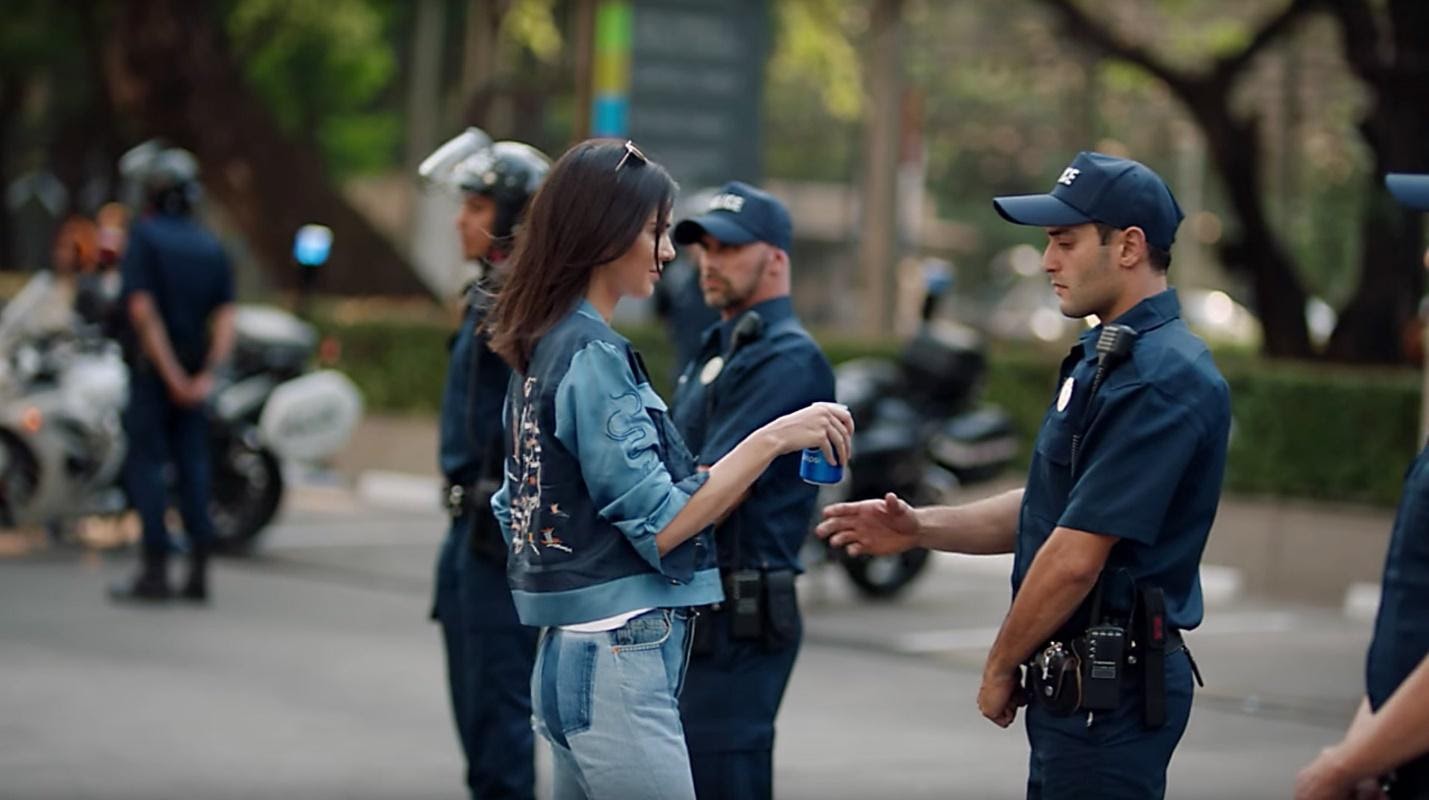 Remember the Kendall Jenner and Pepsi backlash from 2017? Kendall was featured in a Pepsi ad where she walked through a racial justice protest to give a police officer a bottle of Pepsi who drinks as the crowd cheers. They inserted themselves into the nationwide #blacklivesmatter movement without giving thought to how it would be perceived.
If Pepsi worked with an inclusive marketing team, someone would have flagged the ad down before it was approved.
Full-service solution for your entire content marketing needs
Some companies have a small budget for content marketing. Their entire strategy is built around creating a few blog posts monthly and sharing them on social media.
Others want a robust content strategy that leverages multiple techniques and media to reach and engage their audience.
Regardless of your needs, a content marketing agency caters to you. Here are some of the services you should expect to receive when partnering with an agency:
Content strategy
Content creation, optimization for SEO, and distribution
Social media strategy
Social media content
Graphic design
Reporting
The Financial cost of Partnering with an Agency
Pricing usually falls under:
Per word
Per hour
Per project
Retainer
Each package covers:
Content strategy
Content planning
Content writing
Content promotion/distribution
Reporting and analytics
According to MOZ, 70% of surveyed content marketing agencies offer monthly retainers, and only 7% offered per word billing. Pricing for monthly retainer ranges between $1,000 – $100,000. The cost of working with a content marketing agency usually depends on:
The scope and volume of the project
The number of services you require
Small businesses on a shoestring budget spend between $1,000-$5,000 per month on content marketing.
Startups, nonprofits, and mission-focused companies with seed money for marketing should expect to spend between $10,000- $50,000 per month.
Well-funded startups and larger companies with high-volume content needs will require a full-service solution. Monthly retainer packages cost between $50,000-$100,000 a year.
Placed side by side, it's cheaper to hire an agency than build an in-house team. You'll also save money on employment cost and overhead while enjoying the benefits of specialization and greater ROI in the long-term.
Agency vs. Freelancers vs. In-House: Why a Hybrid Solution is Best for Your Business
In-house teams are great if you have the funds to hire the best talent. They are more focused on your mission and familiar with your brand. However, in-house marketing teams are expensive to set up and difficult to manage.
Content marketing agencies provide all the benefits of an in-house team without the associated setup and running costs.
Freelancers are a flexible option because you only pay for the projects at hand. However, finding the most talented freelancer who is reliable could be difficult.
A hybrid approach allows you to take advantage of all options. The core functions of marketing are managed by the Head of Marketing or Head of Content Marketing.
Look for hybrid agencies that operate like a freelance collective. They offer you the flexibility of freelancing with the speed and diversity of an agency.
That way, you can scale your content marketing up or down based on current needs.
Thinking about hiring a content marketing agency?
Book a free strategy session with us today!