Deck the halls with boughs of holly!
Or rather, deck your website with falling snowflakes, a Santa or two, and maybe an advent calendar, and call it a job done. 
Right?
Well, not quite. While a lot of brands think slapping a few Christmas images across their homepage is enough to bring in more festive sales, there's a better—and more human—approach to Christmas branding. 
For example, think about Coca-Cola—it's basically synonymous with Christmas. Not only did the world's most famous soda company invent the modern depiction of Santa Claus back in the 1930s, but its wildly popular "holidays are coming" TV adverts have been running for almost 30 years, thanks to their ability to give us the warm and fuzzies.
You might be wondering how you can take a human-to-human (H2H) approach to Christmas rebranding that will go beyond a few reindeer antlers and create an impactful experience for your customers.
If so, this article has got you covered. In it, we'll discuss what a Christmas rebrand is, why it matters for your business, and how to seasonally rebrand the human-to-human way. 
What is a Christmas rebrand?
For many businesses, the holiday season is the moment they make a final push to hit their annual goals. From Black Friday onward, the Christmas shopping season gets underway, and companies scramble to associate their products with the most wonderful time of the year through Christmas branding.
As they do so, Christmas campaigns are suddenly everywhere—and many of them are noisy, in-your-face, and often downright cheesy. 
While an on-brand, well-thought-out Christmas campaign can make it a very merry Christmas for you and your employees, poorly planned, last-minute, or sloppy attempts at Christmas branding can actually be harmful to your business.

So before you rush off to change your whole website red or plaster Christmas trees all over it, think about what you actually want to achieve with your Christmas branding. 
While many businesses aim to sell as much as possible during the Christmas season, companies that take a more restrained, tasteful approach may actually reap more benefits.
Speaking of which…
The benefits of Christmas branding
Festive branding is all about tapping into the Christmas spirit and connecting with your customers by showing that you share their values, honor their traditions, and care about them and their loved ones. 
For many people, Christmas is a sentimental time when they recreate traditions from their childhood and tap into the magic of the festive season. Brands that appeal to the heartwarming side of Christmas can help people cultivate the festive feels.
On the flip side, the holidays can be a difficult and lonely time for many people, and brands that recognize this in their Christmas marketing campaigns can help people feel less alone. 
Let's take a look at five of the main benefits of Christmas branding and how it can be beneficial for your business.
1. It evokes emotions
Successful Christmas campaigns tap into the emotions and memories people associate with the holiday season. If you can connect your brand with those emotions in their minds, it will seem more personal, relatable—and human.
2. It makes your brand engaging and dynamic
There's a difference between being consistent and being rigid. If you never update your brand assets, it will make your company appear lifeless.
On the other hand, light seasonal changes help your brand stay fresh, current, and relevant and will show your customers that you're in tune with their needs and expectations—helping to keep them engaged.
3. It builds relationships
Seasonal branding makes you appear more personal and relatable, which helps to build relationships with your customers—both old and new.
Returning customers will love you all the more, while a tasteful, on-brand Christmas campaign can help attract new business.
Remember that your customers perceive your company as an individual entity, with its personality, strengths, flaws, and mission, so make sure it embodies and reflects the values and emotions you want to invoke in them.
4. It attracts Christmas fans
I have a friend who starts counting down for Christmas in July because she knows it drives me — and her husband—crazy. 
She's the kind of person who puts her Christmas tree up as soon as Halloween is over—and the ideal target customer for Christmas branding. 
Christmas fans are already sold on the idea of Christmas, so any company that does Christmas branding well simply feeds their existing enthusiasm. Once you've got them hooked with your festive cheer, they may well become loyal fans.
5. You can market seasonal products
If your company sells Christmas-themed products, now is the perfect time to start telling your customers about them. For example, a restaurant might offer a turkey and cranberry pie that's only available during the holiday season, while a home interiors store can start selling Christmas decorations.
Even if you don't have any specifically Christmassy products, you can still come up with Christmas-themed offers and festive discounts. 
9 tips for Christmas rebranding the H2H way
Ready to start your Christmas rebrand? Follow these nine tips to make sure you do it the human-to-human way.
1. Use (tasteful) seasonal elements in your logo
Google does this all the time. The Google Doodle constantly shapeshifts to reflect and celebrate different cultures, people, and holidays throughout the year—and Christmas is no exception. 
Google's designers always figure out a way to make their Christmas logo design festive, tasteful, and on-brand—without ever substituting its iconic color palette. Here's one of its Doodles from the 2019 holiday season: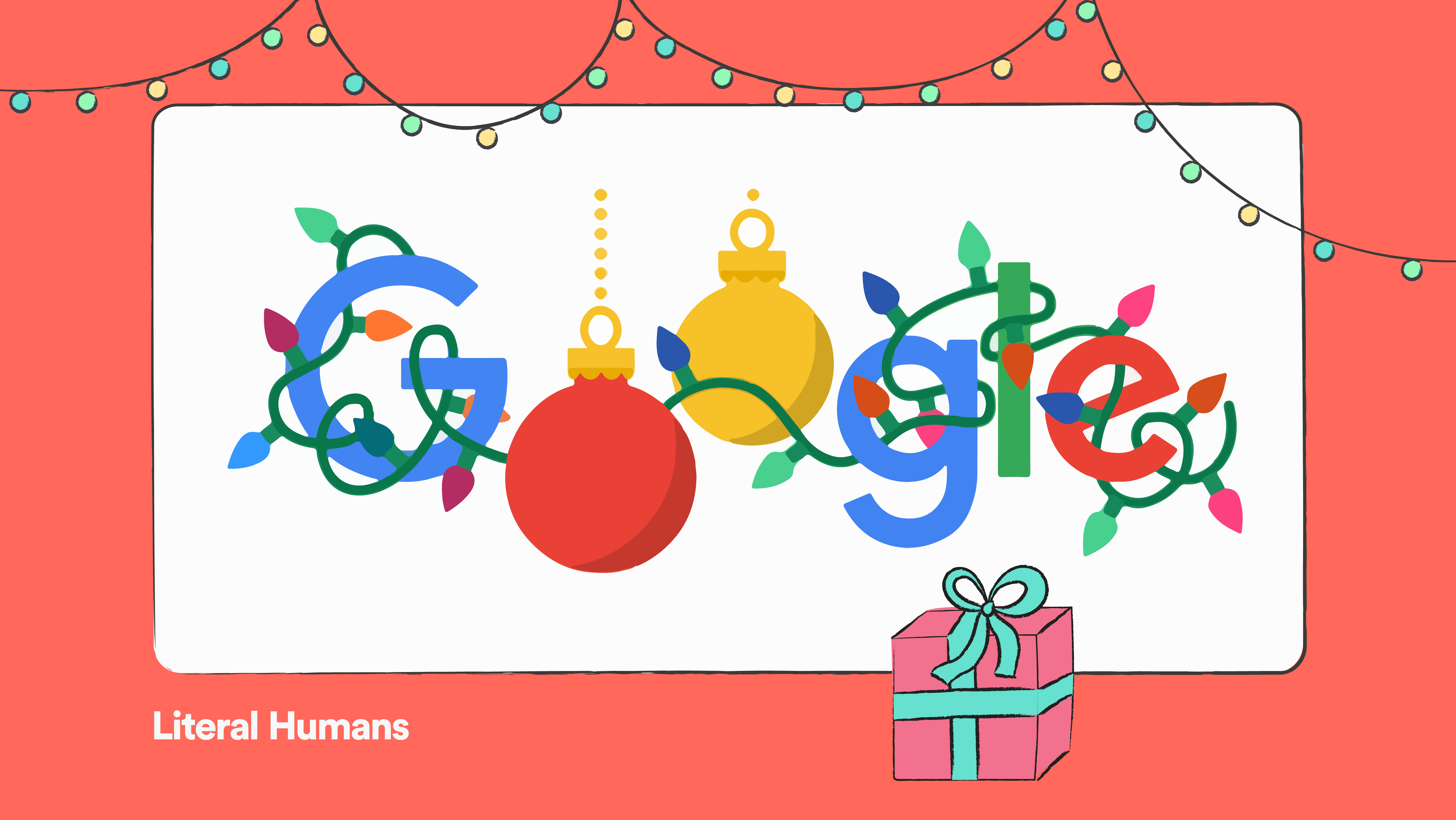 Whatever you do with your Christmas logo, get creative and come up with something original—don't just go for the tired old Santa-hat-on-top-of-a-letter trope.
2. Update your color palette (but don't go OTT)
If you want to take the Christmas theme further, you can incorporate some seasonal reds and greens that match the tone of your color palette.
Try to do this tastefully and avoid going for an all-red makeover—instead, add elements that blend in with your brand. Use these colors sparingly but consistently: for example, in your headers, footers, and typography. 
3. Season-lift your designs (where appropriate)
Festive graphic design should be modest and tasteful while also building buzz around the holiday season. 
A good example of this is the limited-edition cups that Starbucks has been releasing every Christmas time since 1997. Each year, they launch a new festive design alongside their Christmas menu.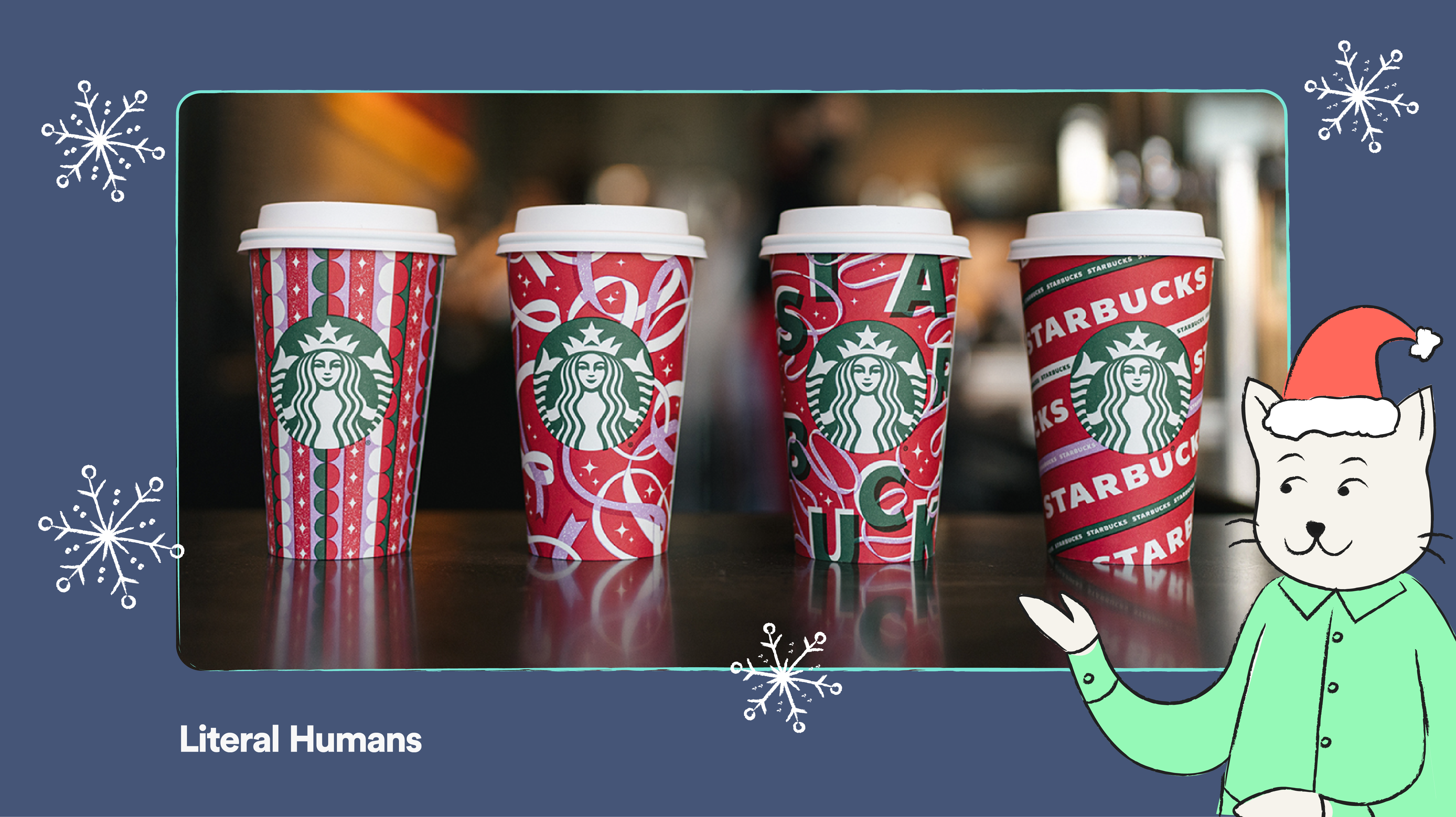 However, while creating a new Christmas packaging design each year may work for big corporations like Starbucks that will likely get through most of their stock, small businesses might want to avoid this option, as it can create excessive waste. 
4. Use storytelling
Christmas is all about stories, from the nativity to the Grinch and Santa Claus to A Christmas Carol. Stories are intrinsically human—and an essential element of H2H marketing—which makes them a perfect vehicle for Christmas branding. 
British chain store John Lewis has mastered the art of Christmas storytelling with tear-jerking adverts that have become a cultural phenomenon in the UK. Featuring baby dragons, snowmen, and even lovesick penguins, these Christmas ads aim to tell stories that warm the cockles of your heart rather than push products. 
What stories can you tell that connect your brand to the spirit of Christmas? Do you want to make up stories like John Lewis, or do you want to use customer success stories to paint a picture of what you can do for your customers?
5. Be sensitive to people's reality
The world has been really going through it the last few years. 
After almost three years of COVID, millions of lives and livelihoods have been lost, and we're now facing a cost of living crisis, an energy crisis, and the threat of nuclear war.
In this context, the usual Christmas marketing messages can feel a bit tone-deaf to people wondering how they're going to pay their next energy bill. 
So this year, why not skip the super-salesy tactics and show people you're on their side? Paradoxically, taking a step back from your marketing during this hyper-commercial season can actually do more for your conversions than trying to drown out your competition.
6. Center social justice issues
Christmas is a time for gift-giving, so consider donating a percentage of every sale to a charity that's relevant to your business or your local community—for example, one that provides food, clothing, or blankets for vulnerable families during the winter. 
You can also take the opportunity to raise awareness around social justice issues connected to your business or industry. For example, a coffee company could tell stories of the coffee producers, the challenges they face, and how the company helps them overcome them.
7. Celebrate diverse winter holidays
Although widely celebrated by people of diverse cultures, Christmas is, of course, a Christian celebration. However, it's not the only holiday celebrated at this time of year. 
For example, Hanukkah, the Jewish Festival of Lights, falls around late November and early December each year, while African Americans celebrate Kwanzaa from December 26th to January 1st. 
In Japan, Omisoka is the traditional festival that marks the last day of the year, and pagans celebrate Saturnalia and Yule in December. 
While Christmas is for everyone, recognizing and celebrating these diverse winter holidays is a more inclusive way to approach your Christmas marketing strategy.
8. Turn down the volume
With Christmas marketing campaigns getting earlier and louder each year, it's no wonder Christmas creep makes so many people cringe. This means that some brands might do better to take the opposite route and dial back their Christmas marketing. 
After all, Christmas is, at its heart, a time of reflection and introspection. Instead of ramming marketing messages down people's throats, why not give them a voice?
This could be a unique way to build brand loyalty and garner some valuable user-generated content (UGC) at the same time. 
For example, you could ask customers to send you their lessons learned from the past year or their reflections on the true meaning of Christmas, share them on your website and social media channels, and run giveaways for the authors of the best responses.
9. Remember to go multi-channel
Remember that Christmas branding doesn't stop at your website. You'll need to create branded assets that you can distribute across all your social media channels to keep your Christmas branding consistent and create a seamless user experience.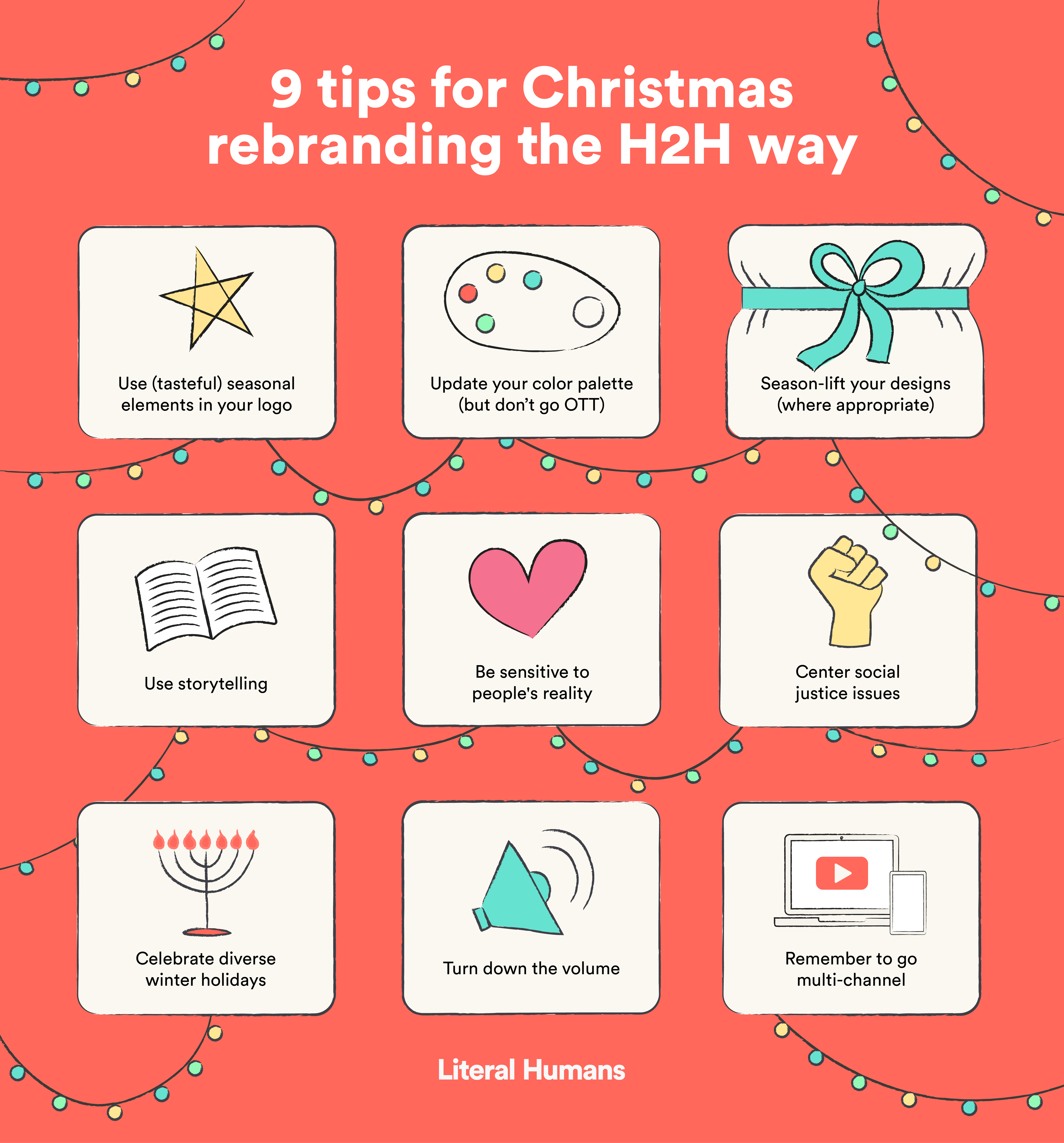 Humanize your brand this Christmas
Christmas branding is an important seasonal strategy for any business and can help you close out the year on a high note—if you get it right.
Here at Literal Humans, we believe no Christmas marketing strategy would be complete without the human-to-human touch—and brands that take a more human approach to their Christmas marketing may actually benefit more than those that take the standard Christmas branding route. 
If you need support in humanizing any aspect of your marketing efforts, get in touch with us. We specialize in helping impact-driven brands grow through multi-channel H2H digital marketing — at Christmas or any other time of year. 
Wishing you very happy holidays from our team to yours!