Rebranding isn't easy, but you've taken the first step to transform your company into something that will stand out from your competitors. Now, it's time to tell people about it.
People's perceptions of your business won't change overnight, but the first step on your new brand journey has to make an impact. Your rebranding press release has to clarify what and why you've changed. But most you see are dull, vague, and easily forgotten.
The best press releases are clear and impactful. They have a strong title and highlight the most important updates with no filler. If you're just here for the downloadable rebranding press release template, click here. But we've also included a quick guide on each section with some examples.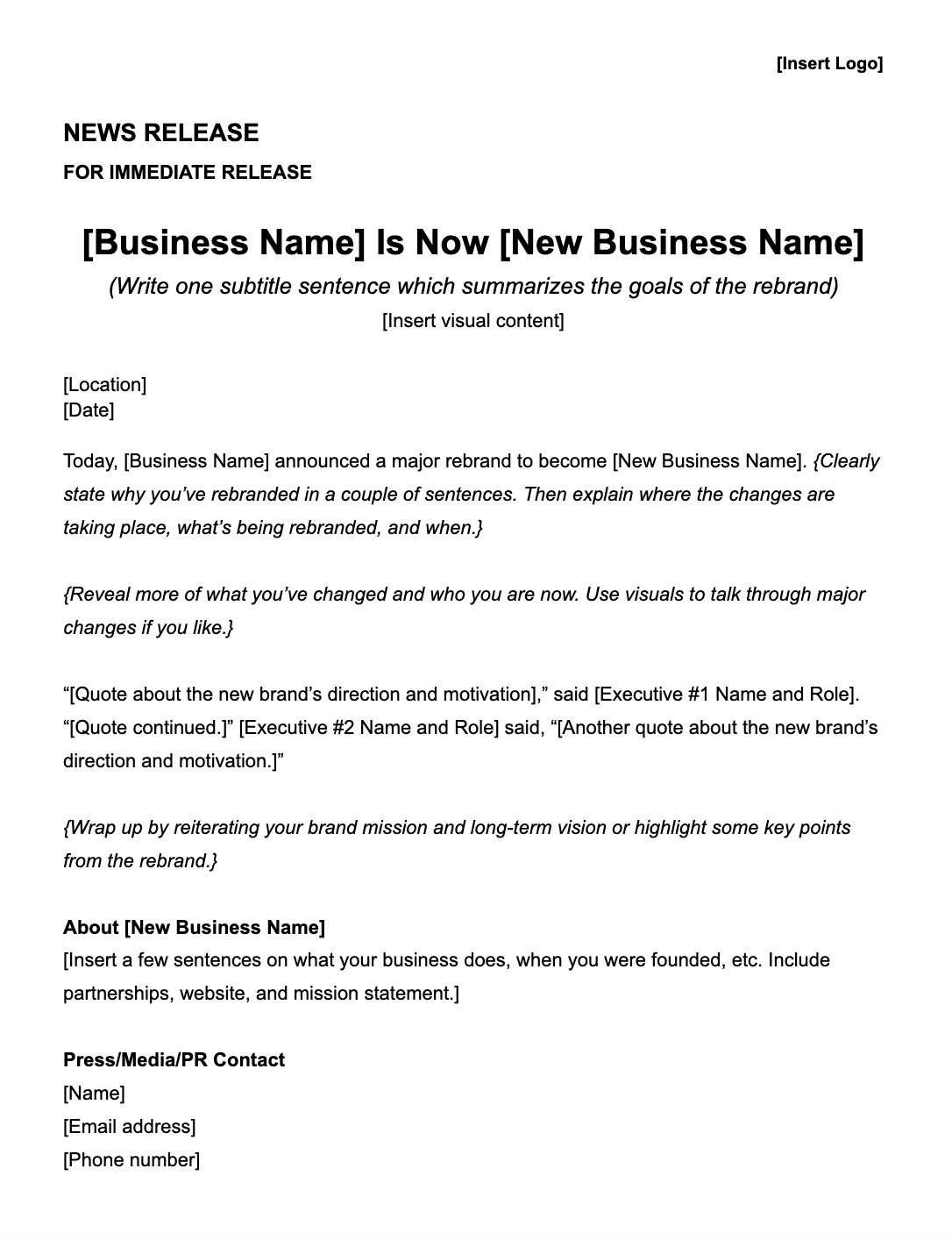 How do you write a press release for rebranding?
Rebranding isn't a one-off event. It's a long-term process. Launch day is exciting, but the work is just getting started.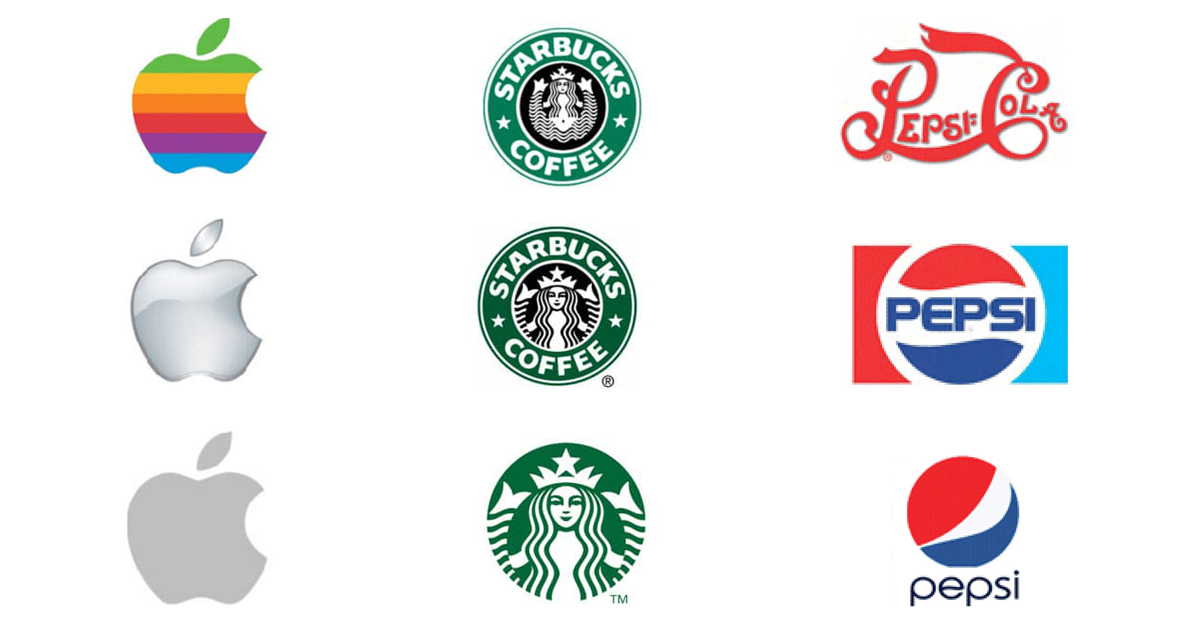 Press releases aren't new, but you can give them a fresh look. Where you're sending or sharing yours will also impact this. The version on your own social media platforms and site will be longer and more detailed than the one you'd send to a newswire.
What you don't want to do is send out random press releases and hope someone will pick them up. You need to pitch to those in your niche who are most likely to be interested. Then structure the document in a way that highlights important information and makes it easy for media outlets to share.
Your rebranding press release will be unique to your business. But use this format to stay on the right track: 
The title and subtitle

Answer questions in the introduction 

Explain the change in brand identity and vision

Quote(s) from an executive

Wrap it up with a bang

End with company "about" snippet
The press release title and subtitle
Your press release title determines your open rate. So, it needs to be strong. Your subtitle can then add context with a few more details.
If you're a big brand, this part will be easier. Small businesses need to work harder to get people to take notice. Either way, your rebranding announcement should start with three of the most important elements:
Current or new name

Most up-to-date logo

Any new partnerships
Let's take Freshworks as an example:
Title:

"Freshdesk Inc. Is Now Freshworks Inc."

Subtitle:

"New umbrella brand provides product clarity, enables future growth of feature-rich, easy-to-use and affordable business software suite."
The title is bold and concise. The subtitle introduces the umbrella rebrand with a few of their main talking points. Then underneath, the new name, logo, and the suite of tools that fall under the new visual identity.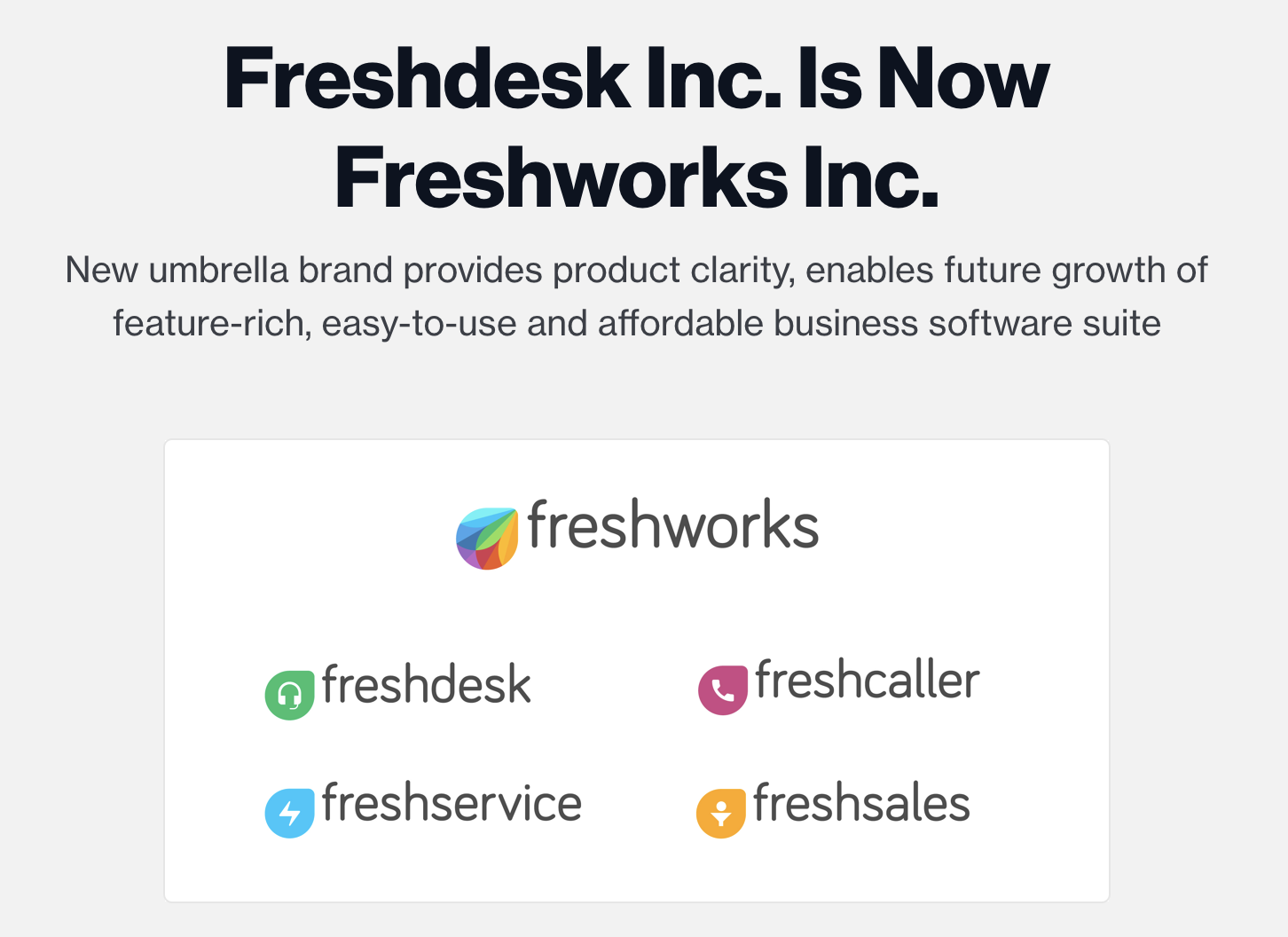 If that was the only information on the press release, you'd get the idea. The negative space draws attention to each part to show it's all important. So, make sure you start yours with a simple, clear message.
Answer questions in the introduction
Your first paragraph is a chance to make an impact and give a little more detail. The main goal here is to clearly state why you've rebranded. Then explain where the changes are taking place, what's being rebranded, and when.
Household names actually have a bigger task here, with more at stake. When Dunkin' Donuts rebranded in 2018 to Dunkin', they faced a lot of backlash.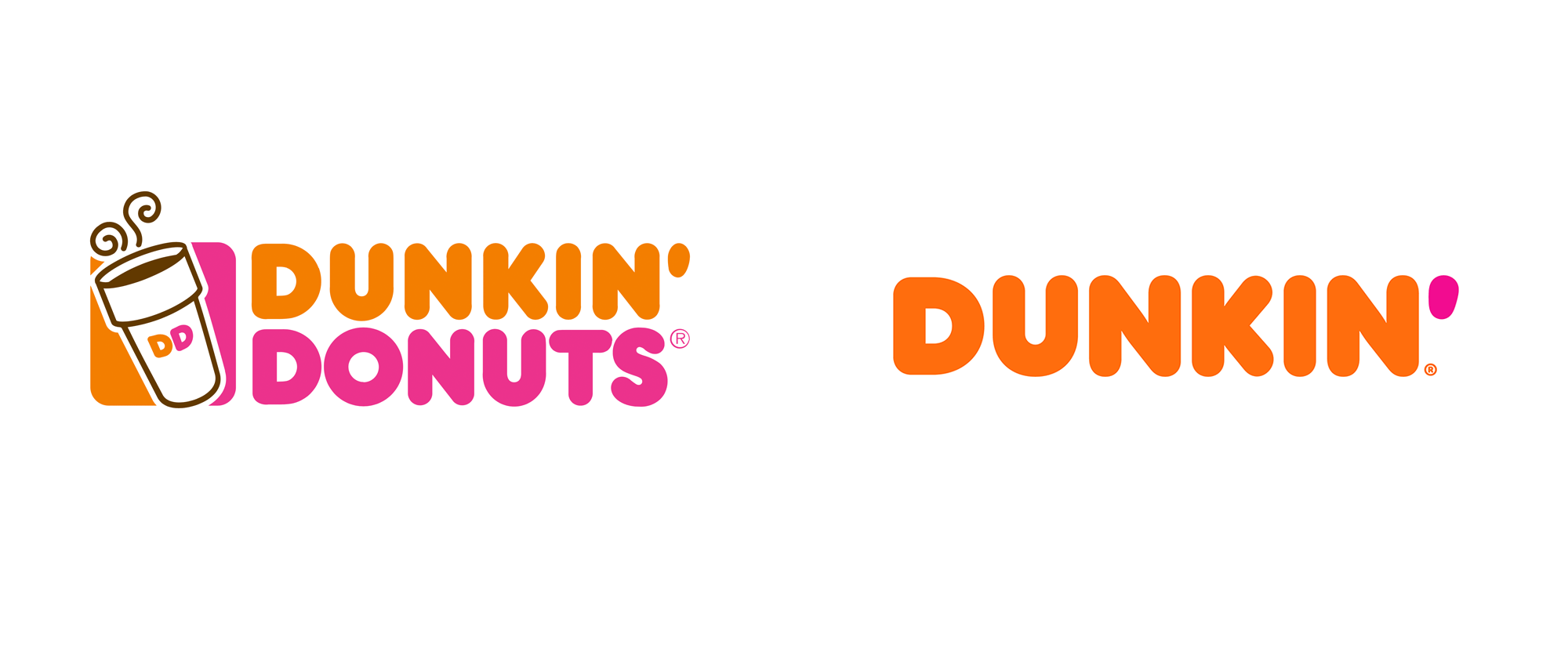 But the first paragraph of their rebranding press release tried to give the reader confidence in their decision. It used the power of storytelling to engage them immediately and show the decision was research-backed.

You want your rebranding press release to answer the five Ws:
Who

: Dunkin' Donuts

What

: Rebranding to Dunkin'

When

: September 25, 2018 (official taking place in 2019)

Where

: Global Franchisee Convention

Why

: Customers around the world already affectionately refer to the brand as Dunkin'
However you phrase it, your opening paragraph has to answer everyone's initial questions. And leave them with no immediate confusion about your decision.
Explain the change in brand identity and vision
Your brand identity is one of the most important parts of your digital marketing strategy. Without it, consumers won't have any idea who you are or what you offer. So, the main body of your press release has to reveal more of what you've changed and who you are now.
Instagram's Head of Design shared their rebrand press release via Medium in 2016. It was broken down into sections with videos, screenshots, and text to make sure stakeholders understood why the app made each redesign choice.
One paragraph covered how they used new brand colors across the board to create a cohesive look: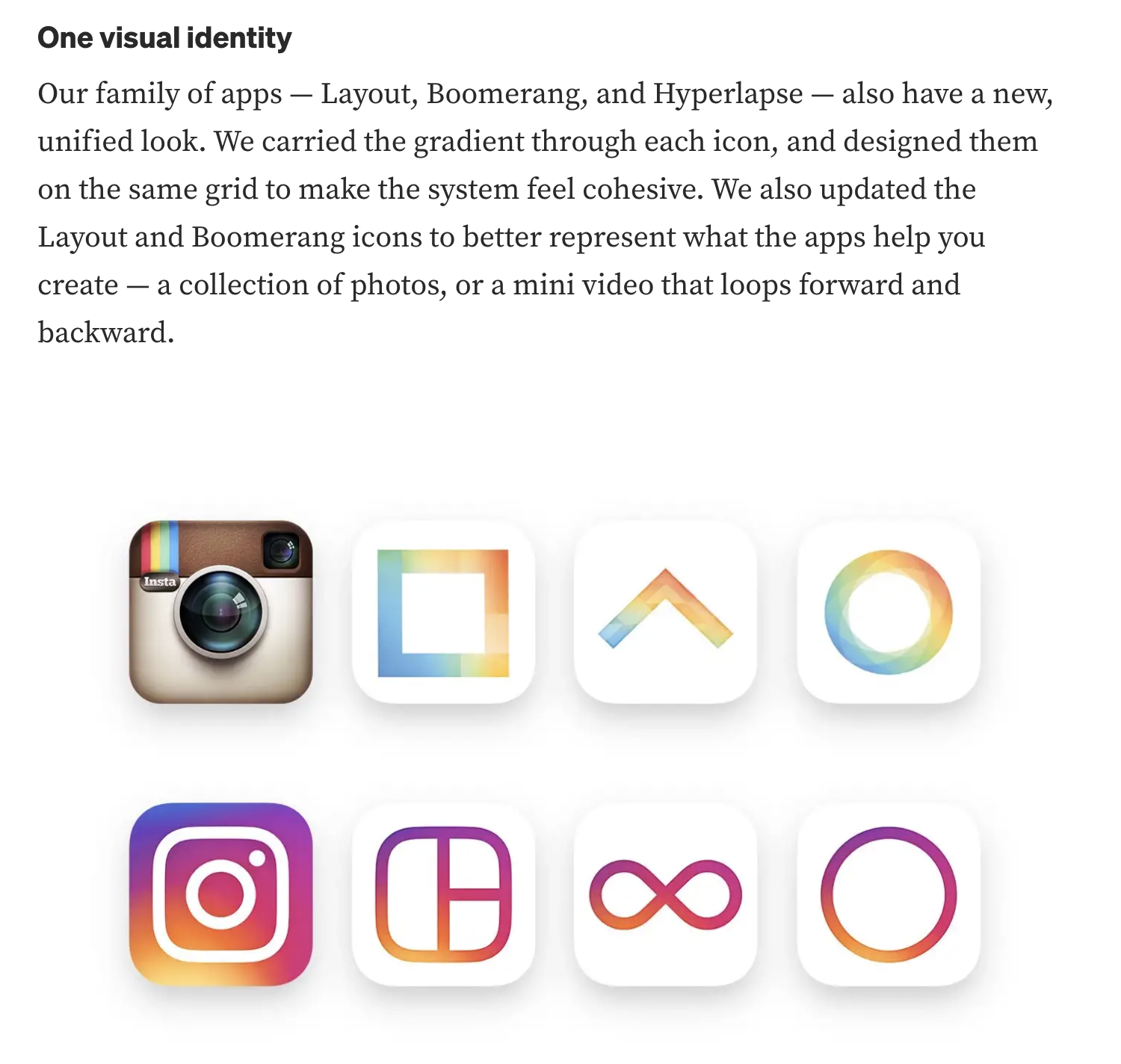 Most businesses seem to shy away from press releases with visuals or multimedia. But they're far more memorable and can really help people understand each process behind the new brand identity. If they won't work for your industry, don't force it. But consider them if they could.
Quote(s) from an executive
People warm to people, not brands. So, the quote part of any press or news release is a given because it humanizes the brand. But really think about what you want to say here. Rebranding quotes should be meaningful and add to the narrative.
The press wants to hear from an executive at your company—usually the CEO or founder. This is a chance to explain the motivation behind the rebrand in their own words.
Dunkin' chose to highlight two quotes from their U.S. President and CMO:
One explained the growth plan for modernizing the customer experience to keep the brand relevant

The other built on that plan and drew the focus back to the bold, simplified name
Whichever executives you feature, make sure their words are adding value. You can quote two different people here, but we wouldn't recommend any more than that.
Wrap up your press release
Just like the last song on an album or the final chapter, you need to wrap up your press release with a bang. You can use this section to announce something specific, like:
New product launches

New website

A catchy tagline

Updated mission statement

New hires
Nielsen's press release ended with three bullet points of their rebrand they wanted to highlight:
New logo

: the inspiration for the design

New brand colors:

the reasoning behind the choices

New brand purpose statement:

"Powering a better media future for all people"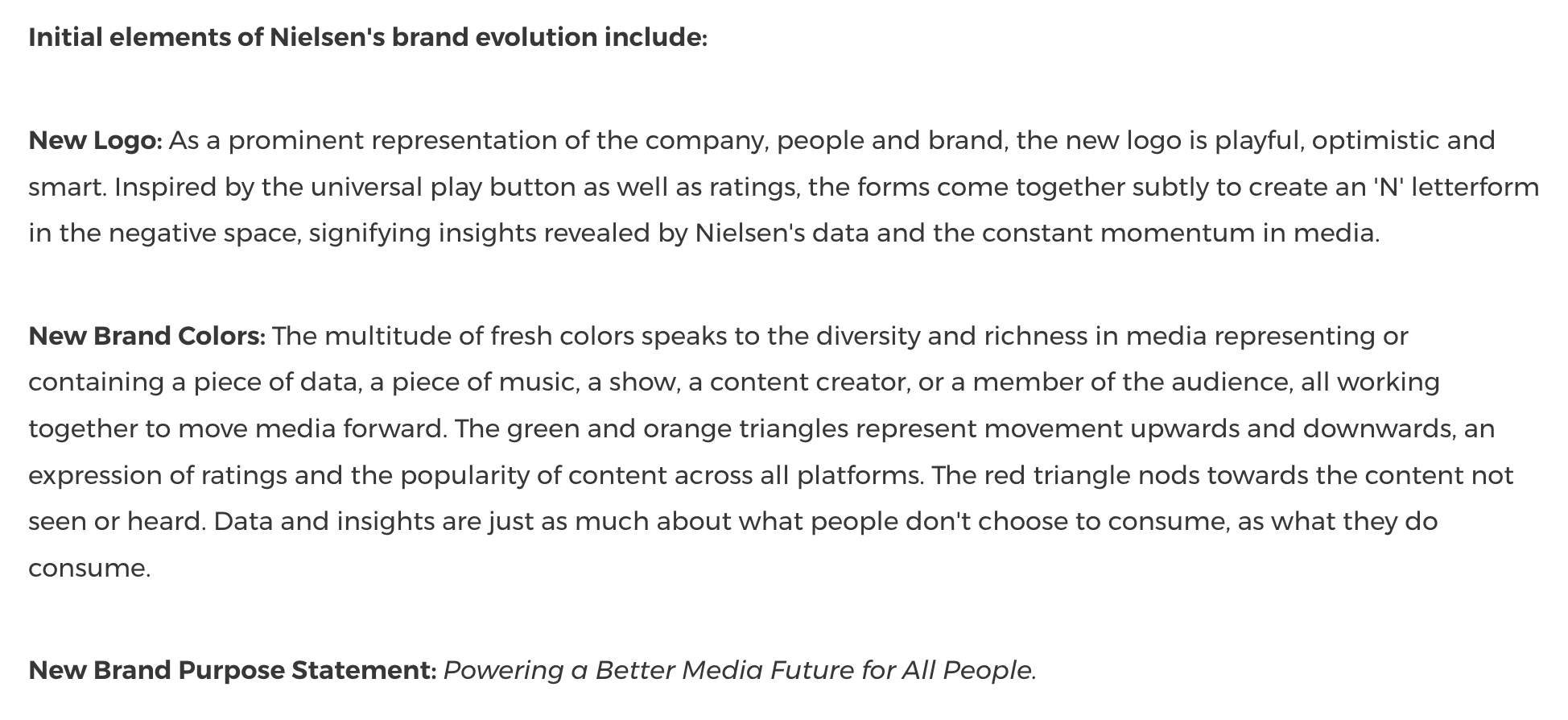 Freshworks used theirs to reiterate their brand mission and long-term vision—creating software that helps companies better engage and communicate with their customers and employees.

Instagram did the same but left theirs open to interpretation—hoping the new app icons would inspire creative sparks for users.

Whichever format you choose, bring it back to the overarching patterns in the press release. End with the main reasons you've chosen to rebrand and prepare people to eventually get on board with the idea.
End with company "about" snippet
The final section of your rebranding press release is known as the boilerplate. This is the generic "about us" section that can be reused in different contexts without having to be rewritten.
If you've rebranded your company name, this is your final opportunity to hammer it home. Use your boilerplate to:
Repeat who you are

Accurately describe what you do

Give journalists a few main talking points about your company

Depending on your press release's destination, you may also want to include contact information or a phone number for your public relations or press team members.
Press release distribution with no filler
Whether it's a major rebrand or umbrella announcement, the type of rebranding press release you send out will depend on your niche. A social media app for influencers may include plenty of visuals and dynamic wording. A medical company will likely be more traditional.
What they should all have in common is no filler. So, stick to the point and only include the important details. That's how to reduce confusion and get journalists and media coverage on your side.