A great product, solid offers, and some marketing dollars. This looks like a winning combination for landing sales, but what's sales without leads?
Leads may be easy to overlook, but without them, you'll always be chasing your next paying client. The lack of leads limits business growth opportunities because, in most cases, it's a hassle to create sales opportunities and maximize revenue. No wonder close to 80% of marketers say generating quality leads is their top priority.

However, as important as leads are, there's a catch — lead generation is hard. Seriously.
Cold emailing, which has been the go-to B2B lead generation solution for a long time, is becoming more difficult. Fewer people are opening cold emails and even fewer are responding to them.
Fortunately, there's LinkedIn. The platform is fast becoming an important part of lead generation strategies, with 86% of B2B marketing professionals relying on it to increase sales leads.   
You could create your own LinkedIn lead generation strategy, but this can be an arduous and time-consuming task. Alternatively, you can delegate all the hard work to a lead generation agency, leaving you to concentrate on other business growth strategies. That said, there are a lot of shady agencies; they will promise you tons of leads only to get you banned from LinkedIn.
You want to hire a reputable agency that provides high-quality leads and improves your brand reputation. This is exactly what this article will cover. But first, let's take a look at what a LinkedIn lead generation agency does and why it's a good idea to work with one.
What does a LinkedIn lead generation agency do?
A LinkedIn lead generation agency helps businesses to generate more leads and boost their sales pipelines through LinkedIn. The agency looks for your prospective clients and makes initial contact with them on your behalf, essentially providing pre-qualified leads so you can focus on closing deals.
While most businesses have more resources than ever to engage leads, qualifying these leads is quite challenging. In fact, a lot of marketers struggle to validate, let alone qualify, their leads.
Lead generation agencies, on the other hand, have built processes and resources to eliminate unqualified leads.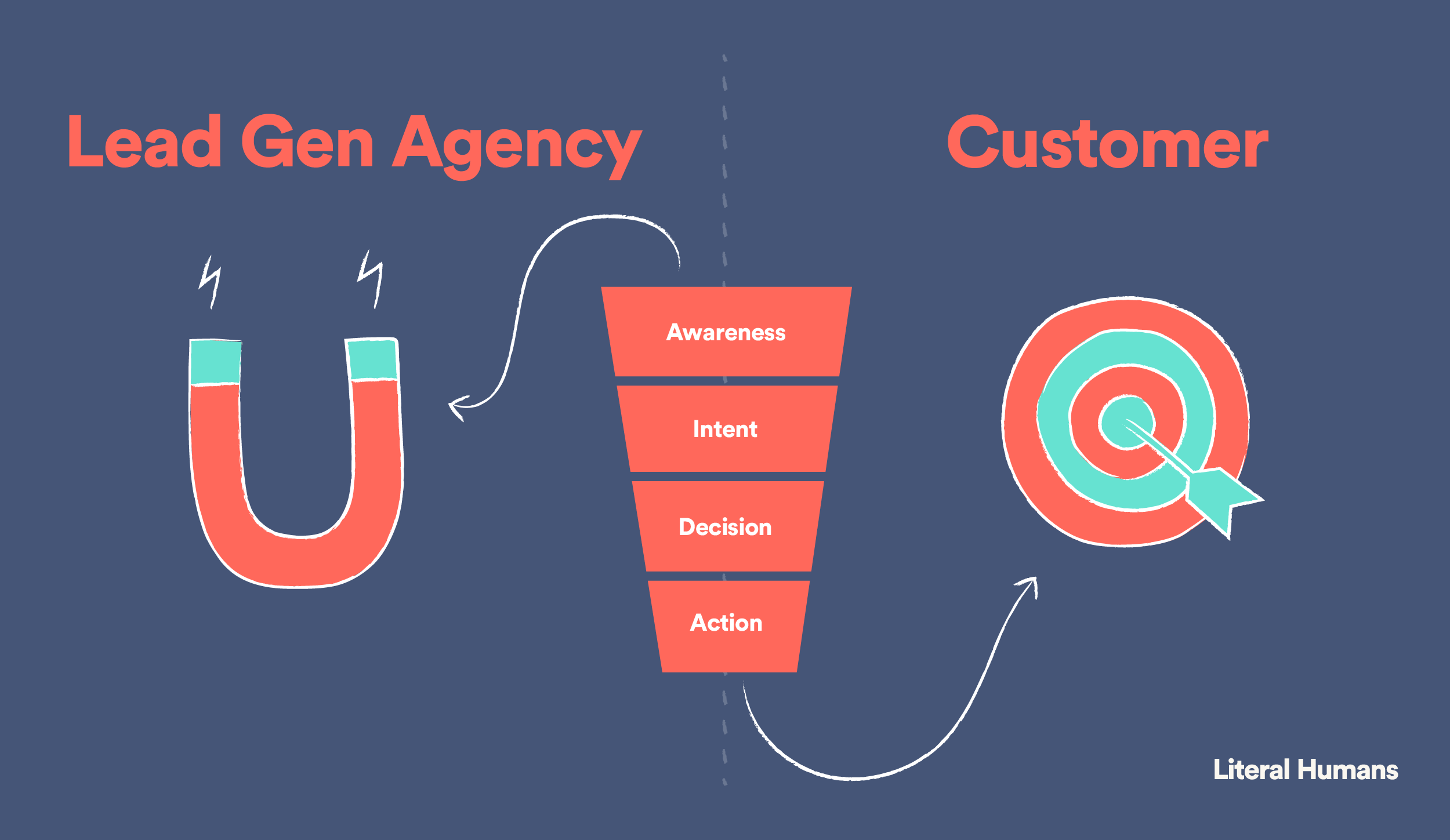 This means that they can:
Attract good leads that increase conversions and accelerate the sales cycle

Ensure that you're not leaving any quality leads on the table

Provide lead generation services with expertise — reputable agencies already have access to data and research for different market segments

Create customized lead generation strategies — they understand that a cookie-cutter approach to lead generation doesn't work

Expand your market reach — they can uncover leads you haven't considered before, leading to a more diverse customer base 
With an agency taking care of your lead generation strategy, you don't have to guess if you're doing the right thing. There's no need to worry about keeping everything on track, and you can redirect your efforts and time toward other business activities. But as with any service or product, quality is not a given.
Hiring a good LinkedIn lead generation agency
When it comes to generating quality leads, you want to hire a credible agency with proven expertise. Consider the following factors as a guide for hiring the best LinkedIn lead generation agency.
Ask the right questions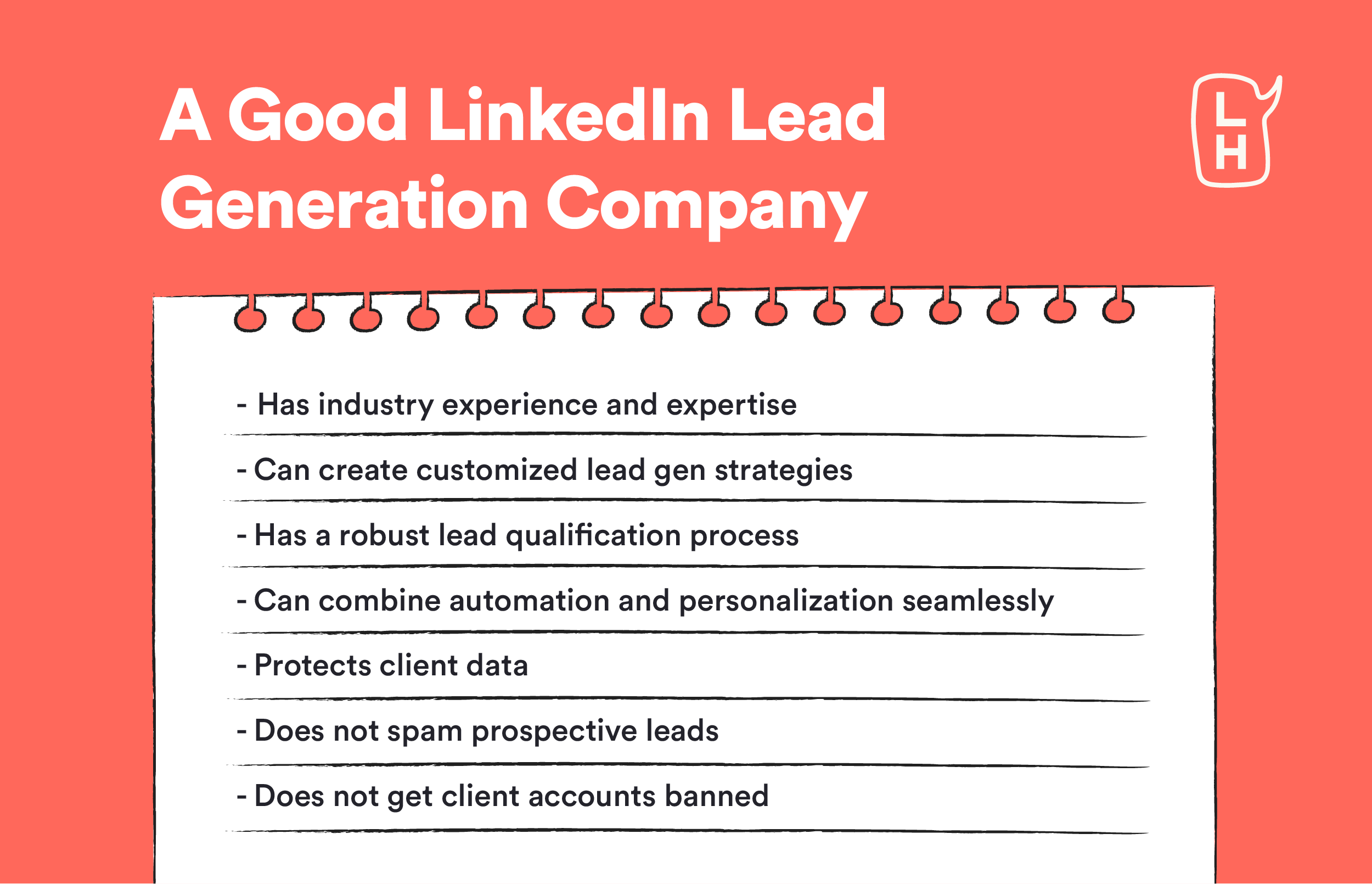 Hiring the best agency is similar to hiring the best employees — you need to go through the process of eliminating unqualified candidates.
To better understand if a LinkedIn lead generation agency is a good fit and if they will be able to deliver, you'll need to ask the right questions. Here are some good examples of questions to ask:
Do you have any experience in our niche or industry? An agency that understands your industry or your target audience will increase your chances of getting the most success.

How do you plan to customize your strategies for your business? Your business is unique so it only makes sense that the agency provides a strategy that is tailored to your needs.

What is your lead qualification process? Nobody likes spam. A good lead generation agency will be able to build meaningful relationships with prospective clients using a process that's not spammy.

How much of the lead generation process is automated? It's one thing to automatically book meetings, but it's another to automate the entire process. Successful LinkedIn lead generation agencies combine automation with personalization. Blasting out generic messages without caring about relevance is not good enough.

Who owns data and accounts? An agency that wants to own your assets is one you probably want to stay away from.

What is your pricing structure? Each agency will have its own pricing structure. For example, some agencies will use flat-fee retainers while others favor performance-based fees. You'll have to determine if an agency's services are within your budget.   

Do you source leads in-house or through another company? An agency can successfully outsource lead generation to another company, but this may also come with some risks such as loss of control, privacy and security concerns, and communication barriers. 
If an agency can't answer these questions in a satisfactory manner, proceed with caution.
Determine if deliverables are realistic
Some agencies will guarantee performance. While this may be a good thing for other marketing and sales disciplines, it's a huge red flag for lead generation.
So, if an agency starts promising X number of warm leads every week or some other across the board results like that, run away as fast as you can. No two businesses are the same so there's no way an agency can know the specific amount of leads they will generate at any given time without some testing, measurement, and iteration.
It's a good idea to work with an agency that uses educated estimates to set realistic performance targets and timelines for generating leads.
Check references and reviews
An agency may say all the right things and seem trustworthy, but that's not enough to hand them over the critical task of lead generation. You have to ensure that they can actually put their words into action. After all, some agencies are only interested in your money, not your growth.   
Success stories, references, and reviews are probably some of the best ways to guarantee that an agency is good at what they do. Check independent sites for reviews, ask the agency for some references, and check their site for some case studies (see ours here) and testimonials.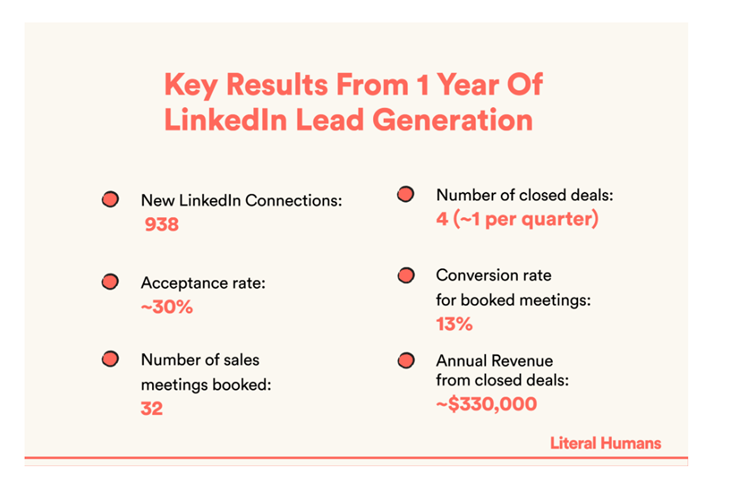 This list will help you choose a good LinkedIn lead generation agency. However, you will also need to avoid some common mistakes that can make it harder to choose or work with an agency.
Top tips for hiring and working with the best LinkedIn lead gen agency
Use the following tips to avoid some common pitfalls.
Start with your goals  
Hiring the right agency starts with you having the right objectives. Instead of approaching an agency with vague goals like "wanting more leads to increase sales," it's best to have precise (as well as realistic) outcomes in mind. For instance, you could aim to expand your client base by signing on X new clients in the next X quarters.
The more detailed and specific your goals are, the easier it will be to align with an agency that can help you achieve them. The agency may not be able to guarantee results, but they will have a clear idea of your expectations.
Provide a clear overview of your brand
An agency may be well-versed in your industry, but they probably don't have the experience level you have working with your target market, and they certainly don't know everything about your brand.  
Similar to providing clear goals, it's useful to provide an overview of your brand and audience. The better an agency understands your brand and the message you want to get across to future leads, the better the quality of those leads.
Collaboration is the name of the game
Lead generation is not a "set and forget" kind of undertaking. A good agency will make sure that you're aware of what's happening every step of the way.
It's a good idea to check if an agency has systems and processes in place to make your engagement seamless. Some things to look out for include an onboarding process, a clear communication plan, plus opportunities to monitor and evaluate results. 
Avoid the cost trap
Don't choose an agency just because it's the cheapest. It's better to pay more for high-quality leads that convert into sales, rather than going for a cheaper option that results in hundreds of low-quality leads and very few sales, if any. Remember that in most cases, you get what you pay for.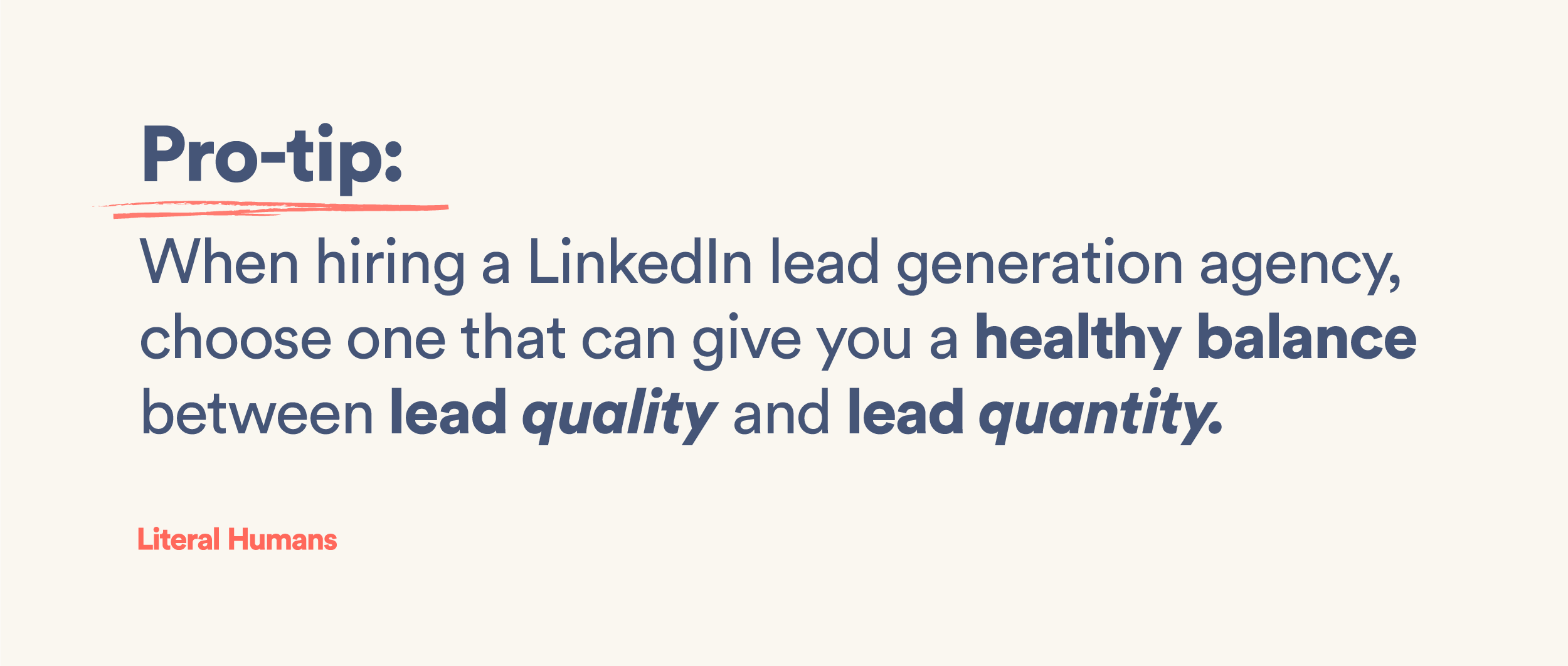 The right lead generation agency will help you grow
LinkedIn is now a lead generation platform of choice, particularly in a post-GDPR world. Hiring a LinkedIn lead generation agency is a smart move with long-term benefits, but you have to do it right.   
When done correctly, a partnership with an agency takes the work off your hands and ensures that your team is not constantly struggling to find leads.
At Literal Humans, we understand that lead generation is an important business aspect, which requires dedicated attention and expertise. That's why we created Literal Leads, a premium lead generation service that's tailored to each business. The service comes with a robust sales enablement strategy that takes clients from lead prospecting to booking sales calls.
Literal Leads gets the work done, helping you to develop high-quality lead generation pipelines that ensure continuous growth. Book a strategy call with us today to learn more about our process.