If we asked what your marketing model was, what would you say?
Businesses serving other businesses would say B2B. If your customer base is regular people who use your services in their personal life, then you'd probably say B2C. 
D2C, C2C, B2B2C and even Social Commerce… it's easy to throw around these acronyms when we want to define or categorize what industry we operate in. And I get it; the buyer's journey differs for each one.
But even with different buyer's journeys, there's something common. People make buying decisions. 
There's no B2B or B2C in sales and marketing. The winner is human-to-human marketing.
A Lippincott study found that brands that exhibit human characteristics like authenticity, empathy, and vitality financially outperformed their counterparts by up to 50% in four years.
Lippincott describes human-to-human (H2H) as delivering an experience that is:
"Honest, caring, and real. One where customers are more likely to trust the brand, forgive it when something goes wrong and create real relationships".
For a more in-depth explanation of human-to-human marketing, check out our Beginner's Guide to H2H Marketing.
You can use human-to-human in content marketing across emails, videos, and even paid media.
Here are 10 brands winning with H2H marketing today.
1. Postmark and the delivery pups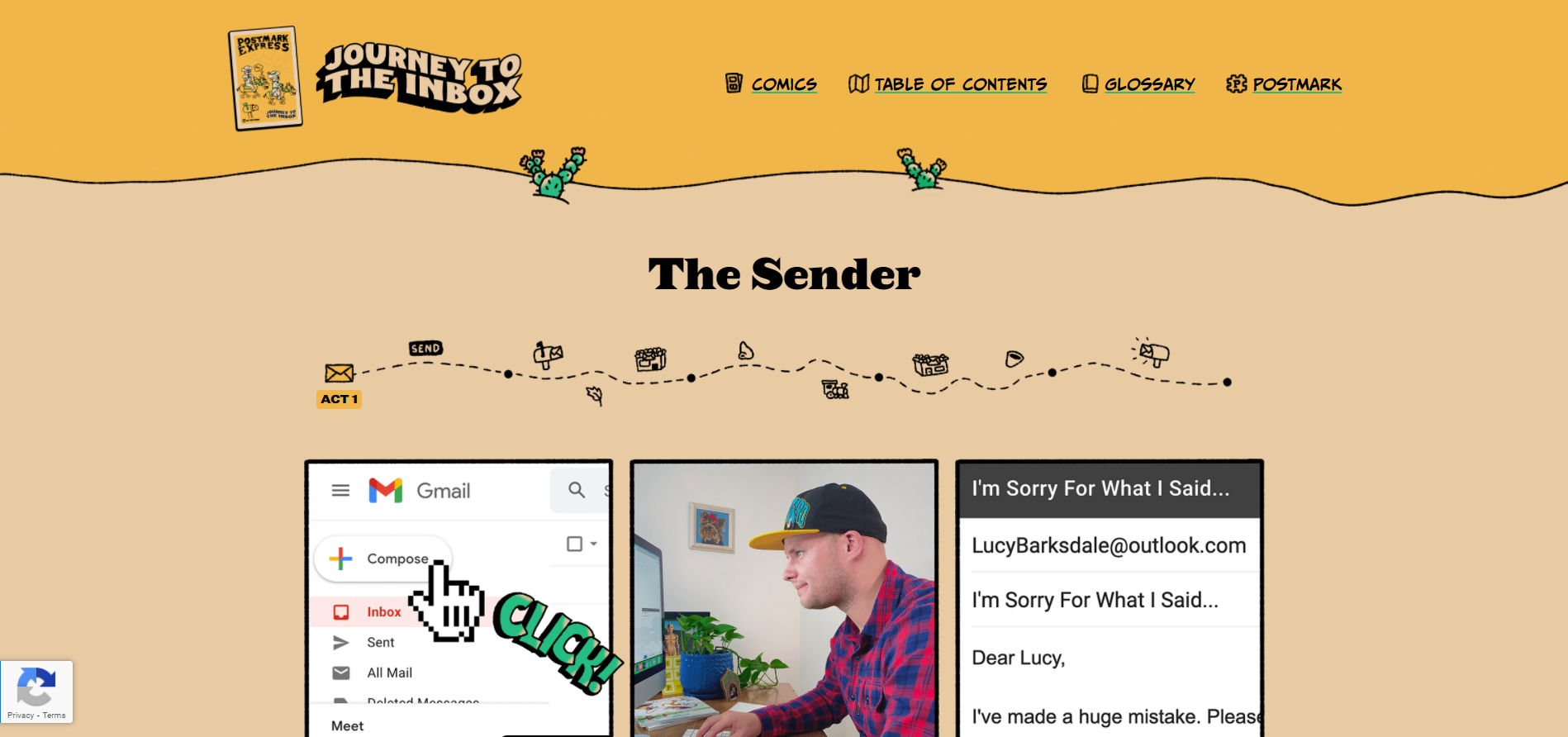 Postmark is an email delivery service for businesses. A few months ago, they launched a web comic called "Postmark Express: Journey To The Inbox". This comic illustrates the behind-the-scenes of email deliverability. The goal was to take the potentially dry and boring but extremely important topic of email deliverability and explain it in a way that's fun to read and easy to understand. Postmark Editorial Lead, Fio, says "We could have written a blog post… but we used dogs and frogs instead."
This piece of art follows Jordan and Mary, two delivery pups, through the Wild West of the Internet, where they courageously brave spam filter watchdogs and other roadblocks to deliver an important email. How did it perform?
"We decided to launch it on product hunt and it made the top 10. And because it got such good reception… the team did another one 🙂…so in a way, this just became its own content sub-brand, and now we're pairing it with a glossary + more 'standard' blog posts for anyone who wants to dig deeper into the topic." – Fio Dosetto, Editorial Lead."
The Journey to The Inbox got over 200 upvotes and 20+ positive comments on Product Hunt.
Lesson: Don't be afraid to break the status quo. Instead of doing what everyone else is doing, put your customers first and think about what would delight them, even when they aren't asking for it. To be a human brand, ‌listen to what's not being said — just like you'd listen to a friend.
2. Cognism's relatable emails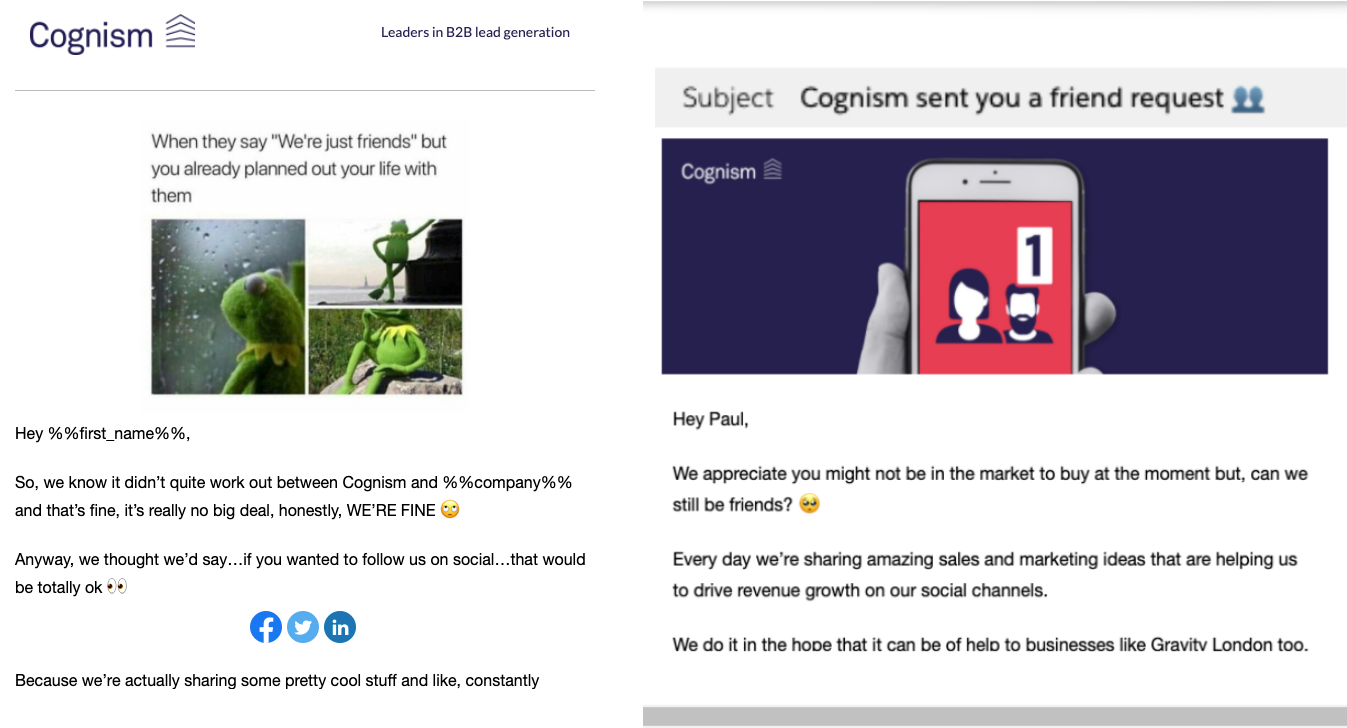 Sales Intelligence tool, Cognism, takes a personal approach to campaigns. They connect with their customers using relatable memes, everyday stories, pop culture, and trends — as we see in the emails above!
As part of Cognism's email marketing strategy, they send these emails to churned users. That way, Cognism stays top of mind for when the customer is ready to buy again.
"We tried to recreate a personal experience of receiving a friend request on Facebook – to request that they follow Cognism on social media. This has worked really well because it's an everyday experience that makes our brand more human while removing what's expected from a B2B company." – Liam Bartholomew, Global Head of Demand Generation.
But they don't stop at emails alone. Cognism integrates H2H in everything they do. Just look at this hilariously relatable video ad for example:
It uses humor to make light of something every sales rep dreads — calling the wrong prospect. Then ends with a hilarious twist about not wearing pants on sales calls. 😂 Memorable!
Lesson: Picture the person behind the business decisions. To connect with them, use humor, stay honest, stay transparent. 
3. Playbook's user-generated content x giveaways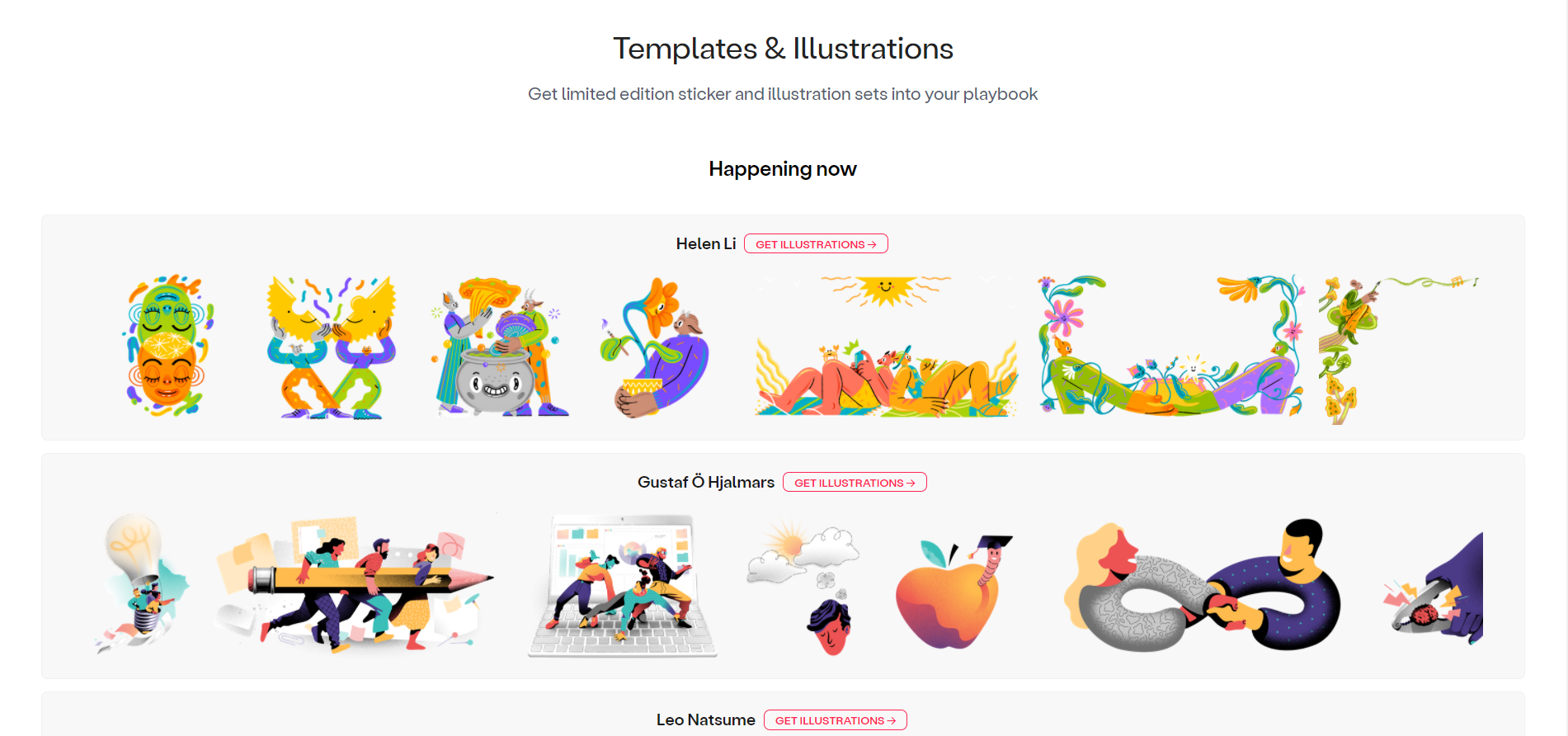 According to a Stackla report, 79% of people say user-generated content (UGC) highly affects their purchasing decisions. That's compared to 13% who value brand content, and 8% who listen to influencers.
Our client, Playbook, is a cloud-based file management platform for artists, designers, and other creatives. They combined two powerful forms of human-to-human marketing — user-generated content, and giveaways — to more than double web traffic in two weeks.
Every two weeks, Playbook holds a giveaway featuring original, royalty-free content created by a member of the Playbook community. This targeted giveaway does two things:
Spotlights creatives from Playbook's community. That encourages people to sign up for a chance to reach a larger audience with their work.

Attracts a specific and high-quality audience: only creatives.
Lesson: Start investing in user-generated content to build brand trust and a community that promotes you for free.
4. Ahrefs showing love and support

When Russia invaded Ukraine, Ukranian founded SEO tool, Ahrefs responded immediately with unbelievable support. The company announced that they would double subscriptions for any donations customers made to support Ukraine.
If you donated $99, for example, you'd get two months of Ahrefs for free. And if you donated enough money for a one-year plan, you'd get two full years of access as reward.
I've never seen a better way to motivate people to support a cause. And even if it wasn't Ahrefs intention, this move is bringing them so much goodwill; everyone's talking about them on LinkedIn, Twitter, Reddit, and even in the news.
Here are just some ‌comments from Reddit:
As Reddit user, scatteringlargesse says, "This is how you do marketing…"!
Lesson: There are many ways to advertise your brand and not all of them involve ad dollars. Sometimes, all you've got to do is give away your product for a good cause, then watch people do the marketing for you.
5. Coda's block parties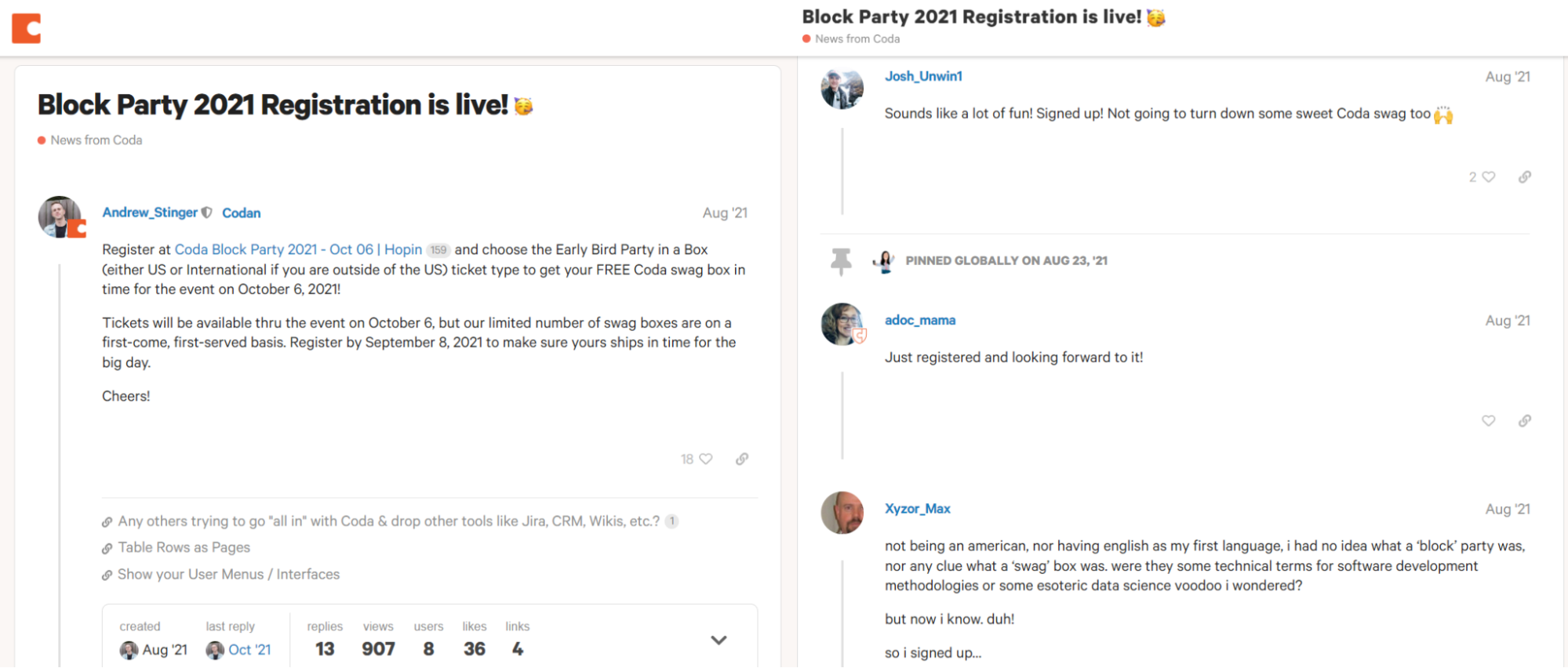 Every year since 2018, Coda has thrown a global block party for its community of makers.
According to events platform Hopin, the 2021 conference saw over 2,000 people register — more than Coda's 1,000 registrants target. Attendees spent two and a half hours in the event on average and had nothing but high praise. Social media following also grew by 5%.
Just look at all that buzz!
Pumped to drink from my @coda_hq mug, wear my @coda_hq socks and write in my @coda_hq notebook on 10/6 for the Coda Block Party! pic.twitter.com/y8WvB87d4c

— 𝕁𝕖𝕟𝕟𝕚 𝔾𝕠𝕠𝕕𝕞𝕒𝕟 (@JenniRGoodman) September 30, 2021
The another #nocode tool that makes me go hyper is @coda_hq 👻👻👻

Can't wait for the Block party 🎉 pic.twitter.com/E4YqZINbLp

— Aparna Sankaran (@Sankaran_Aparna) September 9, 2021
I'm all set for the @coda_hq block party today. https://t.co/walbSn9XTF pic.twitter.com/vYSTstV4jZ

— Wess Daniels (@cwdaniels) October 6, 2021
YES!!! I'm *super* excited to be joining the @coda_hq DOCtorate! It will be awehhhhsome 🎉🥳

Next stop: Coda's block party, taking place 6 October! Don't miss it! pic.twitter.com/d1AZIxDRNK

— Nina (@Nina_Ledid) October 4, 2021
The Block Party 4 months ago blown my mind 🤯

The possibility to create your own Packs and deeply integrate Coda with your favorite tools is a game changer that I am happy to be part of 🙌

Add the new layout editor and the canvas column to the mix 🔥

And

Long @coda_hq https://t.co/OEhoJBE9h4

— Lean Zubrezki 🇺🇦 (@LeanZubrezki) February 23, 2022
Big shoutout to @coda_hq for sending this awesome swag pack all the way to Australia to make me feel included in their block party!

I love that all these things will actually be used too! pic.twitter.com/JBEhKUnTeu

— Catherine Raffaele 🦄 🛠 (@cathyraffaele) October 6, 2021
6. Webflow's typo ad
What better way to promote no code than to show how problematic coding from scratch is?
Webflow hilariously exaggerates the human struggle of fixing small stuff on a custom-coded website. Here, we see a team panic over a typo on the homepage on launch day. 😂 Everyone's trying to reach the dev team without success. 
The response to the ad has been amazing, with tons of people resonating with it and calling it the "one of best ads they've seen".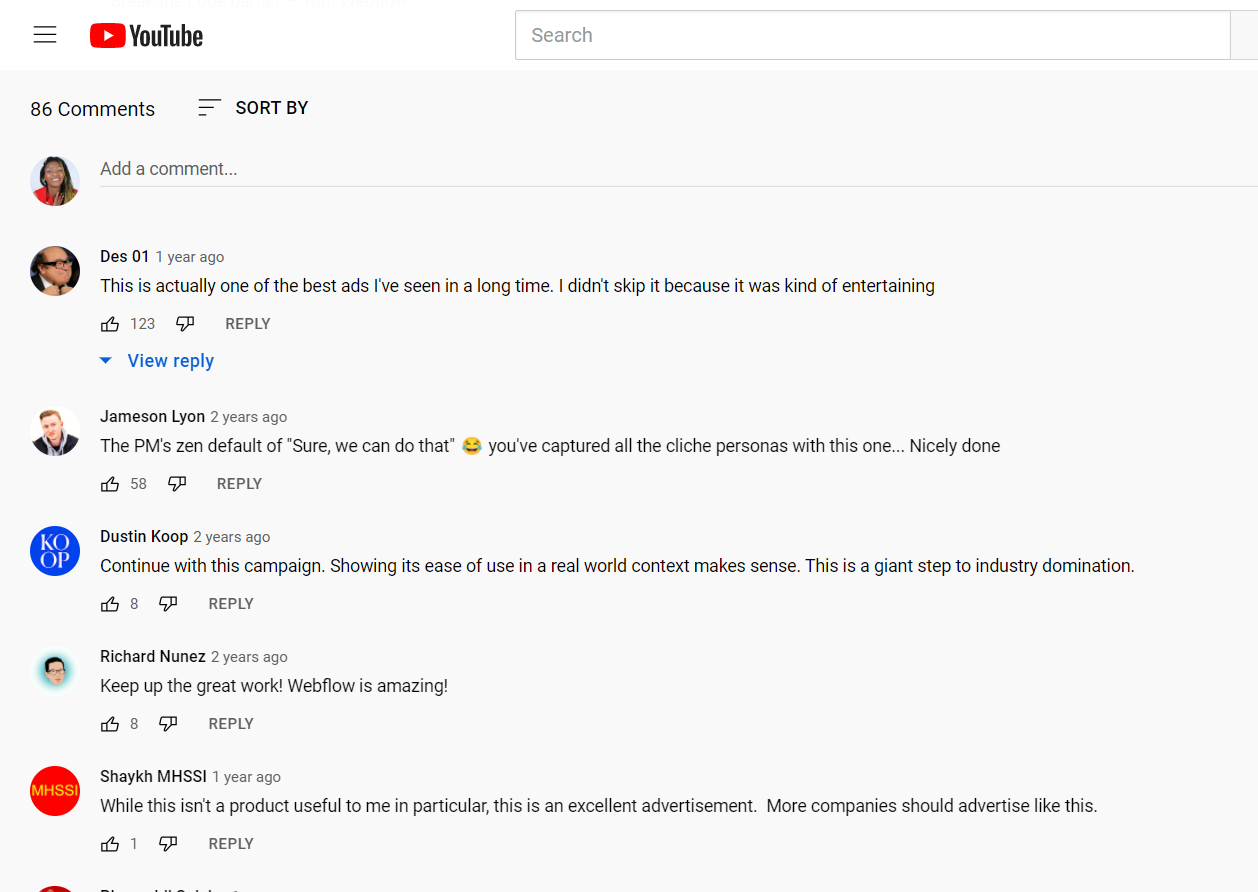 Lesson: Problem, agitate, solve. If you can show your audience that you understand their struggle, and the consequences of not resolving that struggle, you can convince them to buy from you.
7. Notion building in public
Relations power users, this one's for you!

🖇 Show/hide the related database's corresponding property in a single click. pic.twitter.com/8CcXMIOMWq

— Notion (@NotionHQ) May 4, 2022
안녕하세요 ✌🏼 Our Template Gallery is now available in Korean: https://t.co/VEiJaTxA0g

Oh yeah, and Notion was the featured App of the Day in Korea — thanks, @Apple! pic.twitter.com/iDkuqbnGzW

— Notion (@NotionHQ) May 19, 2022
🦸🏽‍♀️ Notion superpower: use the /turn shortcut to change block types without leaving your keyboard! pic.twitter.com/Rp8r4L8hkO

— Notion (@NotionHQ) May 18, 2022
Notion's entire Twitter account is a public documentary of what's going on in product development. They share quick tips, hidden features, sneak peeks of what's in build, and feature release announcements.

People engage because they know ‌Notion cares enough to listen to their feedback.

🌒 → 🌑 pic.twitter.com/l18jzML8MX

— Notion (@NotionHQ) March 8, 2022
Eric Doty of Butter says that build-in-public marketing humanizes your brand because it "shows that you're just people working at finding solutions to help your users, rather than building a product to make money"
Lesson: Embrace vulnerability. Invite customers to look behind the scenes. Let them judge you if they will. In the end, you'll get user feedback early and often while cultivating a community that's invested enough in your brand to feel like a part of it.
8. Remote OK with unique giveaways
🎉 I'm going to give one random person that retweets this $10,000. Because I'd rather spend my ad budget on you than BigTech

👩‍💻 I'm trying to promote my site Remote OK which helps you find a remote job so you don't need to go back to the office

💖 Thx!https://t.co/d5GwvsQDqc

— @levelsio (@levelsio) December 19, 2021
I first saw this tweet in December 2021. I wasn't following Pieter Levels (@levelsio) ‌but it found its way into my feed with several thousand retweets.
The copy itself has several relatable (and action triggering) words:
"Because I'd rather spend my ad budget on you than BigTech"

"helps you find a remote job

so you don't need to go back to the office.

"
Giveaways are notorious for attracting freebie seekers. There's usually no incentive for high-quality users to engage without embarrassing themselves in front of their network. This one, however, encourages high-quality users to share with their network because it promotes a good, non-selfish cause, and makes the sharer look good.
But let's talk about the results. I took a random tweet in a similar format (also crowdsourcing) with only four retweets from my small account (less than 1k followers against Levels, 120k+). Here's what the stats look like: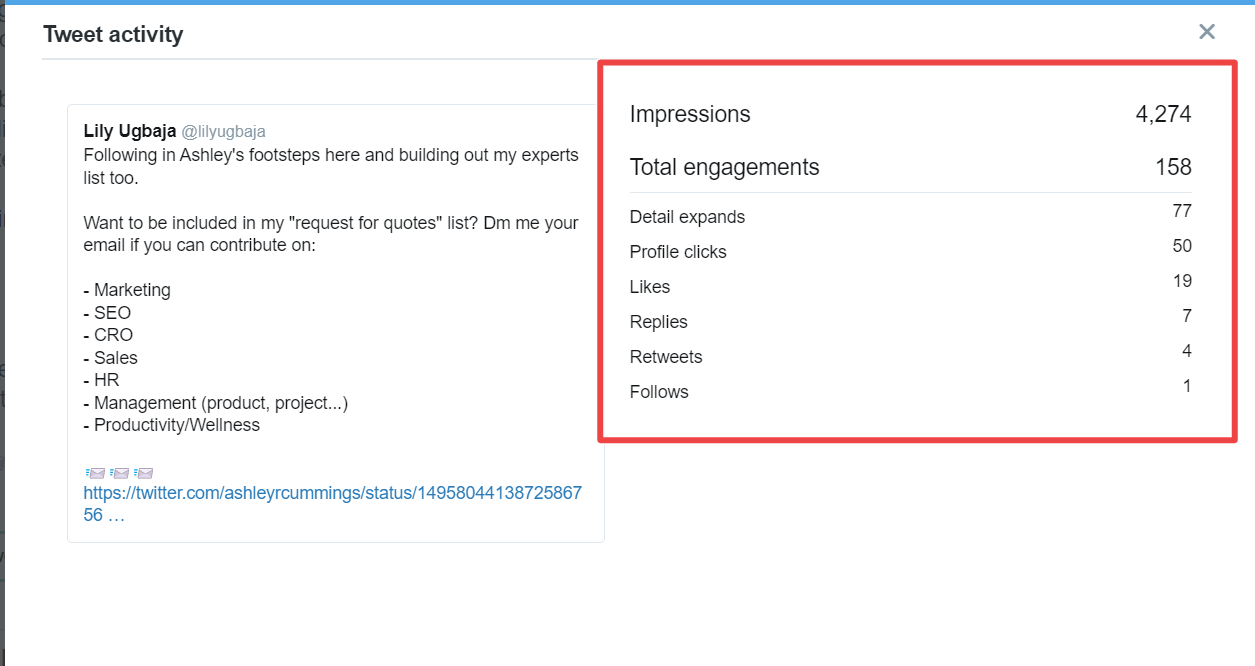 4k+ impressions for 4 retweets. If we follow this standard, Level's post would have generated at least 1000 impressions x 9,700 retweets. That's 9.7 million impressions.
Even if we had a 50% deviation towards the negative side, that still leaves close to 5 million impressions for a $10,000 spend. Add the goodwill the brand gets from it and that's a big win.
Proof from previous giveaways:https://t.co/iQa23aqXnUhttps://t.co/ItcgJkZEdJ

— @levelsio (@levelsio) December 19, 2021
Lesson: When you create giveaways, think about how the sharer will look if they shared it with their network. You could pitch your tent against something — BigTech, animal cruelty, racism… — like Levels did and make it we-against-them, i.e. "I'd rather spend my ad budget on you than BigTech"
9. Spotify's Wrapped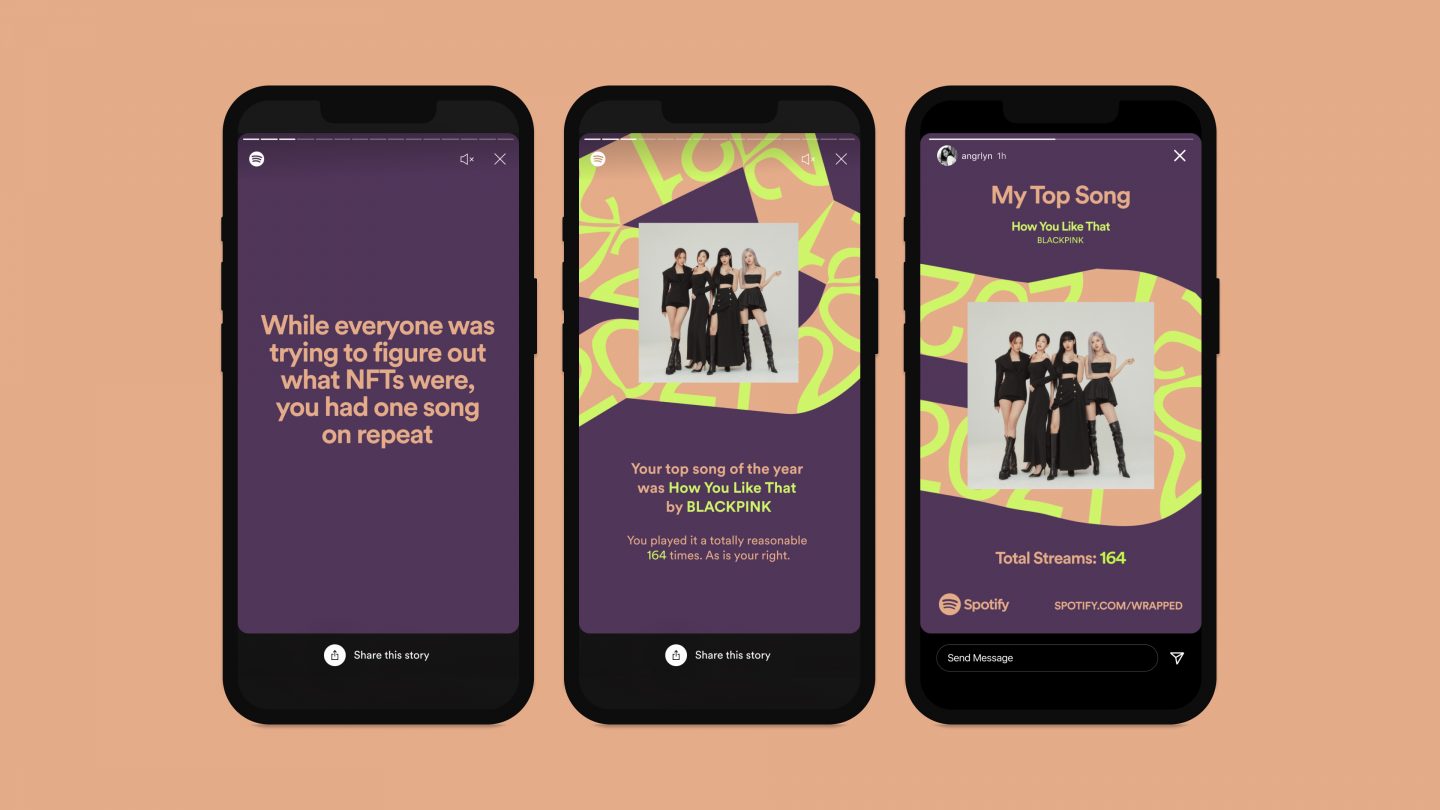 Call me old school, but I only just got a Spotify account last month. What triggered that? 2021's Spotify Wrapped.
Spotify launched Wrapped in December 2016. They've sent users personalized behavior summary slideshows every December since and users proudly show them off on social media. Of course, they use tracking data to create those slideshows. Shouldn't people be outraged?
Apparently, people aren't that concerned about being tracked. This tweet and the replies show that people are interested in honesty, transparency, and appreciate it when you think of their interests.
spotify the only tech company to figure out how to successfully rebrand "we've been tracking you" to "isn't this FUN"

— Delia Cai (@delia_cai) December 1, 2021
Lesson: People don't mind data tracking if you put their interests first. Use the data you have to personalize your marketing in a way that says "we care about you".
10. Bidnamic bidding with humor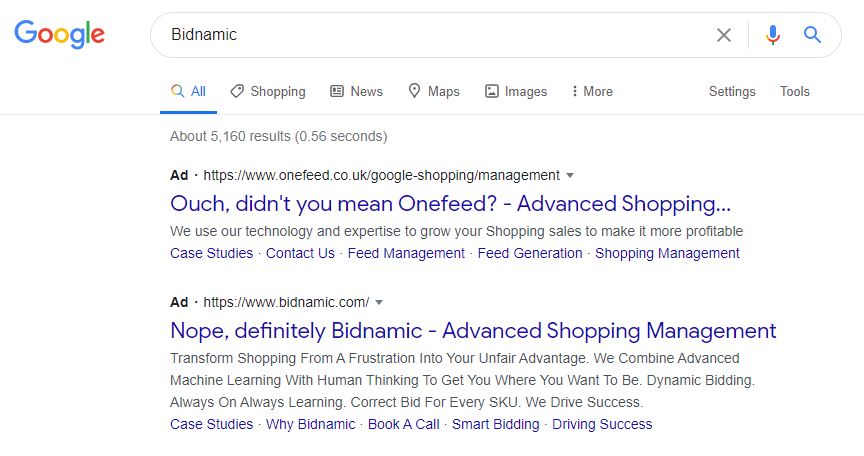 I found Bidnamic when Twitter user, Philip Gamble (@freeg131), shared this screenshot early last year.
Since Google lets brands bid on other brands' names, Bidnamic took a unique, beautifully executed approach to leverage their competitor's ad spend.
I'd bet this ad war does nothing for Onefeed (except waste their funds), and solidifies Bidnamic as the dynamic bidding brand of choice. I know who I would choose. 
Lesson: When competitors outbid you for your own brand name, you could showcase brand personality and win over your customer instead of crying wolf.
Bonus: Twitter's tweet it into existence campaign
📍 Chicago, IL pic.twitter.com/kdu4yVc4Zj

— Twitter (@Twitter) January 18, 2022
Twitter is great at human-to-human marketing; even their regular tweets are so relatable. The only reason they don't sit on our main list is that they're so big, they might come across as intimidating.
This year, Twitter rolled out the "Tweet it into existence" campaign featuring celebrities' wishful thinking from years ago. All those featured tweets are now realities. 
The social media platform created the campaign because they noticed a rise in posts about 'manifestations' — over 59m tweets in the last three years.
Here's just one:
A year ago, I tweeted out my dreams. I wanted to make a bump for adult swim in 2020.

Today, my 4th bump for @adultswim is airing on TV tonight! Time to set some new goals for 2021. pic.twitter.com/WFPKxGyGZC

— andreoshea.eth (@andreoshea) November 23, 2020
In return, Twitter got the press talking, and more people tweeting their dreams — more active users.
Lesson: The foundation of human-to-human marketing is listening. Twitter listens and tunes in to what its audience wants (except for edit buttons, apparently). Try to do that too.
You too can win with H2H marketing
Whether you're selling to businesses or directly to consumers, you can humanize your marketing to engage more customers, increase brand trust, and generate a community that helps with word-of-mouth marketing. 
There are so many ways to do this as we've seen, but one thing is central. Human-to-human marketing can only exist where there's deep customer knowledge, authenticity, and a willingness to make mistakes and show your vulnerability.
Need help with creating a human-to-human marketing strategy that works? Chat with us; human-to-human is what we do!