The way people interact with brands has changed.
Social media has blurred the lines between businesses and their customers, making it easier than ever for users to connect with their favorite brands.
As a result, consumers expect a different kind of marketing, too. One that's genuine and puts their stories front and center of a brand's marketing efforts.
Enter user-generated content — or UGC.
If you've ever used a brand's hashtag while showing off some new threads, tagged your favorite restaurant in a foodie photo, or made an unboxing video of an exciting new product, you've created user-generated content.
UGC is a human-to-human marketing strategy that's highly effective at driving authentic engagement and building audience trust in a brand. Traditional advertising is becoming less effective as social commerce — making purchases without leaving social apps — starts to take over from e-commerce as the most popular way to shop online.
Any brand that hopes to stay relevant in this new paradigm needs to humanize its marketing efforts fast — and UGC is one of the most powerful ways to do so.
UGC can take many forms, including:
Photos
Videos
Product reviews
Testimonials
YouTube videos
Blog posts
Podcasts
Social media posts (e.g., tweets, TikTok videos, Instagram posts, etc.)
Live streams
Case studies
Surveys
Hashtag campaigns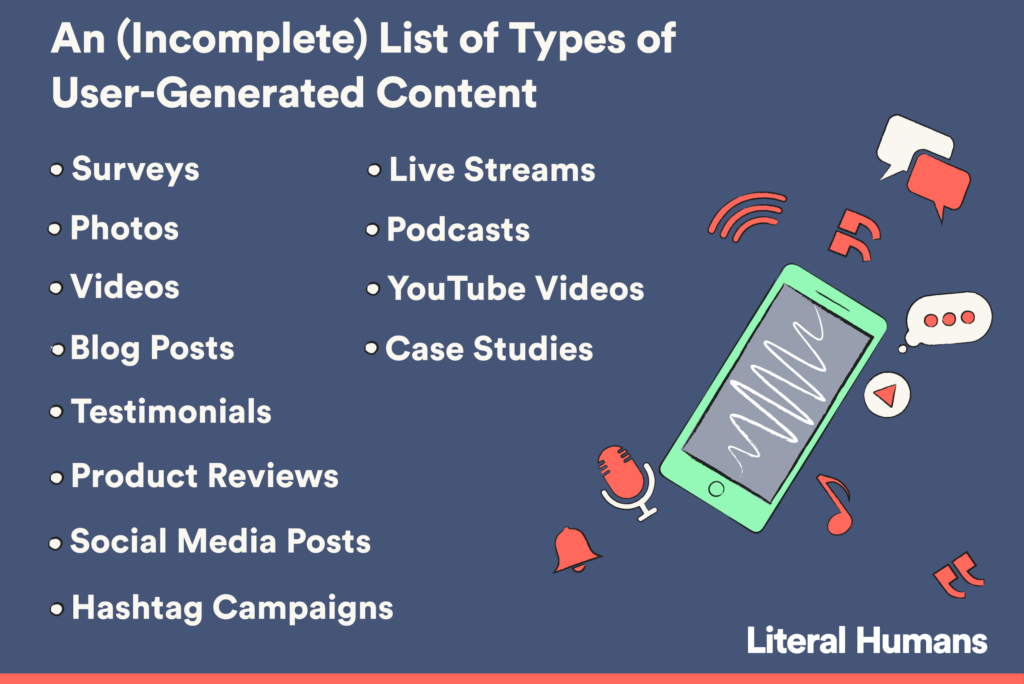 Let's take a deep dive into why UGC works, some examples of successful UGC campaigns, and our top tips to help you get started.
User-generated content — what do the numbers say?
Millennials and Gen Z together represent the largest consumer group. As Gen Z comes of age, they're reshaping the world of online sales, with a whopping 97% of them using social media as their primary source of shopping inspiration.
Plus, according to Tint's State of UGC report, 76% of consumers have made a purchase based on someone's recommendation, and 62% of users are more likely to click on a post that contains a user-generated image than an image created by a brand.
This makes UGC the perfect way to build credibility while leveraging the power of customer recommendations.
Not only that, brands that harness UGC are likely to have a bigger social following and — most importantly — more engagement.
In fact, 64% of users are more likely to post about a brand if it shares content created by its customers. The same percentage has tagged a brand or used its hashtag on social media in the past.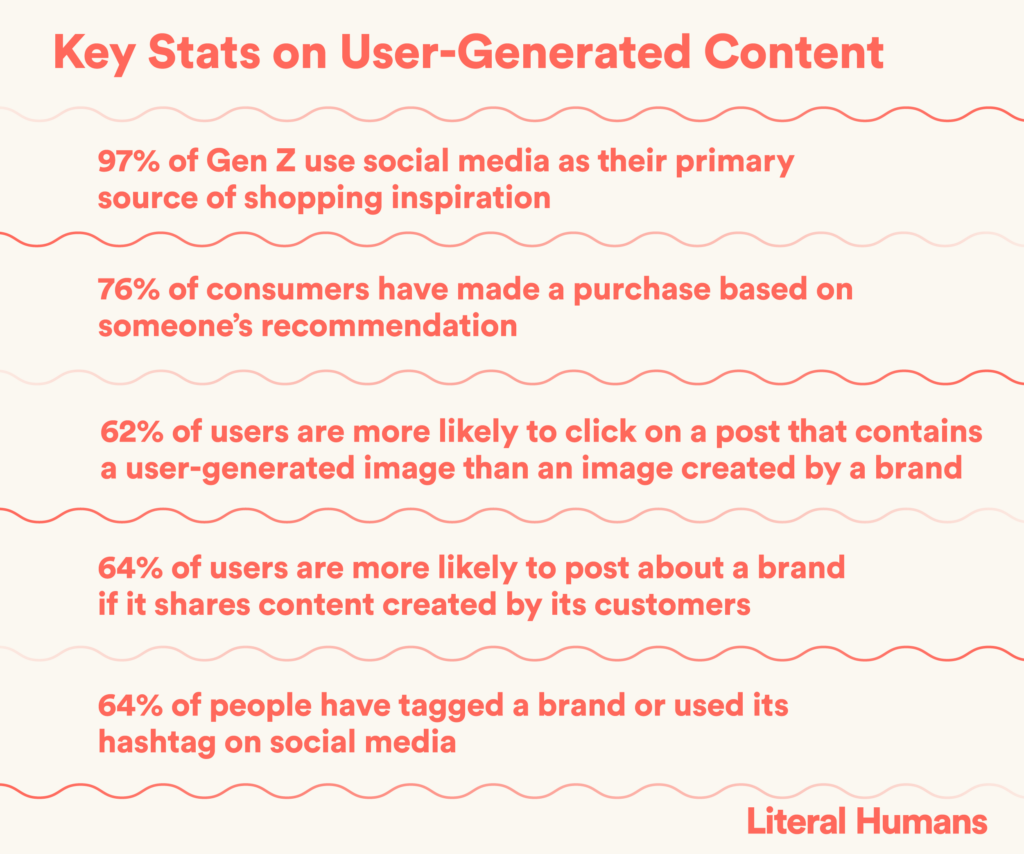 Why do people love user-generated content?
Branding in the 21st century isn't about you or your products — it's about your customers and how your product or service solves their problems and enriches their lives.
They are the real stars of the show, and by encouraging them to submit UGC, you invite them into your brand's community and foster a sense of belonging — something that people are craving after more than two years of pandemic life.
You could think of UGC as the most engaging form of influencer marketing. Instead of paying an influencer thousands of dollars to pretend they love your brand — which they may or may not actually use — you ask real people to show you what they love about your product and why.
And that's where the success of UGC lies.
One study found that consumers find UGC almost ten times more useful than influencer marketing.
And according to the Tint report, 72% of people believe customer reviews and testimonials are more reliable than a brand's own product description or advertising.
It makes sense — a customer has nothing to gain from recommending a product, so their recommendation is more genuine than that of the brand selling it.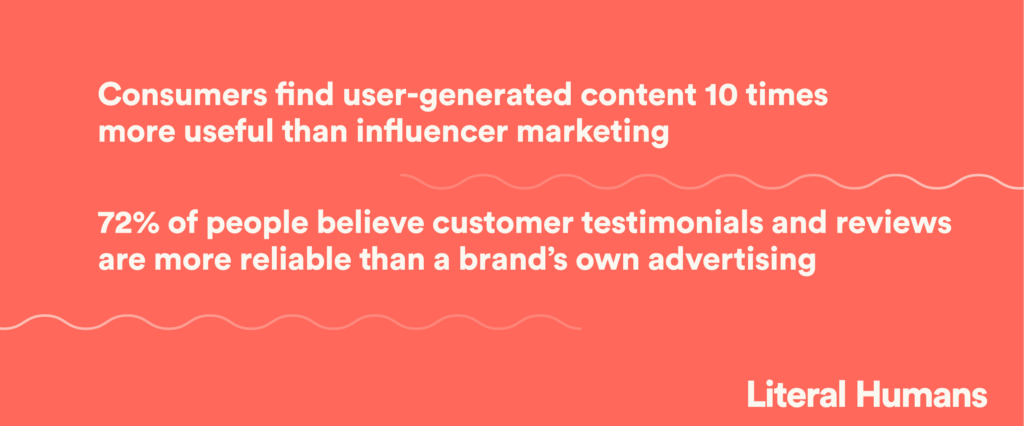 4 Real-life UGC campaigns that rocked
Now that you're familiar with the concept let's take a look at four creative ways brands have successfully leveraged UGC.
Chobani
In January 2021, yogurt brand Chobani ran its #SwitchTheChobaniFlip campaign on TikTok. The campaign encouraged users to create a video set to Missy Elliot's hit "Work It," and participants had the chance to win one of 25 packs of limited-edition yogurt that was not available to buy online or in stores.
Using influencers to seed the challenge, Chobani generated 8.3 billion views for the #SwitchTheChobaniFlip hashtag.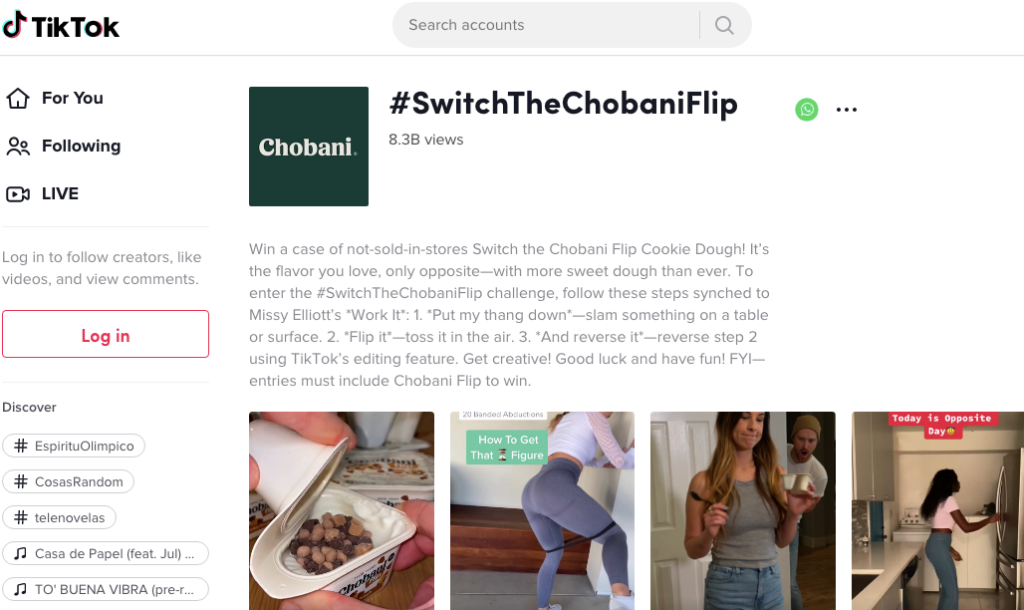 Dove
Beauty brand Dove has been campaigning for greater representation and diversity in the beauty industry since before the term "body positivity" existed. They incorporated UGC into their strategy with Project #ShowUs, a collection of over 10,000 photos of real women and non-binary people from around the world that challenge beauty industry standards.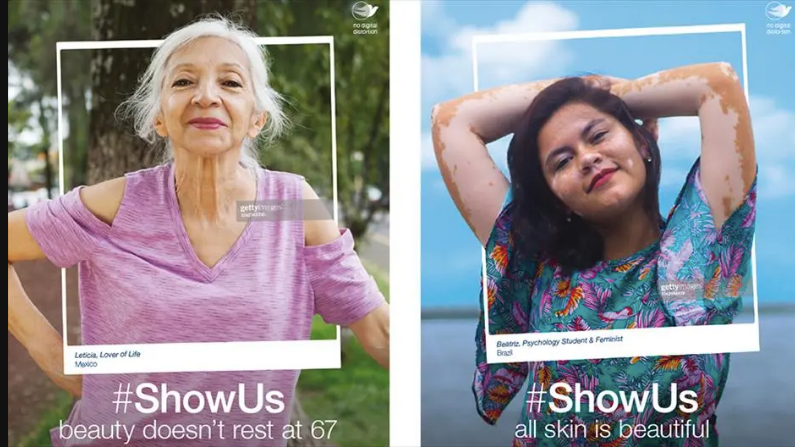 To create the collection, Dove asked its followers in 39 countries to submit true-to-life photos of themselves that show what true beauty looks like without digital distortion. The campaign had a reach of 1.6 billion, with over 20,000 users joining the hashtag movement.
Netflix
Netflix's unstoppable domination of the realm of home entertainment continues. Their TikTok account is the second most-followed brand on the popular social app, and it grows to the tune of 1 million new followers per month.
In 2021, they harnessed the power of UGC with their #WhatsYourPower campaign that invited users to discover their superpower using a branded in-app effect. The hashtag got 6.4 billion views and generated over 100,000 user videos.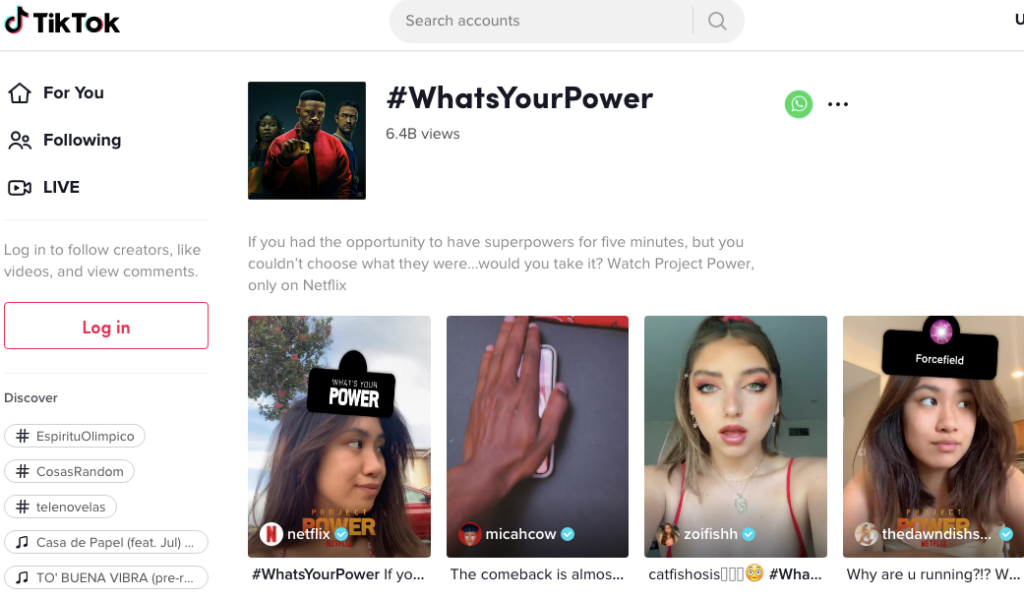 Playbook
Playbook is an online file management platform for creatives, with a focus on artists and designers. It hosts a biweekly giveaway of original, royalty-free content commissioned by Playbook and created by a member of their community of over 20,000 artists. Within the first two weeks of launching the campaign, Playbook more than doubled its web traffic.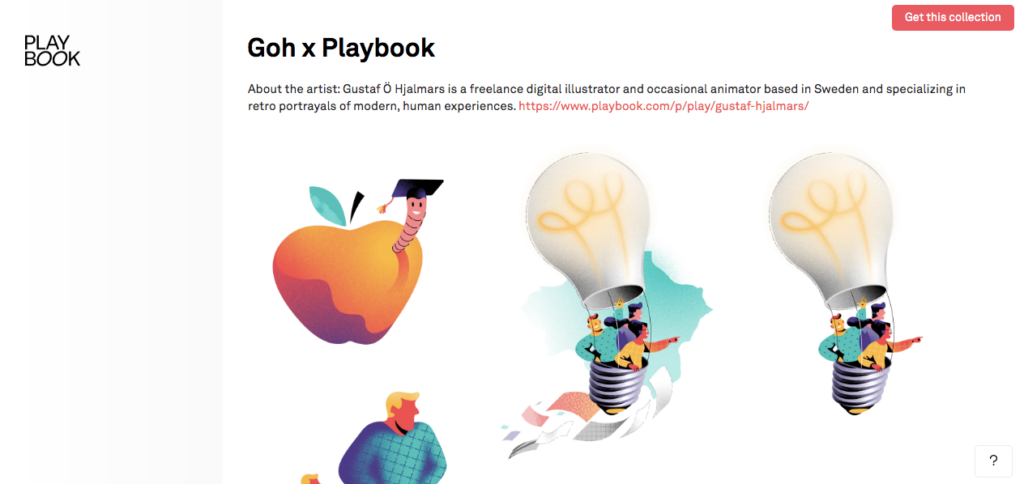 7 Tips for leveraging UGC to drive engagement and boost sales
As you can see, UGC works for brands of all shapes and sizes, and it's not just for giants like Netflix — even small businesses can build their following and drive user engagement with simple UGC campaigns.
Ready to get started? Follow these seven tips to get the most out of your UGC campaign.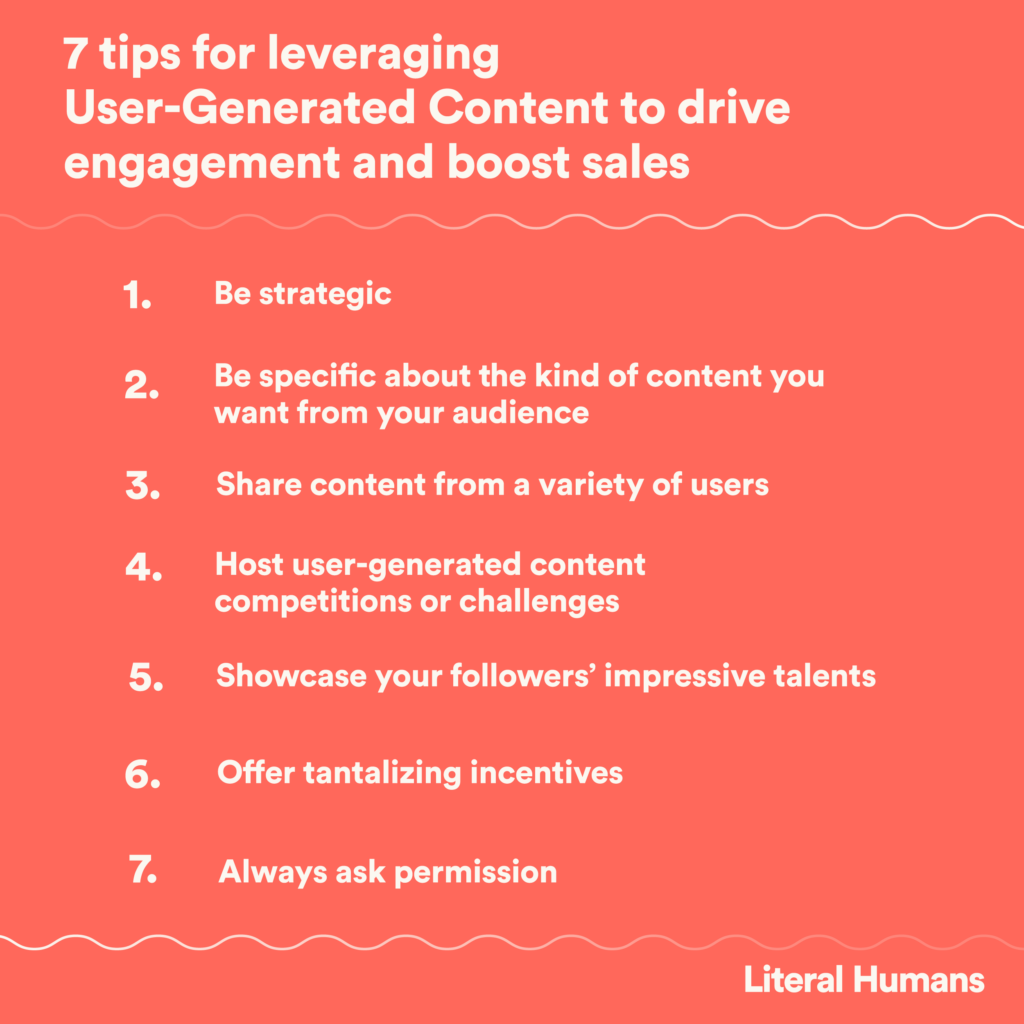 1. Be strategic
Before you jump on the UGC bandwagon, you'll need a strategy. Start by thinking about all your channels and how to integrate UGC into each one of them, including your website, social media platforms, and email marketing.
Some ways to incorporate UGC into your marketing strategy include:
Creating a dedicated page on your website explaining how users can submit their content
Using contests, giveaways, challenges, and incentives to promote participation
Distributing UGC across all your channels
Actively engaging with your audience
Analyzing the results and finding ways to improve
For example, fashion brand TopVintage kills two birds with one stone by providing user-generated visual reviews on its website.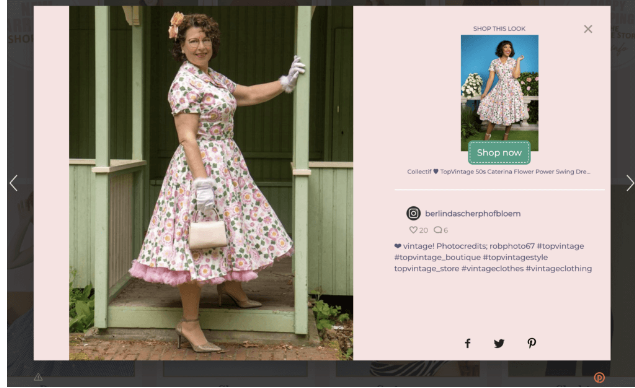 Over on Instagram, the brand regularly features user-generated reels, photos, and other content created by its fans. This strategy helped TopVintage increase its average order value by 8.33% and maintain a conversion rate of 20% of people interacting with its UGC.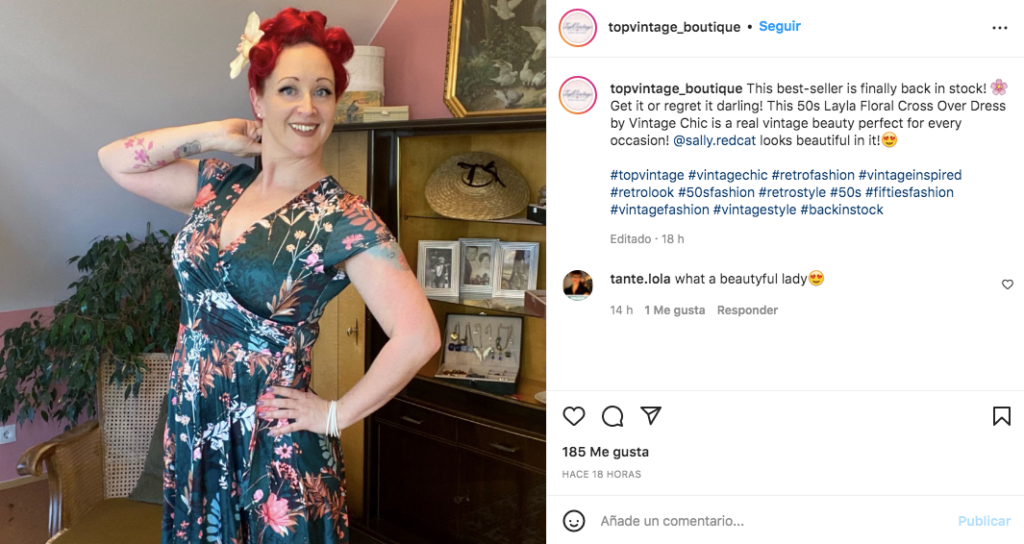 2. Be specific about the kind of content you want from your audience
According to Tint, 60% of consumers wish brands would tell them what type of content they want them to create. So give the people what they want! Figure out what kind of content would best fit your strategy, and then ask your followers to submit it.
For example, the camera brand GoPro has run several iterations of a UGC campaign with the hashtag #MillionDollarChallenge for the launch of its Hero Black cameras. It asks its adventurous users to submit reels of their most daring acts shot on GoPros.
GoPro then selects the best of the 25,000 entries to create a short video — the creators of the entries that make the cut each receive a slice of the $1 million cash prize.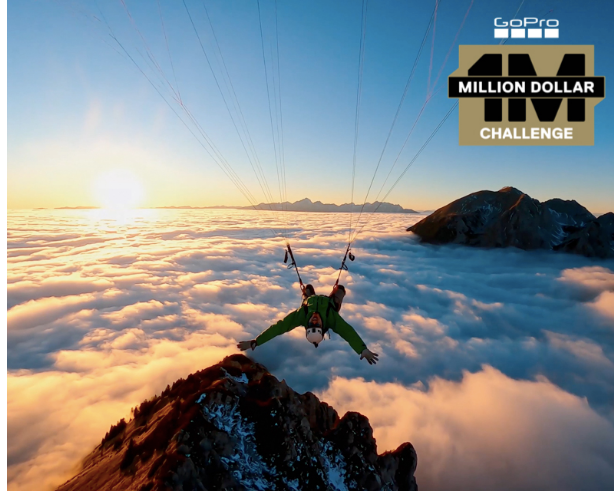 3. Share content from a variety of users
Your UGC strategy should include content from everyday customers as well as your brand loyalists — aka, your raving fans. This will help cultivate a dependable and trustworthy brand image.
But don't underestimate the power of employee-generated content, or EGC. When employees align with a brand's message, it seems more reliable.
One brand that has embraced EGC is Starbucks. It actively encourages employees to create content about their experience of working for the company (according to strict guidelines to ensure alignment with brand messages). It uses an online portal and dedicated Twitter feed where employees can submit their content.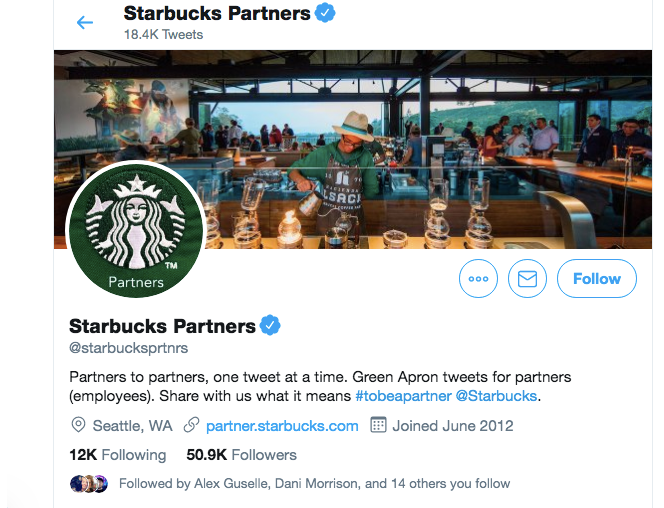 Some types of EGC include:
Screenshotted tweets
Blog posts
Educational videos
TikTok videos
4. Host UGC competitions or challenges
Competitions and challenges are two of the most popular ways to create user-generated content, like the Chobani campaign mentioned earlier.
Another take on the UGC competition was snack brand Lay's #DoUsAFlavor challenge that launched in 2012 and ran for several years. 
Potato chip fans submitted ideas for new flavors that then went to the public vote, with three new ones being released each year. The winner also received a $1 million cash prize.
5. Showcase your followers' impressive talents
Put your followers at the forefront of your campaign by asking them to show off their talents. Not only does this give fans a chance to enjoy five minutes in the spotlight, but it can also help undiscovered talent get the recognition it deserves.
For example, National Geographic ran a contest a few years ago asking users to submit their best inspirational travel pictures in exchange for a trip to Yosemite National Park.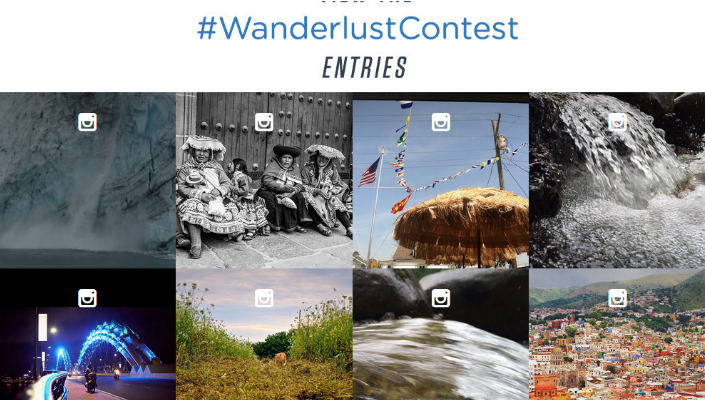 They received hundreds of entries, and the outcome was a win-win — aspiring photographers got their work published by one of the world's leading nature publications (as well as the trip). Meanwhile, NatGeo accumulated beautiful UGC images to add to its content strategy.
6. Offer tantalizing incentives
Most brands don't have a spare $1 million lying around like Lay's, but that doesn't mean you can't offer your fans incentives for submitting their user-generated content.
Some of the most popular types of incentives include:
A free product
A gift card or coupon
An NFT
Templates for reusable items like royalty-free designs
A discount promo code
Getting featured on your website or social media pages
A trip or vacation
An ebook or course
A year's free subscription to a software platform
A photoshoot
A chance to meet an influencer or celebrity
A spa day

7. Always ask permission
At the risk of stating the obvious, you should always ask permission before sharing any UGC and credit the creator for their work.
Reposting content without permission — even by accident — can damage your brand reputation. Conversely, asking permission can increase engagement and help you gain useful insights about your followers.
There are two main ways to ask permission:
If you're running a contest, make it explicit in the terms and conditions that by participating, users are giving you the rights to their content
Ask directly in the comments of a user's post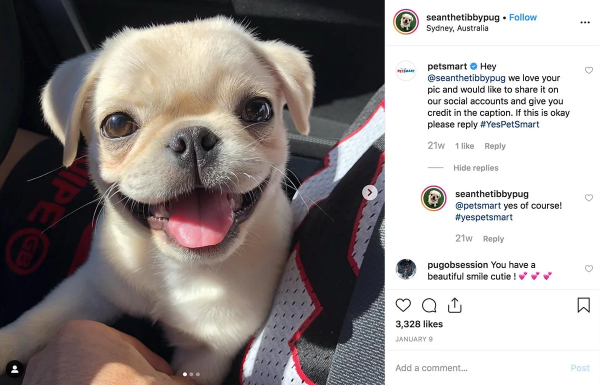 Give your brand the human touch with user-generated content
In the end, marketing is all about your customers — their stories, hopes, and dreams… and how your brand can help them live their best lives.
UGC is marketing by the people for the people. It drives engagement and builds relationships between brands and customers, making it one of the most powerful marketing strategies out there.
Try running just a simple UGC campaign, and I bet you'll be surprised by the results. And if you want a helping hand humanizing your brand, give us a shout — we specialize in human-to-human marketing.