Your marketing is the life and soul of your brand. We know it sounds cheesy, but they keep your company alive by pulling your voice, goals, branding, and reputation together. 
Maybe you feel as though you've got an unbeatable marketing team structure. That's great and all, but the industry is not standing still. Content marketing revenue currently sits at 79.06 billion dollars, but is expected to reach 137.2 billion in 2026. Are you prepared to keep up with it?
Executing a thought-out strategy before jumping into a campaign makes you roughly three and a half times more likely to succeed. You won't forget those numbers!
The only way to compete with fleeting trends and changing technologies is to employ a modern marketing team. You need to harness your brand to its full capability in every aspect. This can be daunting when you're doing the work yourself, and could cause you to crash and burn. So, buckle up. We've got all the advice you need.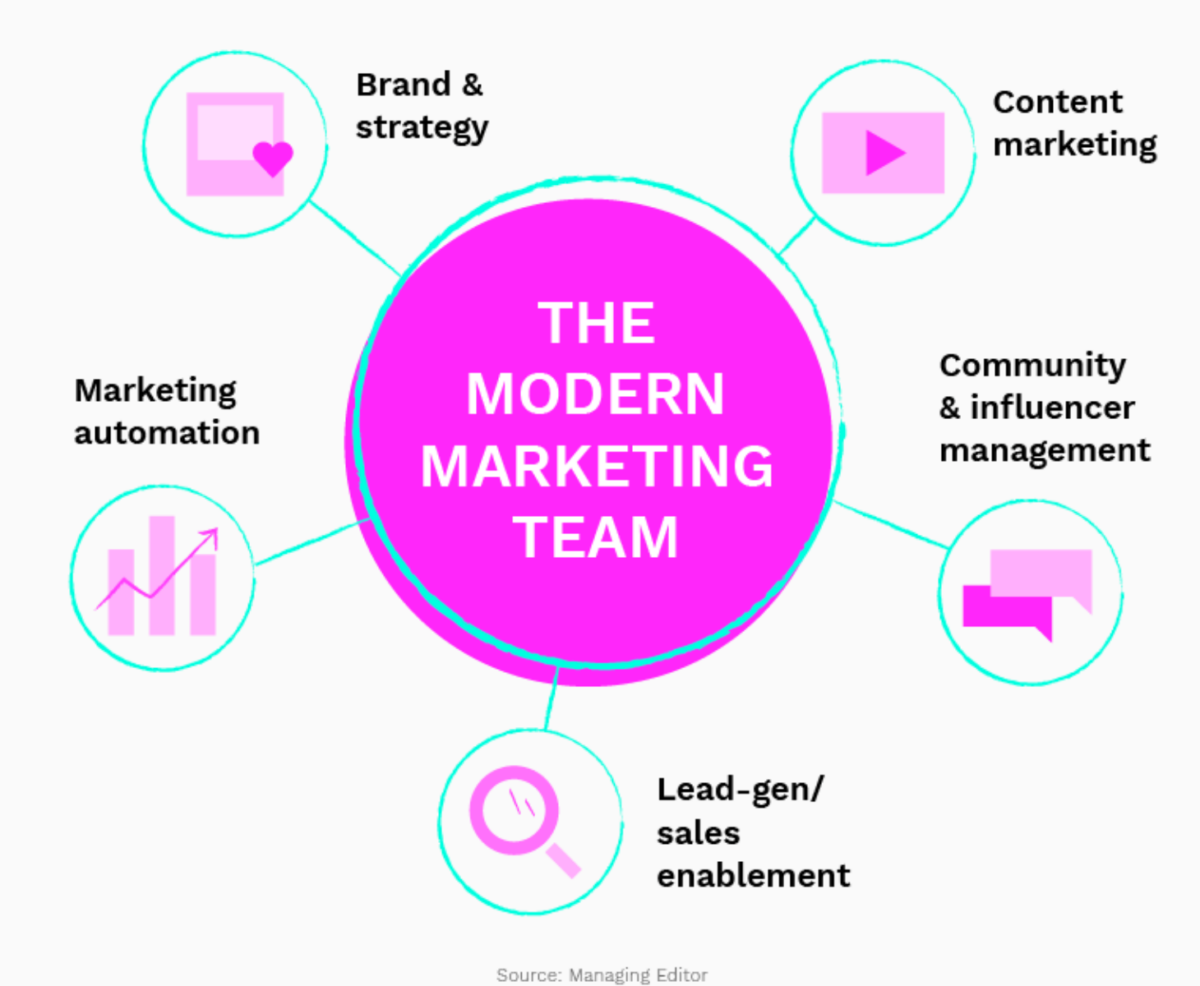 What makes effective marketing?
Before you start hiring a marketing team, you need to consider what you need them for. Without goals in mind, you won't be making the most of your employees. Their initiatives are to interest users, create brand awareness, and keep customers engaged. Ultimately, they will help you to convert consumers into buyers. 
You need people who are dedicated to their role and can focus on their own tasks. But aside from the CMO, have you considered how many parts there are in a well-oiled marketing machine? We promise there is a lot, but in case you don't believe us…
Graphic designers

SEO strategist

Social media manager

Public relations 

Copywriter 

Data analyst
It's a pretty exhausting list. And the truth is, getting them all to run smoothly is not a simple task. An in-house team doesn't always cut it. Sometimes you need freelancers, automation, and a lot of tools to meet your marketing needs. Let's discuss the roles you can't live without, but also can't do alone. 
1. Graphic designer
Many companies will have internal creatives to transform all of the boring stuff into something visually engaging. They will use typography, color and images to convey information to your customers. As you probably already know, they are crucial to marketing campaigns. 
It's impossible to achieve a memorable and professional image without a graphic designer. Sure, you could purchase a template online. But imagine how many other companies have also done the same thing? How are you going to look unique if every other competitor looks exactly alike?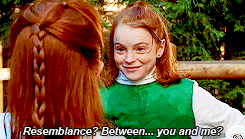 If you try to design a logo or content without the right experience, customers are going to be put off. Graphic designers don't just make things pretty; they know how to evoke emotions, how to utilize shapes, and which styles stand the test of time. Don't waste your resources. Get the experts in. 
37% of marketers would automate the visual content creation process if they could. We get it, it's a lot of work to make things look good. But hiring a freelancer or using an external source can be the next best thing. 
They might work with your team, or they could replace the internal role. Or, it might just be time to hire your first graphic designer. There is no right answer.

The truth is, if you want to have a memorable image, you need to find the right people to fill the role. Why do we think graphic designers, in particular freelancers, are the way forward?
Freelancers are always working with different companies. Therefore, they are sure to be up-to-date with emerging trends and what works well. 

A graphic designer that has been in your company long term may become too comfortable with your content. You need to stay fresh to stay in the game. 

Unique branding (not something readily available online) will give you a competitive advantage. 

You might not think about accessibility and readability in the same way that professionals do. 

They know how to put your purpose and mission across. You could do the work yourself, but it wouldn't tell the same story.
A marketing strategy is all about engagement, and graphic designers will make sure everything you put out will be a positive addition to your image. 
2. SEO strategist
Every company wants to rank high on the search engine results page (SERP). Achieving this will result in more visibility than your competition, boosted credibility in the industry, performance insights, and increased revenue. 
53% of consumers in the United States will research on a search engine before making a purchase. Your SEO specialist will make sure your business will rank well and become a consumer's first click.
However, if you've ever tried to pin down Google's algorithm, you'll know search engine optimization is going to require some effort. Sometimes you won't have the budget to hire someone for the role. And guessing popular keywords and stuffing them into your content won't get you first place. But that's what SEO tools are for. 
The SaaS platform is a trusted tool for getting clued up with your online ranking data. The company promises to help you grow its organic traffic. You gain advanced features that you wouldn't have access to if you were DIY-ing your SEO.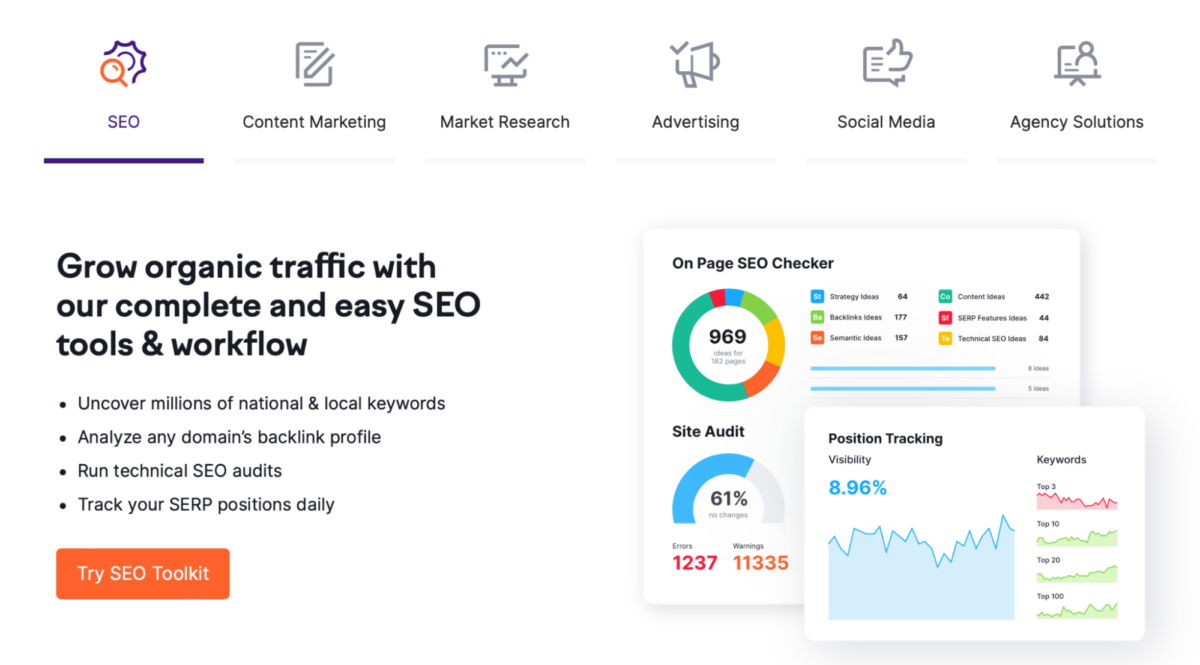 So, what can the platform offer you, and why do you need it?
Rank tracking.

Manually checking search engine positions, worrying about keyword limits, and keeping track is just not feasible. You have a business, you don't have time for this. 
Backlink analysis.

You don't need to search out your analytics across different platforms and try to integrate them. Find them all in one convenient place. 
Content idea generators.

It can take a whole team and lots of brainstorming to come up with the perfect ideas. This tool will not only come up with suggestions for you, but they will also be optimized for SEO. 

Keyword research.

This doesn't need to be a guessing game. You are wasting a lot of time conducting research by yourself. Instead, navigate through Semrush's database to discover keyword difficulty, monthly volume, and searcher intent.
A specialist alone may grow overwhelmed with constantly checking and attempting to boost your position. Or, they may feel unsatisfied by repetitive tasks that could all be managed on a platform.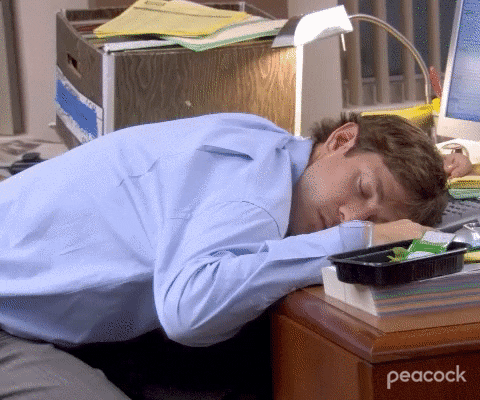 Either way, you'll never be able to maximize your ranking if you aren't using everything your competitors are. Semrush is only one example. Go on, do some research and see what they can do for you. 
3. Social media manager
Probably one of the most time-consuming aspects for marketing team members is updating your company's social media. Customers want an omnichannel experience, so only working on your Facebook account won't impress them much. They want to choose where they can reach you and expect you to be present everywhere. 
This doesn't mean you need to have an account on every single channel. You should conduct research into your target audience and target market to see where your efforts are best spent. This will be the job of your social media manager. Alongside this, they will be expected to increase your following, post consistently, and interact with users. 
Making this work isn't easy. As of 2022, there are 4.59 billion active social media users. That's a lot of people to attract and then keep interested. You have to post a ridiculous amount of content. There is no way you can give it your all without a little bit of help. Make use of the tools out there to make management a breeze. 
This social media manager will make the role exciting again. Investing in Buffer will bring your company benefits such as unique insights, a user-friendly dashboard, less stress, and better marketing organization. 
Not only do these make your life easier, but they also improve customer experience. They want to see a put-together, active, and social presence online. Buffer understands the need for human marketing. Not every aspect of automation has to be robotic. Here are some other features and how they will take all the pressure off your manager: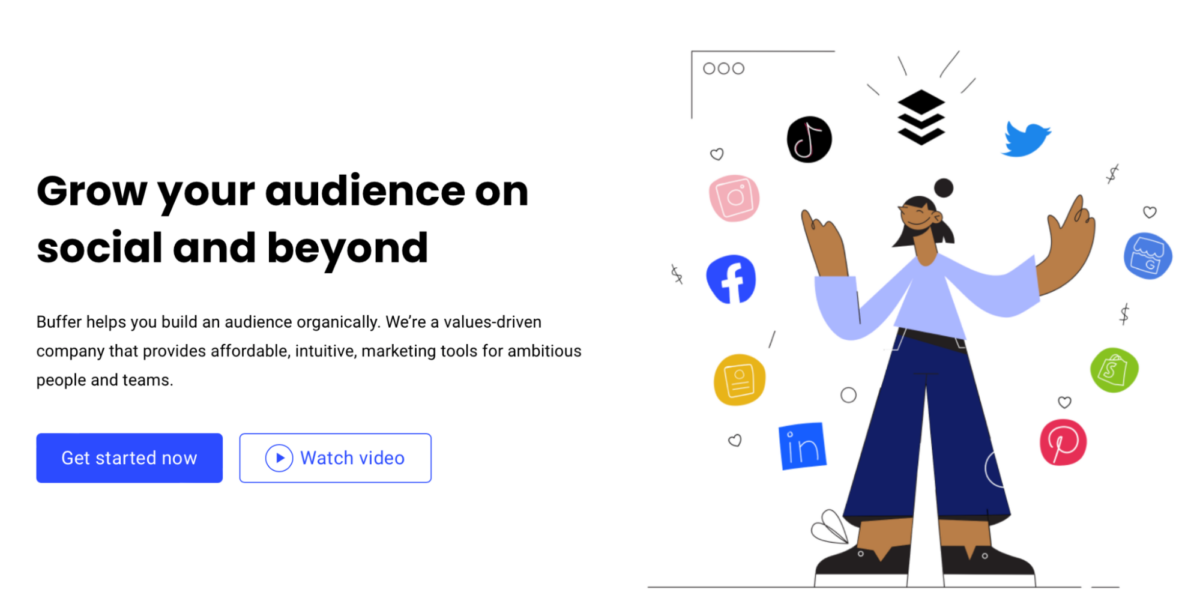 More clicks.

Buffer has lots of data that you don't. The platform can give you advice about when to post for maximum visibility. There might be tricks that your project manager isn't even aware of. 
Growth of following.

Using a tool like this one means your increase is done organically. Getting into the habit of buying followers isn't a long-term strategy. 
Smaller workload.

If your social media manager isn't worried about all the technical things that Buffer works on, they can focus on creating quality content, curating a community and integrating more channels.

Save time.

Buffer allows you to schedule posts so you don't have to publish them in real-time. This means your social media team leader can focus on those fresh and brilliant ideas. 
Close your eyes. Picture a paradise with your data in one place. You're managing different channels from the same tool. You're building customer relationships while you put your feet up. You don't worry about what's going on with your online presence, because you're always clued up. Open them again. You know what to do. Make the impossible… possible. 
4. Public relations
Do you cringe at brands when they collaborate with a controversial celebrity? Or shake your head when their social media manager likes some tweets that they probably shouldn't? We bet it's stopped you from buying from them. We doubt you'd recommend the company to a friend, either. 
The hypothetical company has fallen victim to a bad public image. The role of public relations in your marketing is to ensure your customers' perceptions stay positive. They will make sure none of your content is controversial or offensive. And if you do post something you regret, they will clean up the mess for you. 
If there is a marketing role that is truly impossible to do yourself, it's public relations. Customers do not want to feel pressured by a brand to buy from them. It might sound harsh, but customers don't care about you as a corporation.
92% of consumers trust people they know for recommendations as opposed to any other source. So, it sounds like you're going to need a bit of help. Luckily, there are people out there who can influence the way their fans and followers make a purchase. There are also opportunities to make yourself more trustworthy by posting content created by users. 
Influencers
Influencers are very smart with their marketing. They can convince their followers to buy something without making it feel salesy. They do this through social media posts,  live videos, or even podcasts. 
Although the advertisement is paid, it feels non-promotional. This is exactly what you want to tap into when it comes to making your company desirable and creating a likable persona.
So, what's so special about influencers, and what can they do that you can't?
They have a successful social media presence that's already been established. You can utilize their captive audience to cast out a wider net. 

Influencers tend to have a highly engaged audience. It's much harder for companies to develop this.

It can be difficult to develop

brand awareness

from within the company. You need as many people talking about you as possible for the most reach. Influencers have the platform to do this. 
Many digital marketing teams are already on the bandwagon. UGC is a wonderful tool for giving your company credibility. People post photos of themselves using your product on social media and you can use it to promote on your marketing channels. Consumers will see other people not only buy but enjoy your products. It's all about show, not tell. 
Fashion retailer Monki has a whole page on their website dedicated to UGC. The images are purposefully bright and eye-catching. If users like something they see, all they have to do is click on a photo to be taken to the product. Clever, right?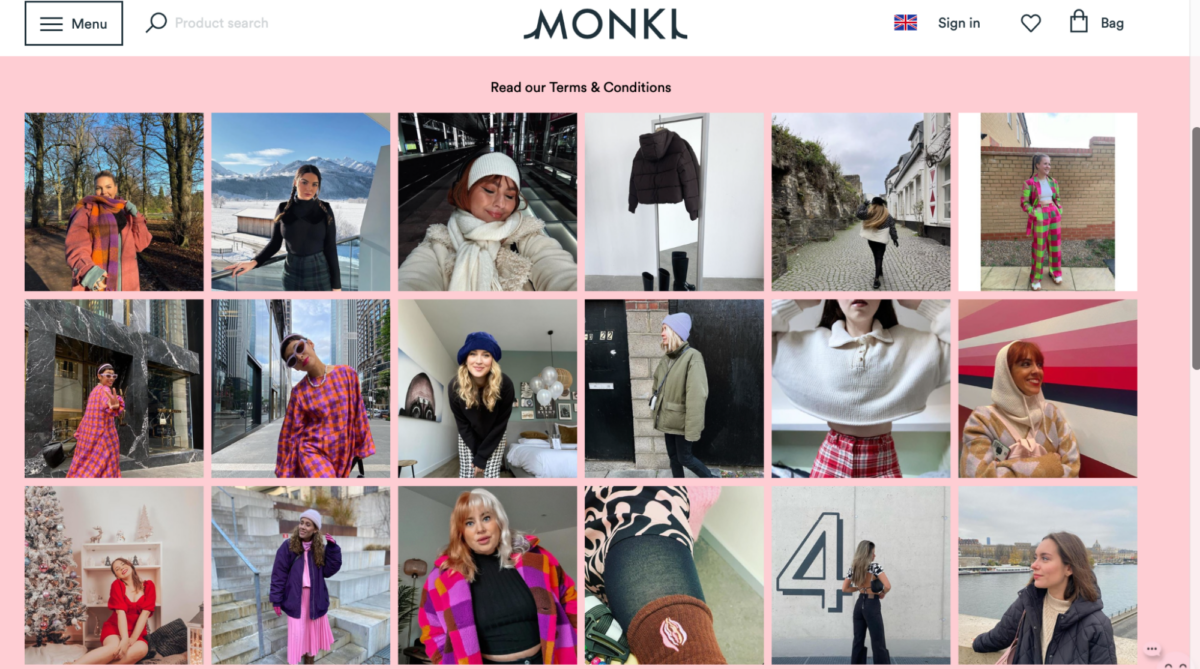 But why do you need to bother with this when you spend valuable time making your own content?
UGC acts as social proof that your product or service has value. It tells consumers things that you simply can't through your marketing messaging.

It's also a great way to show you put your customers first. When consumers are searching for a brand with a good image, this is what they'll look for. You telling users that you care won't be nearly as effective. 

Increasing conversions on your own is hard work. But UGC speeds up the purchasing process for you. 
Reputation is everything
When it comes to driving traffic, customer retention, and revenue, don't underestimate the importance of reputation. Consumers want to see that you have good values. You can paint this impression all over your social media and website, but it isn't your branded posts that prove you are worth a follow. If people post about the company, consumers will listen. 
5. Copywriter
There's a lot to copywriting that people often forget. It's not just about writing quality content. You have to become an expert in the topic, find out what's interesting about it, target the right audience, and do it all over again. You have to ace product marketing and market research. The job can be stressful, especially when you're doing it alone. 
It's surreal to say that you can give a robot some instructions and it'll write a cohesive, structured piece of content for you. Not only that, but it also knows how to keep it engaging for your customer. AI is computer-generated content created from a few prompts. You tell the tool what you need, and it'll create it. Could come in handy, don't you think?
Copy.ai is a simple-to-use platform that promises premium results in seconds. All you have to do is provide some context, look through the various options it offers, edit the results, and then publish.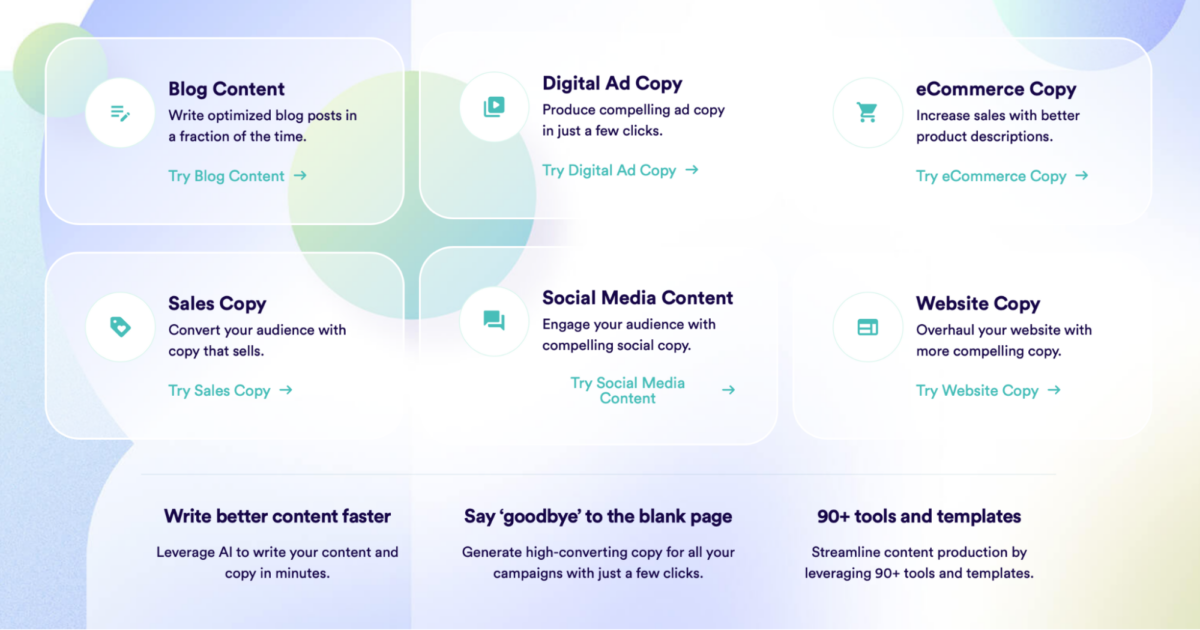 Save time.

Using AI will free up a lot of space in the calendar. Writers can expend more energy on bigger projects, updating older content, and new ideas. 

New perspective.

It can generate ideas and angles that your writers might not have thought up. Even if they don't copy and paste the AI content, it can expand their way of thinking. 

Getting to the point.

AI understands what the goal of writing is and will get down to it. Writers can sometimes offer too much narrative and the purpose gets lost. A tool could help them stay on track.

Marketing automation.

When it comes to things like email marketing and ads, the copy will be pretty repetitive. Writers might feel as though their skill sets are being wasted. Letting them focus on other tasks will boost employee satisfaction. 
Of course, AI shouldn't replace your copywriter. The key to successful content is the personality behind it. Machines are good, but not as good as the humans you have writing on your team. It can be a good companion, though. There are incredible tools out there to inspire your writers. 
6. Data analyst 
On a day-to-day basis, a data analyst will collect and study data to provide some insights into your business. I'm sure we don't have to tell you that it's an important role in your marketing department. 
Your data analyst has to juggle lots of different skills. These take time to learn and may result in some human error. Tools can find new patterns, perform advanced tasks, and eliminate boring work from the to-do list. 
This computer programming language can be used for a variety of things. If you're a startup or small business thinking about the frightening task of web development, Python is free and highly adaptable.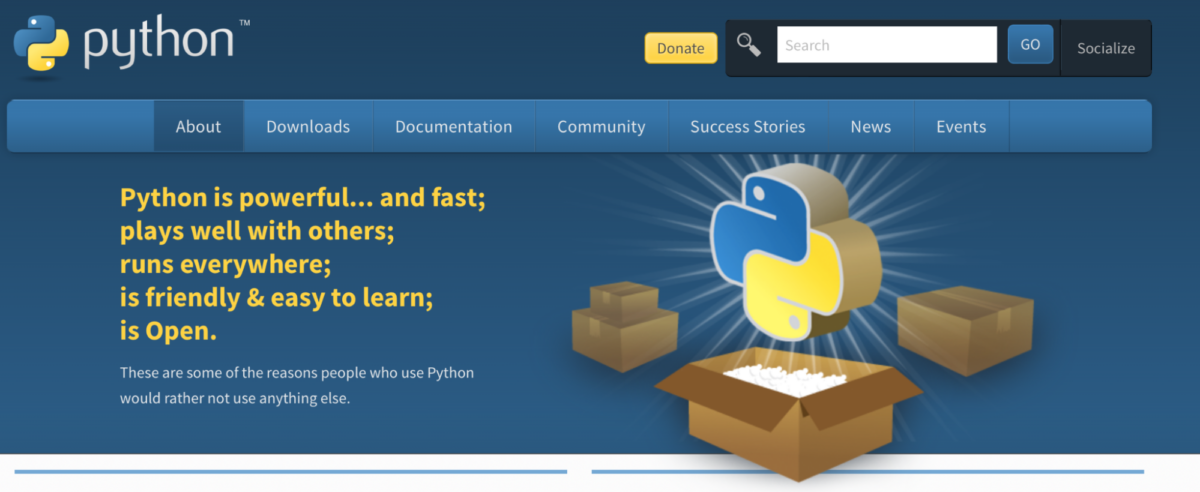 The platform also offers features that could work seamlessly beside your data analyst. Such as:
Automate tasks.

It's made for handling those repetitive tasks to allow your team members to prioritize other things. This gets the job done quicker and encourages faster workflow. 
Data analysis.

We suppose this is a rather important feature. Python can manipulate data for you. Having everything organized means insights can be made quicker and more often. 
Affordable pricing.

What's better than free? The open-source platform doesn't cost a penny. Without it, your data analyst may have to go to expensive external sources for assistance and tools. 
Key performance indicators (KPIs).

 With Python, you can build KPI dashboards. These are fully accessible without any knowledge of coding. 
The ability to make important decisions regarding your marketing activities is possible when you're properly informed. They'll make interpretations to ensure the picture is as clear as possible. 
They keep stakeholders on the hook by feeding them good statistics. Data analysts can even improve your overall performance with data-driven metrics. Give them the tools to do this the right way. 
Creating your dream team
It's not enough to look at where you're stepping. You need to be thinking miles ahead. Your competitors are using every trick in the book. Don't let your marketing efforts go to waste because you didn't consider the options and opportunities available. 
People create tools, resources, and new ideas to help businesses to flourish. There is no reason not to integrate them. Elevate your marketing plan and make life easier for the team who work so hard for your company. We know they'll thank you for it.