We now live in an "always-connected" world, where we're constantly on gadgets, the internet and social media.
It's that much harder to stay focused, and even harder to keep up with all the content we're bombarded with on the daily.
So how do brands stay relevant? How do they get consumers to engage with their content?
The answer is simple, and something you've probably heard many times before — show, don't tell.
Many great storytellers live by these words, and for good reason. Successfully communicating your story doesn't start with telling people the story; you have to show them. And what better way to show people than with visual content?
Visual content is more engaging than text-only content, and it's been shown to be more effective in marketing strategies. There's a reason why:
19% of marketers say their marketing strategies are nothing without visual content;

49% consider visual content as very important to their marketing strategies; and

 

22% deem visual marketing as important.
The numbers say it all; brands want to use visual content more often, and those that incorporate visuals into their strategies enjoy successful campaigns. But why is visual content so powerful?
The importance of visual content
Think about it; when was the last time you scrolled through your Facebook feed and stopped on an article because of the amazing headline, only to get distracted before you could read the rest of it? We've all been there (or at least most of us have).
But when was the last time you saw an interesting photo and immediately understood what it was all about? Likely, much more often.
Our brains are wired to process visuals faster and more efficiently than any other kind of information. 90% of information transmitted to our brains is visual, and we can process visual information 60,000 times faster than text.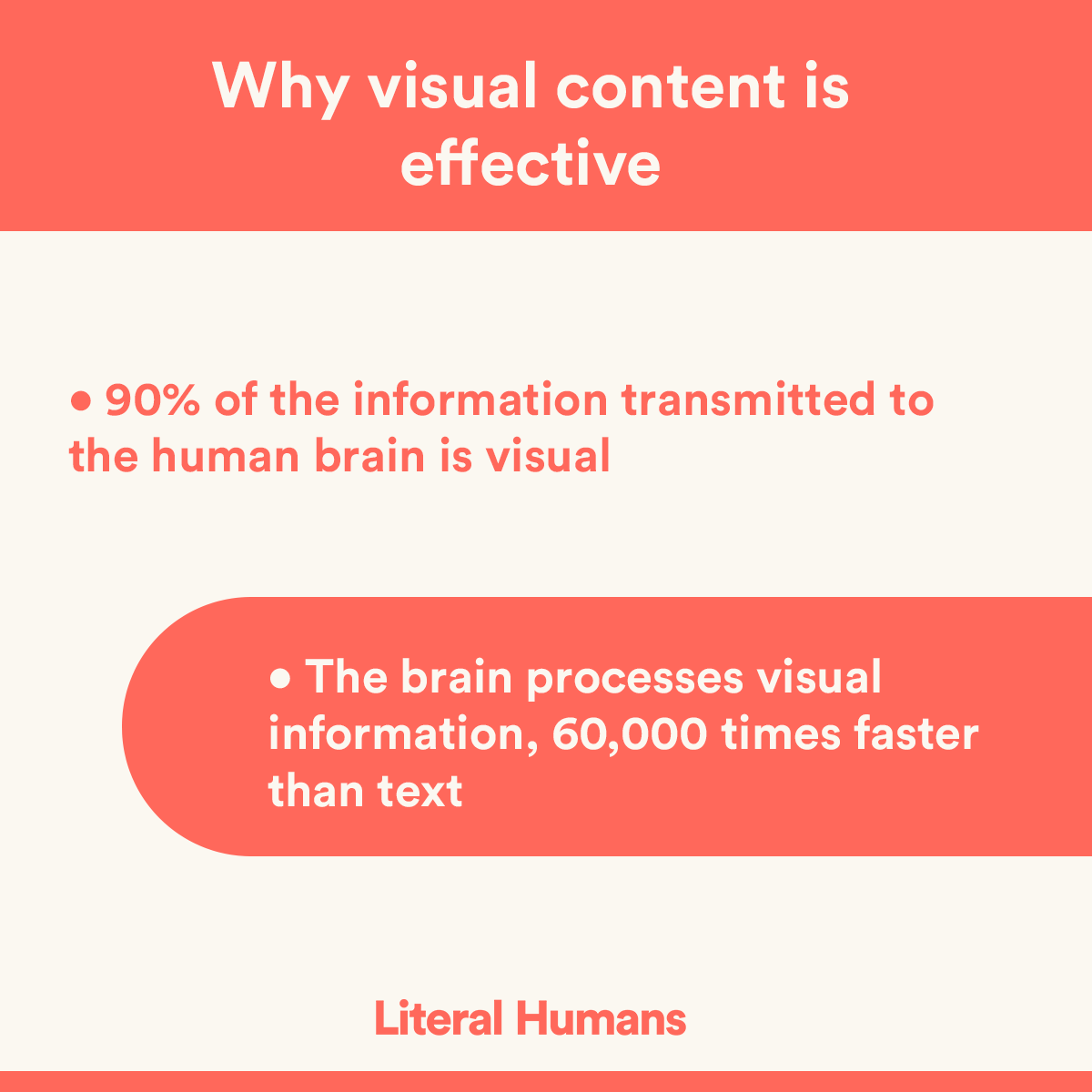 If you want your audience to remember your brand and its message, you need to invest in some visual content. Good visual content will not only allow you to get your message across effectively, but it will also help you create meaningful and memorable connections, which form the basis of making a brand more human and creating a winning human-to-human (H2H) marketing strategy.
There are a few different ways you can start using visuals in your marketing; let's have a look at some of them.
How to use visual content in your H2H marketing strategy
Sharing visual content that shows the human side of your brand is one of the best ways to include visuals in your marketing strategy. When you allow consumers to see your brand's personality and character, they will likely want to do business with you. After all, consumers want to see the real people behind a company, not just a logo or a slogan.
Behind-the-scenes content is one of the best ways to give your followers a window into your brand. This content can be anything from visuals showing off your team, to visuals that show your products being made. Showcasing your company culture and giving people a peek into how you bring together your product or service will help them feel more connected to your brand.
Incorporating visual content into your strategy doesn't have to be all about having your brand in the spotlight, however. You can also encourage your audience to share some user-generated content (UGC).
Although there are various types of UGC, visual content has taken the online world by storm. There's something about photos and videos of real people using a service or product that creates a more human experience. People love UGC because of its authenticity, so it makes sense to use it to increase brand awareness and engagement.
These are just a few examples of how you can use visuals in your marketing, but no matter the route you choose to take, try and vary the visual content you use in your campaigns.
While video content is popular because it increases engagement — video has helped 88% of marketers to generate leads and 81% to increase sales — you can use other visual content types including photos, screenshots, infographics, illustrations, graphs, charts, GIFs, and even memes.
Getting creative with your visuals can set you apart from the competition and capture your audience's attention in a unique and unforgettable way.
Another way to create a competitive edge is to look at how brands are winning at visual content marketing, and determining if you can apply some of their successful strategies to your own campaigns. That said, here are four examples of brands acing their content marketing with visual content.
4 examples of brands that create great visual content   
1. Nike
Nike is a good example of how to use visual content to humanize a brand. From video ads to user-generated content, the brand has embraced a variety of visual mediums to communicate its mission, which is to bring innovation and inspiration to every athlete in the world.
For example, a lot of the brand's content includes inspirational photos and videos that highlight everyday moments related to sport.
View this post on Instagram
Key takeaway: When creating visual content, understand your target audience's needs and align this with your brand messaging.
2. Grammarly
Grammarly, the online proofreading and correction service, has an excellent visual marketing strategy that consists of sticking to the brand's playful and fun visual identity. The brand is particularly great at creating memes that merge value, wit, and humor into memorable content.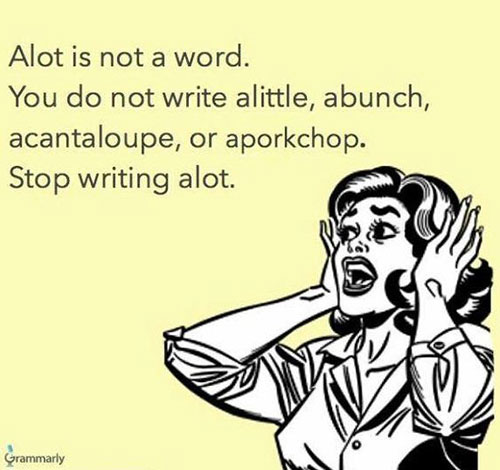 By sticking to its identity, Grammarly's content is very engaging, proving that there's more to audience-pleasing visuals than design alone.
Key takeaway: Excellent visual content is not just about "high design." You must also provide value, and bring out your brand personality to make your content engagement-worthy.
3. Starbucks
Originality is one of the key elements of Starbucks' visual marketing.
Similar to Nike, the brand is all about showing what it's about — inspiring and nurturing the human spirit one cup at a time. As such, most of the brand's visual content is about the drinks.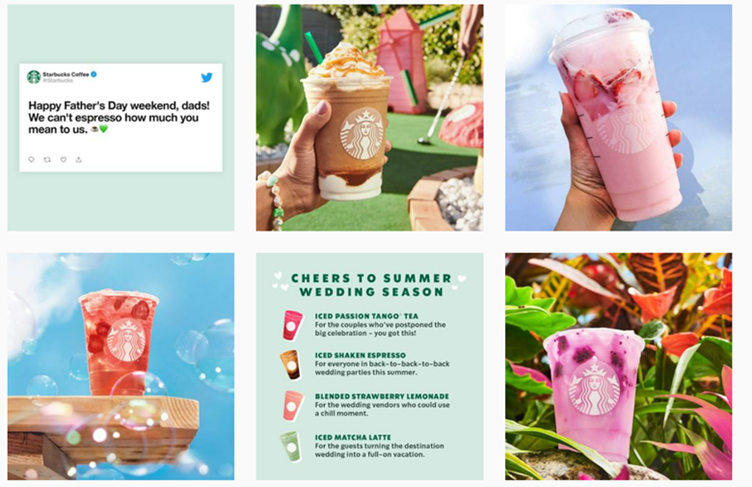 Starbucks is proof that sticking to something you do well is better than trying to do everything.
Key takeaway: Sometimes less is more, especially when it comes to engaging with your audience and encouraging them to become loyal to your brand.
Warby Parker
Warby Parker, the eyewear brand, is another example of a company that successfully used visuals to engage customers and build human relationships with them.
The brand's well-known for its quirky and fun product photos, and it often releases new collections with accompanying short films. It's all about keeping people actively engaged by showing them what the brand provides — fun, convenience, and efficiency.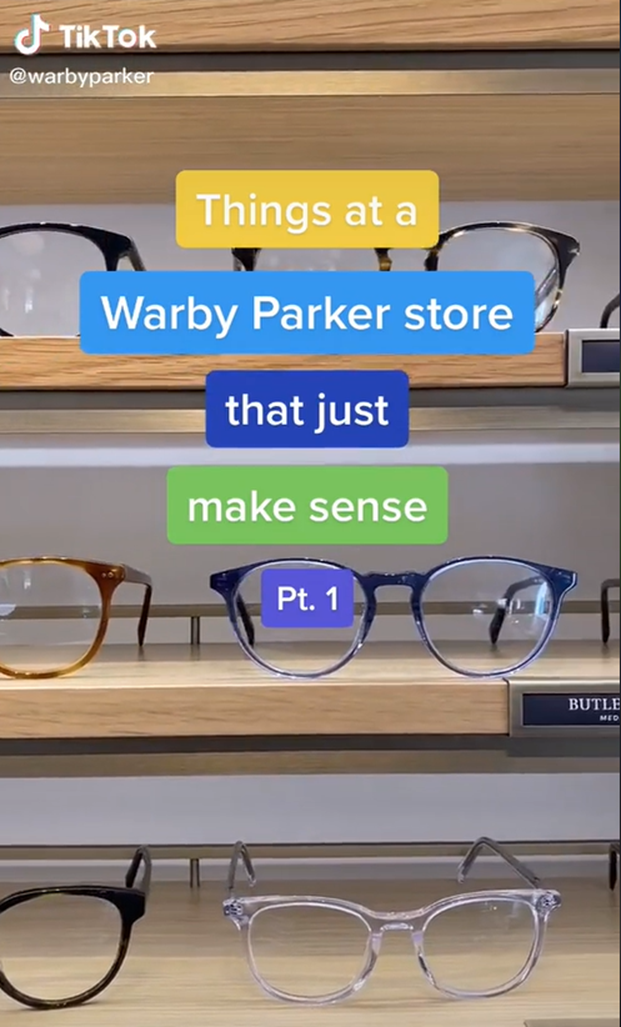 Key takeaway: Customer experiences are key. Show your audience what they will be missing out on if they don't choose your brand.  
Visual content comes with no shortage of benefits, but creating it isn't always easy. You need to adopt the right strategy if you're going to follow in these brands' footsteps and create your own impressive visual marketing campaigns.  
The following are six tips to help you get started.
Tips for creating your visual content
1. Keep it simple
This may seem elementary, but the best visuals are those that are easy to understand. Simplicity means you can capture the viewer's attention fast.
Speaking of creating the best visual content, make sure to use high-quality visuals. Nothing ruins the success of a marketing strategy like poor quality visuals.
2. Tell a story
Visual content marketing isn't just about throwing together random visuals and calling it a day. Your content should tell a compelling story about your brand and what it's all about.
Although every visual asset won't need to tell an obvious story, you must always keep the overarching story in sight when producing your content. Take Glossier, for example. The beauty brand tends to stick to its minimalist code by using simple fonts and a two-toned color palette.
View this post on Instagram
While it's true that storytelling will take your brand to the next level, you need to be consistently unique in the story you tell.
You have a unique voice and character that contribute to the overall personality of your brand, so make sure that your visual content is in line with the image you want your brand to portray. Staying on brand will help to create a cohesive look and feel across all of your content. 
3. Don't be afraid to show emotions
Emotion is a powerful persuasion technique; it can urge people to take action and make decisions. This means that it plays a role in making content more sharable and unforgettable, thus affecting sales.
Emotion is one of the most powerful mediums to use in any content strategy, including visual content, so don't shy away from it.
Remember how Always once aced a marketing campaign using emotion. The #LikeAGirl campaign was centered on replacing the perception of girls as timid and weak with the idea of determined, fierce, and strong girls.

The campaign's visuals resonated with many people and evoked positive emotions like hope and inspiration. The result: #LikeAGirl won a Cannes Grand Prix award, an Emmy, and even a Grand CLIO award (which happens to be a very difficult award to win).
4. Use visuals that reflect your entire audience base
Consider diversity when creating your visual content. Your marketing campaigns will likely work if your content is representative of your audience base.
Coca-Cola is one example of a brand that has stayed consistent when it comes to incorporating diversity into its marketing. The brand's campaigns are largely successful because they identify and highlight the small things we have in common, no matter how different we may seem from one another.
For example, the Share a Coke campaign celebrated people's diversity by focusing on something everyone has — a name.
5. Tailor your visuals to the platform you're posting on
Although mass posting is easy, it may not be effective since what works on one platform won't necessarily work on another. For instance, shorter videos tend to do well on TikTok while YouTube favors longer-form content.
You need to know audience preferences and stick to posting what works on each platform for better engagement.  
At the same time, keep abreast of changes in the algorithms of the platforms you use; the social media world is not what it used to be 5 years ago.
6. Align your visual content with the rest of your marketing strategy
You can tell the best visual story and showcase your awesome brand personality, but this may all not pay off if your content doesn't contribute to the success of the overall marketing strategy.
Like any type of content marketing, your visual content should align with your marketing goals. Before creating any visuals, ask yourself what you're trying to achieve and whether the content will give your audience the content experiences they seek.
Of course, this list is not extensive, and some things you'll learn as you try out different types of visual content. However, the tips should still give you a solid foundation for creating your H2H marketing strategy.
Leveraging the power of visual content in brand humanization
Today's brands need to tell captivating stories to maintain engagement with their audiences. Visual content is one of the most effective ways to do this. Using visuals, you can connect with consumers and demonstrate that your brand is human and trustworthy.
Ready to up your content strategy, make your visual mark, and humanize your brand? Chat with us about how we can help you create an H2H marketing strategy that works.