Do you have a deep understanding of marketing? Have you got interpersonal and communication skills that others envy? If that sounds like you, the job of a chief marketing officer (CMO) could be worth considering.
But what about experience? Don't you need to have a degree? Years in a related field? We'll get to that.
Our guide will cover marketing tasks to expect, what you'll need to apply, and how much you can expect to be paid. Plus, what an average day in the life of a CMO could look like.
What is a chief marketing officer (CMO)?

What are the main responsibilities of a CMO?

What qualities does a CMO need to have?

Can you be a CMO without a Bachelor's degree?

How much is a chief marketing officer paid?

A day in the life of a CMO

5 steps to becoming a chief marketing officer
(If you're hiring, you can even use this article as a template for creating your own CMO job description.)
What is a chief marketing officer (CMO)?
A company's chief marketing officer (CMO) is a corporate executive. Basically, they're the top dog of all things marketing in the senior leadership team.
The CMO's main job is to increase sales and generate revenue through various marketing strategies. They oversee a marketing team below and report to the chief executive officer (CEO), who manages the company as a whole.
The hierarchy of marketing job titles goes something like this:
Chief marketing officer

Vice president of marketing

Marketing director

Marketing manager

Individual contributors (content writer, brand ambassador, marketing analyst, etc.)

Entry-level positions (marketing assistant, social media intern, junior copywriter, etc.)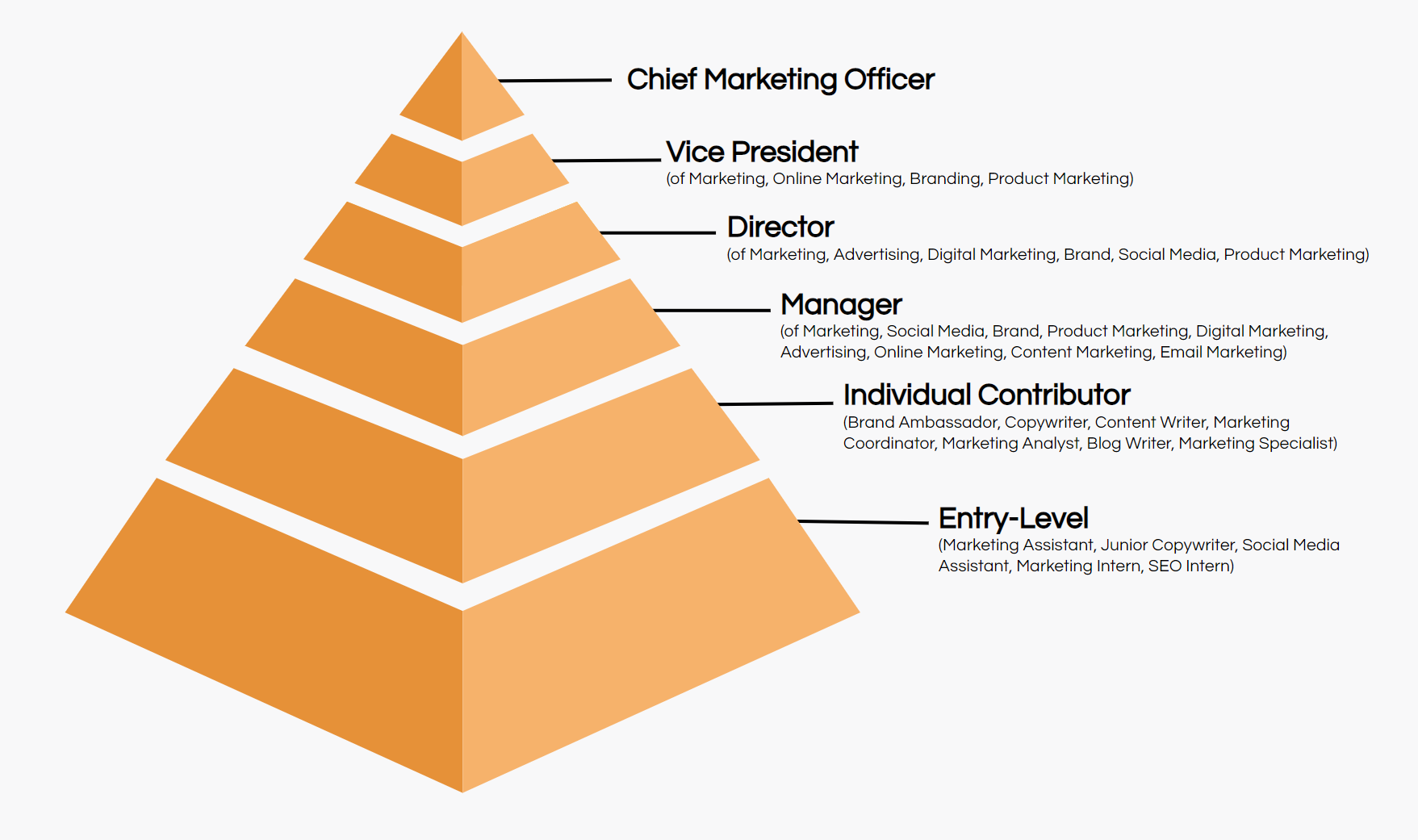 What are the main responsibilities of a CMO?
At the top level, a CMO's primary responsibility is to build brand awareness, recognition, and loyalty. This means creating and tracking KPIs (key performance indicators) that relate to physical and digital marketing, advertising, and even sales.
A successful CMO:
Understands their company's position with market research

Knows where they want to be positioned in future

Develops the strategy and initiatives that will get them there

Oversees the execution of the strategy and marketing operations
They need to work closely with other departments to ensure all messaging aligns and relates to the target audience.
Marketing covers a lot of different channels. So, a CMO needs to stay on top of:
The company website and blog

Social media platforms

Content marketing

and SEO

Paid advertising

Word-of-mouth marketing

In-person events

Affiliate and influencer marketing

Public relations (PR)

Traditional channels (print, TV, radio, billboards, etc.)

So, what does all this look like when we break it down? Well, a CMO's responsibilities can include:
Creating and implementing a global brand

marketing strategy

that generates meaningful change

Continuously implementing and testing new targeted product marketing efforts while measuring existing channels to drive more efficient spending

Overseeing and leading all teams in the marketing department (including eCommerce, brand, product, social media, customer experience, etc.)

Developing, reviewing, and improving production on all marketing campaigns

Building relationships and delivering impactful brand partnerships and collaborations

Overseeing and negotiating advertising and placements, along with full marketing budget responsibility and ownership

Measuring performance with data analysis and using these metrics to identify opportunities for business development across all marketing activities

Staying up to date with the latest marketing trends, technologies, and innovations
Of course, this list will vary depending on the company you're working for. But there are some universal qualities all CMOs need to have.
What qualities does a CMO need to have?
A good CMO uses strategic planning to link actionable marketing efforts to meaningful results. A great CMO can be a catalyst for serious business growth.
These are some of the qualities great CMOs possess:
Able to think and plan short and long-term

An excellent leader and team player

Creative, curious, and willing to experiment

Adaptable to

new technology

Understands how customers feel and act

Strong verbal and written communication skills

Data-driven and analytical

Recognize gaps and areas for improvement

Able to collaborate with sales and IT
As technology improves, new marketing channels are popping up all the time. That's why a chief marketing officer's role is constantly evolving.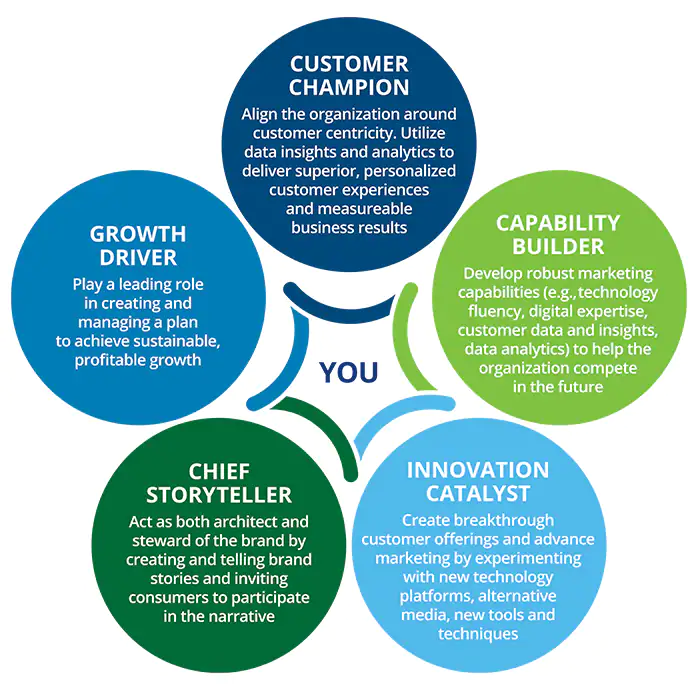 A couple of the most prevalent qualities for CMOs aren't talked about a lot in job descriptions. But they're so important for success. These are:
A commitment to research

Excellent stamina
The role of a CMO requires you to be well informed. But more than that, you must stay on top of your industry. You need to be one step ahead of everyone else. This means reading, watching, and listening—and lots of it.
Every day you should be digesting news, articles, and magazines from your niche. You should be tracking certain keywords on social media to listen to what others in your industry have to say about them. You also need to know your target market's general feelings so your strategy can empathize with what's important to them.
Stamina means staying in peak mental and physical form. A CMO's team can be global, and you might need to work across various time zones. Days will be long. Some will be stacked full of meetings (digital and physical) with only twenty minutes for lunch.
It's important you realize the discipline and mental strength that you need to show up enthusiastically as a leader for each team. And have the ability to switch gears depending on the subject.
Still interested? Here's what you need to be able to apply for the position.
Can you be a CMO without a Bachelor's degree?
The qualifications to become a CMO will vary from business to business. Some will require a degree. Others will focus more on years of experience. Usually, you'll need both.
Aside from anything marketing or business-related, degrees that can be accepted are:
Advertising

Public relations

Journalism

Communications

Economics
If you're trying to stand out from the competition, you might also have advanced education like certifications, MBAs, and Master's degrees. But an education isn't all you'll need. 
Here are some of the most common qualification requirements for a CMO:
Bachelor's or Master's degree and/or 10+ years of experience in marketing and growth

Some 3+ years building and leading a high-performing team

In-depth knowledge of the specific business/industry you're applying for

Omnichannel experience (e.g. multiple digital channels and in-person retail stores)

Hands-on experience with SEO and CRM tools like Google Analytics and Adwords, HubSpot, SalesForce, etc.
You may think 10 years of experience is a lot to ask, but there's a reason for it. The average tenure for a CMO currently sits at the lowest level in more than a decade—a mere 40 months.
Marketing leaders are expected to drive prolonged, profitable growth. Plus, meet the constantly fluctuating demands of the industry and customer. It's not a position for the faint-hearted. But if you're cool with the responsibility, it's a high-paying one too.
How much is a chief marketing officer paid?
According to Payscale, the average base salary of a full-time CMO in the US is $178,426 a year. This can range between $90,000 and $278,000.

That's not even including bonuses, profit sharing, or commission. Adding those can take the estimation for higher-end chief marketing officer salaries up to $340,000.
Other sites (like Salary.com) quote the average as high as $341,815, ranging between $295,613 and $416,299.
Either way, the data suggests you're looking at a six-figure salary. But how much a chief marketing officer earns will vary depending on a few factors:
Years of experience or qualifications

Size of the organization

Location of the role/company

The industry/sector

Additional benefits you offer

Whether or not you're being enticed from an existing position
It's common sense, really. The salaries a small-town startup can offer will wildly differ from a New York-based enterprise-sized company.
So, what could your day look like if you scored the position?
A day in the life of a CMO
It won't surprise you that a day in the life of a CMO is never the same. Cliché, but true. 
When you're in charge of so many processes and people, different things will require attention at different times. You'll also have the autonomy to plan out your day in a way that works for you.
A typical weekday could involve the following:
A weekly team meeting to review marketing plans for new product launches and upcoming campaigns

Reviewing and providing feedback on new ad copy and designs

Delegating tasks for ongoing big projects and asking for status updates

Brainstorming

storytelling

ideas for new product packaging

Calls with business owners/CEO/other executives

Discussing job applicants for current open

marketing roles

Reviewing your budget and setting out plans for the rest of the week/month/year
CMOs need clear expectations on KPIs and targets. This means finding a leadership style that allows you to check and challenge progress and offer extra help when needed. It's also about knowing when you don't need to be part of a meeting or process.
This type of social intelligence will allow you to focus on where you're needed most. Just don't forget to leave some time spare each day for things to crop up unexpectedly—they usually will.
Now, let's cover what the route to becoming a CMO looks like.
5 steps to becoming a chief marketing officer
While CMO is a job type based on experience, those hiring usually want a fresh outlook and innovative thinking. This recent study shows external hires for CMOs are increasing—now 45% (compared to 55% promoted from within the company).
It's not a job you can hop into straight out of college. So, let's look at the path most CMOs take:
Earn a related degree:

While some do become CMOs

without

a degree, your chances will seriously increase with one. So, go for something marketing or business-related. If you have time, try to work as an intern or assistant for a relevant company alongside.
Land a marketing job:

Once you've got the knowledge, it's time to put it to good use. Choose an industry you're interested in and land your first role.
Gain 10 years of experience:

You don't need to stay at the same company, but it'll help to narrow down your industry. You can also look into

advanced degree

programs like an MBA or Master's during this time.
Build a strong professional network:

The opportunity to become a CMO can come down to who you know. If companies aren't advertising the role externally, you may rely on LinkedIn contacts or friends in your field to fill you in when the time comes.

Apply for CMO roles:

If you know the industry you want to work in, great. If not, look for one that matches your experience and interests. This process can take a while, so be patient and don't give up.
Already qualified and ready to roll? Set up job alerts for CMO opportunities on sites like Glassdoor, CareerBuilder, and Indeed. Ask your network for any openings they know about. Post on social media for open recommendations. You never know who might see it.
Now, go get 'em, tiger!
Is the role of a chief marketing officer the one for you?
The job of a chief marketing officer isn't for everyone. It takes a special blend of knowledge, patience, and skills to secure and excel in the role. 
Think you've got what it takes but haven't got the education? Consider upskilling with certifications, marketing programs, and courses. While some of the huge corporations may not be an option, plenty of smaller businesses out there need marketing expertise.
Make it your mission to land a job and grow the business. That "marketing manager" title could one day turn into "chief marketing officer" with time and effort.