You know that feeling you get when you create high-quality content — the type that's well-researched, valuable, useful, and engaging?
It's a good feeling, right?
After creation and design, your content goes through the rest of the cycle — publishing, distribution, promotion, measurement, optimization, maintenance, strategy refinement, and ideation — except, the maintenance part is often overlooked.
There's such a big push to produce fresh content that maintenance gets thrown on the back burner.
And therein lies the problem.
55% of successful content marketing strategies focus on improving content quality because it's important. But on its own, it's not enough.
Instead of churning out new pieces of content that only garner traffic when they're uploaded, you have to maintain your existing content, making sure that it stays on top of people's minds long after it's published.
Content maintenance is the element that will help your content age gracefully, i.e. get you the most traffic, reach, and engagement in the long run. So, while it's good to know content maintenance in theory, it's even better to put it into practice.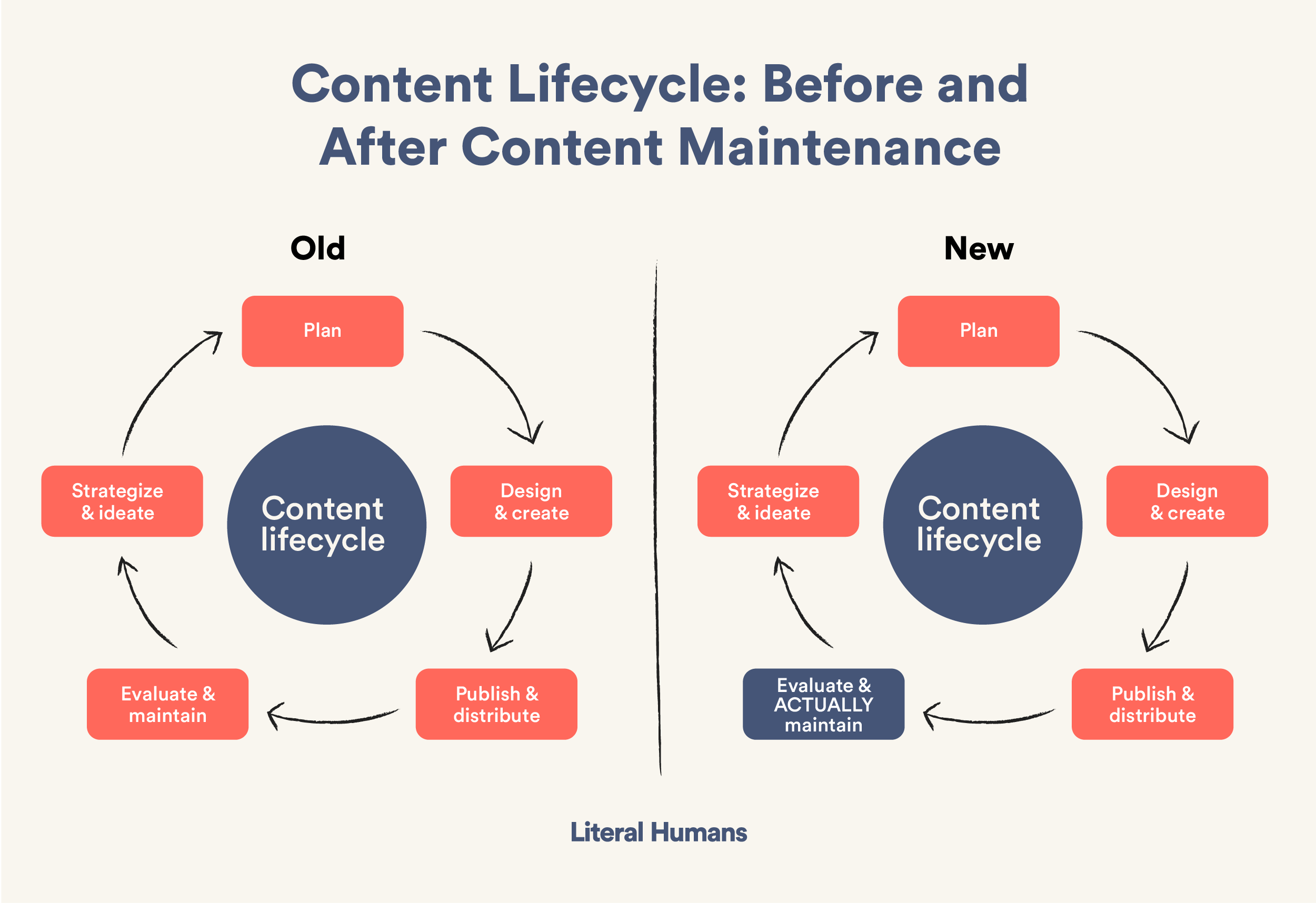 In this article, we'll break down what content maintenance is all about, and how you can use it to create long-term value and achieve a level of continuing relevance that keeps you on top of your content marketing game. Let's dive in!
What is content maintenance, and why does it even matter?
Your content won't always be fresh. A post that was once popular could lose its appeal over time, and another could become outdated or irrelevant to your audience altogether.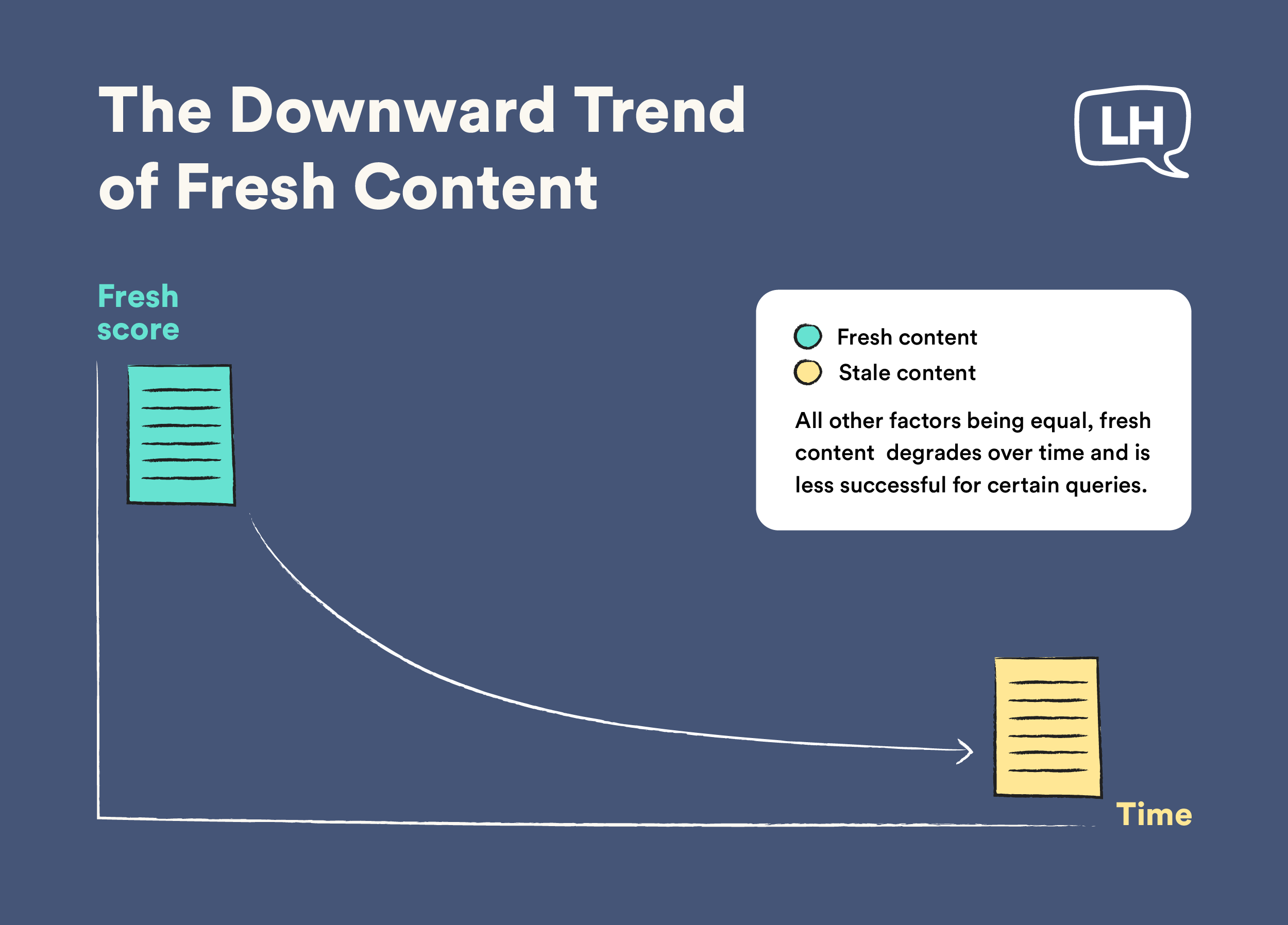 Content maintenance is about updating your old content regularly to keep it relevant, accurate, and engaging. The process involves everything from fixing simple typos and grammar errors, to rewriting whole pages, reorganizing the content, or even scrapping it.
Think of content maintenance as maintaining your backyard; you can't only start cleaning when the backyard is overflowing with filth. Instead, you have to clean it from time to time. Your website is no different; you have to clean up your content regularly.
Maintenance shouldn't be reactive (when something goes wrong) since freshness plays a crucial role in how well your content ranks. The negative impact of poorly maintained content can affect long-term growth significantly.
When you maintain your content, you:
Solidify your role as an authority in your industry

Increase brand awareness and build trust over time, making it easier to keep your prospects close

Cultivate loyal brand fans, since your content remains appealing over time
A little content maintenance case study
If you want a good example of why content-refreshing is a powerful tool, you need to look no further than Lil Nas X (yes, the singer).
In late 2018, Lil Nas X released his debut single 'Old Town Road'. As the song gained popularity, he maintained its freshness in a number of ways. 
Instead of posting the song on its own, he paired it with short, catchy, and funny videos.
here's the full song https://t.co/K471dssOD7

— alien supernigga (@audemarju) December 24, 2018
A link to the song was included underneath each video.
This approach gave his music a fresh twist, allowing him to increase engagement and giving him the consistent potential to go viral.
The song was reworked by big names including Diplo and Billy Ray Cyrus. Interest in the song remained high since each remix kept the song in conversation.  

He posted lyric excerpts of the song on Reddit, asking Redditors if they knew the song. The excerpts gained traction online and, naturally, prompted internet users to start searching for the song. As a result, the song gained popularity and stayed relevant.

Assuming that people who didn't know the song title would search for it using its trending parts, Lil Nas X did some content maintenance and made the song more SEO-friendly. He changed the song title on SoundCloud and YouTube and even included lyrics from viral Reddit videos, making it easier for people to access his song. 
The result — the song topped the Billboard Hot 100 songs chart for a record-breaking 19 consecutive weeks. It also got hundreds of millions of views and over a billion streams.
So big was the success of this strategy that Lil Nas X teased releasing 25 remixes of his single 'Panini', and even released one.
Although it's unclear whether there was some truth behind the 25 remixes or if other artists will try to emulate Lil Nas X's strategy, it's clear that remixes, a.k.a. music refreshes, have the power to give songs a big chart boost.
That's the power of an evergreen content strategy.
That said, content maintenance is quite the task, so you don't want to do it all at once, or worse still, shelve it until something goes wrong. It's better to factor it into your regular content marketing strategy. To do this, you need a maintenance plan.
Creating a content maintenance plan
A content maintenance plan is essentially a roadmap that outlines:
the various states a piece of content can live in,

the rules that govern its movement from one state to another, and

the actions you need to take at any given point to ensure that it stays in a given state or moves to another.
To create and execute a solid plan, it's important to first understand the different types of content.
Getting to know the different types of content  
Any content type you choose to add to your content marketing mix needs to be created with an awareness of its shelf life, so to speak.
For instance:
A live post providing real-time updates on an event, such as a sports world cup, will need extremely frequent content maintenance, at least until its purpose is served (in this case, until the world cup is over).

A press release may require updating to add more relevant information. Regardless, a lot of press releases usually become obsolete within a year.

A post that contains a lot of important timely statistics may need to be updated (or even revised) to carry a different set of information or a different angle every once in a while.
You shouldn't exclude this content from your site just because it requires more updating. It can still serve as a great way to inform, educate, and help your audience.
On the other hand, the following are examples of content types that will likely not require that frequent updating:
A collection of timeless statistics

How-to guides

The history of a certain topic or product

Tutorials

Answers to FAQs

A glossary of terms and phrases
Keep in mind that evergreen content is not limited to written pieces. You can also create visual content such as infographics, images, and videos.
Oyster and Buffer are good examples of brands excelling at creating evergreen content with resources that center around how-to guides, expert tips, tutorials, glossaries, and even non-written content.
Oyster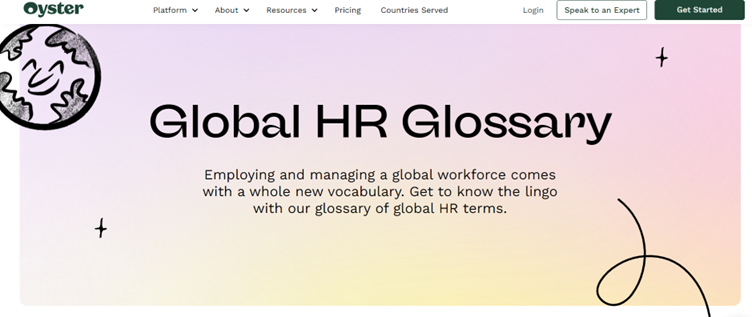 In addition to evergreen how-to blog posts, checklists, and content that covers some of the best (and worst) practices for a specific goal, Oyster also has a massive global HR glossary and comprehensive global hiring guides.
Besides written content, Oyster also has other resources like the 'Global Employment Cost Calculator' and the 'Employee Misclassification Analyzer'. These types of evergreen content are a big part of how people engage with the brand and as a result, they always bring visitors to the website.  
Buffer
Similarly, Buffer boasts of a wide range of evergreen content including lots of how-to blog posts and guides. The brand also has non-written evergreen content such as 'The Buffer Salary Calculator'.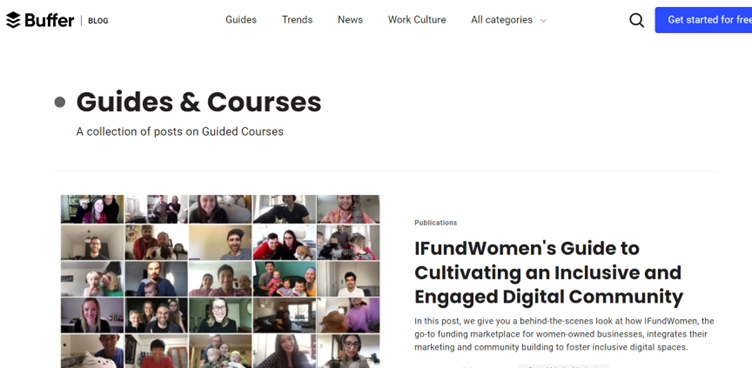 Decide where a piece of content will live and the rules that will govern its movement
Once a piece is published, where will it live and how will it be accessed?
At this stage of the plan, you need to determine what pieces of content will be published on your website as opposed to those that will be shared on socials, for example.
You'll also need to decide how content will move from one state to the next. A simple way to do this is to ask if a piece of content is still interesting, accurate, relevant, and growing your business.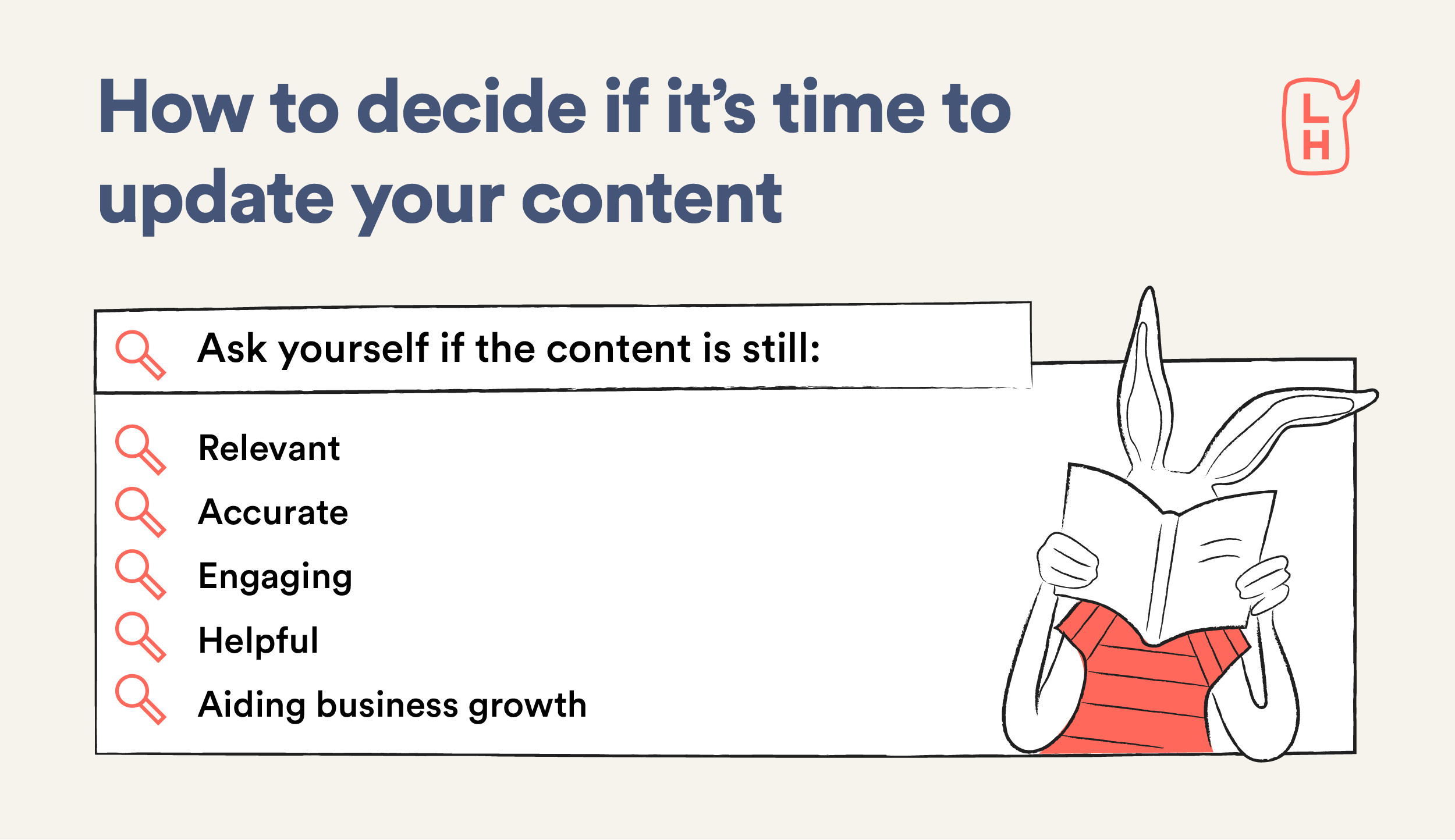 The answers to these questions will determine the fate of each piece of content. For example, the content can be revamped, reorganized, deleted, or archived.
It's important to figure out and codify all possible states in a content piece's lifecycle, not just the standard ones. For instance, you need to factor in things such as having to archive unpublished or redundant content so that you at least know where a piece goes in those situations.
Next, agree on what each state practically means.
What does it really mean for a piece to be archived, for example? Will it still be visible on the website but under an 'archived' category? Will it be taken off the site, but still be accessible via a private URL? Will it stop being accessible, and only live in the backend of your CMS? Having team-wide, codified glossaries for these different scenarios can prove invaluable in executing your content maintenance plan.
Your plan also needs to include a way to determine how frequently you will refresh existing content. For this, you need a well-maintained calendar.
Using a content register/tracking system
If your CMS allows you to review dates and assign tasks, you can use it to include a mandatory maintenance step in the overall content management workflow.
If it doesn't, you can maintain a register (for example, through a spreadsheet) and manually update it with dates and assignees for content maintenance. You want to accomplish the following broad objectives with a content register:
Documenting who owns a piece of content, plus who's responsible for creating, reviewing, and approving it

Documenting publishing and review dates 

Noting content deletion dates (if relevant) and reasons for content removal

Taking note of actions required to optimize content
Building this system will streamline your content maintenance and complete your plan. On top of that, following certain techniques will improve your overall maintenance strategy and ensure that your content stays evergreen for a long time.   
The five content maintenance techniques that you need up your sleeve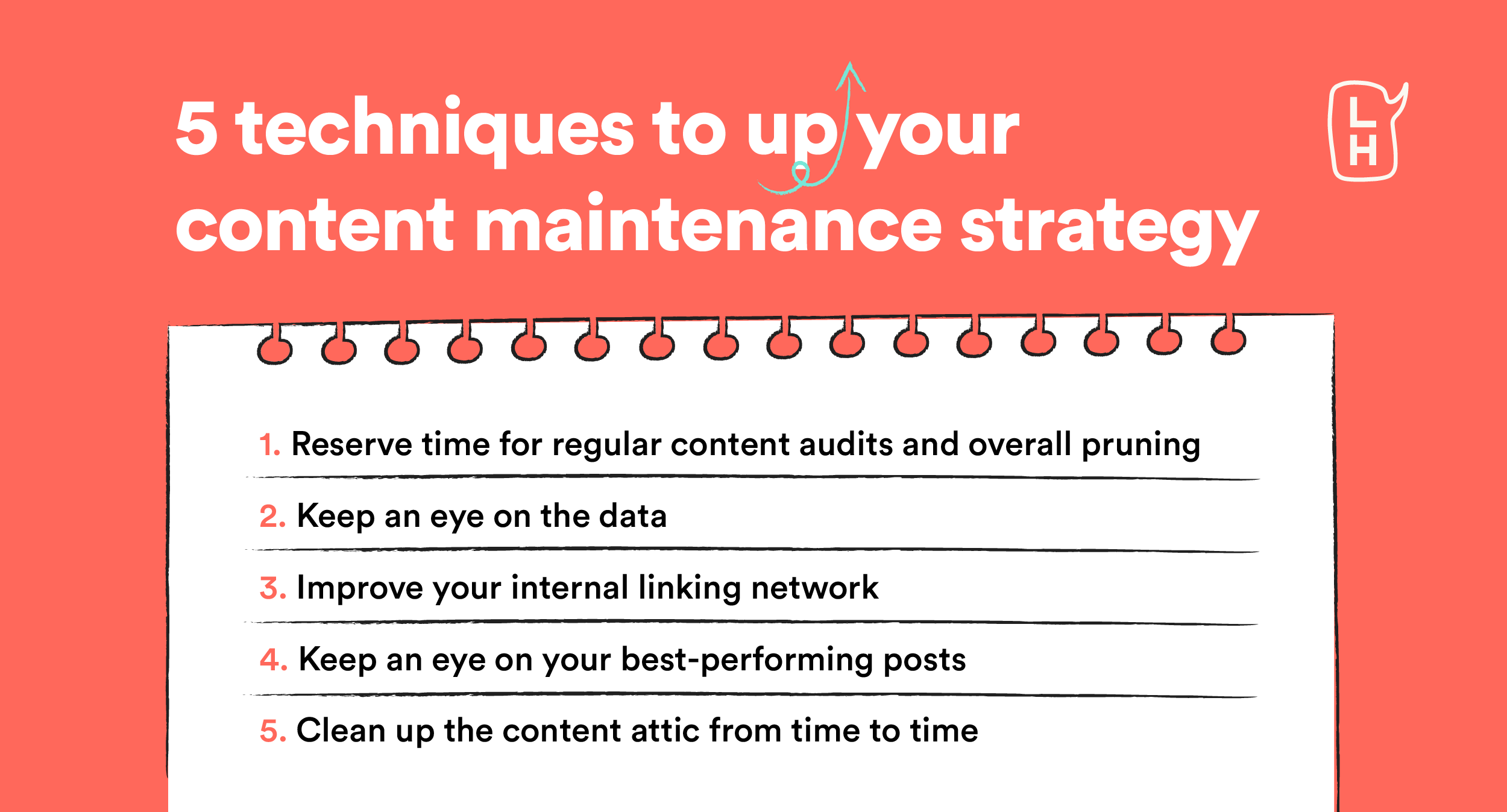 Carve out time for regular content audits and overall pruning

. Don't publish and forget; your site will become chaotic, and it may be difficult to come back from that. Make sure to reserve time to regularly check how much content you have and how much content needs to be refreshed. This is also the time to carry out maintenance based on your plan.

Keep an eye on the data

. When you go through your content, take time to assess how well each piece of content is doing. This way, it's easier to prioritize your content updates — you'll know what content is doing well and could do even better with some refreshing, as well as content that isn't performing so well.

Improve your internal linking network

. Internal links help search engines understand and rank your site better. Adding more internal links to your evergreen content (as you add new content to your site) will likely continue to improve its performance.

Pay attention to your best-performing posts

. Content that converts deserves special attention. You want to update and link to it regularly.

Clean the content attic from time to time

. Remove any clutter. Those product launch announcements and press releases from way back don't belong on your site. It gets harder to keep up with all your information as your site grows, so it's critical to clean up your content regularly.
And remember—content maintenance is still part of your overall content marketing strategy  
Creating high-quality content is vital, but so is keeping it evergreen. Even more important is remembering that content creation and maintenance must be part of a sound larger content marketing strategy.
Creating such a strategy is hard work, though. It may be a good idea to bring in an expert agency that will not only carry out maintenance work, but will take care of your entire content marketing from the top-level production of new quality pieces to publishing and refining your strategy.
Content marketing is what we do well at Literal Humans. Schedule a call to find out how you can create a great strategy and keep old content performing consistently well.