There's something intimate about audio. 
Tone, voice, and inflection heighten as you absorb the rich timbre of the reader. Just think about your absolute favorite podcast or that heartfelt interview with that musician you love.
It stayed with you, didn't it?
When integrated into blog posts, audio humanizes brands, increases engagement and makes content more accessible. 
The act of pairing voice with written text is audio blogging, and it provides a more efficient and robust consumption experience for your audience.  
In this article, we'll dive into audio blogging, its benefits, and why brands need a strategy before incorporating audio into blog posts.
Examples of highly-effective audio blogs
Publishers like NPR, The Atlantic, and The Economist are leading the way when it comes to pairing audio with written articles. 
Tech brands and agencies are slowly following suit and are beginning to integrate audio into blog posts. Let's take a look at two companies that are prioritizing audio blogging within their content marketing strategy.
SpeechKit
SpeechKit is a SaaS company that builds synthetic voices, tools, and integrations for publishers and brands. Blog posts are complemented with an embedded audio player and voiced by a surprisingly human-sounding, AI-generated machine.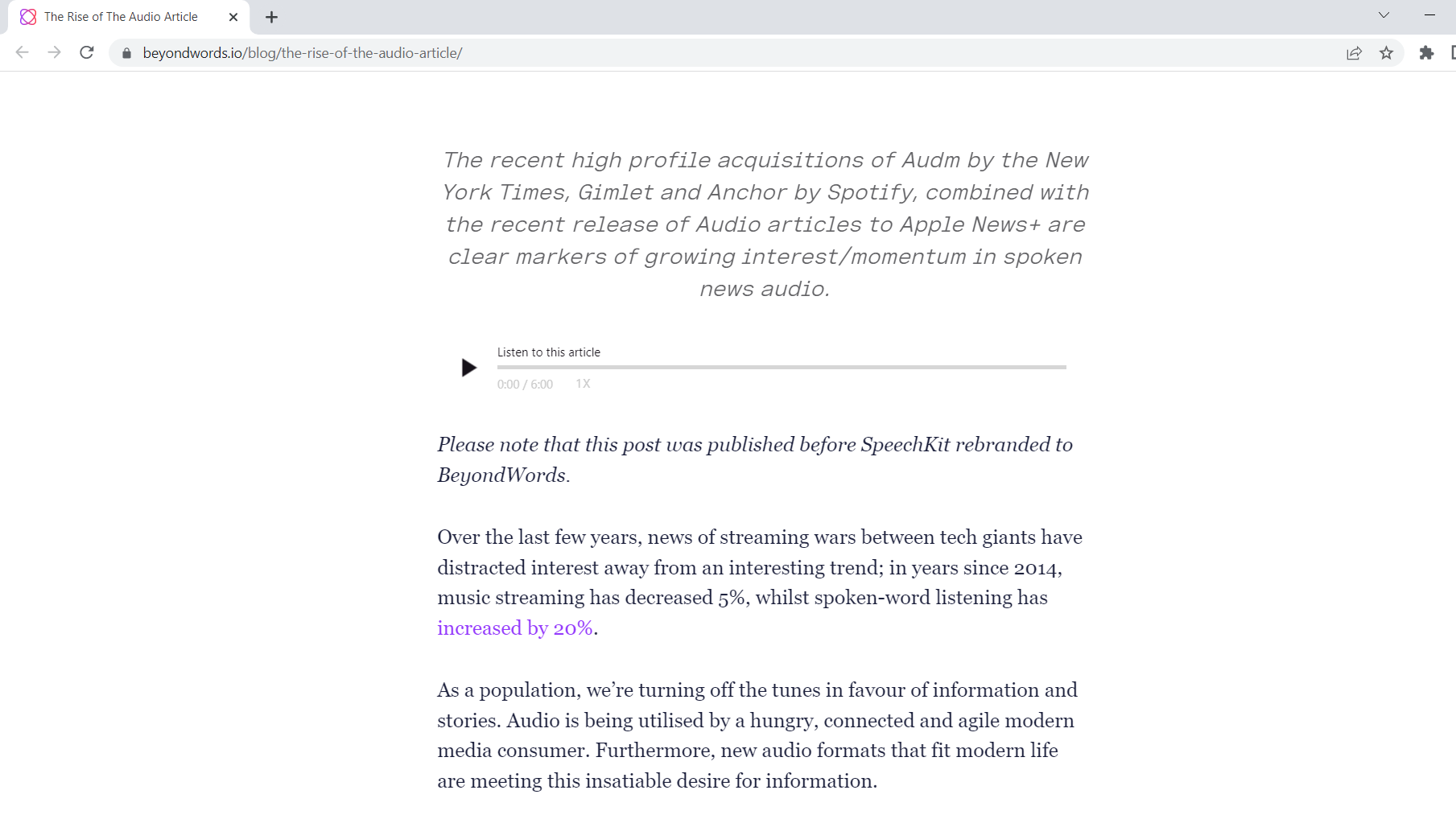 Convince and Convert
Convince and Convert is a B2B content marketing consulting and social media agency. Their blog posts are paired with an embedded text-to-speech player, placed right after the post title. The placement of the audio player showcases Convince and Convert's prioritization of audio content.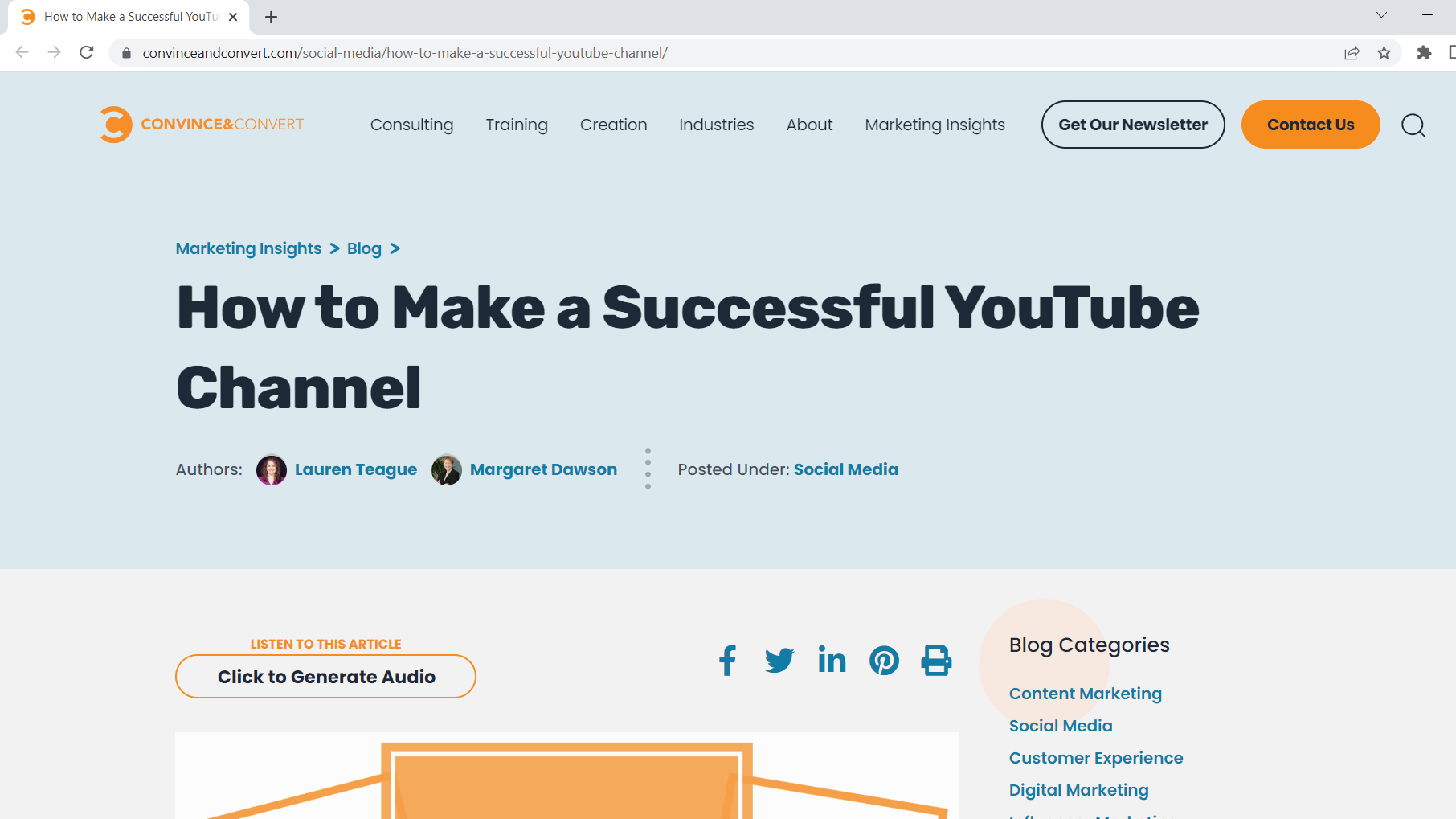 How audio blogging benefits your brand
1. Audio blogging boosts audience engagement
Publishers and brands that have incorporated audio into their blog posts and articles have seen a significant increase in audience engagement. 
After facing growth issues in 2016, Danish magazine Zetland began producing audio articles and started scaling quickly. Within two months, 40% of news consumption was audio and in less than six months, it rose to 50%. By 2019, Zetland observed that 70% of news consumption came from audio versions of their articles.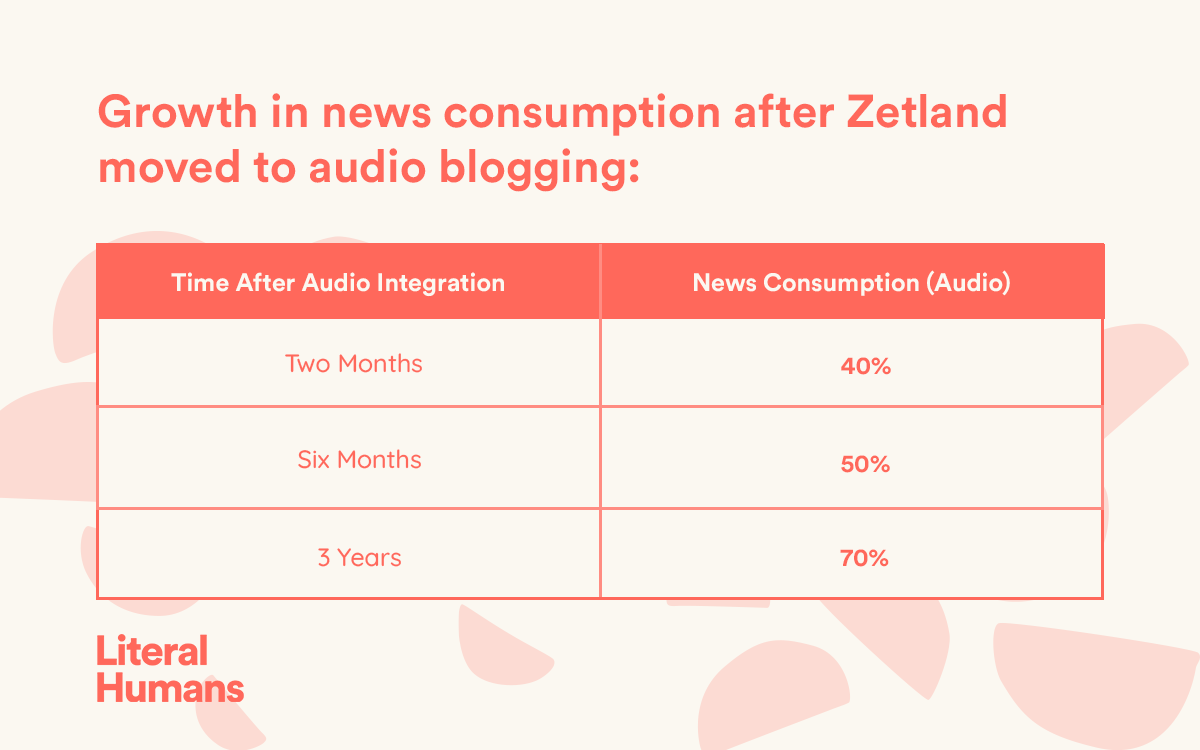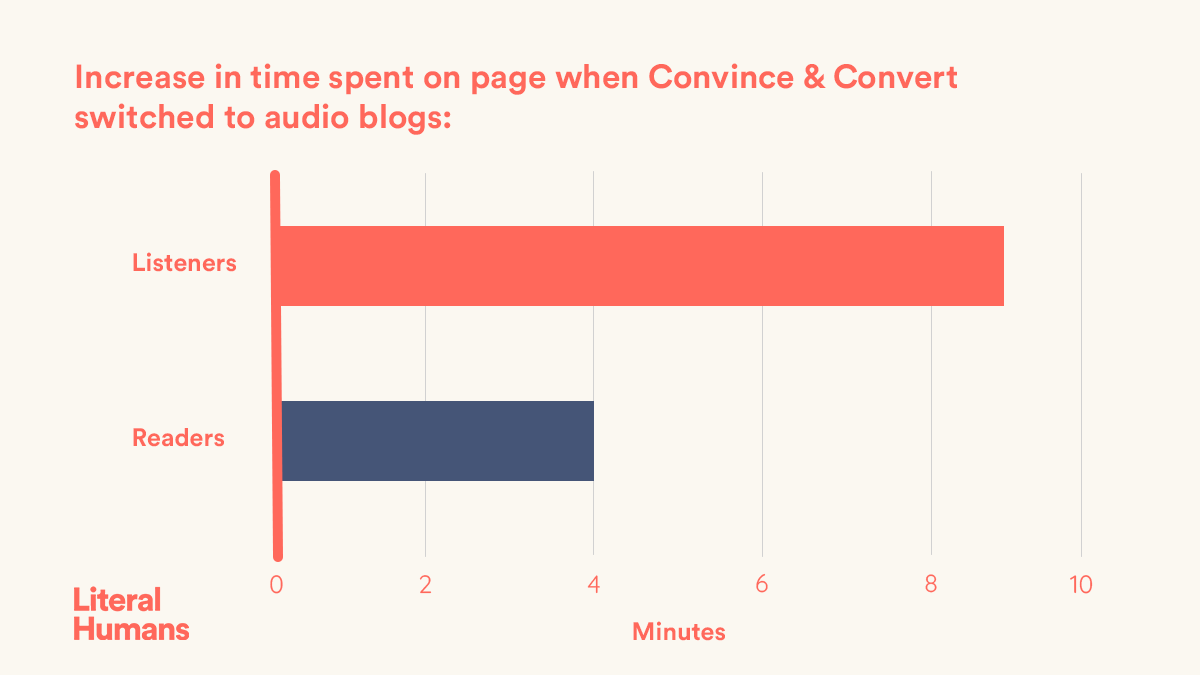 Similarly, SpeechKit noted that the average time spent listening to an article across their news publishing customers is around 3 minutes and 44 seconds. This is a whopping 300% increase in engagement compared to articles with no audio.
These examples demonstrate the power of audio blogging as a feature of a larger content marketing strategy. 
2. Audio blogging increases SERP ranking when packaged into a podcast
Audio blogging is also a great way to improve organic SERP rankings and this is determined by your audio integration method.
There are two main ways to add audio to blog posts: 
Insert an embedded audio player before written text. 

Create audio versions of articles then package and repurpose content into podcast episodes. 
Episodes are shared via RSS feed and distributed to podcast platforms like Google Podcasts. And luckily for marketers, Google includes podcast episodes in organic search results. This means you have a chance to showcase brand authority in the audio market and also rank higher on Google's SERP.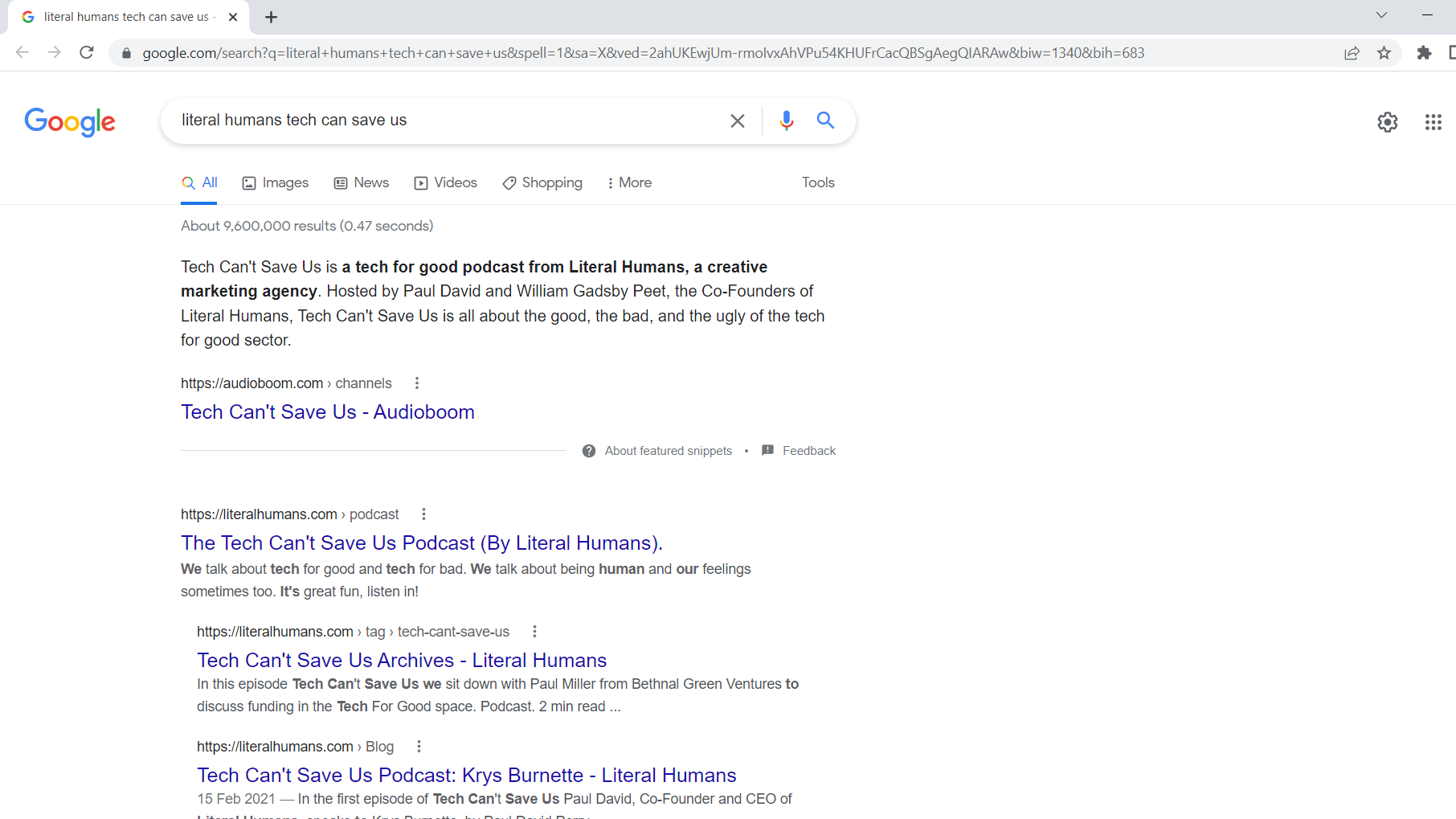 Repurposing your audio blog into a podcast creates a win-win situation. Prospects are given another avenue to engage with your message and Google is provided with an additional medium to serve up your content.
3. Audio blogging makes your content more accessible
One of the most important benefits of audio blogging is it can make written content more accessible. In a 2018 National Health Interview Survey, 13% of all adult Americans reported they either have trouble seeing or that they are blind or unable to see at all.
An audio blog can make content more accessible to individuals with different seeing abilities. When adding audio blog posts, make sure that embedded players are accessible and address the needs of people with sight differences. There are existing media players in the market that have been specifically developed for accessibility. To learn more, visit w3.org. 
Why you need an audio blogging strategy (and how to build a good one)
Adding audio to blog posts isn't just about choosing an audio player, reading a script word-for-word, and calling it a day. 
To create a holistic content framework and to truly reap the benefits of audio blogging, you need a strategy.
Let's take a look at three main reasons why your brand needs an audio blogging strategy.
1. A strong audio blogging strategy sets the foundation for creating quality content
From writing blog posts to creating an audio script, editing and publishing, audio blogging requires commitment. Having a strategy provides a foundation to successfully incorporate audio into new and existing blog posts. 
To create a strong audio blogging strategy, every marketer should follow these steps: 
Outline a clear plan and a process for developing audio scripts.

Have a process in place for editing your audio (which takes time).

Develop a step-by-step process for incorporating audio into all new blog posts. Anyone on your team should be able to follow it.

Determine how to integrate audio into past blog posts.
An audio blogging plan sets you up for long-term success, maintains organization, and helps your team stay consistent. A strategy also streamlines your content process and makes it easier to execute so you don't have to reinvent the wheel each time.
2. An audio blogging strategy addresses the nuances of converting written material into audio
Why do you read content? Perhaps you have few distractions and little spare time, and you're looking for an answer to a specific query. Maybe you're searching for scannable material that contains rich infographics and is backed by research.
Now let's take a look at audio. When you listen to a podcast, are you looking for portable content while multitasking? Perhaps you're walking the dog, doing your hair, or engaged in an activity and need something informal to stimulate your mind.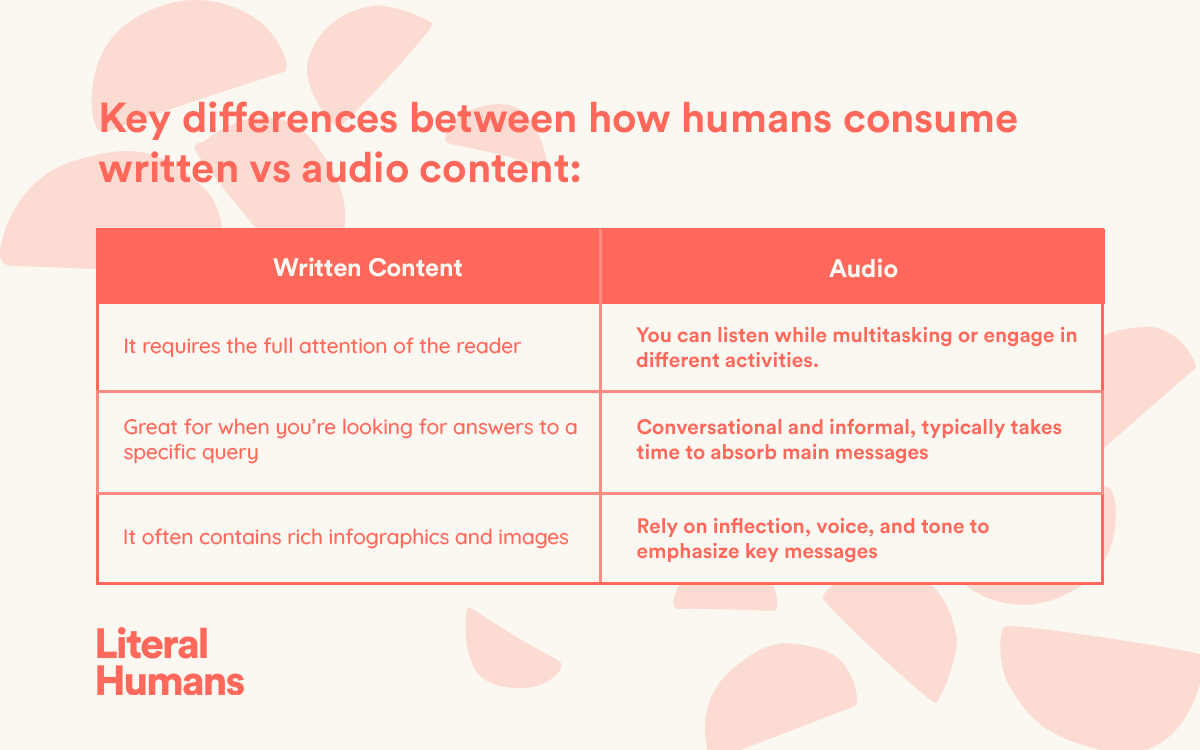 Written material and audio content are consumed differently and marketers must take this into account before audio blogging.
When these distinctions are factored into a strategy, audio becomes a human, optimized version of written text, rather than a dry, robotic copy of your blog post.
3. Audio blogging creates a consistent and customized framework for your specific brand 
Audio blogging is a small part of a larger content strategy and as such, sonic branding, style, voice, and tone need to be incorporated into the plan. A great strategy includes brand identifiers, is consistent with other resources and reinforces brand identity.
Why you should start audio blogging with an agency partner
Audio blogging increases engagement and contributes to an effective content marketing strategy but it requires significant commitment and time to execute. 
Working with an agency of content specialists gives you time to focus on business goals and save money spent on hiring in-house staff. 
A partner agency grants access to a team of experts so your employees can concentrate on what they do best. With a strong partner, your brand can successfully implement audio blogging and scale up quickly within budget.