It's hard to do content marketing as a business owner without help. Dare I say it's impossible to sustain.
On top of creating products your audience love, you have to find time to hire a marketing team, train them, pay salaries, compensation and other expenses involved with staffing an in house team.
If you're a small business without the financial resources to pay hundreds of thousands in annual salaries, then you're considering options to help you grow your business within your budget.
That's why early-stage SaaS startups, mission-focused companies, and even nonprofits ask the big question when structuring.
Should I assemble an in house team or am I better off partnering with an agency that aligns with my brand values?
In this article, you'll get detailed insight into the pros and cons of working with an external content marketing agency vs an in house marketing team.
Pros of Hiring an External Content Marketing Agency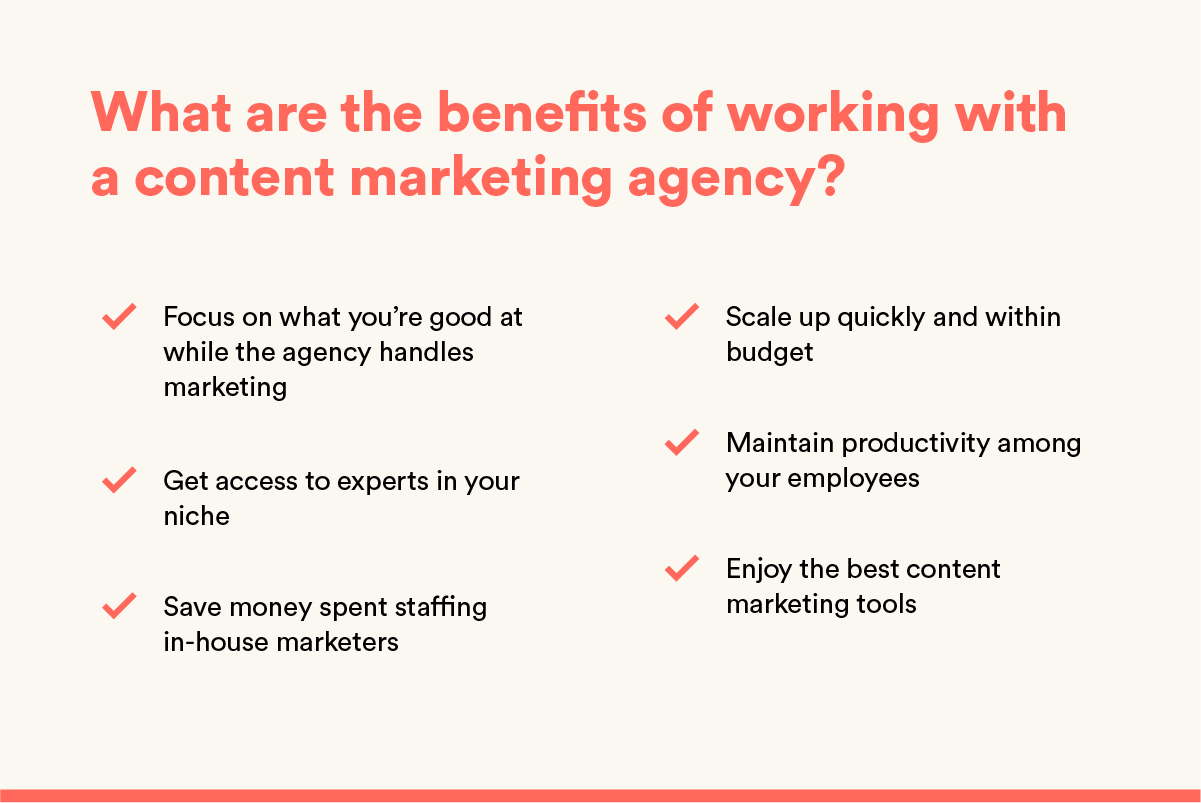 Focus on your core capabilities while an agency handles the rest
You're a startup founder with a million things to do. Would you rather spend valuable time building out a new content team where everyone has to be trained? Or would you leverage the established skill-set of an agency with a proven process for success?
Hiring the best writers is not as easy as it sounds. You're looking for people that align with your brand values. Writers who can take a brief and create magic, brainstorm new ideas, and blend nicely with the rest of your team.
What happens when you hire the wrong person? It cost money to lay-off staff and recruit new employees. A recent study by the National Association of Colleges and Employers found that it cost $7,645 for a company with less than 500 employees to hire a staff.
A CAP study found that the average cost to replace a highly educated employee in an executive position was up to 213% of their annual salary.
Partnering with a content marketing agency is a great way to test the waters without making a large financial investment.
Access to a wide range of marketing skills
If you serve a varied audience or own multiple products, you need a diverse skill set to cater to content marketing channels such as video, social media, email marketing, content distribution, and more.
It's not easy building a team packed with the talents you want. Agencies are naturally more equipped with specialists and can serve as your one-stop-shop for content needs.
For example, if you're leaning towards SaaS content, you'll get a team that specializes in this area. If you're a grassroot nonprofit, you'll be assigned content strategists who know your niche.
Working with an experienced partner ensures you get the most value from content marketing. You're taking advantage of a high level of specialization that just isn't possible with in-house marketing where team members wear many hats.
Cheaper than staffing in house
Marketing is only expensive when you're not getting the expected returns from your investment. Great marketing pays for itself many times over. According to Demand Metric, the cost of content marketing is 62% less than traditional tactics, yet generates 3x as many leads.
The right content marketing team conducts audience research before creating a strategy on how to achieve your content goals.
This ensures that you're paying for the entire spectrum of content marketing including social media, content creation, content promotion, marketing tactics, and more.
However, if you think agencies are expensive, let's analyze how much it costs to hire in house vs agency.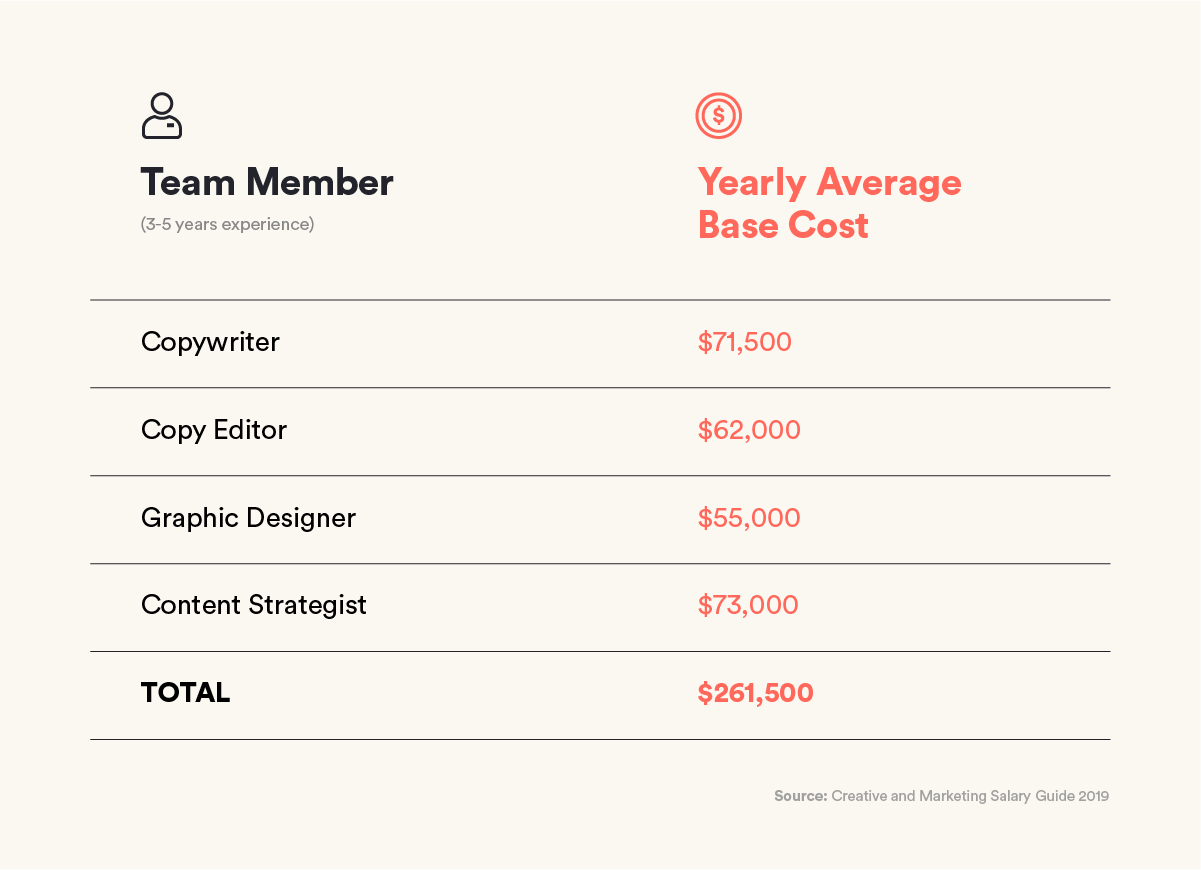 According to the table, a content marketing team that includes a copywriter, editor, graphic designer, and content strategist would cost around $261,500 a year. This doesn't include the cost of health insurance, pension contribution, and other costs associated with full-time roles.
Alternatively, you'll spend between $120,000 – $150,000 a year to enjoy the full range of services from agency marketing.
Ramp up your content marketing quickly and at scale
The right content agency establishes your company as an industry thought leader that provides great value to your audience. Hiring a full-time content writer, Ads expert or video producer is always going to cost more than partnering with an external agency.
Instead of limiting your content strategy to the manpower and skills of your in-house team, you can work with an agency to create a varied range of content types that appeals to your audience.
Blog posts are not the only source of content. You need downloadable guides, videos, infographics, white papers, case studies and more to reach your audience where they hang out.
Agencies have the resources to cope with high-demand projects. When you need to boost your overall strategy or increase content output for a new campaign, an agency is structured to cope with extra work without fatigue.
Allow employees to focus on their core talents
Too many people writing content leads to a lack of consistency and poor output in your content marketing efforts.
One mistake I've seen startups make is having existing employees write content as a way of getting around hiring in house marketers.
Your staff lacks the skill required to create content that appeals to your audience, even though they have knowledge of the product.
Your sales team shouldn't be writing web content. It takes them away from their core function of following up with leads to generate revenue for your business.
Same as asking product teams to design graphics to explain how the product works. An agency designer has the training and expertise to do a better job.
You hired these specialists for a purpose. Allow them focus on those tasks to increase efficiency and productivity.
Access to the latest technology and industry trends
One of the major benefits of working with an agency is that you don't pay for training, upskilling, or tools. Agencies leverage the best content marketing tools for you.
Acquiring certifications and attending industry conferences are expected from agency teams. They also stay on top of the latest trends, so you're not worried about implementing best practices for your marketing strategy.
If you hire in house, you'll have to factor in the cost of training new hires, teaching them how to use tools, and spending money to help them upskill.
Questions to ask before choosing a content marketing agency
Do you have writers in my niche?
A recurring complaint I've heard from business owners who work with agencies is that the writing is terrible. This usually happens when you hire content marketing agencies based on a proposal they presented.
Who will write the content? Have they worked with industries in your niche? What were the results these writers achieved? If they haven't worked in your industry, how have they demonstrated they can learn up quickly?
These are questions to ask when interviewing a prospective content marketing agency to ensure you're getting the most bang for your buck.
How long will it take to bring your agency up to speed?
One of the major difficulties businesses face when hiring an external agency is getting them up to speed on your product and target audience.
You can get past this issue by partnering with a marketing agency that understands your market inside out and conducts comprehensive buyer persona research to get your messaging right.
How do you know you're working with the best agency?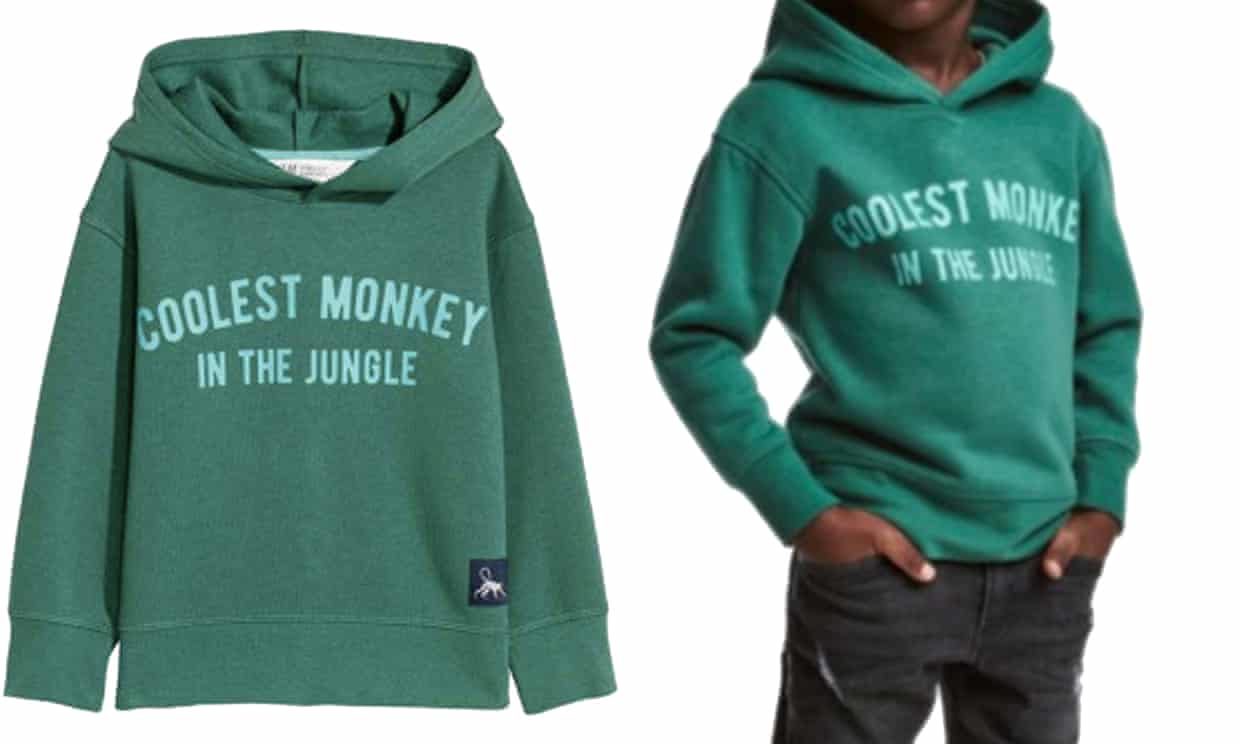 Intentional about diversity
Do you remember the H&M jumper with the words "coolest monkey in the jungle?"
That's what happens when your marketing team lacks diversity. Things that could slip through the cracks before the rise of social media make it to the front pages of the news for the wrong reasons.
Diversity in your marketing encourages new perspectives and. understanding of different communities. It's that empathy and understanding that leads to increased brand loyalty and revenue for your business.
An on-demand team that can scale up or down based on your needs
When you picture an agency of the future, do you imagine a big office with creatives running around to meet client deadlines?
The truth is that most of these agencies with a physical location have limited in-house writers they can call upon for large scale projects. They can't hire 10 extra writers or designers when demand is high and fire them when demand is low.
Scalability depends on human resources that just isn't possible with the traditional agency approach. A freelance collective on the other hand is flexible to accommodate demand as it arises.
Human-to-human (H2H) marketing that sets you apart from competitors
Human to human marketing simply means talking to your customers like humans. Behind every business, nonprofit or organization, there's a living human being making decisions about your company. You see them as humans first and consumers second.
A few benefits of working with an agency that focuses on H2H marketing include:
Deliver personalized content at scale to meet your audience where they are
Humanize your brand to build trust with your target audience
Forge deeper connections with people through empathy-driven content marketing
Show up authentically without trying to be perfect. Transparency adds a personal touch to your content that makes your audience feel like they can connect with you
Should you build in-house or bring in agency partners?
So, we're back to the big question: Should you build an internal content marketing team or hire externally?
Internal teams are great for mega-sized companies that do not need to scale. It's also suitable for businesses that only focus on one aspect of marketing such as blog copy. You can scrape by with one content specialist but scaling will be difficult because you're moving at a snail's pace.
Agencies are perfect for ambitious brands with aggressive growth goals that require customer-centric strategies.
Consider your marketing goals and weigh them against your team's strengths and weaknesses. Do you have the financial ability to hire a full content marketing team in-house?
For most organizations, a hybrid approach works best. You have the core in house marketing executives such as a CMO or Digital Marketing Manager to liaise with the content marketing firm. Agencies offer a unique perspective that helps you identify invaluable opportunities to innovate and reach your target audience at scale.
The right agency will help your brand achieve liftoff 🚀🚀🚀
Book a free strategy session with us today!
Thinking about hiring a content marketing agency?