Every company needs a content marketing strategy. It's a vital component when it comes to delivering the best quality content possible. But B2B (business to business) companies will have to adopt a different strategy than B2C (business to consumer) brands, as their target audiences are very different.
When it comes to B2B marketing, you have more barriers between your sales pitch and making a sale. A lot of consideration goes into it since your product or service will be used by an entire company rather than just one person. 
You've got to be a lot more persuasive in your tactics and show that you're a trustworthy and authoritative brand who will be a huge asset to any business that decides to work with you. 
That doesn't sound like the easiest thing to do, does it? Not to worry, as today we've got a list of some brilliant B2B content marketing strategy examples to read through and learn from. 
By keeping these tips and content creation essentials in mind, you'll be winning the support of brands both big and small, in no time. 
B2B content marketing essentials
No matter how unique you want your branding to be, there are some essential components of B2B content marketing that are essential to know and have in your toolbox.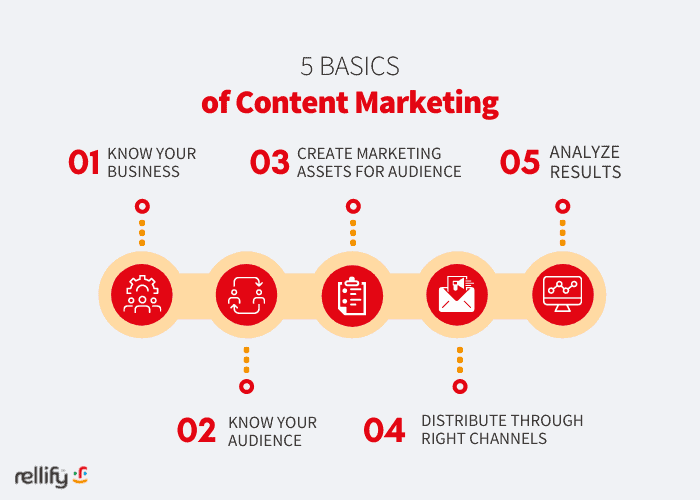 Let's run through a couple of these strategies together. This way, when scaling and perfecting your marketing campaigns, you'll have all the groundwork ready and available to score major clients and solidify yourself as an industry thought leader.
General advice
Every business has to deal with content marketing in one way or another, so there are a lot of generic tips and tricks which have been devised over the years to help your strategy run as smoothly as possible. Let's take a look at some of them now!
Create a buyer persona:

When starting out, you must ensure that your attention is focused in the right direction. Developing a buyer persona can help you hone in on your target audience and clarify the types of companies you want to do business with. Here, you'll not just be looking at your direct buyer but also who they then go on to serve. This ensures your products help with their end goals. Take a look at what products or services they are already using and why they would choose you as a supplier over one of your competitors. Are you targeting large or small businesses? Depending on your answer, the needs of your prospective client will change. 

Maintain a high standard:

Quality content

is important for any kind of marketing strategy, but especially so when dealing with high-profile professionals. Generally, you will have to adopt a formal tone to show that you are competent and reliable, and you may find that you have a lot more copy to check over so consistent and in-depth editing is essential.

Have a unique perspective:

There are hundreds of other B2B companies out there, so you need to do a lot of soul-searching to determine what makes your brand unique and desirable to your target audience. Look for gaps and niches in the market which you can explore in greater detail. 

Understand your own values:

A brand's values are a core part of their identity. This is often under immense scrutiny from investors, and brands that are inconsistent with their values can lose the invaluable trust of their consumer base. To this end, businesses will want to work with those that share the same values as them. Ensure your values shine through in everything you do. Display them proudly and, most importantly, act on them. If you can't put your values into action, they should not be a part of your branding. For example, if you proclaim to be highly sustainable but then produce vast amounts of waste and pollution, people will lose their trust in you, and no one will want to work with you.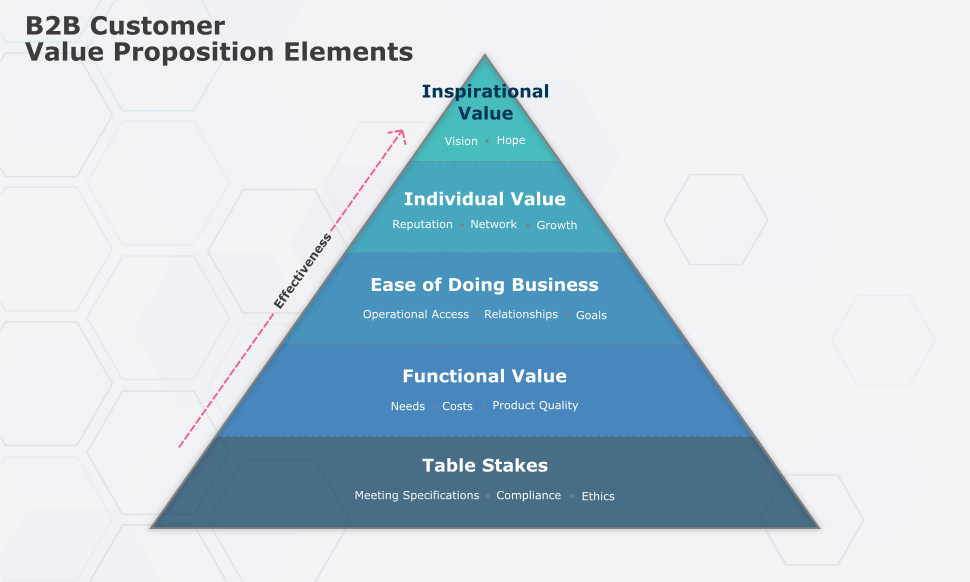 Digital marketing
B2B digital marketing often places a much larger emphasis on the value of educational content and a brand establishing itself as a thought leader rather than direct advertising to a consumer. 
This idea needs to be perpetuated throughout your online presence, creating a sense of security and knowledgeable authority for any company that decides to check you out. Let's take a look at some of the strategies and techniques you can implement for the best results.
Use a range of content formats:

When creating an interesting and eye-catching piece of content, you need to experiment and use all the tools at your disposal. This includes using auditory and video content, such as podcasts, webinars, or posting on a dedicated YouTube channel. 

Social media isn't just for advertising:

As a B2B brand, connecting with other companies online and increasing your

brand awareness

is essential. Your social media channels are fantastic resources for engaging with potential clients and showcasing your industry prowess since your timeline can act as a portfolio for your successful interactions and events. Platforms such as LinkedIn give you excellent opportunities to network and allow business owners to build a presence for themselves individually, which provides a positive impression of their company, too. 

Diversify your written content:

Your written content will probably take up the bulk of your workload, so it's important that you freshen things up to keep it interesting and informative. To be a thought leader, you need to showcase a wide range of knowledge about your industry. You can produce long-form white papers for formal matters such as in-depth product explanations, research publications, or problem-and-solution essays. Then, you can deliver various blog articles for quicker, more easily digestible content, which has the liberty to explore a wider range of ideas and issues. 

Perfect your email marketing:

When it comes to B2B email marketing, you can be a lot more personal with your cold calls since your prospective client base will be smaller. This gives you a chance to sell yourself more specifically to the individual needs of a company. And it pays off since B2B email marketing has a

higher click-through rate

(3.2%) than its B2C counterparts (2.1%). Once your pitch is perfect, you need to ensure that any links you include within your email lead users to a dedicated landing page. From there, they should be able to find their way around the rest of your content, following clear website labeling and intuitive page design. 
Physical marketing
As useful as digital marketing is, it doesn't mean you should ignore marketing efforts that can help solidify your presence in the real, physical world. This gives your brand a more grounded feel, rather than existing solely as an intangible business online. 
Conduct and participate in events:

If you have something to say, research to showcase, or discussions to join, a great way to do so is at conferences, seminars, or conventions. This gives you a fantastic opportunity to present yourself as a voice of knowledge and encourages greater collaboration with other brands you may be trying to reach out to.

Send gifts:

While online materials such as e-books are readily available and accessible, there's a fond novelty about flicking through the pages of a physical copy. Sending free samples to your potential customers allows for a much larger degree of personalization, and can make the recipient feel valued. 

Offer physical materials:

There's still a time and a place for tangible content such as leaflets, pamphlets, and newsletters. If you want to build awareness and a dedicated user base, you could try offering subscription-based magazines sent to businesses monthly or bi-monthly, full of the latest insights, tips, and trends. As long as you provide high-quality content, you'll be able to build trust with your network and become a trusted source of information. 
B2B content marketing case studies
Every B2B company finds its fortune in a slightly different way. It all comes back to the idea of carving out a niche for yourself. 
The following B2B brands have become industry leaders for one reason or another, so it's well worth taking a look at the strategies they have used and what takeaways we can learn from them. 
Keep in mind that the companies we'll be looking at today all have the benefit of longevity on their side. They've been in the market for a long time, so don't feel disheartened if you don't see growth like theirs immediately. Business management takes time! 
HubSpot 
HubSpot has always been a big name in B2B relations. They are a CRM (customer relationship management) tool designed to help your brand with almost every stage of the consumer pipeline for expert lead generation, automation, and customer service. 
But they're more than just an exemplary service. Their blog is a font of great content for major companies and small startups alike, offering advice on every aspect of sales, advertising, and market trends, such as integrating AI (artificial intelligence) into daily business practices.
Their original research and expert insights have solidified them as a dominant presence in the world of market analysis.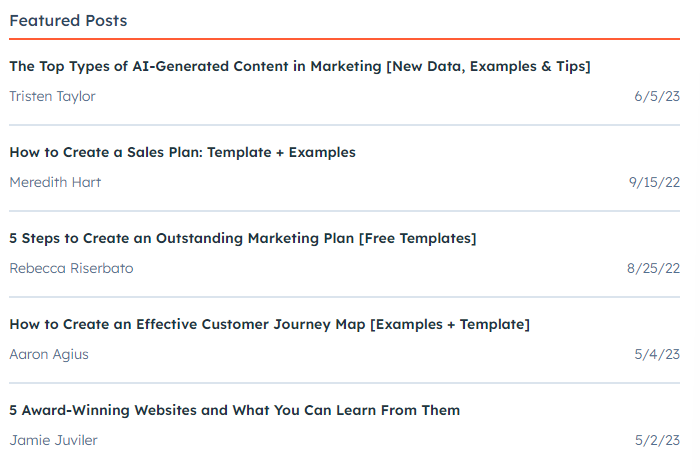 HubSpot also offers the following:
A newsletter called The Hustle – a free, daily email with all the latest news about the industry

Video content on a variety of YouTube channels  

Podcasts covering every aspect of CRM and business operations

Free templates for marketing and scheduling elements like content calendars, ebooks, blog posts, and budgets

Online educational courses and quizzes, some of which provide certificates of completion 

The availability of free information is a key incentive for businesses to check out what HubSpot has to say. While it's completely understandable that you want to be paid for your work, locking all of your most valuable assets behind a paywall often isn't the best way to generate traffic. 
It's important to have a healthy display of free content that anyone can access, as it allows businesses to assess whether or not you are a viable source of information. They don't want to pay for content only to realize it's irrelevant and poorly constructed. 
HubSpot has so much incredible free content that it's no wonder their inbound marketing is insanely successful. They've been in the game since 2007, and it's clear to see why. Consistent growth doesn't come from thin air; their content is a reflection of the hard work and dedication from their team. 
Moz
SEO (search engine optimization) is another crucial part of online content marketing, which Moz prides itself in helping others with. This fully comprehensive tool can take anyone with a quiet voice in an oversaturated market and turn them into a content marketing machine. 
Once again, their blog is at the heart of their content plan, delivering excellent articles several times a week in a vast range of categories. Some of the blog posts have survey links at the end where you can share your thoughts and opinions, helping to inform future articles. 
But their "Beginner's Guide to SEO" academy is what makes them truly special. SEO is hard work. Google's algorithms can be fickle things, and combing through the countless articles and searching for hyper-specific keywords can be a nightmare, especially if you don't know how to do it correctly. 
Fortunately, Moz's Academy is here to teach you everything you need to know in a fun and informative way that is perfect for B2B and B2C companies. 
Their 7-chapter program takes you right the way through learning what all of the acronyms mean, the intricacies of how search engine crawlers work, right up to expanding your presence online and measuring its impact on your digital marketing efforts.
Another extremely influential piece of content Moz delivers is their weekly Whiteboard Friday video series. Every Friday, they produce a short video, never usually more than 10 minutes long, explaining anything from site architecture optimization to the role of demographics to evolving your backlinks and link building for the best results.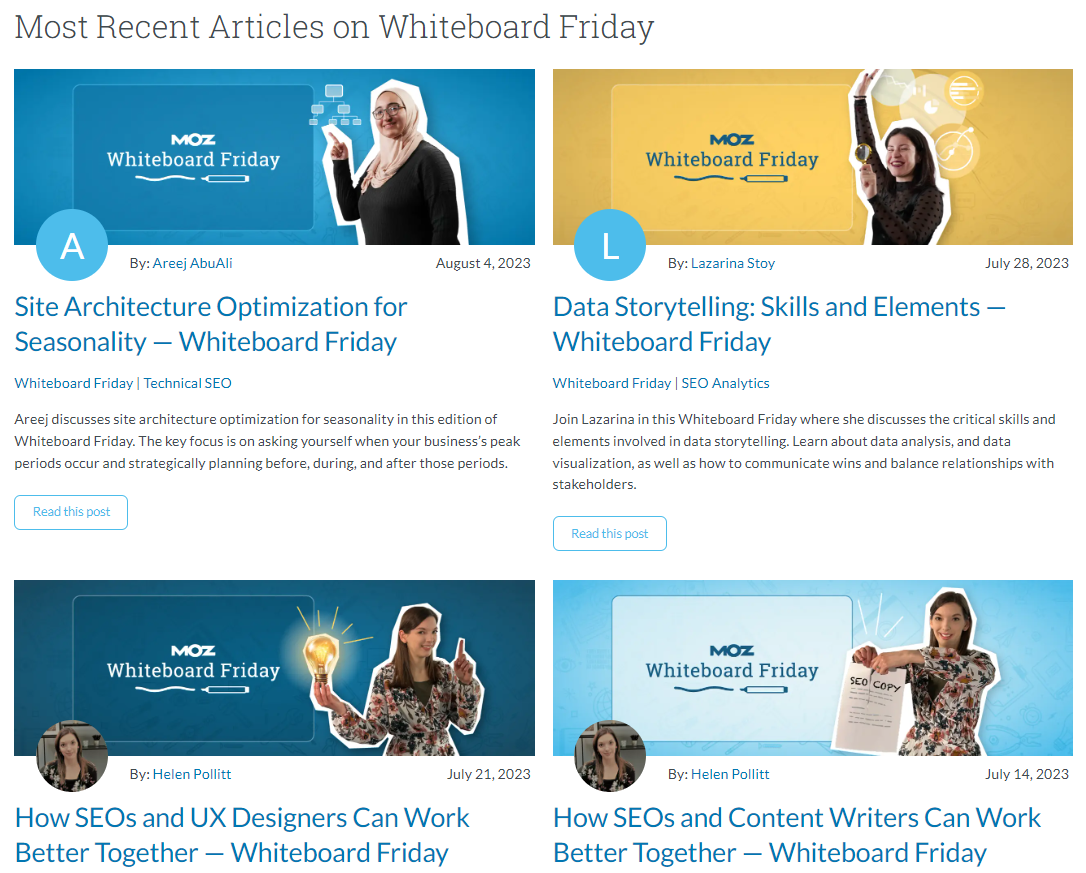 The various types of content make Moz an attractive service for anyone interested in SEO and its related topics. 
The general tone seems more informal than HubSpot, but the knowledge provided is just as detailed and valuable. For any B2B company looking for a few demos on how to take a good idea and give it longevity, Moz is a great place to start. 
Salesforce 
Salesforce is one of those brands that has its finger on the content marketing pulse, balancing an ability to hop on the latest social media trends with keeping a strong, informative sense of style in their written content. 
Simply take a look at their TikTok or Instagram to see how they've connected with their target audience, using amusing audio clips, images, and celebrity features to get their message across.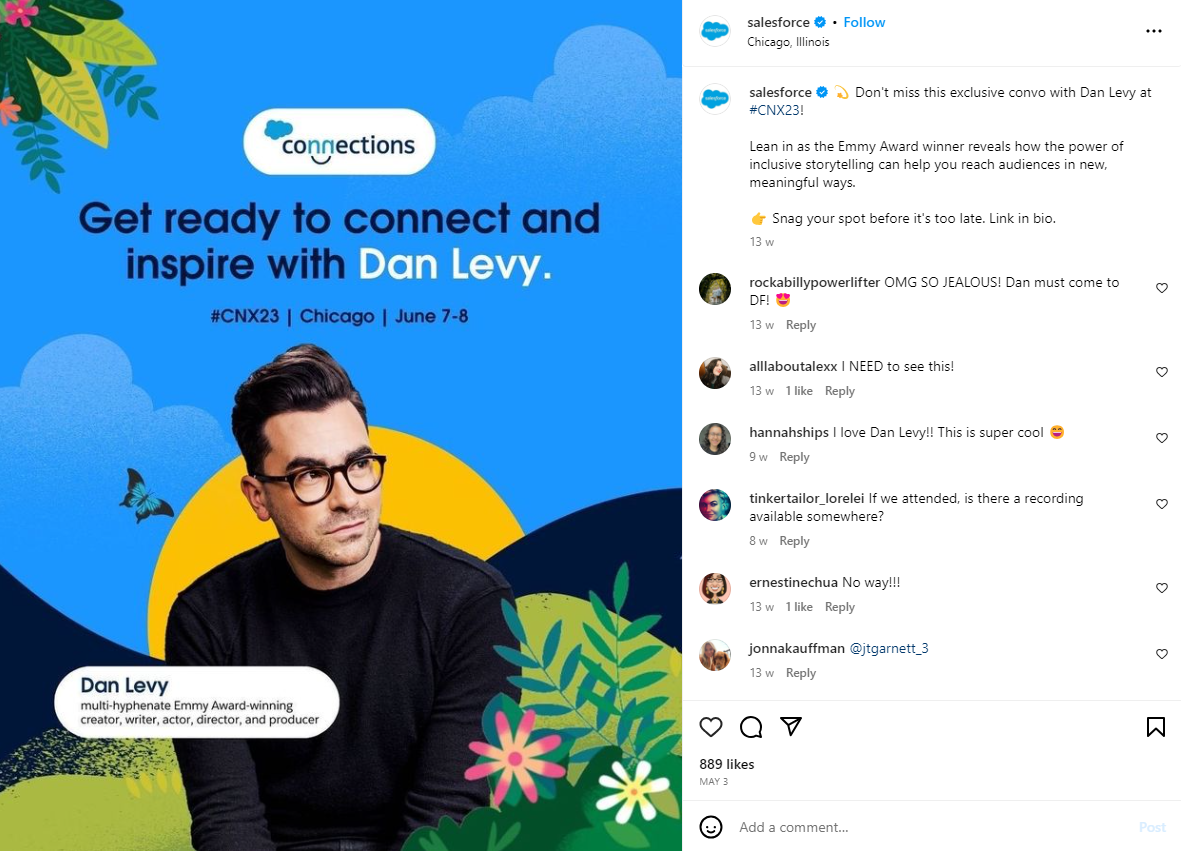 Like HubSpot, Salesforce is another CRM brand, which means that it not only has to appeal to the business they want to work with, but they also need to connect with the customers on the other end. Fortunately for them, Salesforce has adopted quite a modern feel, putting a lot more effort into short-form video content than its counterparts. 
But that's not to say that they are lacking in other departments. On the contrary, they can afford to spend some time creating less serious content because they have already established themselves as reliable thought leaders and researchers regarding business trends and HR. On their website, you can find guides, reports, and workshops to help guide fellow companies through the world of customer relations. 
Additionally, they host many online and in-person events all throughout the year, which anyone can register to participate in. This encourages a free flow of information and networking opportunities between people who may not have previously had the chance to interact with one another. You can also hear the latest news and useful insights from industry professionals, which can help you develop your own thought leadership techniques by joining the conversation.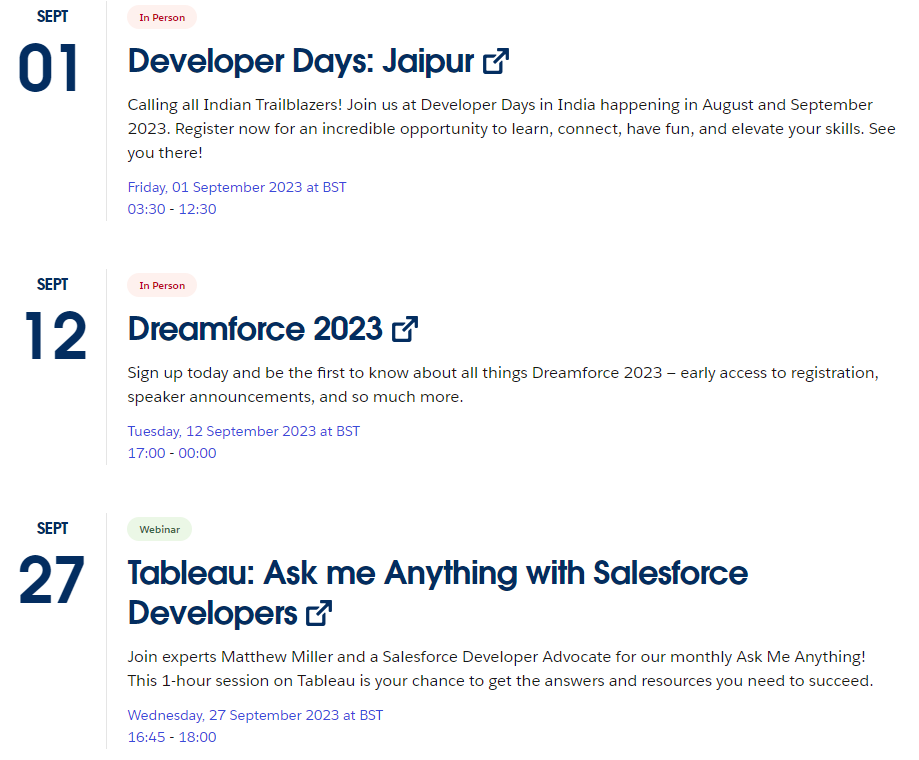 Deloitte
Of all the brands listed today, Deloitte seems to have the most formal presence of them all. This professional services company helps with financial investments, risk management, auditing, and consulting, among other things. 
The linchpin of their content strategy is their dense array of educational content and broad yet detailed understanding of the financial industry.
Their Deloitte Insights Magazine features many content-rich articles filled with their own data-driven research from both individual and joint studies.
This magazine is essential for businesses, entrepreneurs, or individuals who want more information about workplace practices, consumer habits, and developing technology in finance-related industries. 
Due to their large target audience, Deloitte has alleviated confusion and pain points by providing different portals for different industries such as:
Consumer

Energy, Resources, & Industrials

Financial Services

Government & Public Services

Life Sciences & Health Care

Technology, Media, & Telecom
Alternatively, you can find more information via associated topics:
Strategy

Economy & Society

Operations

Workforce

Technology
While quality should be favored over quantity, you may reach a point where you have too much knowledge to share for it to be grouped in one place. In this instance, follow in Deloitte's footsteps and label everything clearly and uniformly. 
The last thing you want is for your users to miss out on relevant content to their industry because they are unable to navigate your website. 
Content Marketing Institute
(CMI)
CMI has consistently found itself pushing out one great idea after another, keeping engagement with its user base high and brand authority even higher. Let's review some of their previous and existing projects.
The Story of Content: Rise of the New Marketing:

In 2016, CMI published a documentary called 'The Story of Content.' It delved into various content marketing case studies and tracked the progression of trends through time, providing a concise source of information for years to come. It has over half a million views, with some of the most recent comments originating from this month which demonstrates its evergreen, ever-relevant nature. 
#CMWorld Twitter:

This hashtag trend is still circulating and involves industry professionals coming together to ask and answer questions, network, and share all that's new in the world of content marketing.
Mentorship program:

Catered towards individuals rather than businesses, the CMI mentorship program aims to bring in a new generation of content marketing specialists who can lead businesses to even greater heights.
Research insights:

CMI is responsible for some of the more significant content marketing research available, containing useful metrics which can inform other businesses about the best practices to conduct for the most successful results. 
What comes next?
There is a lot of pressure on B2B organizations due to the significance of each sale. You're not just peddling your product to one person but to an entire company. You need to ensure your content marketing strategy has the best chance of influencing the decision-makers at these companies so they'll want to purchase your products. 
It's a daunting challenge but not impossible by any means, no matter how small your business may be. And, if you're really stumped on what to do, you can always hire a marketing agency to get you back on the right track. There are always solutions around a creative slump, so don't feel bad if no ideas are springing to mind immediately. 
Don't be afraid to experiment and branch out. Perhaps you've spotted something online that no one else seems to have taken advantage of. That could be your golden ticket to great success. Talk with your team, formulate a plan, and give it a go. You'll never know if you don't try!