In early 2021, we made a bet.
At least in the UK, people were slowly starting to emerge from successive lockdowns and see the light at the end of the pandemic tunnel.
We were still in our first year as an agency and like Alexander Hamilton, we were (and still are) young, scrappy, and hungry in our hunt for new business.
We had worked with a few lead generation agencies and frankly, it was a very mixed bag. 
Some were a bit heavy-handed with the automations. Their outreach felt rather spammy.
Others were just too damn expensive, despite relying on underpaid labour in places they could get away with such practices.
So what was the bet?
That we could find good, qualified sales leads on LinkedIn.
The world wasn't quite ready for in-person networking at that time and we weren't interested in cold email campaigns.
We wanted to find a way to connect with people as genuinely and humanly as possible on the world's #1 professional networking platform.
It's where the decision-makers are. LinkedIn is a great place to connect and engage with one's target audience. 
As busy executives though, where would we find the time? Launching a new agency, our schedules were already manic.
So we did what any god-fearing millennial would: launched a new product of course!
We called it Literal Leads. 
It's focus: Building strong relationships with potential clients on LinkedIn and bringing in new business.
Why we launched a new LinkedIn lead generation product
So many great inventions come from pure disgust.
We were tired of:
Poor quality leads ending up in our sales funnel

Spending too much time on lead generation with nothing to show for it

Leads suddenly going cold

Not being able to accurately measure and document the success of lead generation efforts

Using ineffective tactics that failed to get the potential lead's attention

Working with strategic lead gen partners that failed to deliver

Deploying generic marketing messaging that failed to further nurture and convert leads
So we decided to go back to the drawing board.
After a lot of testing, analyzing, and optimizing the process in order to connect with our target audience in a human way, we achieved success.
We had initially created Literal Leads as an internal tool but we were so impressed with the results we decided to roll it out to our clients who were facing the same challenges.
For example, we onboarded a fellow agency client for LinkedIn Lead Generation services and here's what we came up with in terms of results in the first six months of our campaign with them:
Sales meetings booked: 11

New LinkedIn connections: 268

Acceptance rate: 12%

New clients secured: 4
It's early days, but that lead gen campaign with this client has already borne some serious fruit. We're looking to build on this success in the coming year.
Lead generation on LinkedIn is all about trusting the process
Put simply, LinkedIn is where people go to hustle.
So when someone reaches out to you with a thoughtful, personalized, and well-crafted message on the platform–you're more likely to respond.
Just take a look at some of the responses we've received over the past year: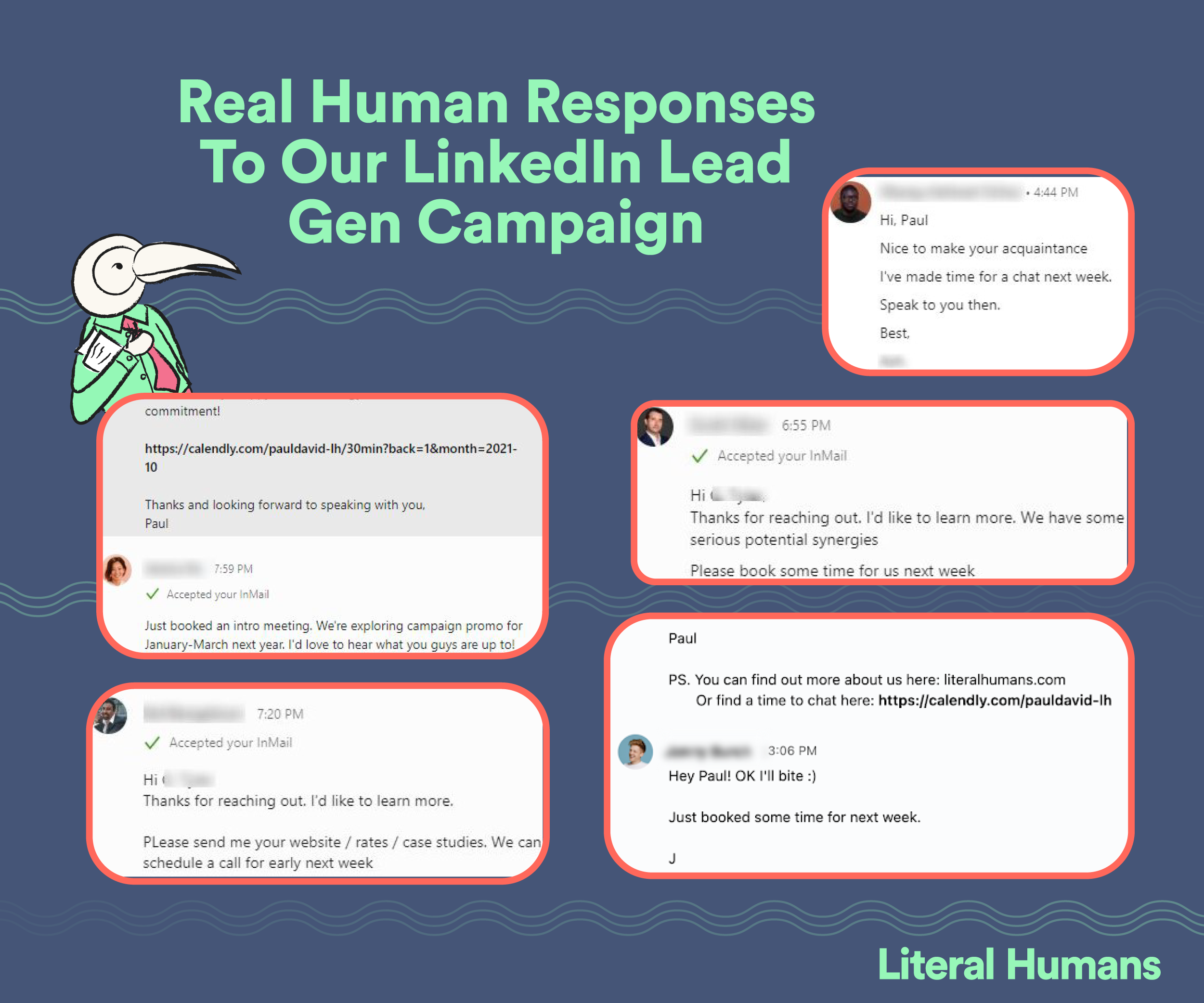 A few learnings jumped out at us from these responses and the conversations that followed:
Through strong prospecting, we were able to

find leads at the right time (for them)

. We figured out a way to find prospects

as they were looking for lead gen support from agencies.

Leads constantly say to us,

"I don't know how you did it but you found me just when I was looking for an agency." 

(Spoiler alert: We're not quite sure either but we are happy with the result!)

Our automated

messaging sequences were authentic and personal enough.

We kept tweaking them and it worked.

Once a lead responded to the sequence, we

doubled down with personalization and added value.

"Hey, we love X about the work you're doing and here's a thought leadership article we think you'll love."

Once the sales call was booked in, we

prepared ourselves for the meeting through due diligence

about the lead and some early thinking about their needs.

Lastly, we kept the sales cycle short and sweet for our prospects by sending pricing info and/or a proposal shortly after the first meeting. Busy execs love a brief sales cycle!
Data from a one year LinkedIn lead gen campaign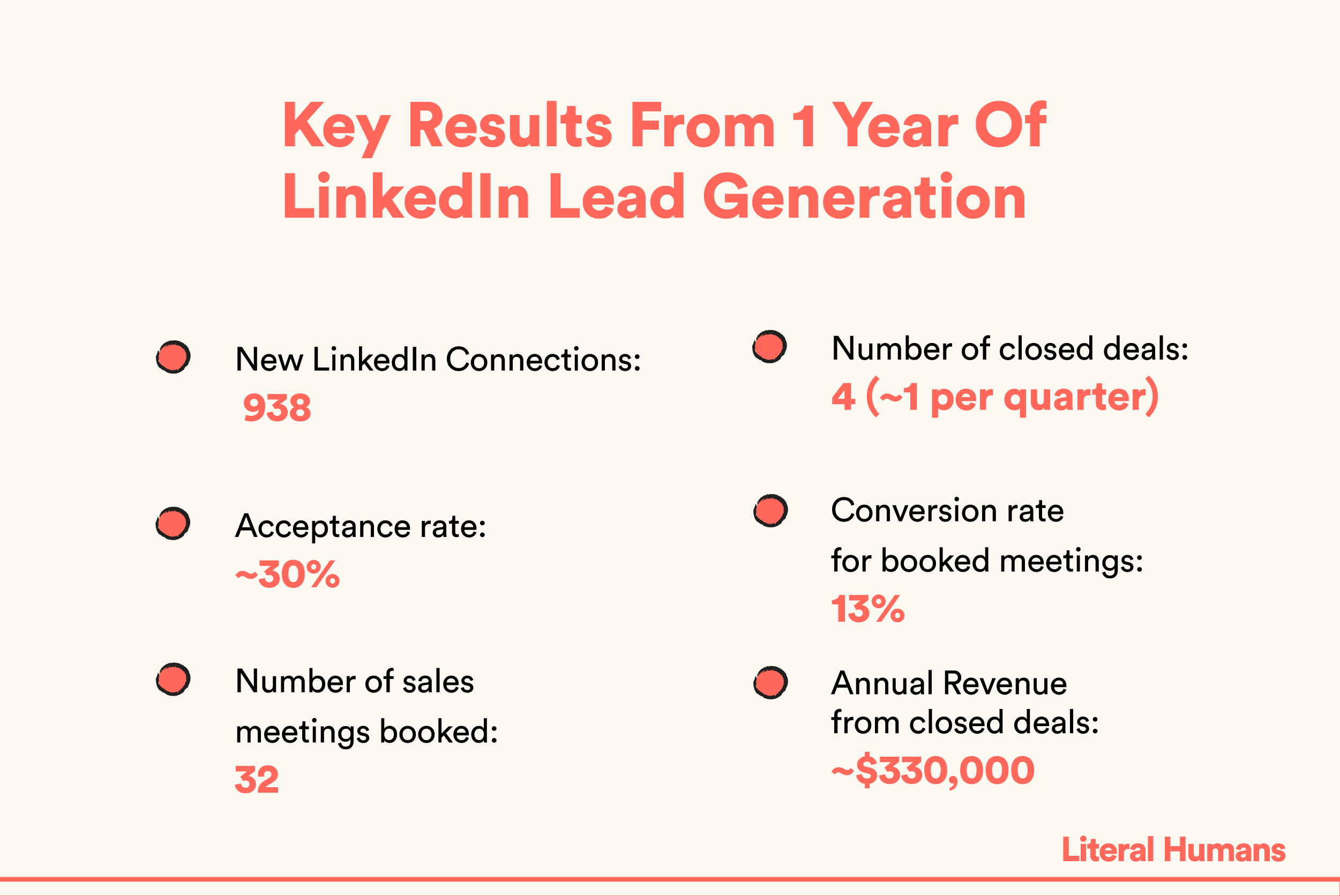 Here's what we came up with over a 12 month period:
New LinkedIn Connections:

938

Acceptance rate:

~30%

Number of sales meetings booked:

32 

Number of closed deals:

4 (~1 per quarter)

Conversion rate for booked meetings:

13%

Annual Revenue from closed deals:

~$330,000 
It sounds salesy to say it, but we were blown away by the results.
When the dust settled, we had secured: 
2 UK-based seed-stage startups perfectly matched to our focus on tech for good, both five-figure annual deals

1 US-based (Silicon Valley) seed-stage startup looking for a smaller, more nimble agency to grow with

1 EU-based (Germany) company that is well-established and looking to expand into the UK market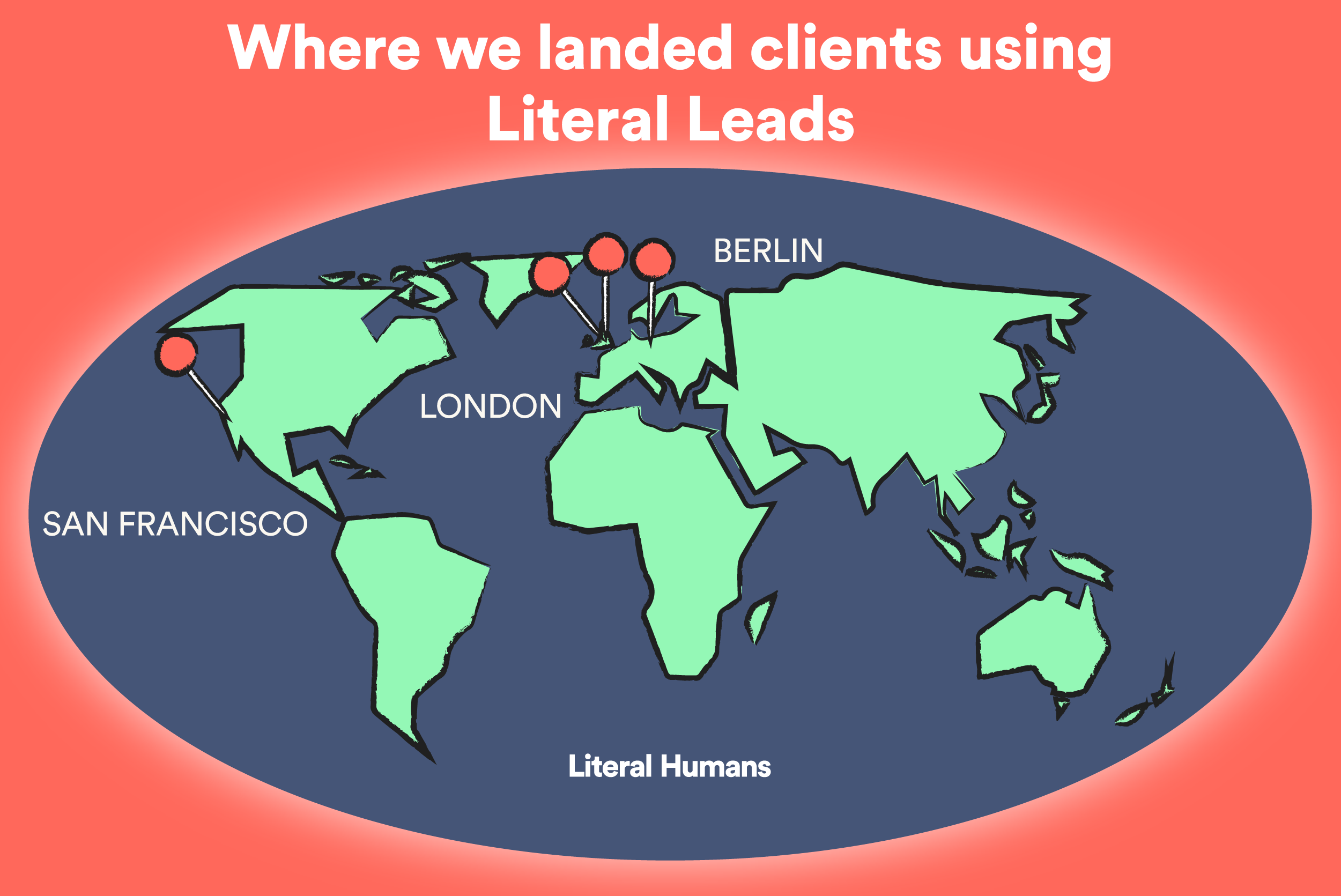 For a new and tiny agency to book in well more than a quarter of a million dollars of new business using social selling on LinkedIn as relevant novices, we even shocked ourselves.
The early qualitative and quantitative data showed us that we had something special, so we decided to run with it.
How much does a LinkedIn lead generation campaign cost?
Internally, we spent just under $1000 per month to run the campaign. 
This overall cost factors in the following:
Automation software to run messaging sequences: ~$380/month

1 dedicated lead generation specialist @ 10hrs per week: $600/month ($15 per hour living wage – we're now scaling up this salary and the role itself given all of the early success!)
Here's what we were looking at on a per engagement basis:
Cost to run Literal Leads: $980 x 12months = $11,760

Average annual contract per client: $72,000

Margin: $60,240
Not only did we cover the cost of running Literal Leads after our first secured client, we walked away with an 84% margin.
Now imagine that you close 1 client every quarter with a minimum $7000 monthly contract using Literal Leads:
Contract value: $84,000 per year

Closed deals per quarter: 4

Revenue per year: $336,000

New cost of Literal Leads ($2K/month) service annually: $24,000

Net Revenue – $312,000
For roughly 7% of your expected revenue, you can engage in high-performing social selling that captures high-potential leads, broadens your network, and drives significant new revenue.
What are the benefits of LinkedIn lead generation campaigns?
Busy executives are looking to lighten their load by getting support with prospecting, qualifying, outreach, and messaging leads. 
In short, business leaders are looking to:
Increase lead acquisition by building a personal brand on LinkedIn

Book more sales calls

Boost brand awareness through thought leadership 

Develop a stronger understanding of target audiences through social listening

Build a stronger professional network

Save time

Leave social selling to the experts

Run a more efficient lead gen operation

Gain access to transparent performance data
All of that good stuff takes time.
A busy founder can't also be a lead gen specialist who spends hours building well-researched prospect lists before outreach on LinkedIn even begins.
So what's the secret sauce behind our success on LinkedIn?
We communicate with people like people and not bots. 
By having real conversations that address the needs of our core audiences, we engaged in authentic networking that, in some cases, led to short-term conversions.
Over the longer-term, budding business relationships were formed that will very likely bear fruit down the line. 
How LinkedIn lead generation actually works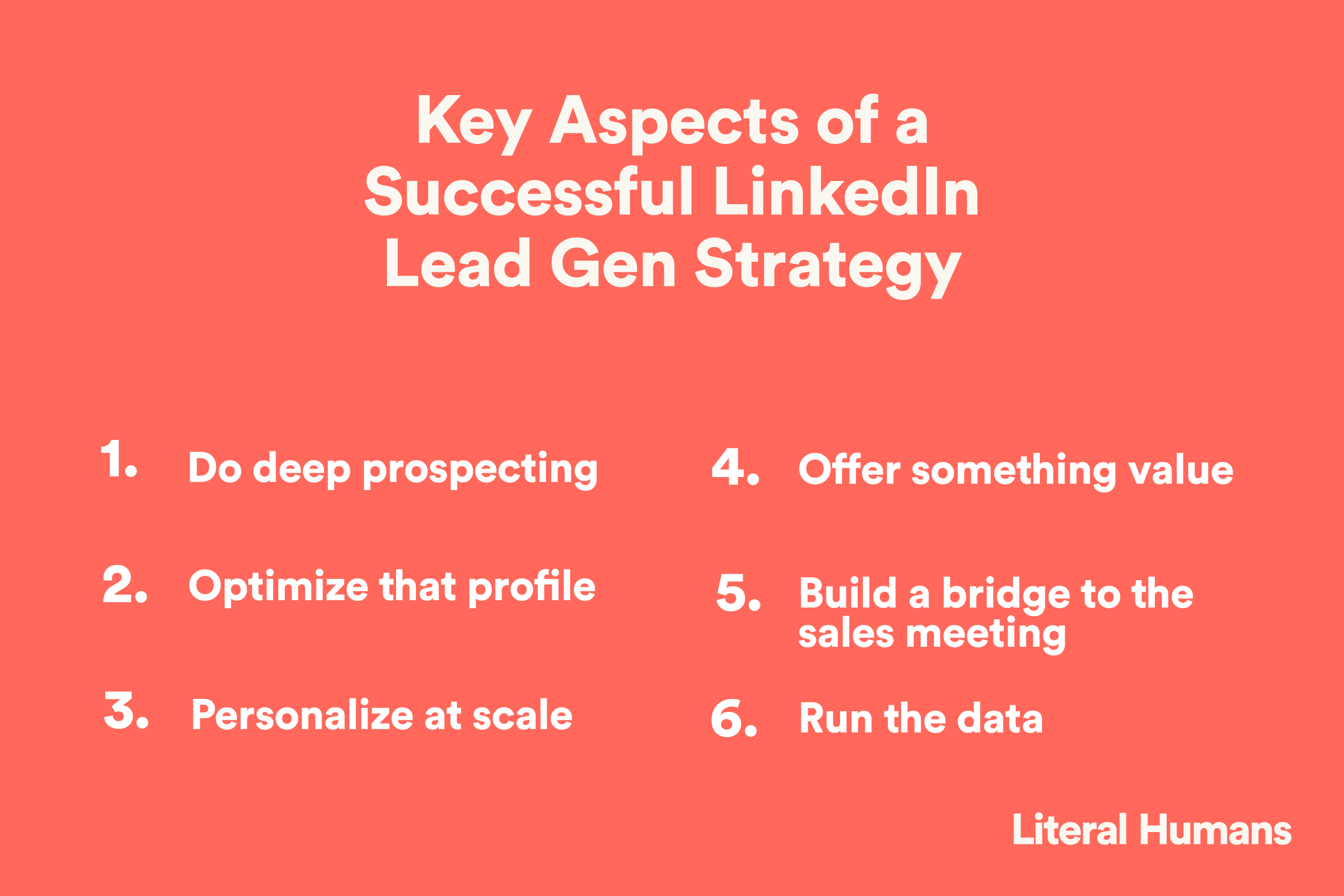 We've shared some of our trade secrets about LinkedIn lead generation here. 
That was at the very beginning of our new strategy. We've learned a few things along the way and we're here to share it with you:
Do deep prospecting:

Take the time to understand your ICPs (ideal customer profiles). Build out a list of qualified prospects based on that understanding and keep refreshing it regularly. Use

Crunchbase

to keep those prospect lists fresh.

Optimize that profile:

Make sure your profile leaves no doubt about who you are, what you're selling, and what you're seeking in terms of potential partnerships. Use explicit industry terms that speak to your ICPs.

Personalize at scale:

Craft custom copy that speaks in the native tongue of your target audience. Include personal tidbits about the person you're speaking to, whether that's their alma mater, something they published, or a previous workplace acquaintance.

Offer something of value:

In every message in the sequence, we try to offer a blog post, case study, a link to some interesting data, etc. Bottom line: Offer

something

of value, don't just go for the hard sell.

Build a bridge to the sales meeting:

In most cases, a well-crafted automated sequence will work if it doesn't sound robotic and includes a few personal touches. Once that sequence is "broken" (aka the person responds in any way), then it's time to jump in one-on-one and get them booked in for a sales meeting.

Run the data:

Compile and analyze monthly and quarterly reports on campaign performance to regularly refresh your approach. We're constantly tweaking messaging sequences, calls-to-action, lead gen content and the like to improve our outcomes.
When managing lead generation for clients, we keep them informed every step of the way. Because they're busy execs, they don't need to be engaged every step of the way, and frankly, they shouldn't be.  
At the same time, when co-managing a business leader's LinkedIn account, transparency is essential.
We are clear-eyed about the endgame for lead gen clients: They want "warmed up" leads dropping into their calendars with minimal hassle.
So we structured a lead gen process to deliver that.
We tested on ourselves and now we're scaling up amongst our clients. Give us a shout if you'd like to chat about Linkedin Lead Generation for your business.