The Problem
A race against time
You find yourself in a jam, racing against the clock to revamp your website for a huge upcoming conference that will bring together the largest buying group in your industry and your number one competitor. The stakes are high, and time is of the essence.
Sounds tough, right?
This was the situation facing Pepper, a platform that provides eCommerce and other business solutions for food distributors. They approached us with an urgent need for a website revamp before their CEO's crucial pitch to a group of executives. These executives would not only evaluate Pepper's services but also compare their website to others in the industry. The pressure was on.
Pepper had to transform their image, shifting from a small startup to a company capable of taking on billion-dollar distributors and taking care of enterprise clients.
And what made this web redesign project unique?
Pepper needed the new website done ASAP, in around six weeks with a hard stop.
The Pepper team began their search for someone who would be up for this project, but no one was crazy or enough to take it. Well, except for us…We embraced the challenge, and assured Pepper of two things:
We'd deliver a great website. Drawing from our experience helping brands like

CORE Learning

and

MDC

with their website redesigns, we knew we could nail this.

We'd deliver the great website on time. Time was the biggest constraint for this project, but we had previously helped

CalCurriculum

refresh their website in less than half the standard time, so we were pretty confident we could handle this project.
One web redesign project, lots of collaboration, tens of meetings, and stellar feedback later, Pepper has a new site that they call "exactly what they wanted." Here's how the journey went…
Our Work
T–6 weeks: Let the work begin
Imagine Shopify, but specifically built for the food distribution industry. That's what Pepper is. The platform caters to individuals who need to conveniently order large quantities of food products, such as 4000 units of ham, without requiring extensive technological expertise. 
Pepper serves as a comprehensive replacement for outdated systems that relied on physical notes, phone calls, and cumbersome spreadsheets, providing one centralized solution that loads up on your PC or mobile device. 
For this project, we had to design a user experience for a customer who doesn't necessarily know or often think about user experience. We also had a couple of challenges to get around:
The old site failed to convey Pepper's understanding of their diverse range of product users (for example, sales reps and customer service teams), and it didn't do a great job of highlighting the platform's numerous features. Pepper wanted a more polished way to demonstrate their position as a comprehensive solution for all their customers' operational needs.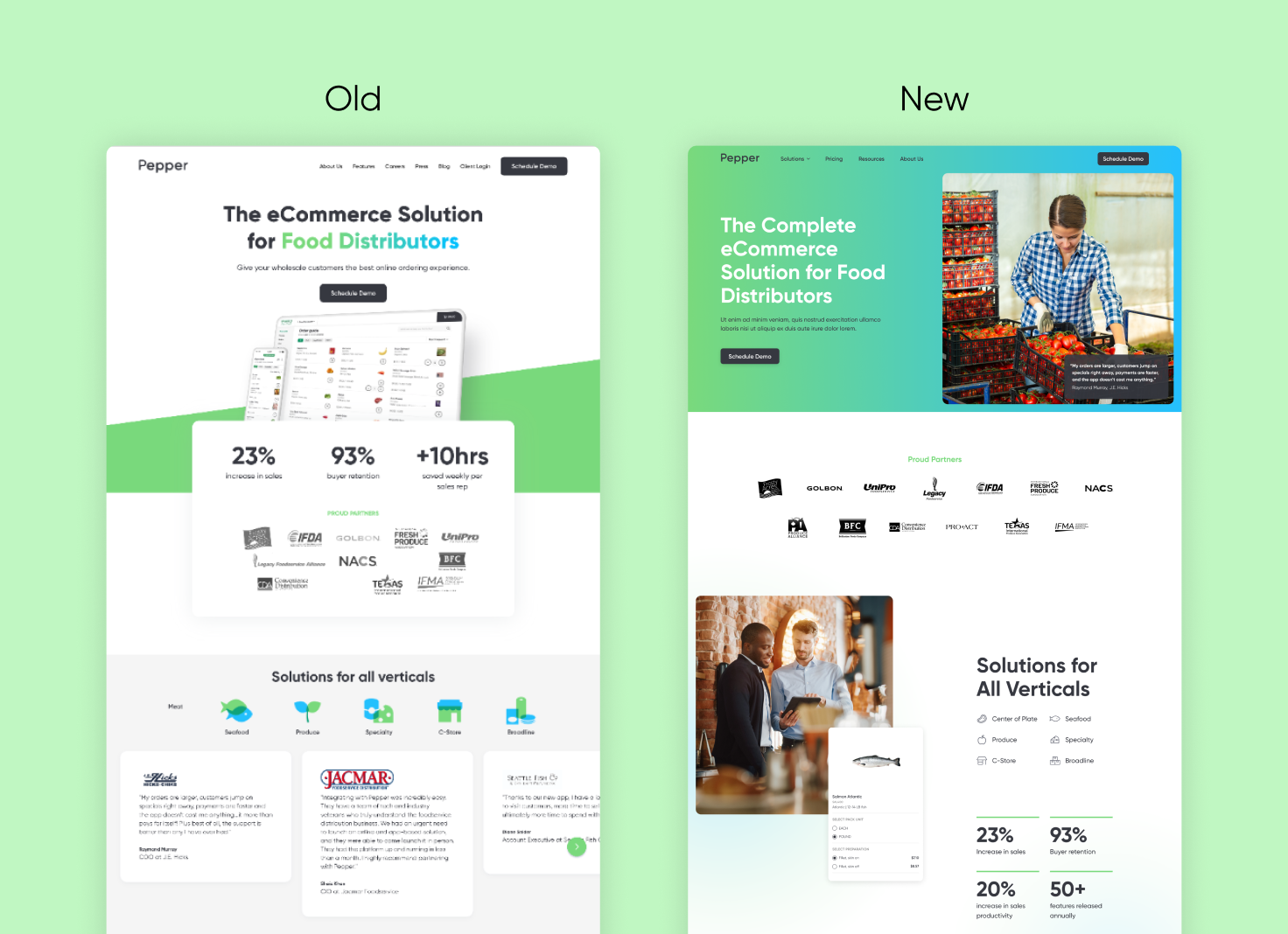 The Pepper team wanted to show that they tailor their solutions to each business's unique requirements. They needed a website structure that would facilitate easy access to information for distributors, enabling them to gather the necessary details before reaching out to the sales team.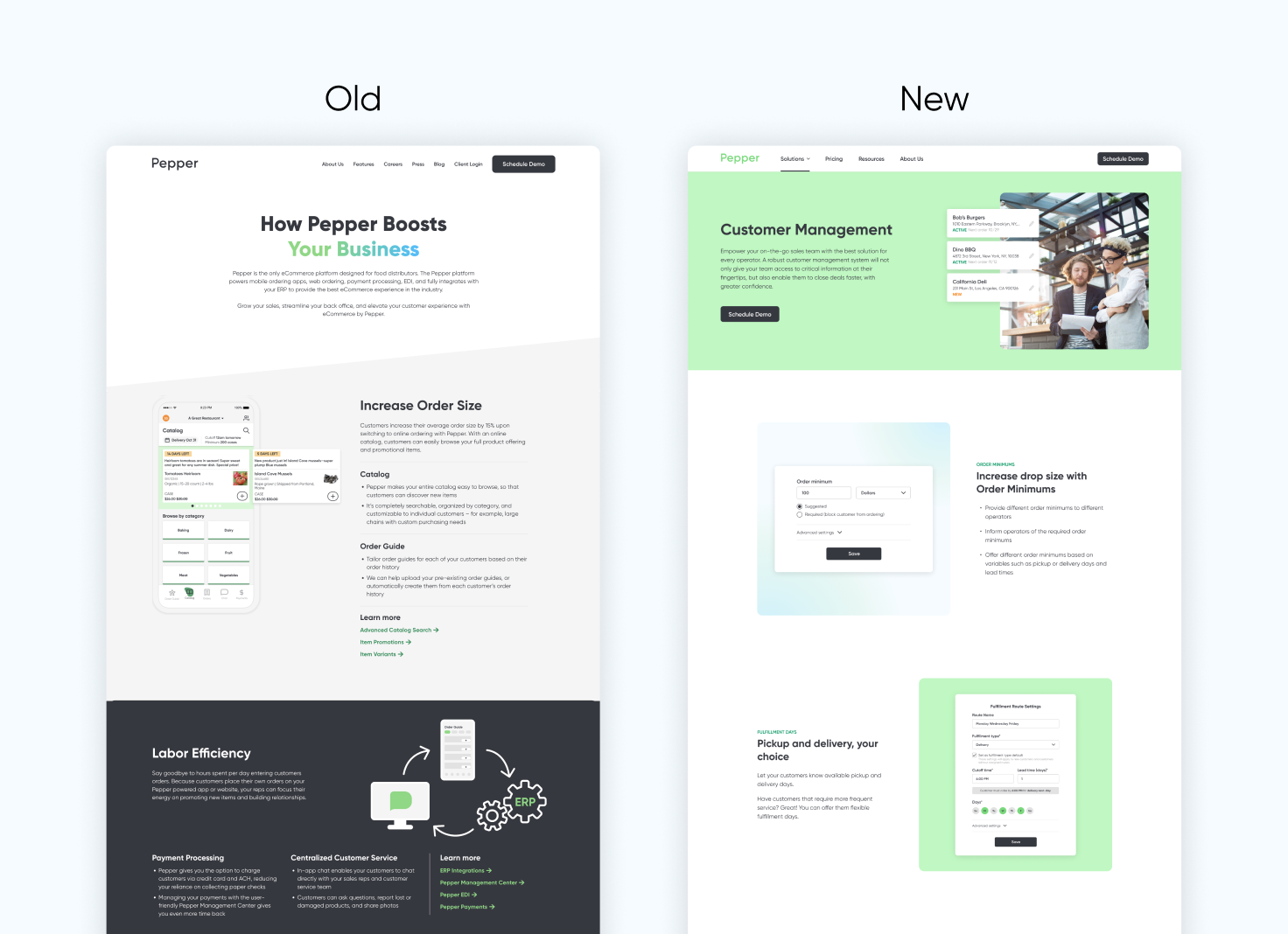 Pepper wanted to underscore their origin as a company specifically designed for food distributors—this meant showing the company's edge over lots of competitors who try to service other sectors, thereby emphasizing the company's expertise in the food distribution space.
Want to talk growth strategy?
Our Work
The process
The turnaround time was tight, but we couldn't cut corners on the process. That's just not us.
From immersion to design, copywriting, and development
To kickstart the project, our design team undertook an immersive research process, conducting interviews with the Pepper team to gain a deep understanding of their needs, expectations, and target users. 
With this valuable insight in hand, our designers jumped into the web design phase while our writing team simultaneously began crafting well-written copy based on the inputs provided by various members of the client team.
Each complete page was added to Figma, where the client left their feedback before the Literal Humans team jumped back in to make any revisions. The web development team was on hand to start working as soon as the review process for each page was done, and they jumped into rigorous testing and quality assurance as soon as each page was complete.
In addition, we brought our expertise in conversion rate optimization, combining our knowledge with what Pepper knew about their old website, into building their solutions pages.
All hands were truly on deck and we're proud to say we knocked the project right out of the park. The level of commitment and teamwork displayed throughout the entire process was exceptional, resulting in a successful and impressive outcome.
Watertight project management
When you're working with a tight deadline, one slip-up can upend the entire project, so some solid project management is a must. From weekly internal meetings with everyone involved in the project to regular catch-ups with the client, we made sure that everyone in the project always knew what they were supposed to be doing and when. Outside of these meetings, we also kept in regular communication over Slack.
Add in the checklists and project management boards we used to ensure that every part of the project was complete, and we had ourselves an efficient process. Everyone was always in the loop and the client was very happy.
The Results
A comprehensive website overhaul in just 6 weeks
Perhaps the greatest achievement of this project was successfully fulfilling the two commitments we made to Pepper—we created a fantastic site and delivered it in time for the big conference.
Pepper's service line is complex, with over 20 subpages in the solution list alone. With some meticulous planning and execution, we managed to map all the pages on the site, create a great user experience and flow, and populate each page with content, all while beating the deadline.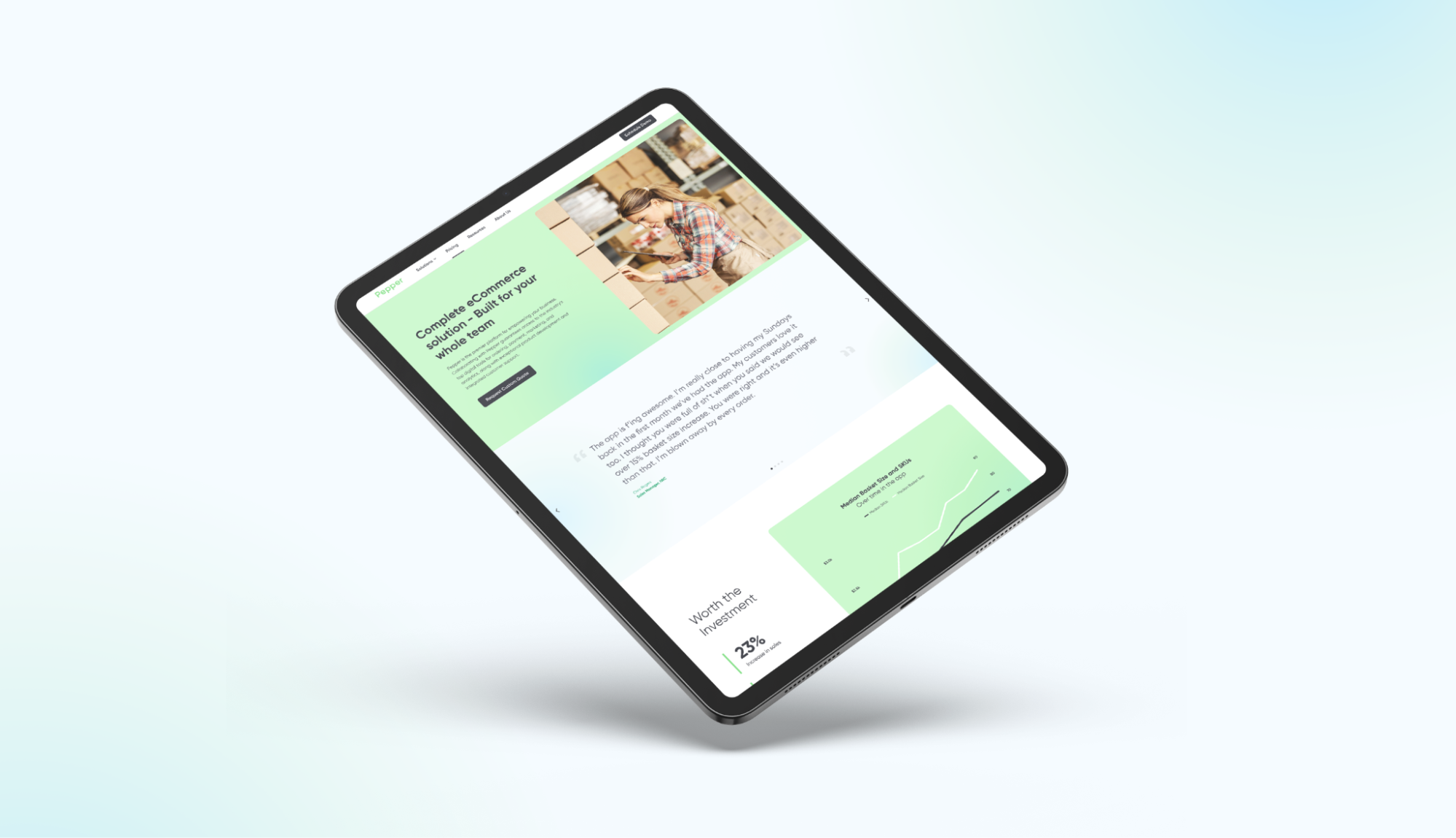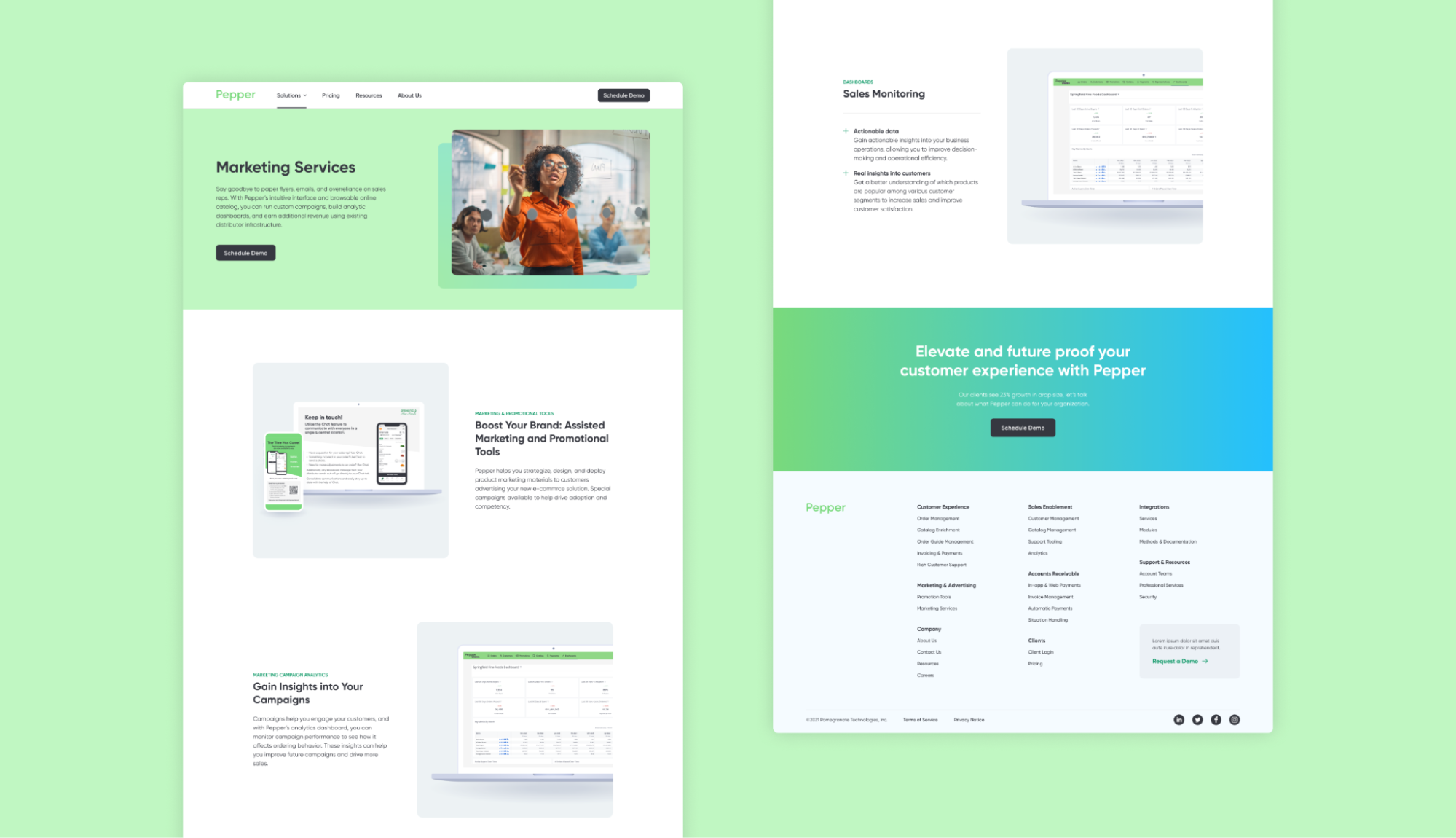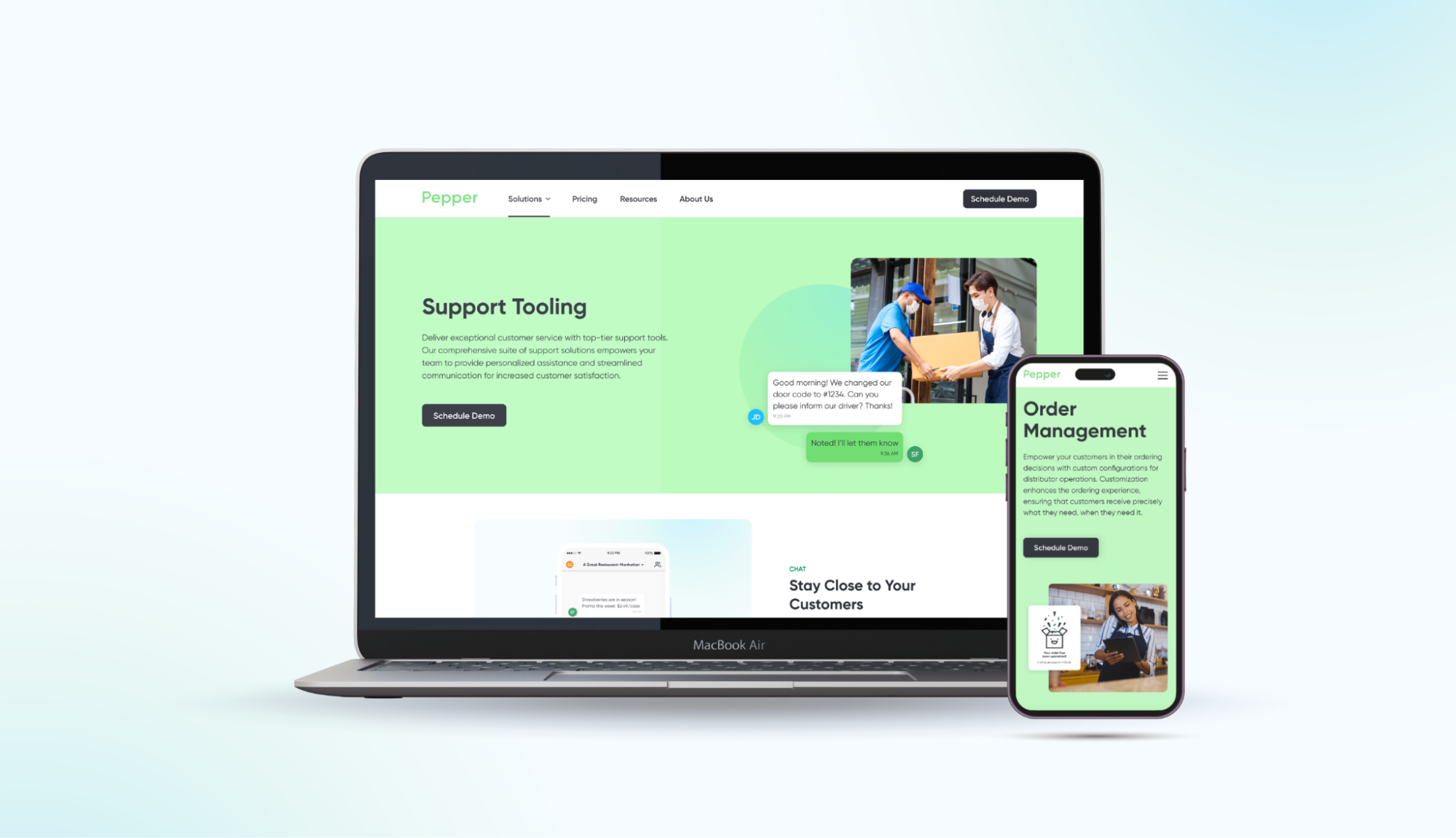 You also have to consider that this entire project was on Webflow. One thing about this website builder is that you can only have one person developing a site at any given time. Given the extensive number of pages that needed to be developed, this limitation had the potential to cause project delays. However, we rose to the challenge and successfully delivered the website within the designated timeframe.
And of course, it's worth mentioning that we completed the project within the allocated budget, avoiding any unexpected costs or budgetary complications. Thanks to great project management, we stayed on budget, ensuring a seamless and worry-free experience for Pepper.
A relationship based on mutual trust
In the end, Pepper got the website they wanted, giving them a competitive edge in their sector and solidifying our reputation as a team that consistently rises to the challenge. We developed a strong and collaborative partnership with Pepper throughout this project, and they have expressed a desire to continue working with us. 
The prospect of what lies ahead is exciting; we're looking forward to future endeavors together, fueled by the mutual trust that now defines our relationship.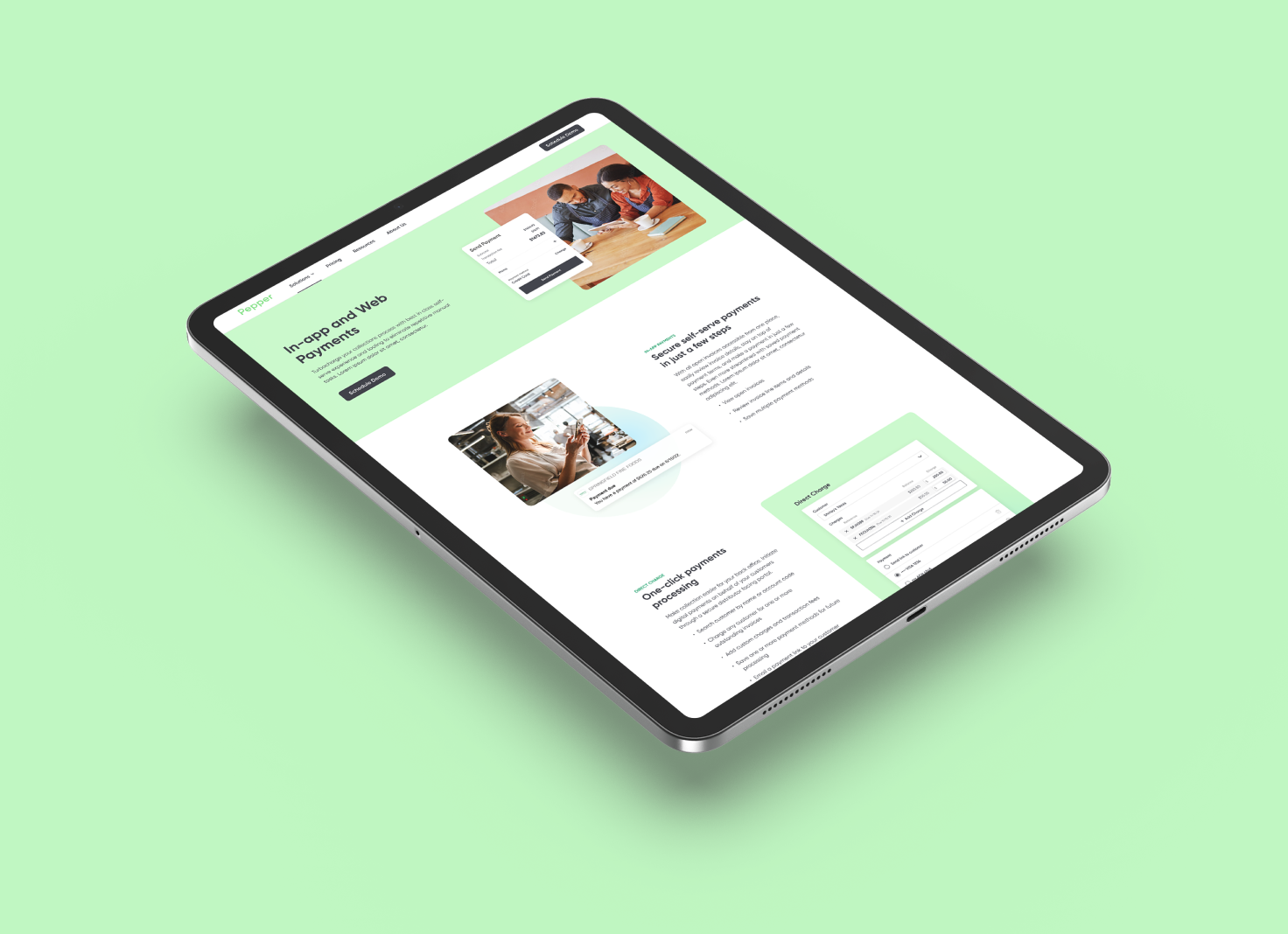 A big shoutout to a great client
We couldn't have accomplished this remarkable feat without the incredible team at Pepper, who truly embodied the essence of an ideal client throughout this journey. Their unwavering commitment to providing timely, high-quality, and streamlined feedback was nothing short of exceptional.
Being a tech-savvy client, Pepper understands the significance of efficient communication and collaboration. This allowed us to thrive as an agency, as they seamlessly partnered with us, sharing invaluable insights and timely feedback. 
Their enthusiasm, professionalism, and proactive engagement were simply outstanding, and they elevated our collective efforts, ensuring that every aspect of the website development process was executed with precision and excellence.
It's clients like Pepper who inspire us to push boundaries, surpass expectations, and deliver truly remarkable results.
Literal Humans, the partner you can count on
In today's ever-evolving digital landscape, the world of marketing has become increasingly intricate and complex. With the rapid advancements in technology, the constant shifts in consumer behavior, and the sheer volume of tools and tactics out there, navigating the digital marketing realm requires expertise and a deep understanding of the intricacies involved.
This is where Literal Humans excels consistently.
With proven strategies, lots of lessons from previous engagements, and an amazing team of humans, we have what it takes to support you and your digital marketing efforts. Whether you're working on a website design or development project, growing your social media following, or looking to up your content marketing strategy, we can be that 360-degree partner you need.
Schedule a free strategy session to learn more about how we can create