How can you rise above the competition in a sector as oversaturated as the hospitality industry using multichannel digital marketing across several Middle Eastern countries? That's the problem TGP International asked Literal Humans to solve.
TGP is a 360-degree hospitality agency that builds world-class hospitality brands and food and beverage retail spaces across the Middle East. Its projects range from developing concepts for the likes of W Hotels to helping small restaurants improve their menus. TGP also owns three restaurants at 3 Henrietta Street in Covent Garden, London.
Since 2021, Literal Humans has been providing performance marketing services for TGP on Google, LinkedIn, and Facebook. These multilayered campaigns are tailored to the Middle East context and involve working with various brands across the food, beverage, and hospitality sectors, partnering with specialist marketing roles to drive high-quality conversions and sign high-ticket contracts.
Additionally, we've run more traditional, bread-and-butter social media campaigns to increase bookings for the three locations in central London.
This large, unconventional, and multifaceted approach requires targeting diverse ICPs through a mix of social media content and Google Ads — which just so happens to be our digital marketing team's cup of tea 🤓☕. Here's what we've achieved with TGP so far and how we did it.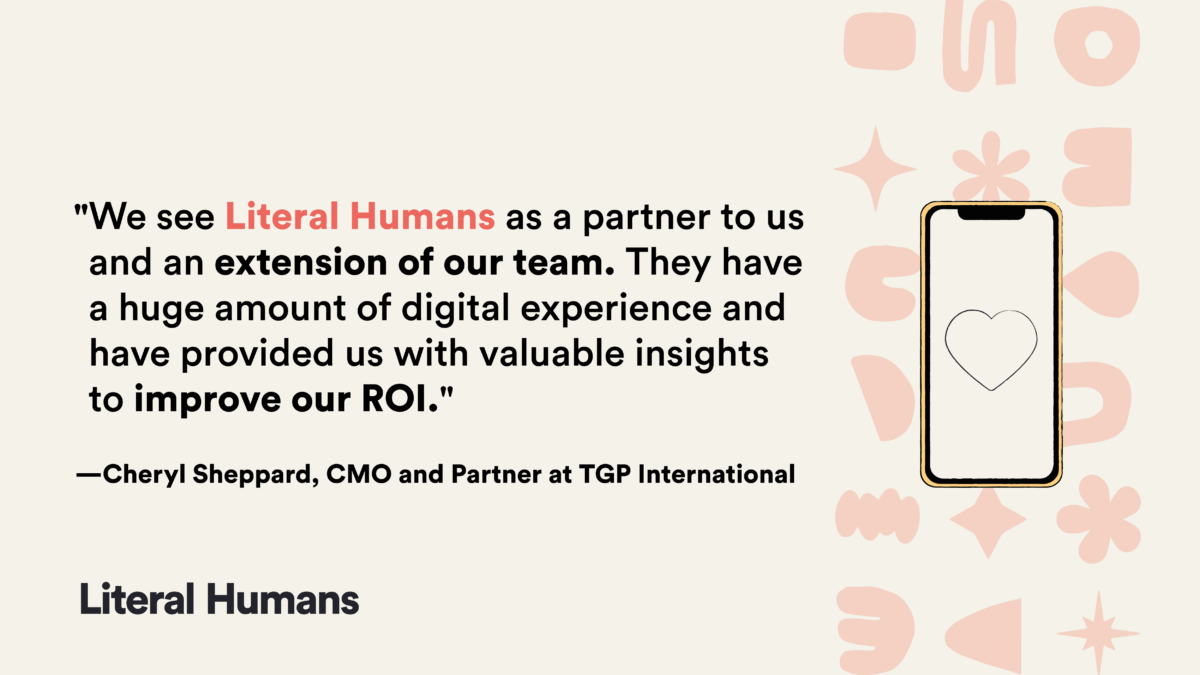 Signing high-ticket contracts with Google Ads
Google Ads has been the most powerful driver of results in our three-pronged strategy for TGP. During the engagement so far:
We've spent about £50,000 on Google Ads.

Those ads have garnered 66,000 clicks. 

We've achieved a conversion rate of just under 1% for forms filled.

The average cost per conversion is £188.

Conversion rates range from 0.5 to 3%.

Click-through-rates range between 5 and 10%. 

The average cost-per-click is £1 to £2.
In February 2023, LH spent £8,000 on Google Ads for TGP, driving 42 conversions in the form of demos booked and requests for return calls for their target ICPs across Saudi Arabia, Qatar, Egypt, UAE, and Bahrein for high-end services like restaurant design and concept development.
£188 may seem like a high cost per conversion, but when you consider that most of TGP's contracts run from tens of thousands to millions, the profit margins are actually huge.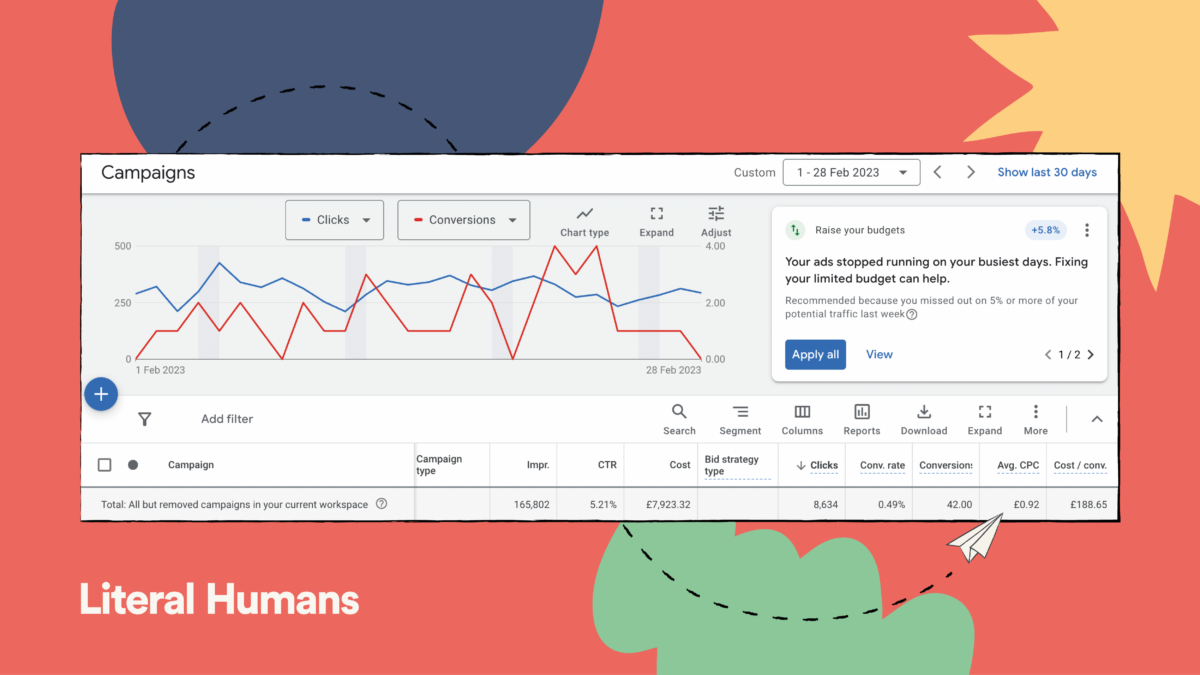 Generating quality leads through LinkedIn Ads
In March 2023, we launched LinkedIn Ads using a gated lead-generation form that users fill out to download TGP's 2023 Trends Report on Hospitality. There are two campaigns — one covers several countries across the Middle East, and the other only targets Egypt. 
So far, the campaign has generated:
Middle East: 442 leads from 2,047 clicks

Egypt: 100 leads from 697 clicks
Average cost per click:
Middle East: £1.47

Egypt: £0.72
The campaign also led to four conversions (people who filled out a contact form on the TGP website after downloading the report), which was a bonus as the goal was to drive report downloads. 
TGP's target ICPs are C-suite executives and senior decision-makers of corporate hospitality firms (think: the Head of Procurement at the Marriott in Dubai), and the fact that many of the people who downloaded the report are Directors and CEOs demonstrates the effectiveness of our strategy.
LinkedIn is a notoriously expensive channel, with conversions often costing hundreds or even thousands of pounds, but our cost-per-result for the two campaigns is £5 for Egypt and £6.79 for the rest of the Middle East.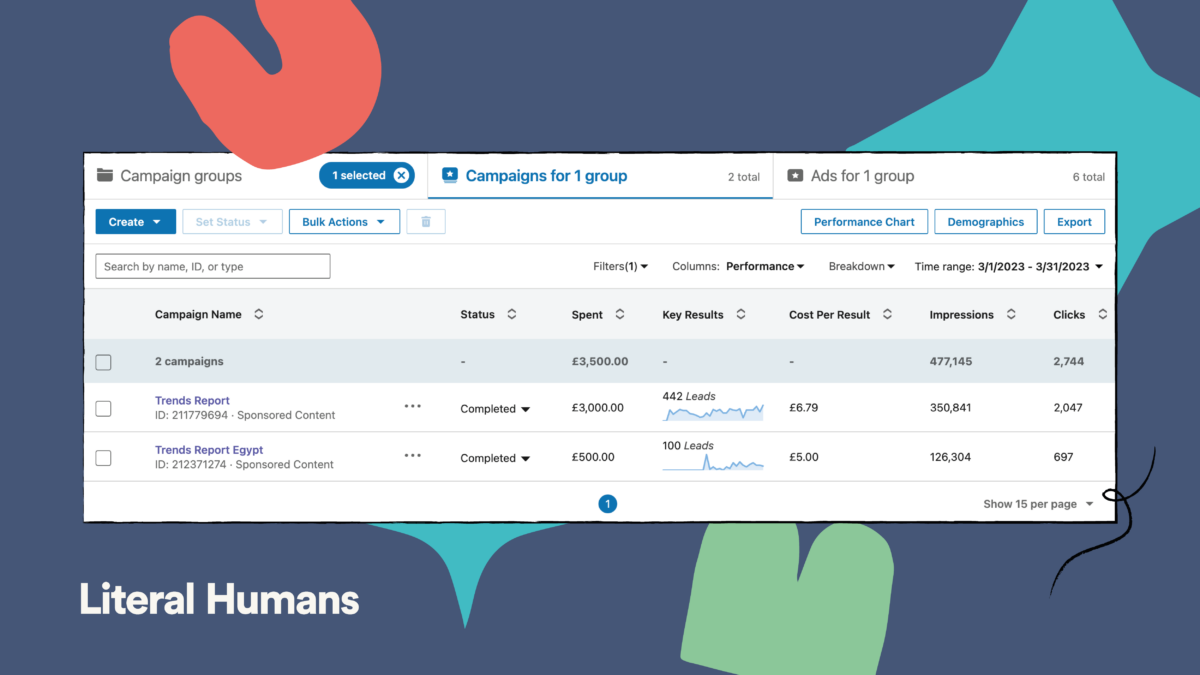 Driving restaurant bookings using Facebook Ads
For TGP's three venues in Covent Garden, we've been running good ol'-fashioned B2C Facebook Ad campaigns with the goal of driving bookings. 3 Henrietta Street is home to: 
El Takoy: a cool cocktail and taco bar.

Pivot Bar & Bistro, which serves British food by chef Mark Greenaway.

Lilly's Café, where wellness and astrology themes are woven into the menu. 
For this campaign, the LH team set up the tracking, built the campaigns, and supported with the copy, while TGP provided the image assets.
Despite the complexities of setting up tracking across all platforms in the context of a changing campaign system and limited-time offers that change from month-to-month, the campaign has been a success, driving bookings for all three restaurants at under £10 per lead. 
Cost-per-result:
Lilly's: £6.81 per lead

Pivot: £9.37 per lead

El Takoy: £10.15 per lead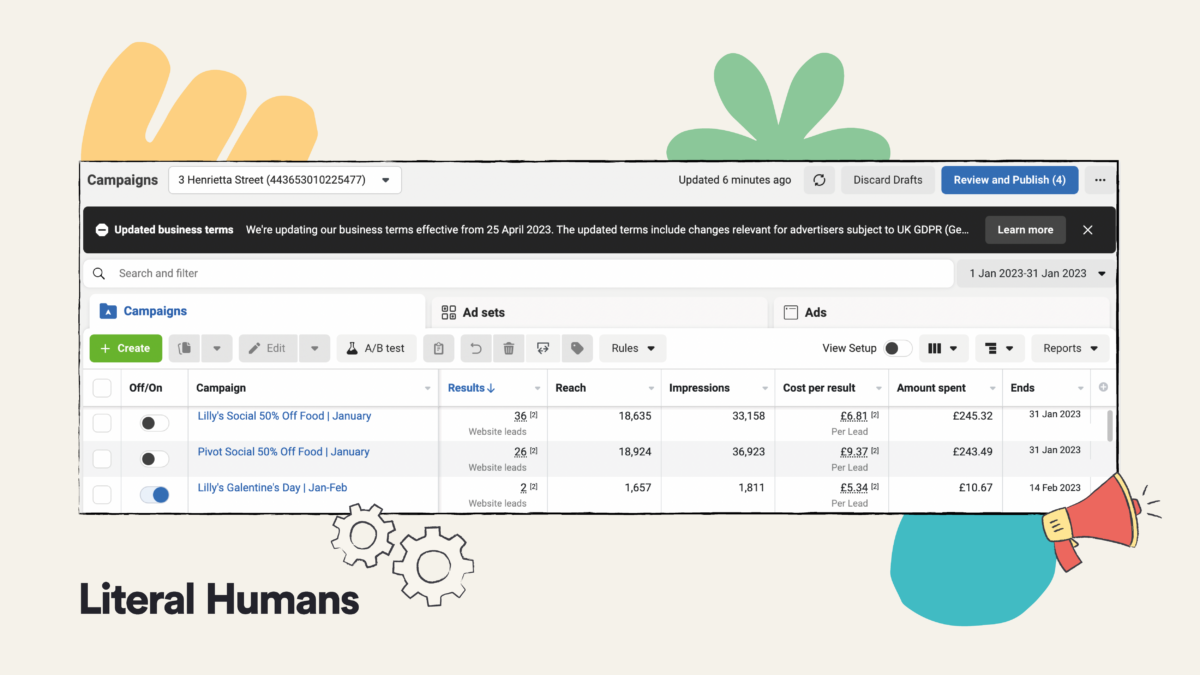 Your friendly neighborhood Fractional CMO
Looking for flexible fractional CMO support with the ability to run complex campaigns and scale alongside your business, no matter where you are in the world? That's our wheelhouse — as our experience with TGP International shows.
We run quarterly strategy sessions with them and are always on hand whenever they need to lean on our expertise — no question is too big or too small. For example, they consulted us before launching their website and newsletter. 
We can do the same for your business! Book a strategy session to learn more about our bespoke digital marketing packages.