Most marketing and advertising agencies have one thing in common: they're super focused on clients — getting them, keeping them, and making them happy. 
For a small agency team, that often means prioritizing client work over and above your own marketing efforts.
It's not a bad place to be, but it does mean that calling in support can be a wise move that allows you to focus on your current client roster while someone else takes care of bringing more through the door.
That's the position Grapeseed Media Founder and CEO Bill Updegraff found himself in when we started working together at the start of 2021.
Grapeseed is an advertising agency that specializes in programmatic ads. Bill needed ongoing, reliable marketing support to underpin the lengthy sales cycles of Grapeseed's custom programmatic solutions.
Since then, the partnership has continued to grow, with the LH team adapting and pivoting to meet Grapeseed's changing needs within each retainer contract. 
Here's what we've achieved so far.
The results: from 12 to 1,005 organic keywords and 1.1K backlinks
At LH, we love it when a plan comes together. As marketers, we know SEO is a long game: the results come with time, consistency, and patience. Fortunately, Grapeseed gave us the time to work our SEO magic, and the results speak for themselves. 
When we started working together, Grapeseed was ranking for 12 keywords, three of which were in the top ten SERP positions (but none in the top three). Fast forward to February 2023, and it's now ranking for 1,005 — six of which are in the SERP top three.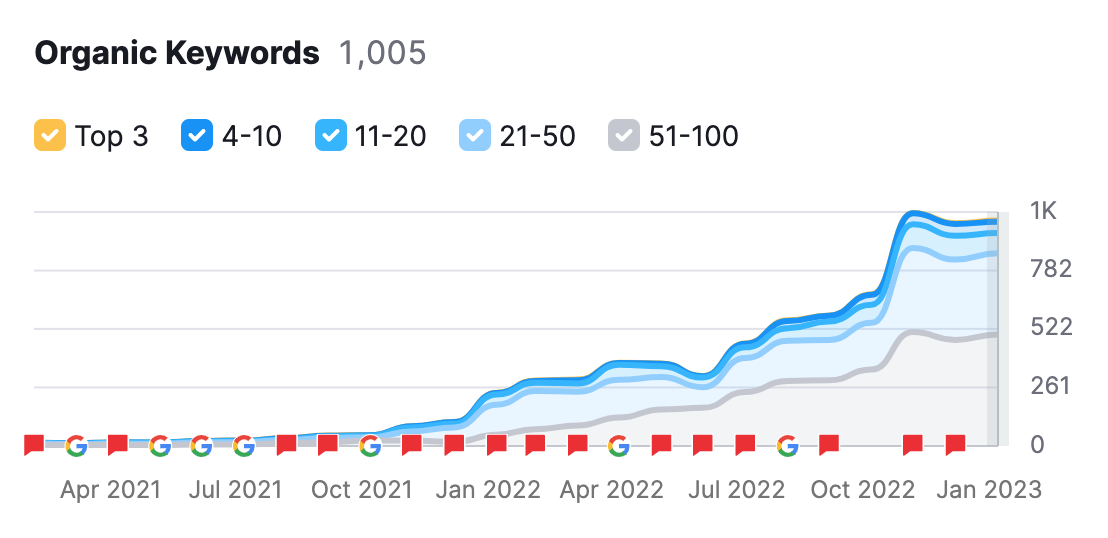 As of February 2023, Grapeseed has nine LH-created blog posts ranking in the top ten positions of the Google SERP, alongside the likes of leading competitors like AdWeek. 
These include thought leadership pieces, like the ones about the cookieless future and 2023 advertising trends, and explainer articles on different aspects of programmatic advertising. 
The LH-created post ranking for the most organic keywords is "The beginner's guide to display advertising," with a whopping 149 keywords, including a number one position for the keyword "how to buy display ads."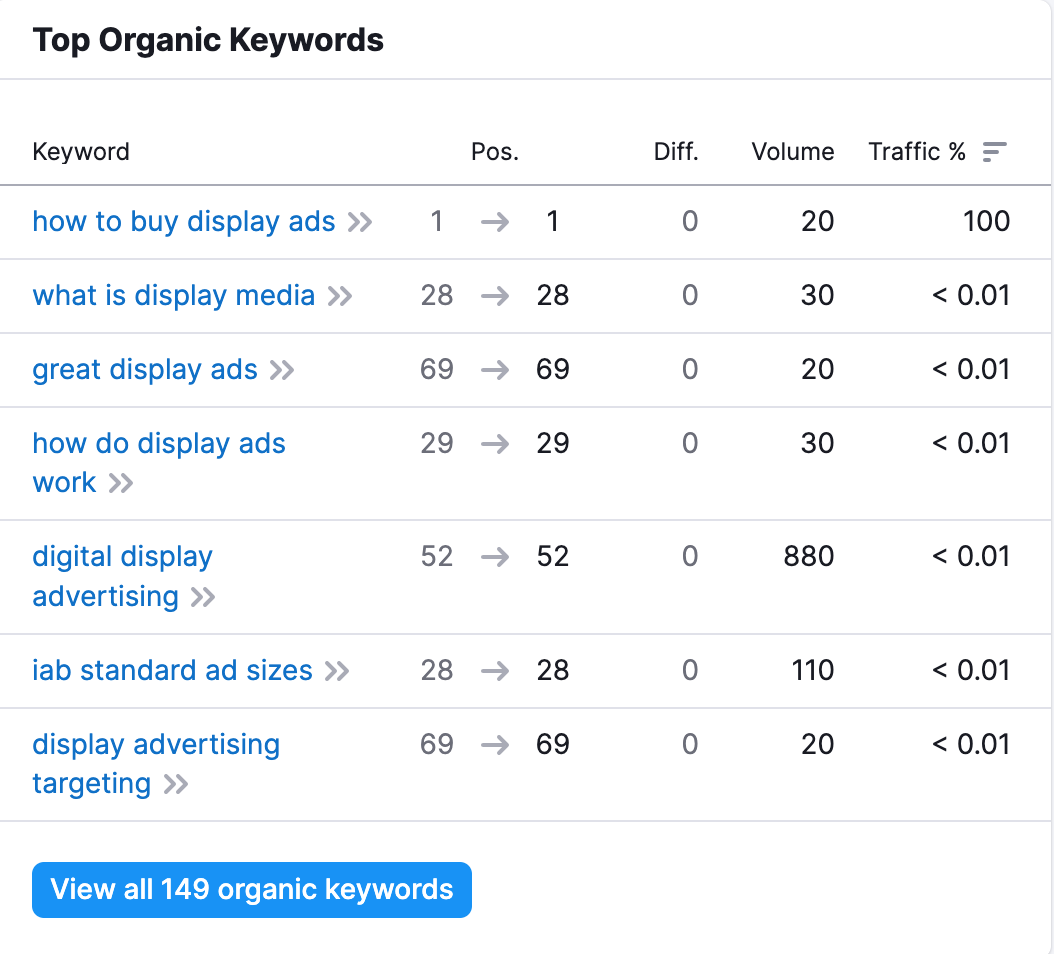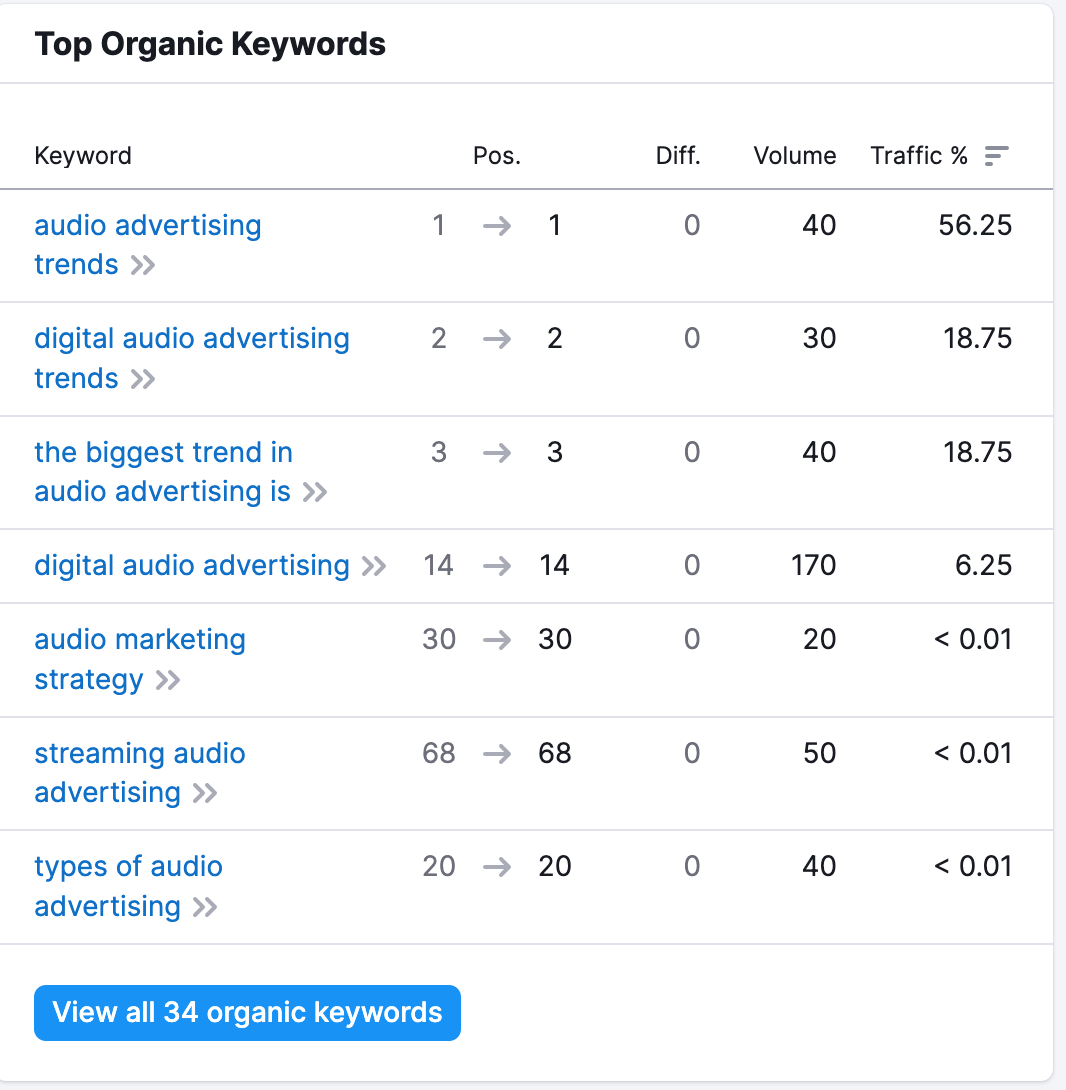 This is great news because Grapeseed wants to position itself as a thought leader, and audio is one of the most exciting upcoming trends in digital advertising right now.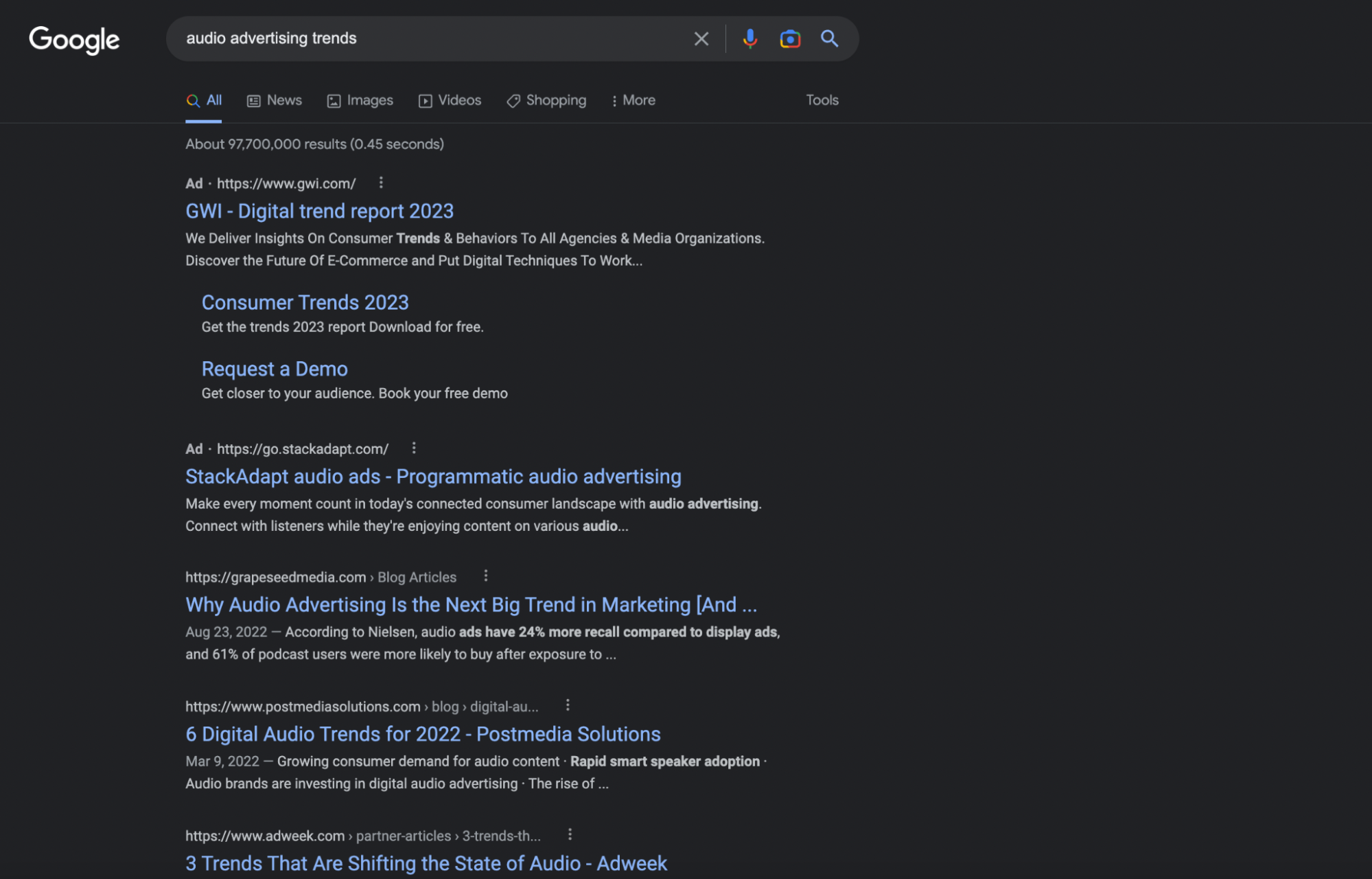 Another piece that successfully blends targeted SEO strategy with thought leadership is the "Demystifying adtech" post, which is ranking for 21 keywords, including a number three spot for the search term "adtech landscape."
In terms of traffic, the Grapeseed site has 288 organic visitors per month as of February 2023. Although this is fairly modest, there has been a general upward trend since our content strategy kicked in halfway through 2022:

It's also worth noting that Grapeseed has obtained 1.1K backlinks from over 200 websites — including that of marketing legend Neil Patel — which is testament to the power of creating content that's not only SEO-optimized but also well-written.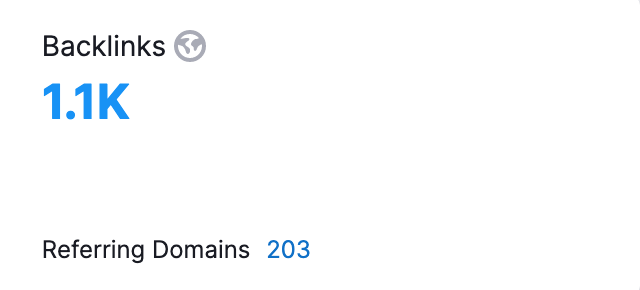 Before we jump into how we achieved these results, it's necessary to understand the context of Grapeseed's work and the complexities that are unique to its niche.
The challenge
Programmatic advertising is the automated buying and selling of ad space using machine learning and algorithms. It's used in display, audio, CTV, video, and digital out-of-home ads and can form part of a brand's overarching marketing and advertising strategy.
To get a programmatic strategy right and ensure the best return on ad spend, brands need the support of technical experts. Grapeseed delivers this through custom programmatic advertising campaigns that help its clients drive more sales. 
Grapeseed doesn't sell a specific product — rather, it signs contracts with companies (many of which are B2B themselves…so it's almost a B2B2B model) to design and run their advertising campaigns. This results in a longer sales cycle than most, and the content strategy we created for them had to take this into account.
While Grapeseed wanted to position itself as a thought leader in the programmatic space, we knew that a strong SEO play would be required to get the website ranking and drive organic traffic. There was no point in writing thought leadership pieces without an audience to read them.
We also needed to educate potential Grapeseed clients on the advantages of programmatic advertising and show them how it could work for their businesses. This would require in-depth keyword research and a targeted content strategy. 
But before we could do that, the first step was to create an attractive website that would appeal to potential clients. Then, we would build out the product pages, case studies, and blog. 
Here's how we tackled each of them.
Phase 1: the audit
All of our client engagements begin with an audit. This is when we take an in-depth look at a brand's performance across its website and social media channels, evaluate its position in the marketplace, and assess what competitors are doing. 
Then, we make recommendations on brand messaging, channels to prioritize, and the SEO content strategy for the website. 
Overall, the Grapeseed website was looking pretty good, and the primary recommendations were around tweaks the team could make to improve user experience, such as the use of menus and CTAs. 
Since general levels of knowledge around programmatic advertising are low (even among C-suite professionals), we suggested building a dedicated page for each of the solutions Grapeseed offers in order to educate potential clients about its services. 
Additionally, we recommended changing the title of the "Work" page to "Case Studies" since these pieces of content are crucial for agencies that need to prove their track record to potential clients. We also recommended some copy editing to make them more compelling.
On social media, we suggested Grapeseed focus on LinkedIn as its primary social channel — secondary only to the newsletter — due to the B2B(2B) nature of its services, but also maintain a presence on Twitter, where many professionals also hang out. 
Phase 2: the website
LH's Creative Director and multidisciplinary designer, Derrick, led the website redesign process for Grapeseed. The goal was to uplift the brand without completely overhauling the existing website. The Grapeseed team had made a solid start, so Derrick's main task was to inject it with more depth and personality and create a more modern-looking, refined website. 
Since Grapeseed was looking to uplift the current website rather than a complete redesign, Derrick took the same approach to designing the structure and content, focusing on specific sections and pages to improve the performance and usage. These types of tweaks are ideal for brands with tight budgets that want to improve their website's performance without springing for a complete redesign. 

One major change Derrick made was creating product and service pages for each of Grapeseed's services. This would help Grapeseed educate clients about their services and set them out more clearly. 
Originally, the services were listed in bullet points on a single page. Breaking them out into separate pages allowed more room to communicate the details, showcase examples of service lines, connect them to case studies and testimonials, and improve SEO. 
This process also helped Grapeseed gain clarity on the services they sell and how they wanted to package them. 
On the development side, our talented web developer Nina brought Derrick's designs to life. As the website only needed tweaks, she opted to build on top of the existing WordPress theme, creating a child theme. Building on top of what already existed allowed the development team to launch updates fairly quickly.
One of the key areas of focus was the case studies pages. Nina added a filtering feature to allow potential clients to quickly find case studies relevant to their industry or the solution they're interested in. Making the case studies easier to navigate was crucial for showcasing Grapeseed's work and helping to drive more conversions.
Nina and Derrick also created new templates for Grapeseed's "Solutions" pages. They built them to be flexible in the WordPress backend so that the Grapeseed team can easily adjust the content of each solution as needed.  
Phase 3: the content strategy and case studies
Because of the technical nature of Grapeseed's work, we knew we would have to go beyond the standard content strategy procedures. Usually, we would carry out keyword research based on initial conversations with the client about their goals, then build a content calendar based on that research.
With Grapeseed, however, we set up more in-depth strategy chats in advance and involved them in the ideation process from the get-go — this allowed us to gain their technical inputs and use them as a jumping-off point for our keyword research. 
Then, we took a look at Grapeseed's competitors and quickly realized we would need to do a lot of original subject-matter research because, although there is a lot of adtech content out there that fulfills SEO requirements, much of it lacks quality and editorial depth.
We knew we could leverage this gap to position Grapeseed as a thought leader in the programmatic space. Therefore, by combining the SEO strategy with the Grapeseed team's expertise, we could create authoritative content that would position Grapeseed as a leading adtech provider. 
To achieve this, content strategist Adi and the writing team began following industry leaders such as Quantcast, TechCrunch, and AdWeek and drilled down into the deeper technical aspects of programmatic advertising. 
From their side, Grapeseed lent the technical expertise of their subject-matter experts — members of the Grapeseed team who specialize in their particular vertical within programmatic advertising. Their insights added value and depth to the content but presented the challenge of integrating their different voices into a single, coherent content brand voice. Fortunately, our in-house writers, Naume and Victoria, are tone-of-voice pros who were up to the challenge. 
From time to time, Grapeseed would send timely ad-hoc content pieces our way to highlight an industry trend or shout about a new service line. When they did, we maintained enough flexibility in the content calendar to insert the required content, relying on the research skills of the content strategy team and the writing skills of our talented writers to create quality thought leadership blogs that were also SEO-friendly.
Additionally, we looped in our fantastic graphic designer Olivia to make sure each blog post was accompanied by social creatives that Grapeseed could use to promote them on LinkedIn, Twitter, and Instagram.
It took some trial and error, but once we integrated all these unique elements into our systems, we were able to hit a regular cadence and keep our content engine chugging along at the usual pace — even with all the added parts.

In the meantime, Victoria went through the case studies with a fine-toothed comb to make them more compelling and drive more conversions.

Phase 4: Literal Leads
One of the things to highlight about an ongoing engagement like the one we have with Grapeseed is the importance of being flexible and adapting to a business's needs as it grows. 
In 2022, during the second year of working together, Grapeseed asked LH for support with LinkedIn outreach using our proprietary lead generation process, Literal Leads. 
The Literal Leads team, Taf and Andrew, ran an outreach campaign for Grapeseed from April to October 2022. They gained a total of 209 new connections, with acceptance rates ranging from 12% to 17%, resulting in 13 meeting requests.

Phase 5: brand guidelines
Toward the end of 2022, Grapeseed approached LH designers Anabelle and Olivia to create brand guidelines for all of its branded visual assets. The team wanted a single source of truth for using the logo, font, and icons created by Derrick. 
Additionally, they wanted to update the color palette and illustrations to reflect the work Olivia had done on the blog. At the time of writing, the brand guidelines are undergoing internal review before being shipped to Grapeseed. 
Agencies need a flexible marketing partner that can go the distance with you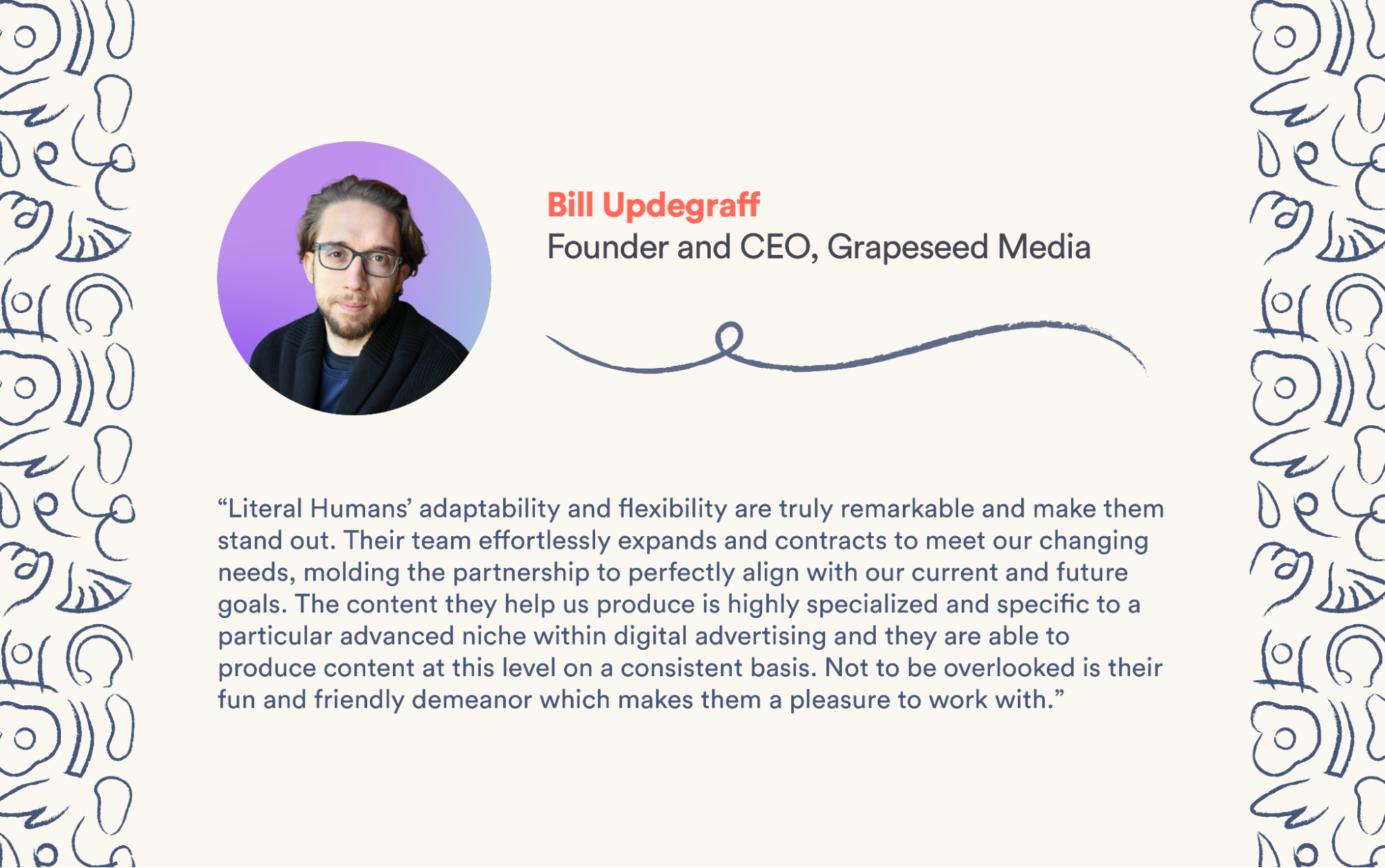 Our work with Grapeseed demonstrates the incredible power of combining thoroughly-researched thought leadership with savvy SEO strategies and the results they can yield over the long term. 
It also shows the importance of working with a team of digital marketing and SEO experts who can pivot from website and branding to designing and implementing an SEO strategy that's flexible enough to incorporate ad-hoc thought leadership content. 
If you're an agency director looking to outsource your marketing, look no further. Book a strategy session with me to learn more about how we can help you.