How can you stand out as a freelance content marketing professional? Are you showcasing your content superpowers in the best possible light to attract (and keep) your ideal clients?
In this post, you'll learn why you should:
Get stellar testimonials from clients
Have a stacked portfolio
Build an online presence (to get more work)
Have a proactive mindset
Deliver amazing results to get referrals
Bonus: upskill in other core marketing skills
1. Get stellar testimonials from clients
Having a mix of client testimonials, logos, and case studies is a surefire way to increase trust from potential clients. Combined, these signals prove that you repeatedly deliver results for happy clients.
72% of consumers say positive testimonials and reviews increase their trust in a business (Source: Big Commerce)
97% of B2B customers cited testimonials and peer recommendations as the most reliable type of content. (Source: This Moment)
Client testimonials
A perfect time to request a testimonial from a client is straight after you've produced work they're pleased with.
If you can ask your client to write a testimonial on your LinkedIn profile, you can reuse their quote on your main website to maximise the reach of this testimonial juice.

Case studies
Case studies go deeper than a testimonial and let a client visualise what it's like to work with you and see how you get results.
If your content doubled the traffic to a client's website, breakdown how you did this in a story format. What was the client's initial challenge? How did you help them overcome this? What were the results?

Some of Literal Humans' case studies
A wall of client logos
Showcasing logos of companies you've worked for signals social proof at a glance.
If you've worked for a credible brand like Twitter, a potential lead can spot their well-known logo on your website and subconsciously think "well if Twitter hired them they must be good!". Of course, getting client logos may not always be possible if you're under an NDA but it's always worth asking for permission.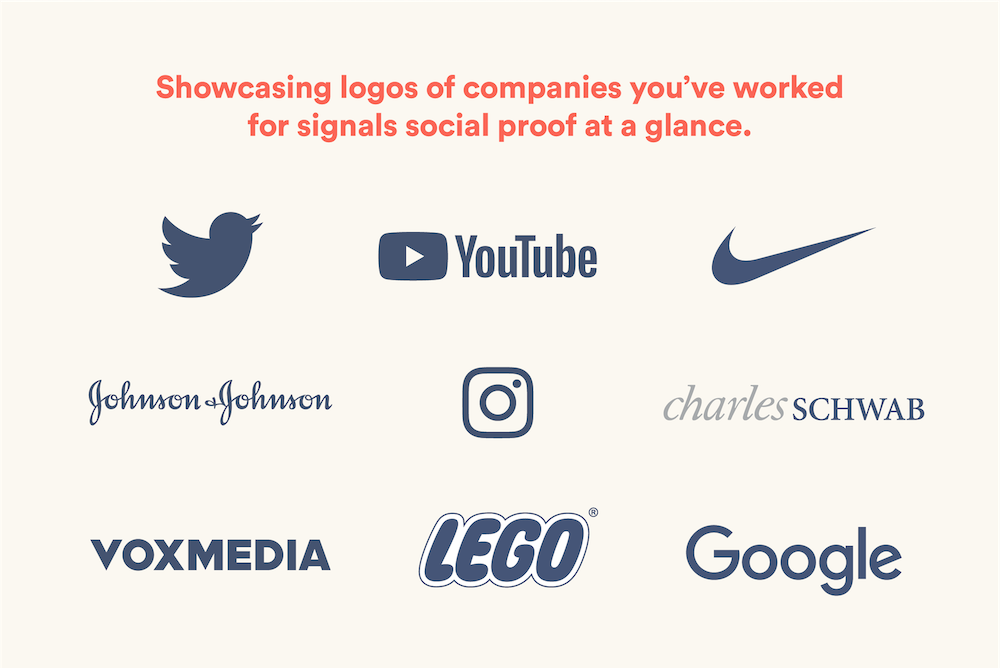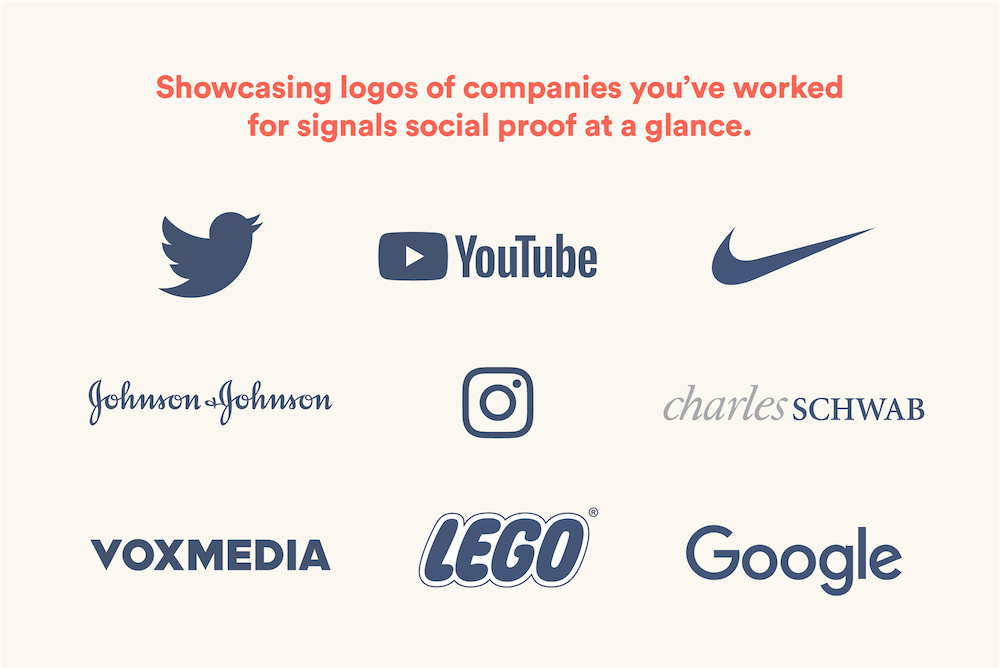 2. Develop a stacked portfolio
Your portfolio of work is a chance to prove that you produce quality content. Make it easy for a client to see you as the ideal fit.
Include samples relevant to your potential client
If a FinTech is looking for a freelancer to produce blog posts and you can show 3 examples of finance-related content, you're going to stand out more than a freelancer with a portfolio of marketing-only topics.
If you've produced a big range of content, you can categorise your portfolio into various sections so it's easy to navigate for different clients. For example, you can categorise by sector (your finance-related posts versus marketing-related posts) or content type (your blog post examples versus eBook examples).
Prioritise building your portfolio
If your portfolio is empty or you don't have examples of work in the niche you'd like to work in, prioritise building your portfolio. You can offer to write guest posts, contribute quotes or publish posts on your blog, Medium or LinkedIn.
Places to keep your portfolio
1) Your website: using a simple website builder like Squarespace or WordPress.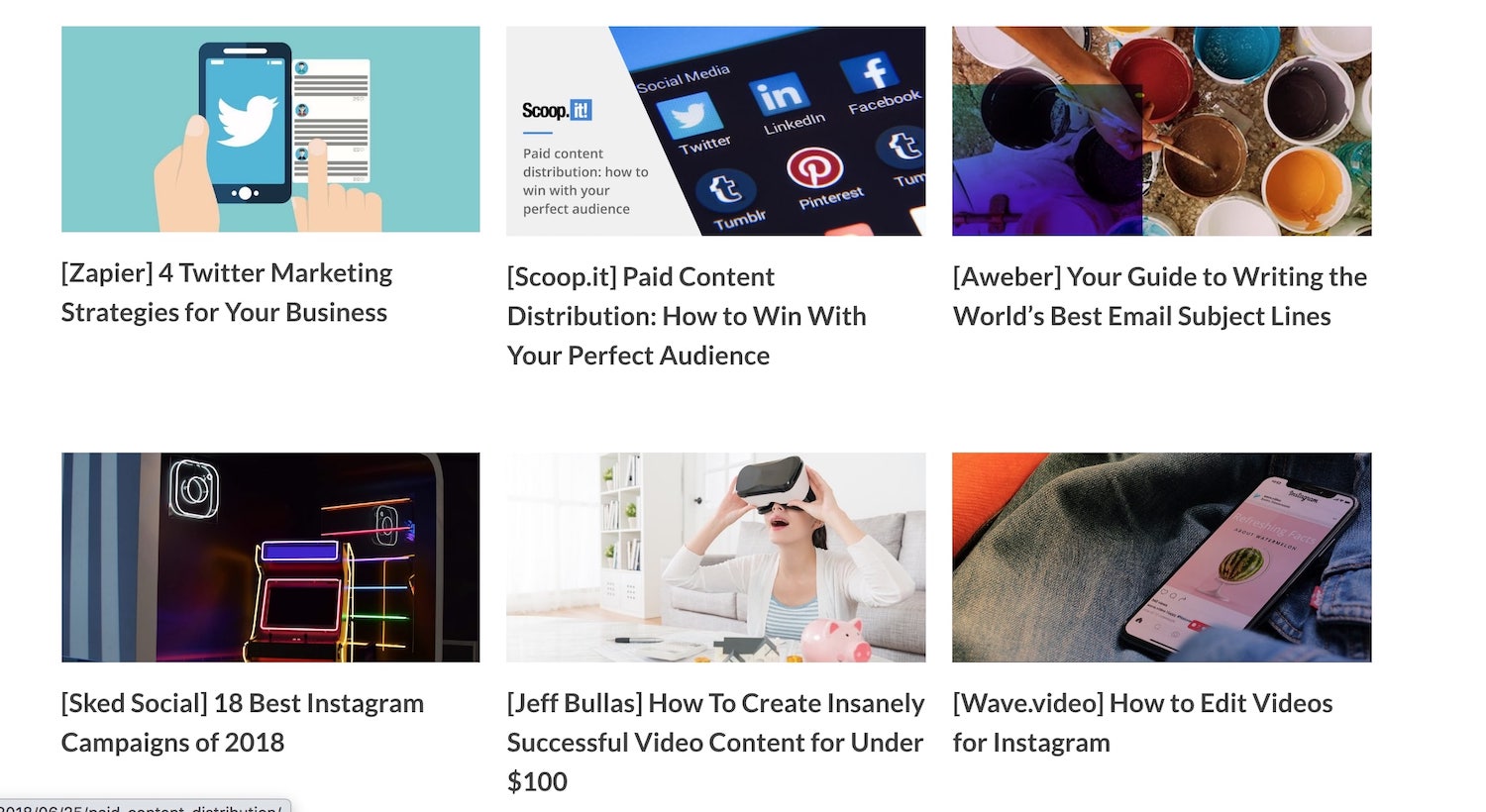 Portfolio example from Marijana Kay.
2) Your LinkedIn page: optimise your social profiles to direct people to your portfolio. Particularly LinkedIn.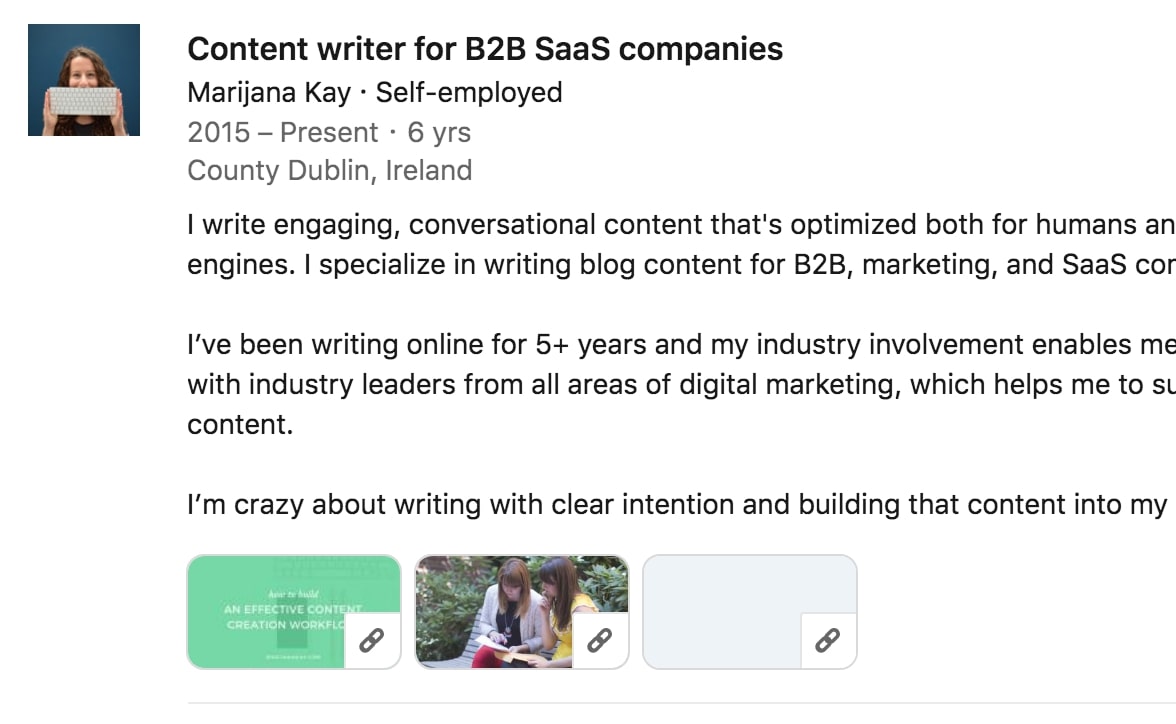 Portfolio example on LinkedIn: linkedin.com/in/marijanakostelac
3) A freelancer site: such as UpWork, Contently or Freelancer.co.uk.
3. Build an online presence (to get more work)
Add value in places where your potential clients hang out online and amongst content communities to increase your chances of getting noticed:
Be a guest contributor
Look for opportunities to write guest posts or contribute quotes for publications in your ideal niches. Join online communities (as listed below) and keep an eye out for contributor and collaborator requests.
Contribute to online communities
There are various Twitter chats for freelancers often discussing content-related topics where you can share your expertise:
Post tips on LinkedIn
LinkedIn is the ideal place to show off your content marketer expertise; particularly if you're a B2B content marketer. Freelancer copywriter John Espirian is excellent at leveraging LinkedIn and his blog is worth a follow for tips on how you can do the same.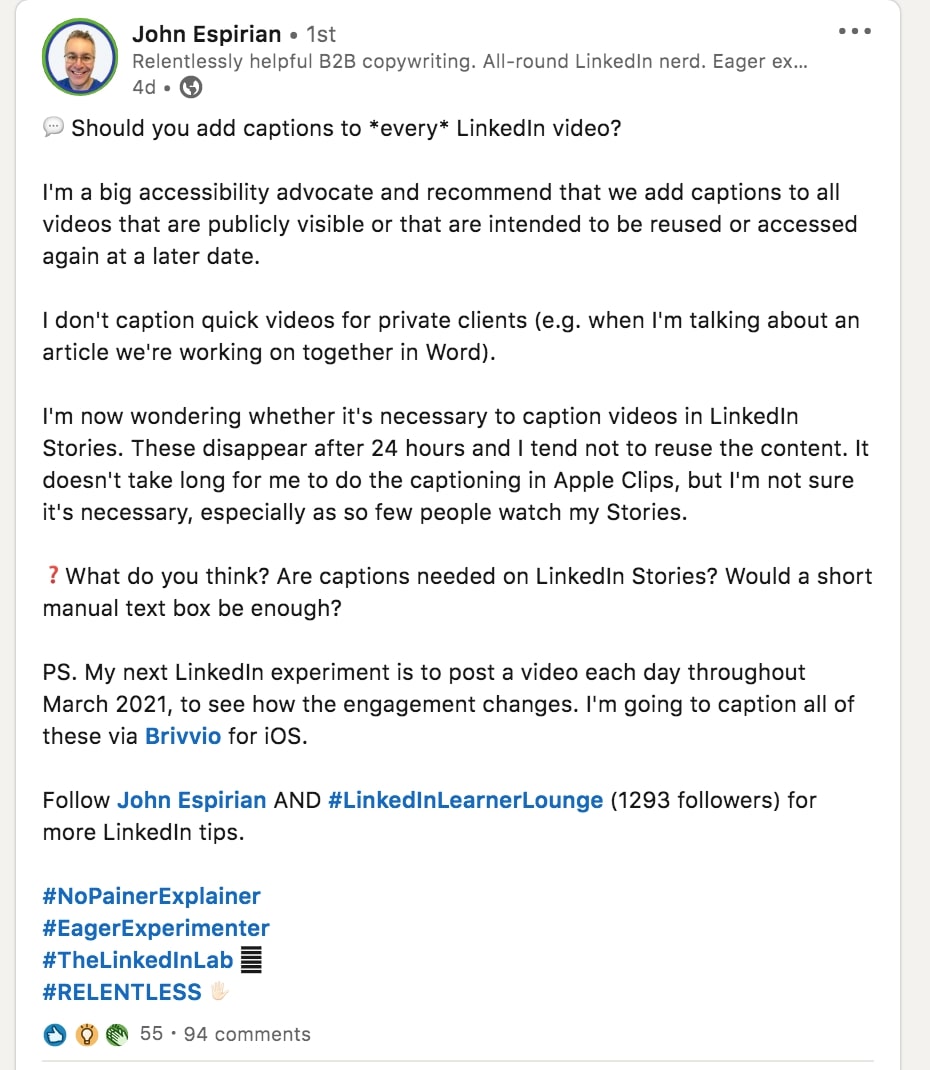 Example of LinkedIn being used well by John Espirian.
Join online Slack communities
ContentUK: The community I run (hi!), ContentUK, is filled with a mixture of in-house and freelance content professionals. Members who actively share advice in the Slack group often get noticed by others in the group who are looking to work with freelancers.

Sample conversation from the ContentUK Slack group
Online Geniuses: This group is the largest active marketing Slack group and perfect for connecting to a wide range of marketers and potential clients
Take part in webinars
Show off your expertise by offering to run a webinar to teach others about aspects of content marketing your excel in. For example, you could pitch to speak at BrightonSEO or submit a speaker profile on Women in Tech SEO.
4. Have a proactive mindset
Communicate clearly and transparently: try to be clear about your work processes early on. What are your rates? How many revisions do you offer? How long will it take to produce drafts?
The clearer you can communicate this from the outset, the easier it is to iron out differences of opinion early on
Be receptive to feedback: A client will and appreciate if you've taken on board their feedback
You deliver work on time (or early)
You have a positive attitude: are there opportunities to support your client more? Can you offer to help with their social media? A proactive attitude can lead to bigger projects with your clients
5. Deliver amazing results to get referrals
A 2020 study by Dingy found that 60% of freelancers said that word of mouth was still their best way of finding work – ahead of social media, job boards, and freelancing websites.
In an ideal world, if someone asks your client for a referral you'll be top of mind!
Maximise your chances of getting a referral
Meet the brief: Are you sticking to the brief and intended goal of the content or going on a tangent?
You over-deliver on the content goal: Establish the goal of the content you're producing from the outset and what the success metrics are (conversions, organic traffic or engagement metrics like time spent on page, bounce rate, social shares).
If you meet the content goal, you're in good stead for getting a referral. (Plus this is the ideal time to ask for that testimonial and write a case study about your results!).
6. Bonus: Have a basic understanding of other core marketing skills
Upskilling in a range of marketing skills can serve you well as a freelance content professional. This will help you become a T-shaped marketer and equip you with the tools to market yourself better:
Areas you could upskill in:
Hopefully, these steps will help you up your freelance game!
From building social proof and an online presence to developing a positive work ethic and upskilling in marketing, you'll be able to stand out as a freelance content professional to get (and keep) more clients.
Interested in joining the Literal Humans family as a freelancer? Fill out the form below with your details: