Stepping in to support the creative process
Oftentimes, we partner with brands to help them with various parts of their digital marketing strategy, whether that's their content marketing and SEO, social media and email marketing, branding and web development, LinkedIn lead generation, and everything in between. But sometimes, we are called in as consultants who help the client refine their process and get the best results.
We did the latter for Race Forward, a U.S. nonprofit organization that focuses on catalyzing movement building for racial justice. The organization was in the process of rebranding and developing their website, and they brought us on as UX consultants to help them provide a better user experience on the site. We were also tasked with punching up the web copy as they moved to the new site.
Of course, we were thrilled to be working with such a huge name in the racial justice space, but we also had a big reservation — working with another agency. We've successfully worked with clients' internal and external stakeholders in a lot of our engagements, but there's something about working with a whole agency that has its own systems and processes.
In this case, we had to partner with Propane, a brand and digital experience agency that was going to take care of the bulk of the design work for Race Forward. Would we be able to align our goals and coordinate efficiently? Would there be differences in creative vision, and how about establishing clear lines of communication?
Needless to say, we were a bit apprehensive. But we shouldn't have worried because our partnership with both Race Forward and Propane resulted in some beautiful work that will undoubtedly provide a positive user experience. Here's how we did it.
Breaking down the process: From onboarding to UX design recommendations to web copy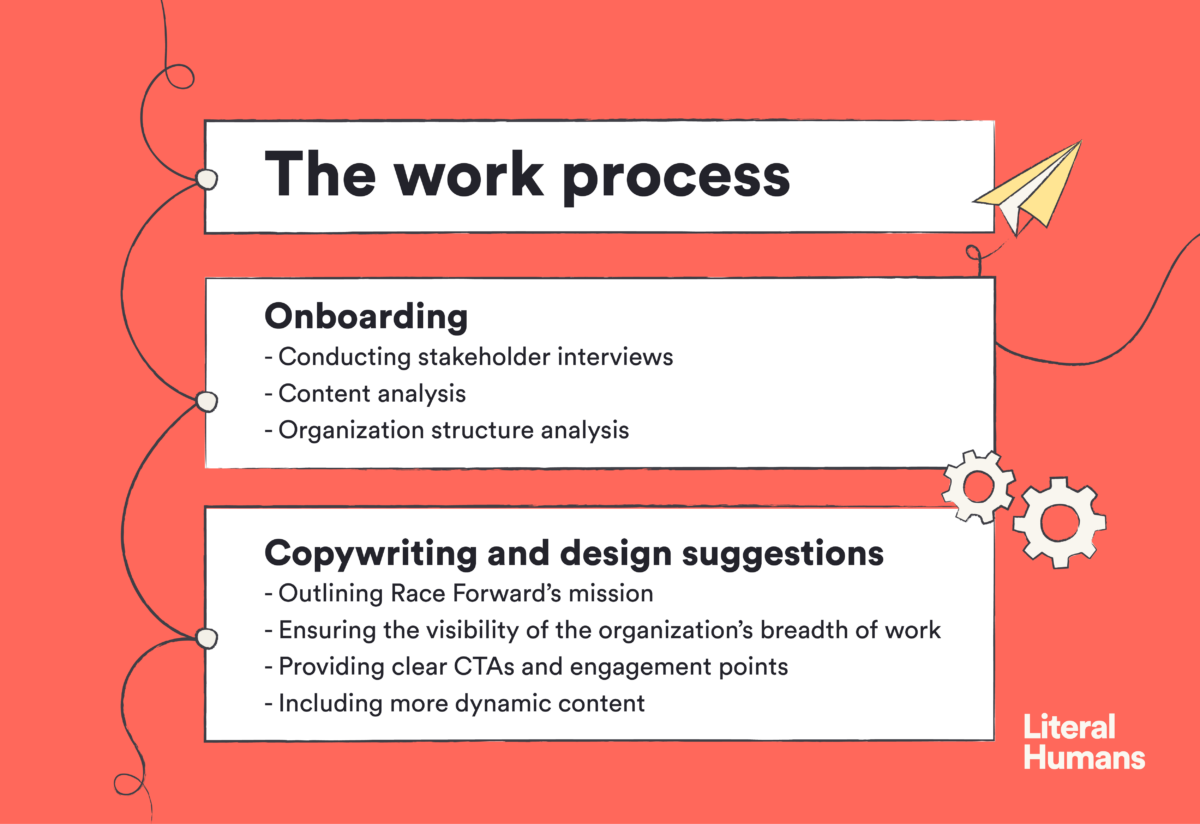 First came the onboarding and audit.
This step was interesting because before we fully understood our role in the project, we had to understand Race Forward very well, and almost help them to understand themselves. In other words, we had to fully immerse ourselves in all things Race Forward and their stakeholders.
Race Forward is a big organization with so many moving parts that it can get tricky for them to brief an external partner on the copy that needs to go on each page, and how good the UX will be across the entire website. So, for the initial step, we did several things:
We spent a lot of time (both Propane and Literal Humans) conducting stakeholder interviews. This was a crucial step given that Race Forward has numerous internal stakeholders who had input about how they wanted their work represented on the website.

We went through the top navigation of the website, read every page, and created a sort of map for how the pages fit together. An important aspect of this work was to figure out the purpose each page serves before deciding on which pages to keep and which ones to get rid of. It was crucial that we not get ahead of ourselves here because the last thing we wanted was to focus on recommending UX design aspects before understanding if a page was important. In the end, some pages went, some stayed, and some were added.

 

We examined Race Forward's Theory of Change. The theory of change is an important part of a nonprofit's mission and purpose, so we needed to ensure we got that right. We discussed both the copy and the visual representation of this theory of change to inform the final version.

 

We analyzed the various Race Forward departments, to gain a deeper understanding of the organization's stakeholders. Although not all the departments are visible to the user on the website, understanding how they all fit together informed a lot of the web copy, so we couldn't skip this part. We ended up with a sprawling spreadsheet that provided each department's information.
Then came the copywriting and UX design recommendations.
For this step, we ensured that the web copy and design recommendations streamlined the many stakeholder voices into a coherent structure that:
Clearly outlines Race Forward's mission    

Ensures that the breadth of the organization's work is visible

Provides clear calls to action (CTAs) and engagement points for site visitors     

Meets visitors where they are while incorporating user journeys that lead to clear CTAs

Include more dynamic content 
In the end, we settled on a streamlined process where we wrote web copy, advised on UX design, and went through a review cycle with Race Forward, before handing off the content and recommendations to Propane for design and development. Now that was a massive undertaking, but one we handled very well as the results show.
The results: Improved web copy and UX design
Quantifying the results we achieved for Race Forward is definitely a tall order, however, the qualitative results are evident.
For one, we improved the content so it clearly drives the understanding of Race Forward's mission:
 

What the organization does and how it does it

What the organization can do for its various audiences

What the various stakeholders can do for the organization

How the organization's stakeholders and audiences can further engage in racial justice work
We also advised Propane on the UX design process before they undertook the actual design. We reviewed each webpage, collated UX recommendations and some quick mockups of suggested changes, then went over the designs together. 
Collaborating on this aspect was extremely beneficial because having a second pair of eyes is invaluable when reviewing designs. Our suggestions helped Propane enhance their UX and page designs, as shown in the before and after screenshots below.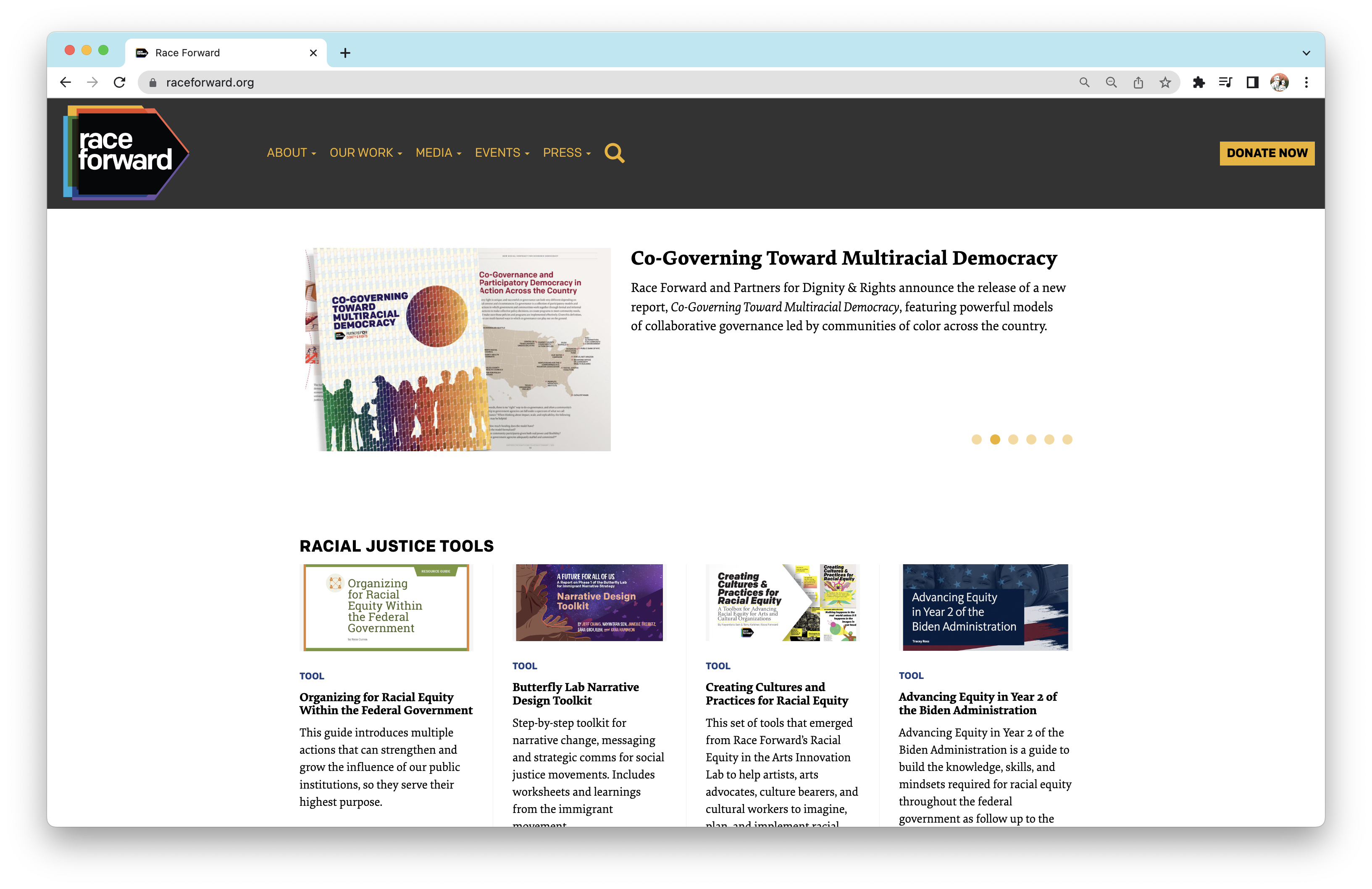 The best part is that Propane enjoyed working with us as well. What started with us feeling a bit unsure if things would work out blossomed into a fantastic partnership that we hope to continue well into the future. All of this is to say that as an agency, we're very adaptable and versatile; we can successfully collaborate with whoever our client wants us to partner with.
We managed to pull all this off in about six months; six months of creating together, rising above the challenges, and learning some crucial lessons.  
Learning some valuable lessons along the way
What's a client engagement without some lessons?
One thing we've figured out with all our engagements is that there will usually be challenges as well as lots of lessons. One of our biggest takeaways from the project with Race Forward and Propane was the importance of setting out processes for the client so we can produce our best work. This included establishing review cadences and timings, as well as holding the client accountable for providing timely feedback.
With lots of copy and so many design recommendations to get through, getting timely approvals was often a challenge, and understandably so — when you're focusing on important racial justice work, like Race Forward was, sometimes things like UX design and copy edits can end up on the back burner. We did have to extend our contract, but in the end, we achieved our goal of giving Race Forward a new and improved website.
We also got loads of UX design and web copy experience that we didn't have a ton of as an agency before. The art of bringing these two elements together gave us some fresh insights we're excited to use in future projects.
Moreover, we improved our overall process structuring, from little things like determining that not everyone needs to be on every call to working with Propane in a smart and efficient way to structuring our team in a way that allowed us to accommodate a project that was somehow outside of our normal way of working. 
As a co-founder, I learned to stretch in slow, intentional ways: working through initial challenges with scoping a project with a partner agency in the loop (did I mention that we hadn't done this before), helping a client sort out their internal approval process in order to simplify it, and delegating work to the team to manage the client. 
Ready to take your digital marketing to the next level?
As I highlighted earlier, we have helped brands with many facets of digital marketing. One thing that stands out about all our work is how we always bring our A-game to ensure that we get the best results for our clients.
Working with Race Forward felt a bit outside of our wheelhouse, but as we like to say at Literal Humans, "the answer will probably always be yes," no matter the nature of your project
Whether that's partnering with another agency, taking care of both your internal and external stakeholders so everyone is on the same page, or creating content marketing strategies from scratch as we did for Progression and Playbook, we've always got our clients' backs and we'll find a way to make it work.
Looking to develop a strategy that will take your brand growth to the next level? Schedule a free strategy call to learn more about how we can help you.