There I was: doing a little happy dance in a church parking lot after my COVID booster. 🕺🏾
Needless to say, I garnered a few strange looks from the people waiting in line.
They probably thought I was just really excited to get my shot. I mean, I was — but that's not what the dance was about.
I had just taken a sales call with none other than Jessica Ko — former Head of Design at Google, no less.
Less than six months after launching an agency in the middle of a pandemic, we had caught our first "big fish." (Please note: Jessica is a lovely human and not at all a fish. I can confirm this because we met for coffee once. It's just an expression.)
That fish was Playbook, the first-ever digital storage system created by designers for designers
In the two years we've been working together, we've helped them 5x their active monthly users from 20,000 to 100,000. 
Here's how we did it.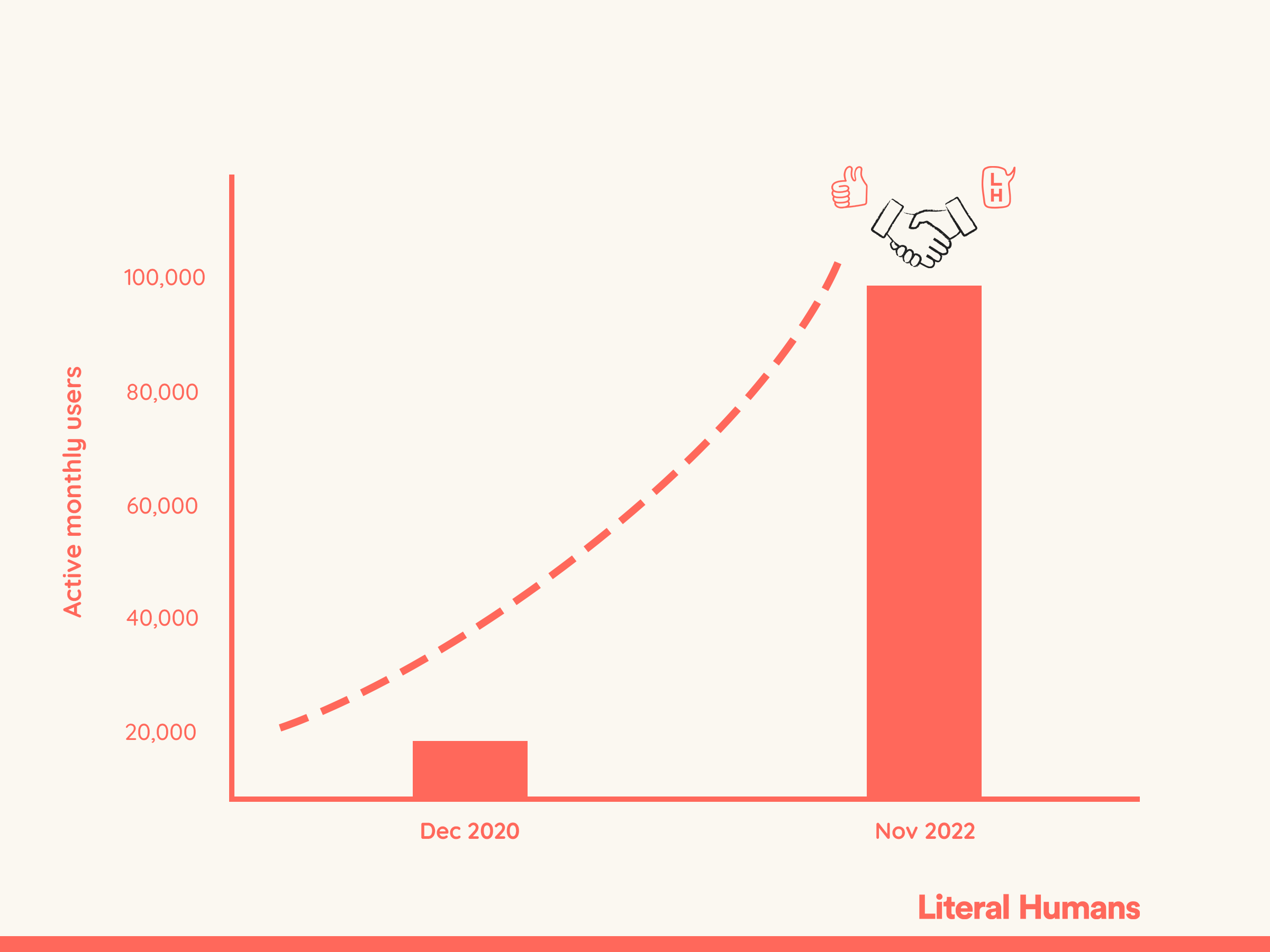 The challenge: David vs. Goliath
Playbook was squaring up against the giants of the digital storage world — companies like Dropbox, one of the first-ever SaaS unicorns — and Google itself. 
Facing up to such heavyweights was going to take more than just run-of-the-mill SEO content to position Playbook within the digital storage market, boost its traffic, and increase its user acquisition. 
It was a mammoth task, but we knew our team of growth experts was up to the challenge.
As always, we started the first month running website and social media audits. These audits take the guesswork out of building a marketing strategy, as they allow us to show clients what's working and what's not and make recommendations on what they can do better.
We have to give credit where credit is due.
Not every client takes the audit phase as seriously as Playbook did. They treated our recommendations like an implementation checklist. This provided them with a much stronger foundation upon which we built our growth strategy.
Here's what the audit phase looked like.
The audit: a solid foundation
Playbook already had a solid website design in place at the start of our engagement — and we wouldn't really expect anything less from a team of professional designers!
We suggested a few tweaks that would improve engagement and conversions, including:
Adding tabs such as 'Newsletter,' 'Resources,' 'About us,' and 'Use cases' to the navigation menu.

Website copy hacks to highlight Playbook's unique selling propositions (USPs) compared to its competitors, including its 4TB of free lifetime storage for designers.

SEO tweaks, such as updating URLs to reflect page content.

Adding page copy to make the site more crawlable by Google.

Highlighting artists, designers, and community members who use Playbook.

Running competitions and giveaways.
We also ran an Instagram audit for Playbook. They were doing a great job with the visual aesthetic of their page and had decent engagement. Our recommendations included:
Increasing post frequency to three to five times per week

Leveraging the bio to promote Playbook's USPs

Adding a greater variety of content, including video content

Adopting a more conversational tone to increase engagement

Highlighting the Playbook features and use cases that make designers' lives easier to complement their posts showcasing artists and their awesome work
Overall, Playbook had made a respectable start both on building their website and growing their Instagram presence, so we had a really solid foundation to build on and felt confident we could help them take on the industry giants.
The strategy: more than just SEO
Playbook wanted us to build a top-down strategy to increase their organic traffic and user acquisition and entrusted us to build their content marketing strategy from the ground up. 
Working with them has been a joy — they have enough knowledge about content marketing to understand our recommendations, which they have accepted and implemented with the utmost grace and diligence. But they also trust us enough to let us do our job without micromanaging the process.
Once the audit was out of the way, the content strategy team hopped on a brainstorming call and churned out over 50 content ideas for SEO-optimized blog posts during the first quarter of 2021. 
The strategy focused on building a community of artists and designers on Playbook — aside from its unique features, this would make it a more attractive platform for their ICPs than corporate tech giants like Dropbox and Google Drive. 
Competitions and giveaways seemed like an obvious way to build community and drive user acquisition. The first competition we ran for them gained over 1,000 entries and 30,000 votes. 
As well as creating SEO-optimized blog posts aimed at providing value for both individual designers and in-house design teams, we built out case studies to help drive conversions.
But we didn't stop there. There's a lot more to a successful content strategy than just 'posting and praying' — you have to know where to promote your content to get it in front of the right eyes.
As part of our audit process, the LH promo experts built Playbook an Earned Media Bible. The Earned Media Bible contains a comprehensive list of Facebook and LinkedIn groups, subreddits, Slack channels, and influencers to distribute content, as well as a comprehensive list of publications to pitch guest posts.
We then used this resource to promote every piece of content we published, as well as the competitions and giveaways, to further extend their reach. 
The results: 5x more monthly active users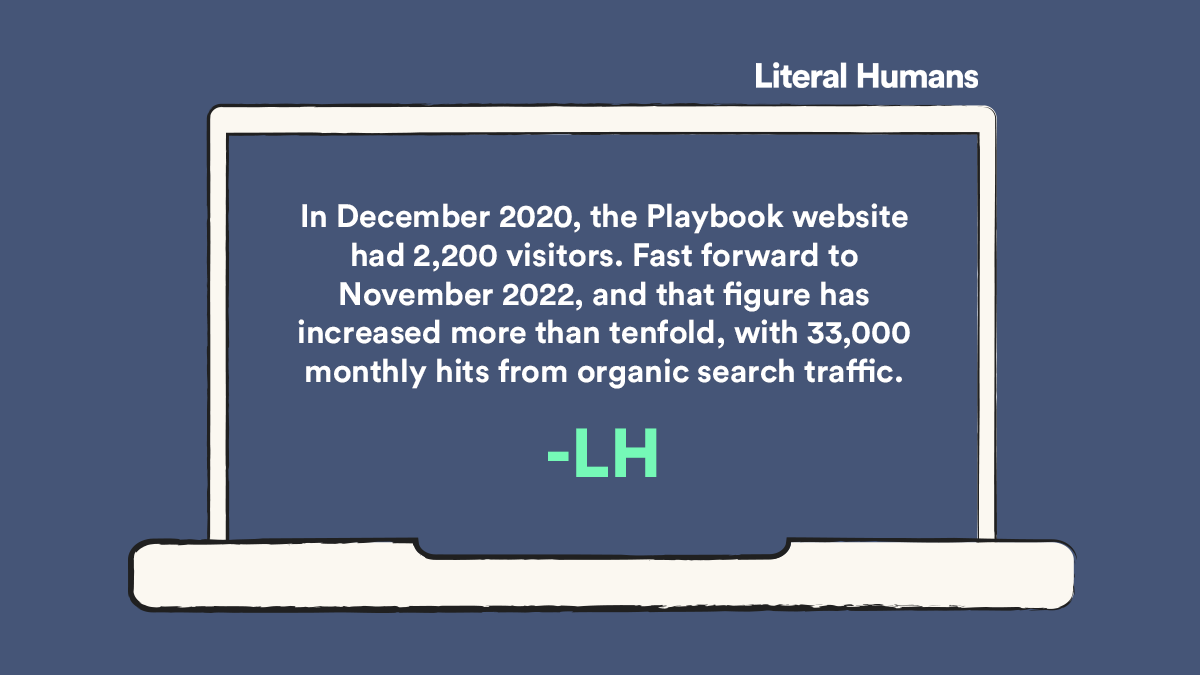 Playbook is one of our longest-running client partnerships — and perhaps this is why. Over the last two years, Playbook has grown from 20,000 active monthly users to over 100,000 — a five-fold increase largely driven by our marketing efforts. 
These results demonstrate the power of a robust content marketing strategy done right. I mean, just look at the numbers. 
In the first six months, we helped Playbook increase its website traffic by 26% week-over-week, tripled its organic search traffic, and increased its new user acquisition by five percent.
Over the following 18 months, we continued to help Playbook grow its organic search traffic and build domain authority. In December 2020, the Playbook website had 2,200 visitors. Fast forward to November 2022, and that figure has increased more than tenfold, with 33,000 monthly hits from organic search traffic.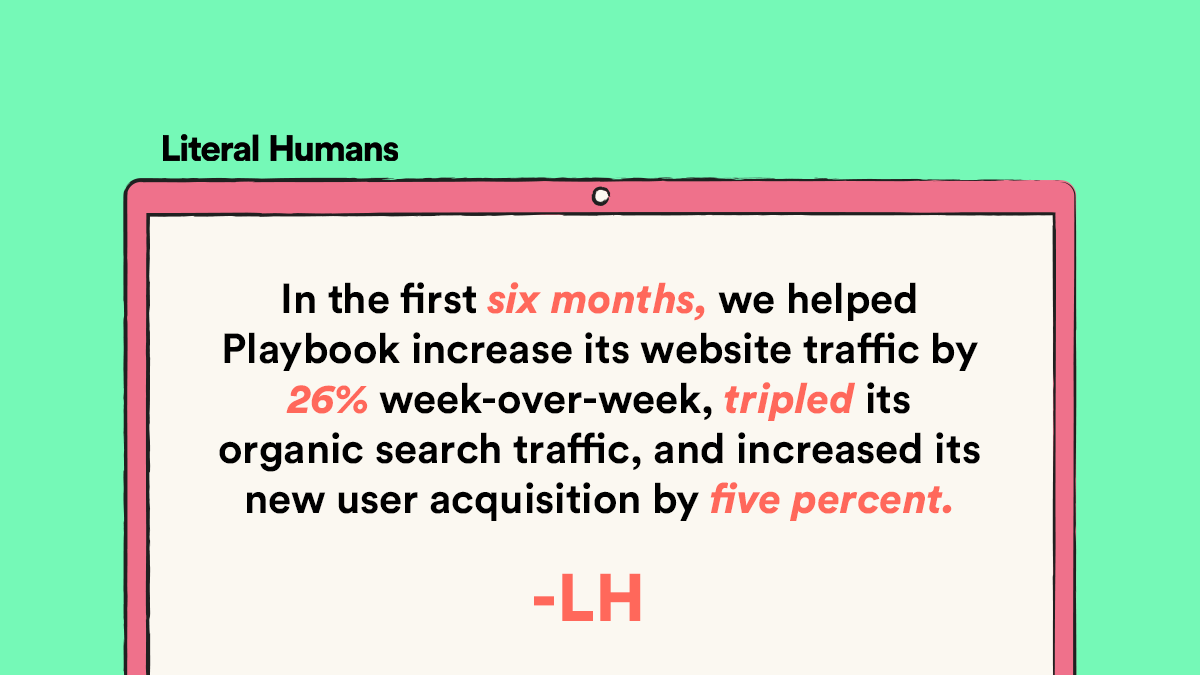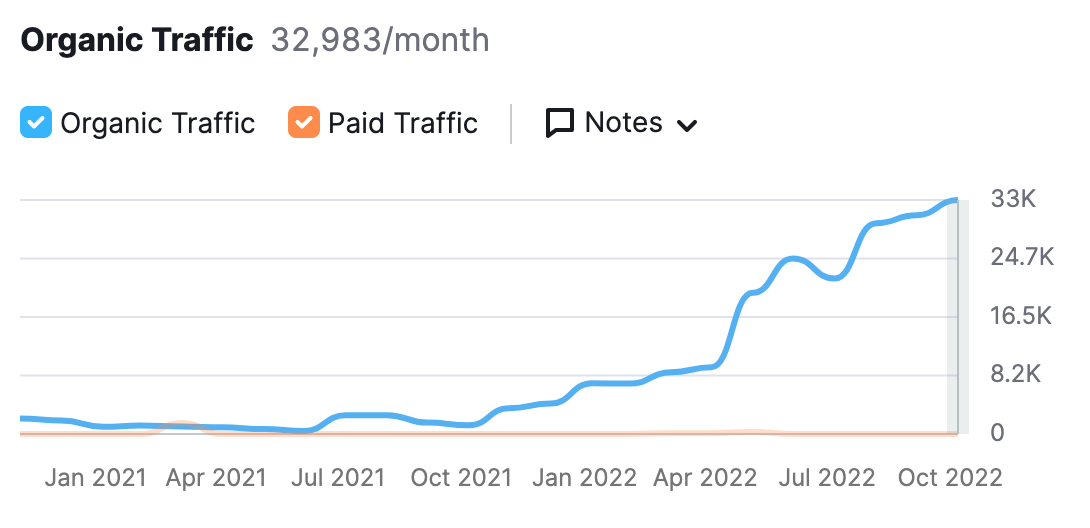 And that's not all.
The Playbook website is now ranking for 677 organic keywords — including 75 top-three positions — compared to 503 in December 2020.
It also has almost 10,000 backlinks, which has helped push its domain authority up to 38, driving more organic traffic.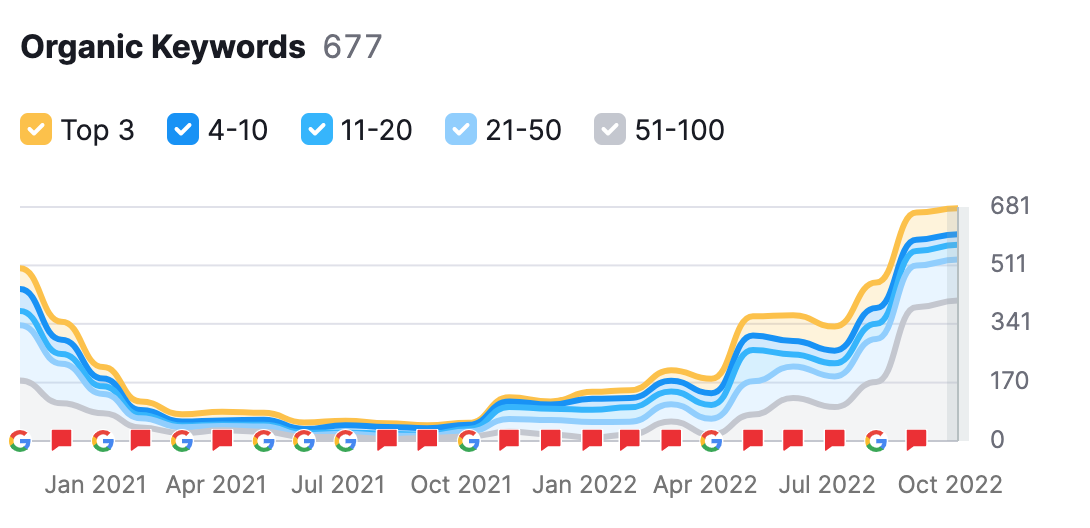 The competitions and giveaways have been a critical tactic in driving Playbook's growth and is one they're still using today. Each campaign brings in an average of 1,000-2,000 new users.
Over on Instagram, Playbook had around 1,500 followers when we started working together. By implementing our recommendations, they've organically grown their following to over 4,000.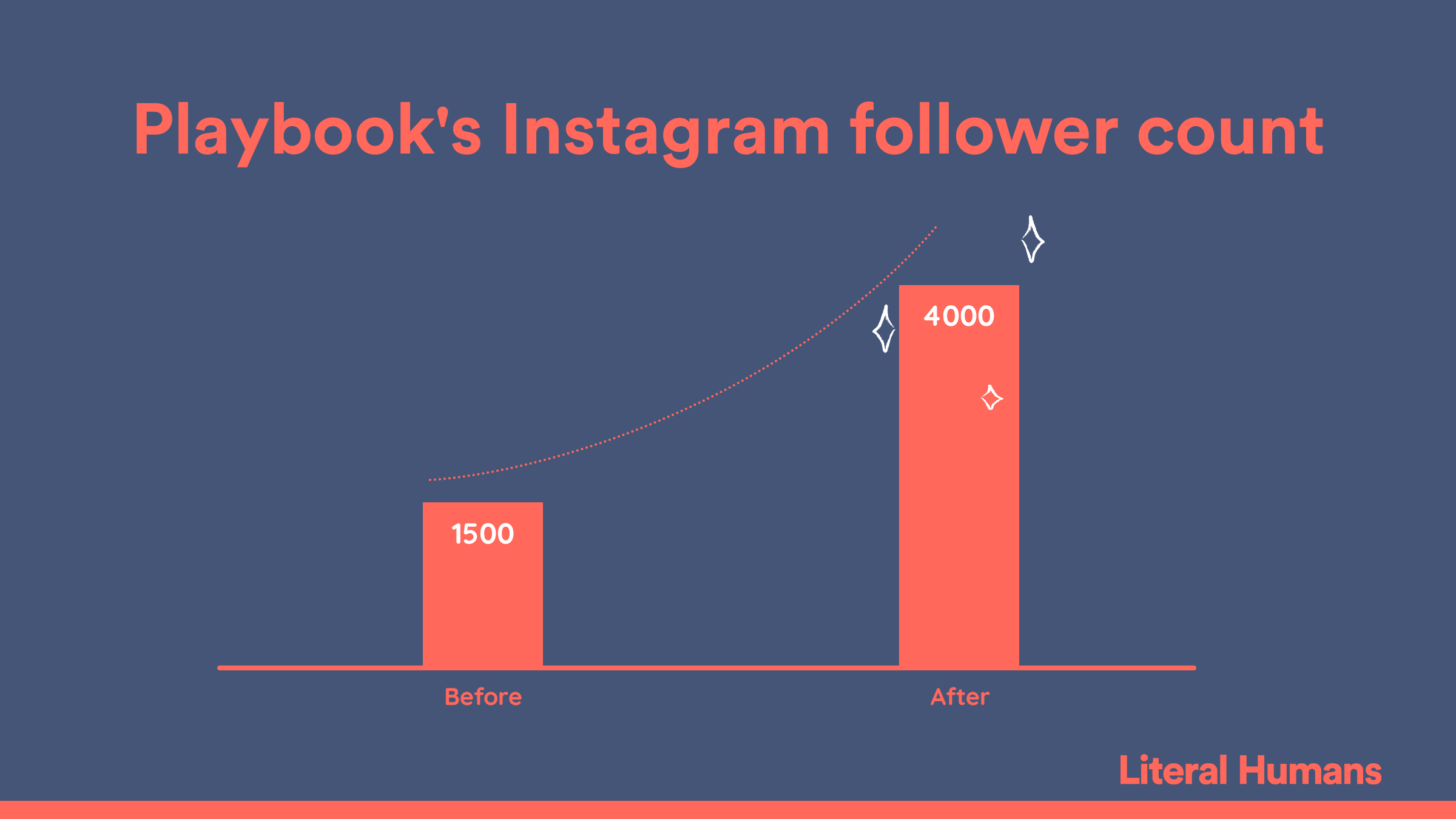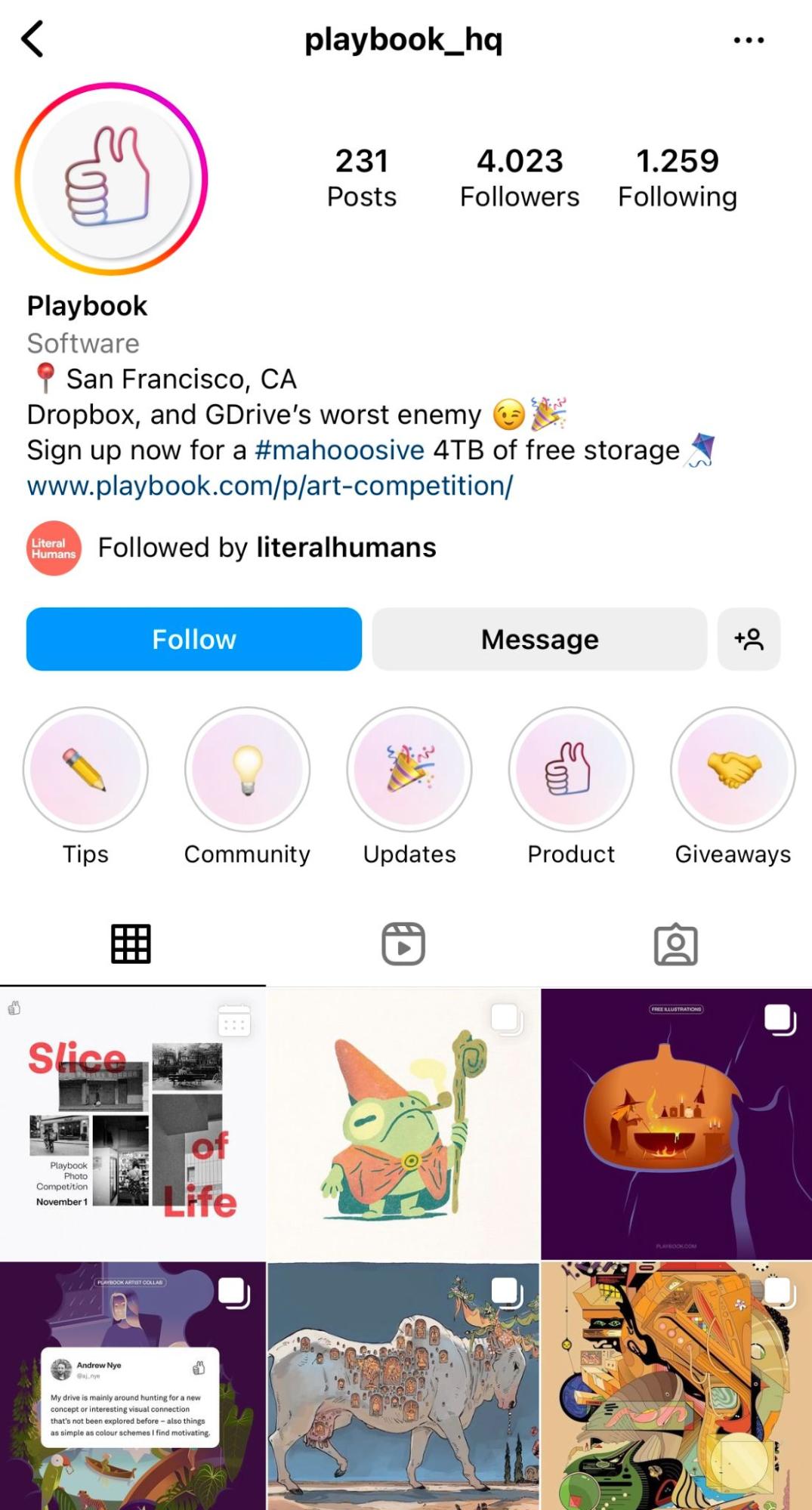 A winning content strategy is built on trust
The Playbook story is the perfect example of a plucky young tech company disrupting its industry and taking on the dominant players as a challenger brand with a unique value proposition. 
With Playbook, we proved that a brilliant tech-for-good product and a well-executed content strategy make the winning combination for growing a startup — no matter how big your competitors are. 
Our partnership with Playbook demonstrates the importance of a relationship based on mutual trust and respect. 
Playbook trusted Literal Humans to take their content strategy and run with it. We gave it our all, and the results speak for themselves.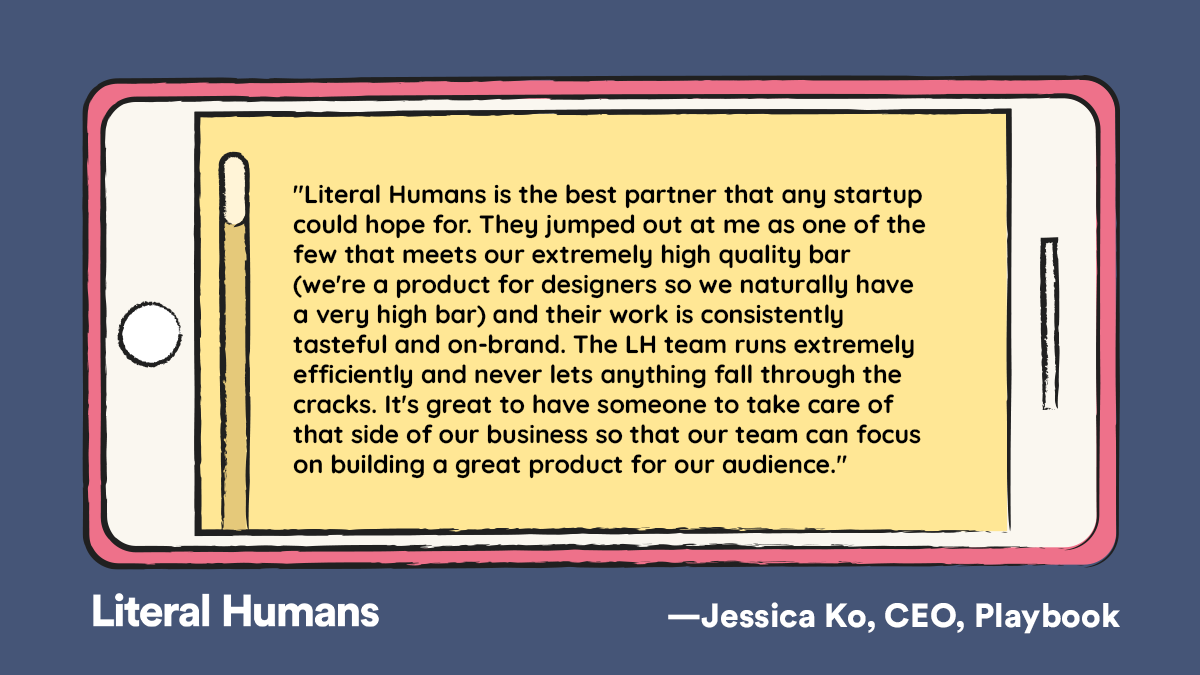 If you're a small tech-for-good fish in a big pond looking for a marketing agency you can trust, look no further. 
Schedule a free discovery call with us, and let's start building your content strategy today.