It is 2022. the look of the school has had a massive overhaul since the 90s. Gone are the chalkboards and tattered textbooks of old.  We now live in the time of the smart classroom. These classrooms are full to the brim with EdTech to aid both learner and teacher.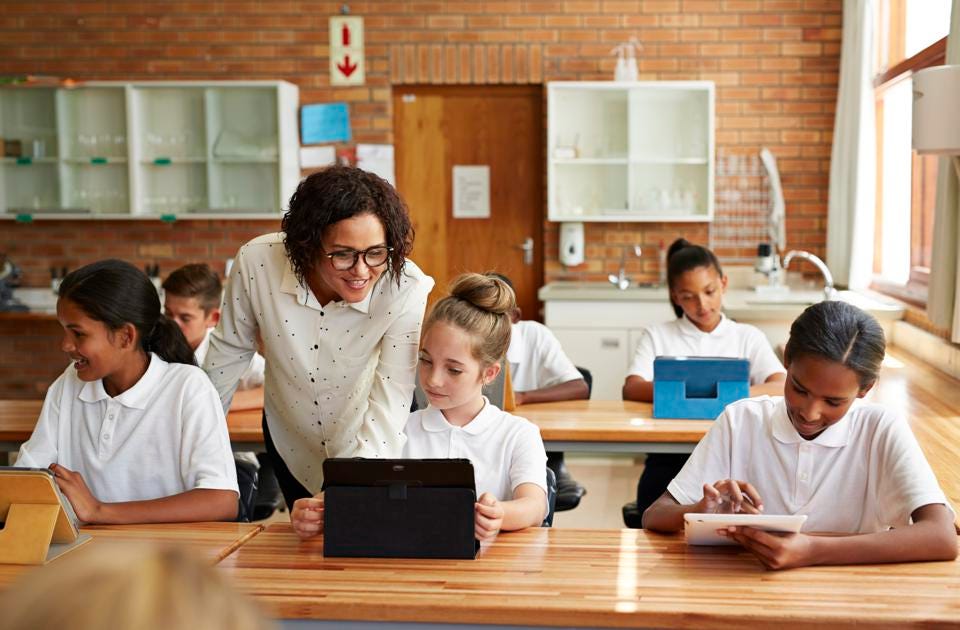 It would seem like education technology is the latest hot stuff. There is indeed evidence that we are in the midst of a tech revolution in education. Now seems like the best time to start to take some serious notice of this sector. 
The world of EdTech can seem like a lot to understand. But do not fret, we want to make that easier. Take our hand as we examine this technological industry with the next few sections:
The past, present, and future of EdTech

The current biggest EdTech startup

The 5 fastest-growing EdTech companies
The past, present, and future of EdTech
The rise of EdTech
In 2020 the true EdTech renaissance started due to a terrible stimulant: the Covid-19 pandemic. This event devastated the entire world and life as we knew it came to a sudden halt.
The restrictions that were used to combat Covid made traditional education infeasible. As of March 2020, 1.38 billion learners were without a means to continue their studies. School districts across the world needed a solution.
We had to embrace online education and fast. And embrace it we did.
Whilst most industries floundered at the hands of Covid,

EdTech flourished

. In the UK alone, the sector saw a 72% growth. 

It is estimated that

93% of households

with children utilized some form of EdTech in 2020.  

Investment in EdTech

, via funding rounds, reached an estimated valuation of $36.4bn in 2020, which was an enormous increase from 2019's $18.7bn. 
The decline of EdTech
But, with this boom came evidence of an imminent fall. Countless articles have touted 2022 as the end of EdTech. 
Was the EdTech bubble about to burst at the seams? Well, there is indeed some evidence to corroborate this: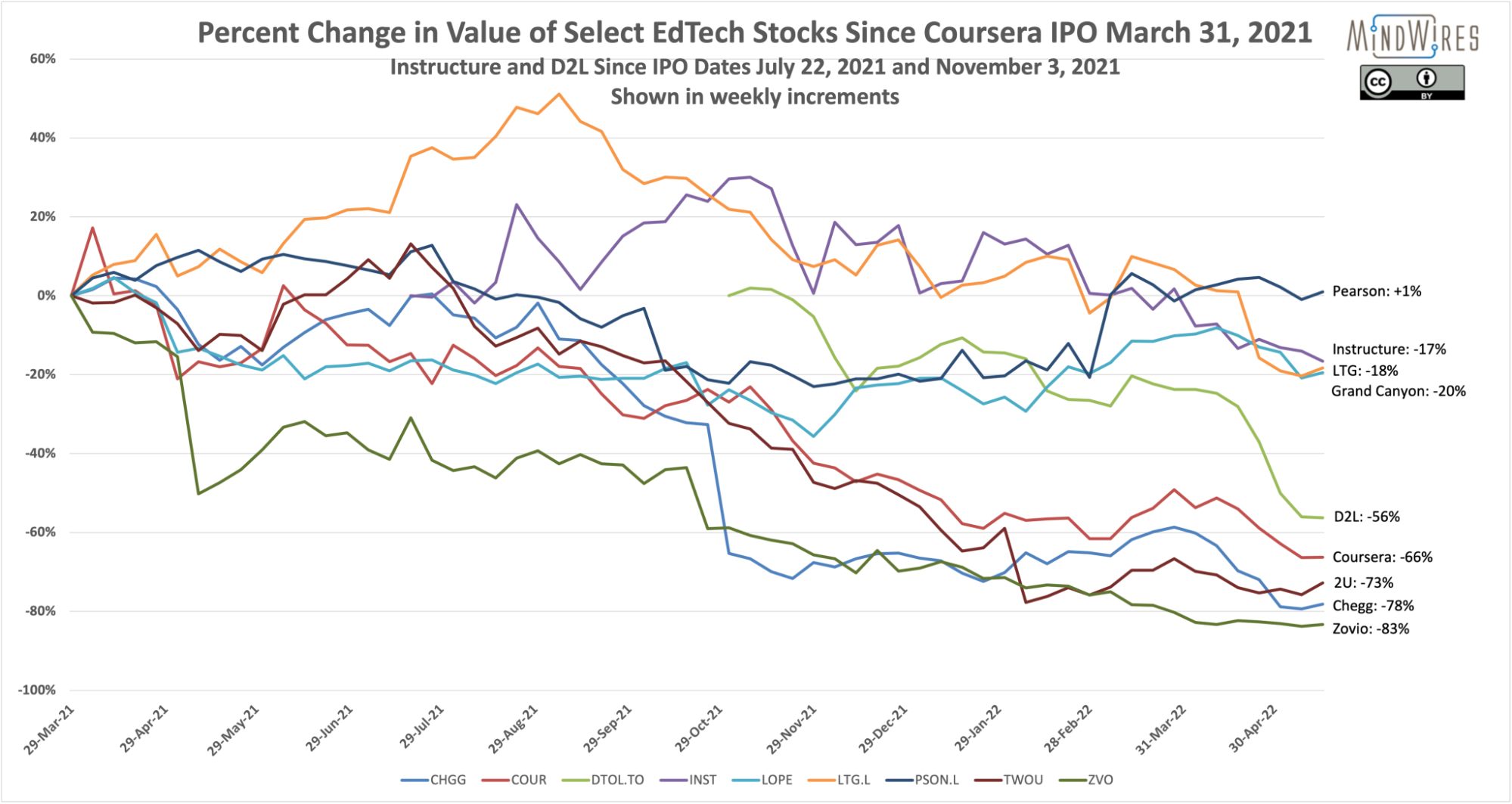 But where has this sudden decline come from? Well, we can trace it back to three central reasons:
Oversaturation of the market is a real issue. With the sudden need for online education came an influx of EdTech startups to meet this demand. 

The world has started to heal from the toll of Covid. We live in a new normal. The need for Edtech is less immediate and therefore, demand has been reduced. 

 In 2020, EdTech seemed like the ultimate investment. This meant that education companies started to drastically overspend.
The future of EdTech
Is this the end of EdTech? No, not at all.
EdTech, as of now, has a valuation of $254 billion worldwide. In 2027, it could reach an incredible $605 billion. This does not sound like a sector under imminent crisis. Far from it, in fact.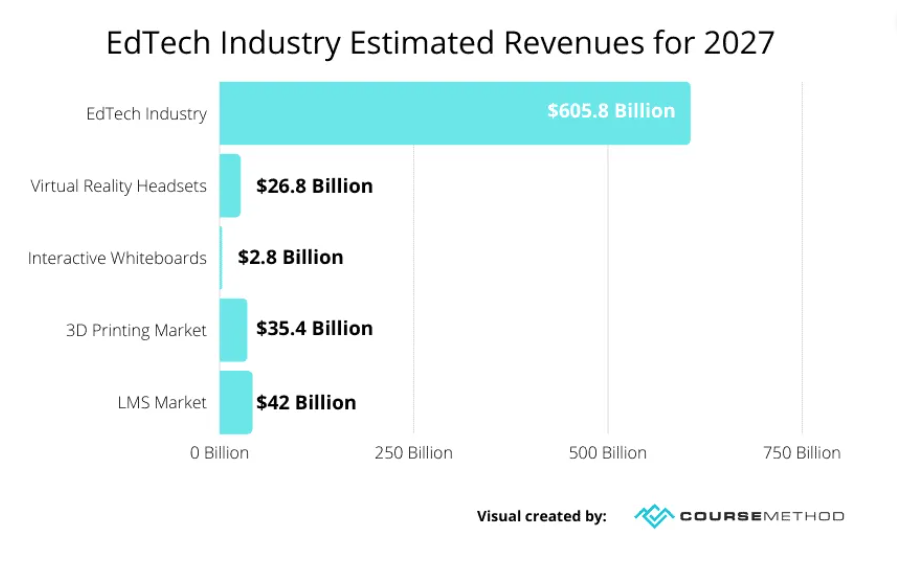 EdTech will remain a dominant force in education and here are some statistics to show it:
So, the imminent fall of EdTech could be a misreading. Covid acted as an accelerant that delivered those incredible statistics that we saw in 2020. But in 2023, EdTech as a whole looks to return to its, still impressive, natural state.
Think about football for a second. It has millions of fans. But, when an international tournament is thrown into the mix. Boom! Interest hits obscene new heights before the inevitable decline to normalcy.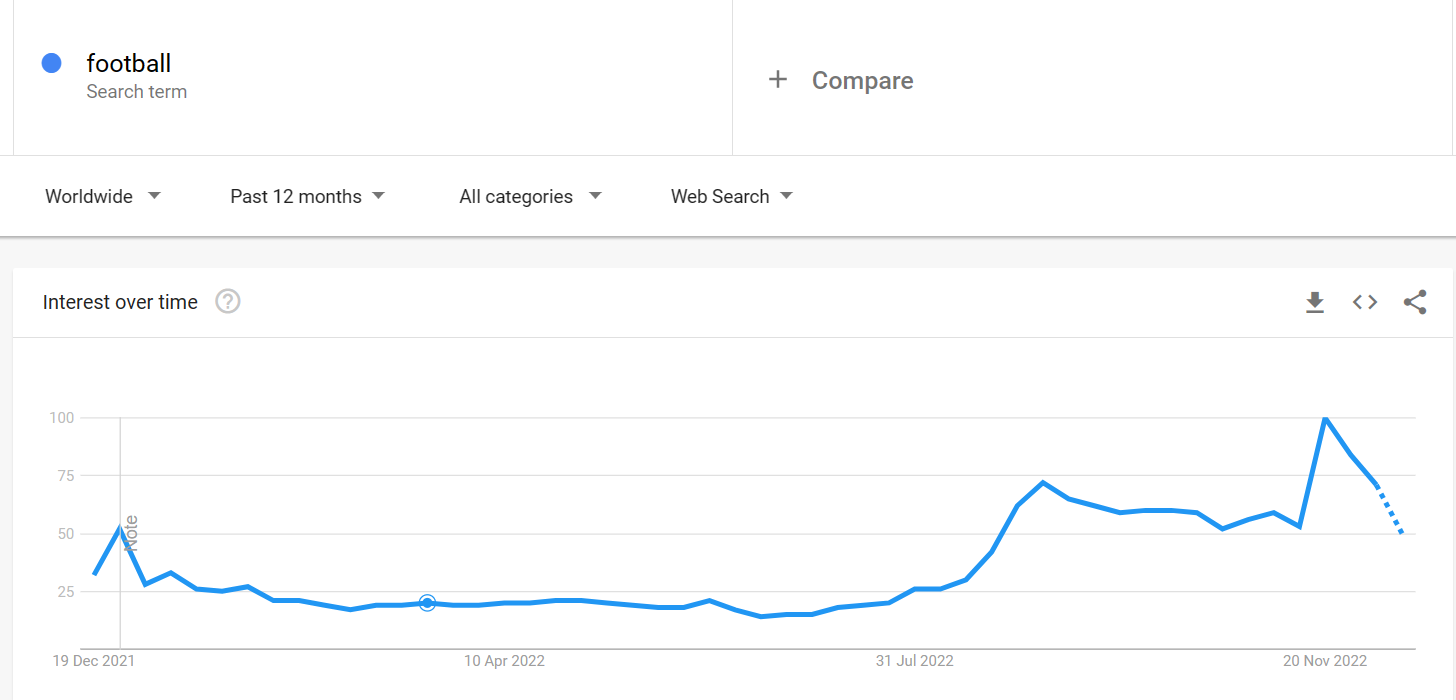 Yet that is not to say the heyday of EdTech has passed. All that is needed is a spark. It is an industry full of brilliant entrepreneurs who are constantly innovating to deliver new and exciting learning experiences.
There are countless new tech trends to explore from the implementation of machine learning by complicated artificial intelligence to the personalization of the learning experience. Whilst other tech companies are looking towards corporate upskilling, digital tutoring, and higher education as the next big things to happen to EdTech.
Byju's- the EdTech unicorn
If you type into a search engine 'the top EdTech companies in the world' you will likely uncover hundreds of lists containing various answers.
The likes of Udemy, Coursera, Chegg, Blackboard, and Kahoot! will most likely be mentioned. But, the most consistent EdTech company ranking near the top of any list will be Byju's.
Based in Bengaluru, India, Byju's is a learning platform. The twist is the utilization of high-quality, innovative, personalized, and fun educational content.
At the start of 2022, Byjus was the educator to over 150 million students in 100+ countries.  In 2021, it launched the Early Learn mobile app in partnership with Disney. It seemed to dominate the EdTech field. In March 2022, there was $800m raised in investment, and the business was valued at $22bn. 
But now it has found itself in more turbulent times:
Accusations of harsh and abusive work conditions.

Layoffs started and did not stop, Byju's recently stated it would cut

5% of its workforce

.

Vendors have claimed to be missing payments from March. 

The CEO has been summoned by the

NCPCR

over 'malpractice'.
This all starts to sound like a business amid a crisis. The dominance of Byju's could be over soon.
5 of the fastest-growing EdTech companies
So, who will be the next EdTech giant? Well, let's take a look at some of the contenders in 2023.
1. Guild Education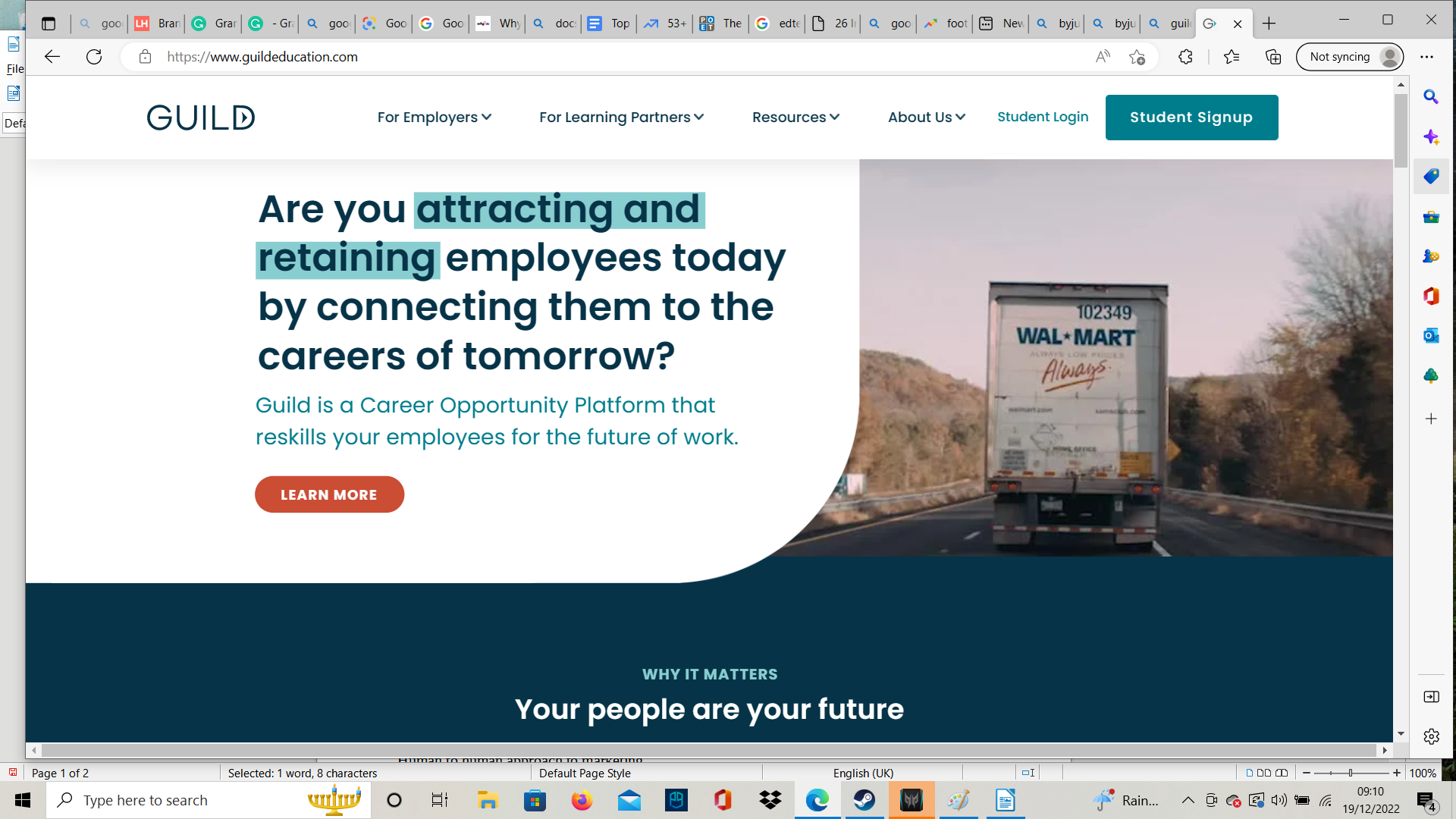 Based in San Francisco, Guild Education has called itself a Career Opportunity Platform. And we can see why. It wants to 'unlock opportunity' for adult workers. Including those in healthcare, retail, eCommerce, and financial services.
At its core, it is an online course curator. It collects the best courses around for a student's needs in a learner marketplace.
But, Guild Education realizes the need for education in the workforce. It also knows the financial burden it can be on the learner to enter higher education. So, this technology company works with businesses that want to financially aid their employees with education and upskilling.
And they streamlined this complicated process into one manageable and tailored-made online platform. It handles everything from the administration of payments to learning providers to selecting the right courses to meet an employee's needs.
Featured in TIME100s most influential companies of 2022 and in partnerships with mega-corporations such as Disney and Walmart, it is safe to say that Guild Education is an education platform to watch.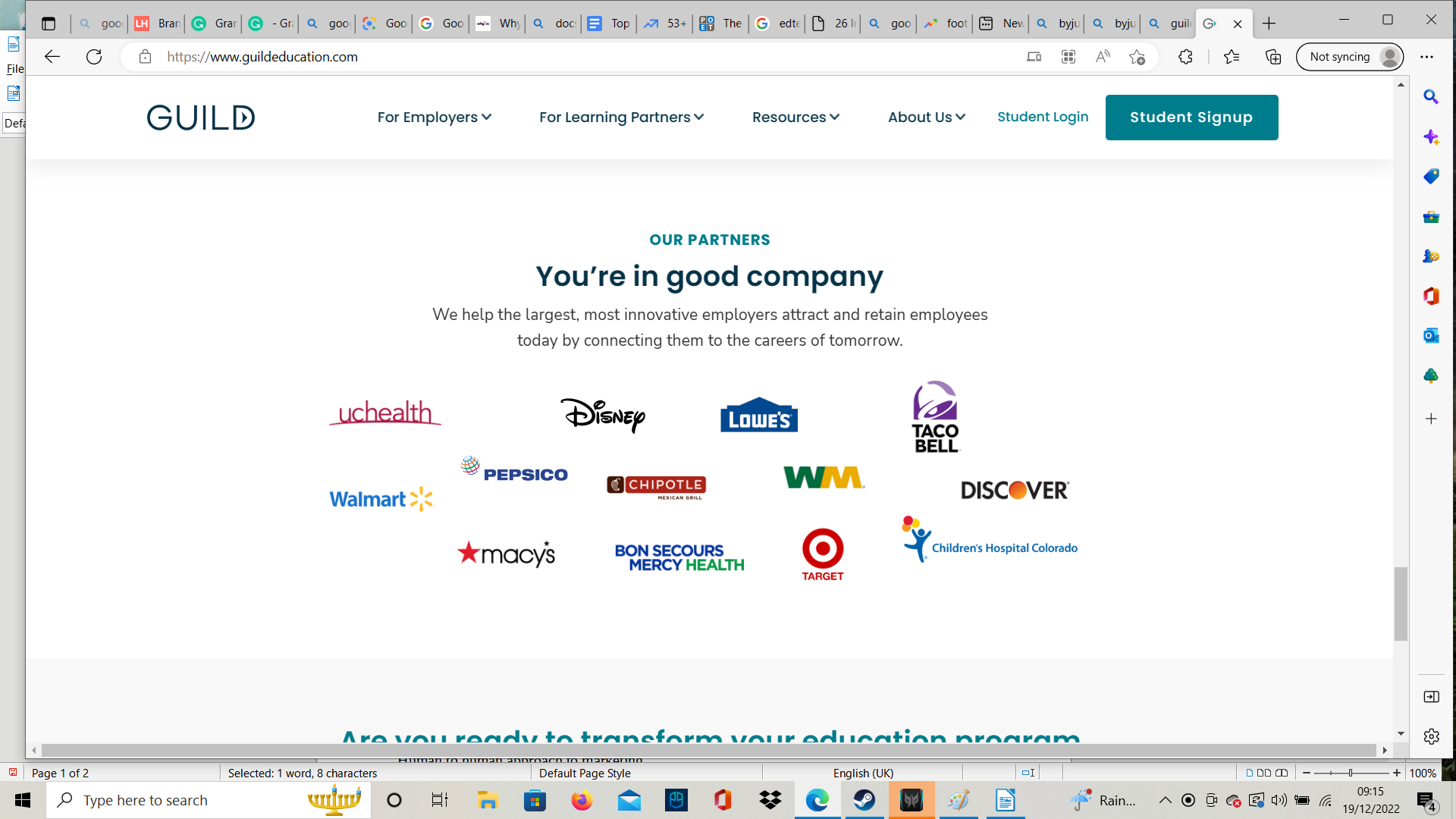 2. A Cloud Guru
The cloud has become one of the most talked about but misunderstood modern inventions. But it is essential to how most businesses function. That seems like an issue. Enter A Cloud Guru.
A Cloud Guru provides workforces with both cloud online training and certification. It has created a computer science learning platform tailored made for teams to unleash the power of this mysterious entity. In the training library, there are four distinct learning paths which consist of 400+ courses and 1800+ hands-on labs. With these abundant resources, employees will be sure to pass any assessment on this topic.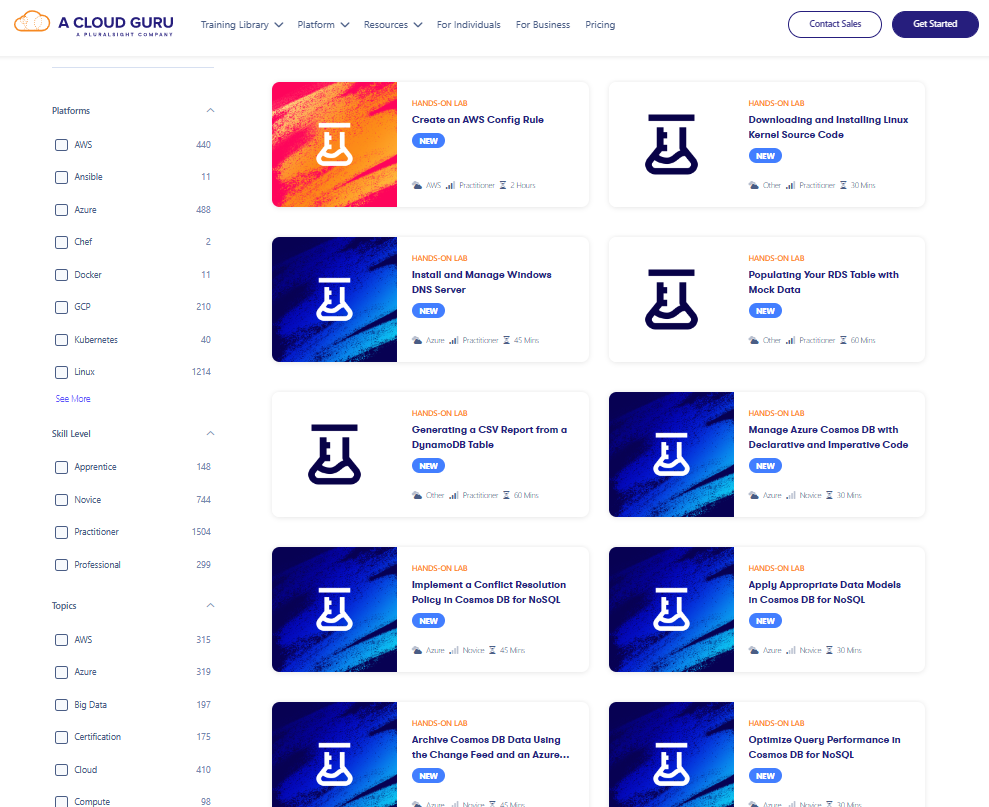 The cloud is becoming increasingly important to all manners of business. In 2023, it is expected that the growth in spending on public cloud services will reach 20.7%. That will total a valuation of about $591.8 billion. So, it seems obvious why A Cloud Guru is likely to become an even bigger deal in the years to come.
3. Labster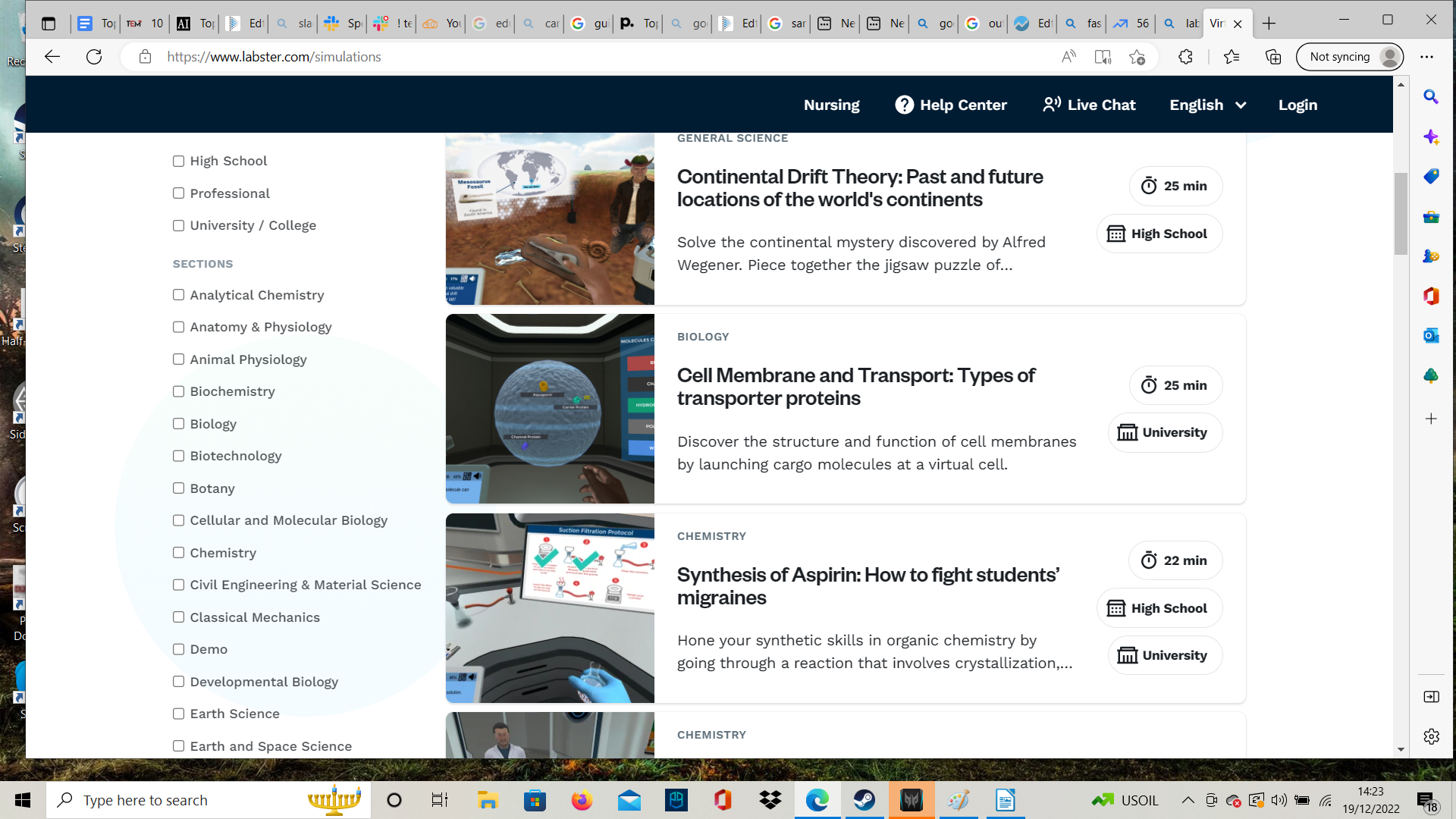 Labster is e-learning made fun by harnessing the power of cutting-edge gamification and virtual reality.
No, these are not just video games. These are virtual laboratories filled to the brim with incredible hands-on educational experiments. With over 300+ simulations that cover a range of topics covering all corners of modern science from ecology to microbiology.
Labster is also an example of hybrid learning at its finest. There is a multitude of physical resources such as video content, infographics, and lab manuals to further aid the teaching process.
But don't worry, children won't be left to their own virtual devices. Labster comes with embedded quizzes and the results can be viewed in the teacher dashboard, a fantastic means to identify students' weaknesses and strengths.
It seems that the cost-saving, engaging nature of Labster is quickly gaining attention. EdTech Breakthrough awarded Labster the title of "Best Technology Learning Platform".
And with this newfound interest comes new ambition. A plan to branch out to Asia and Latin America with the hopes of reaching 100m students worldwide. The company recently raised $47m in a funding round with the aim to create the ultimate 'eduverse'.
The founder, Michael Bodekaer Jensen, says that his dream is 'someone winning the Nobel Prize for a cancer cure or a climate change solution goes on stage and says that it all started with playing with Labster'.
4. GoStudent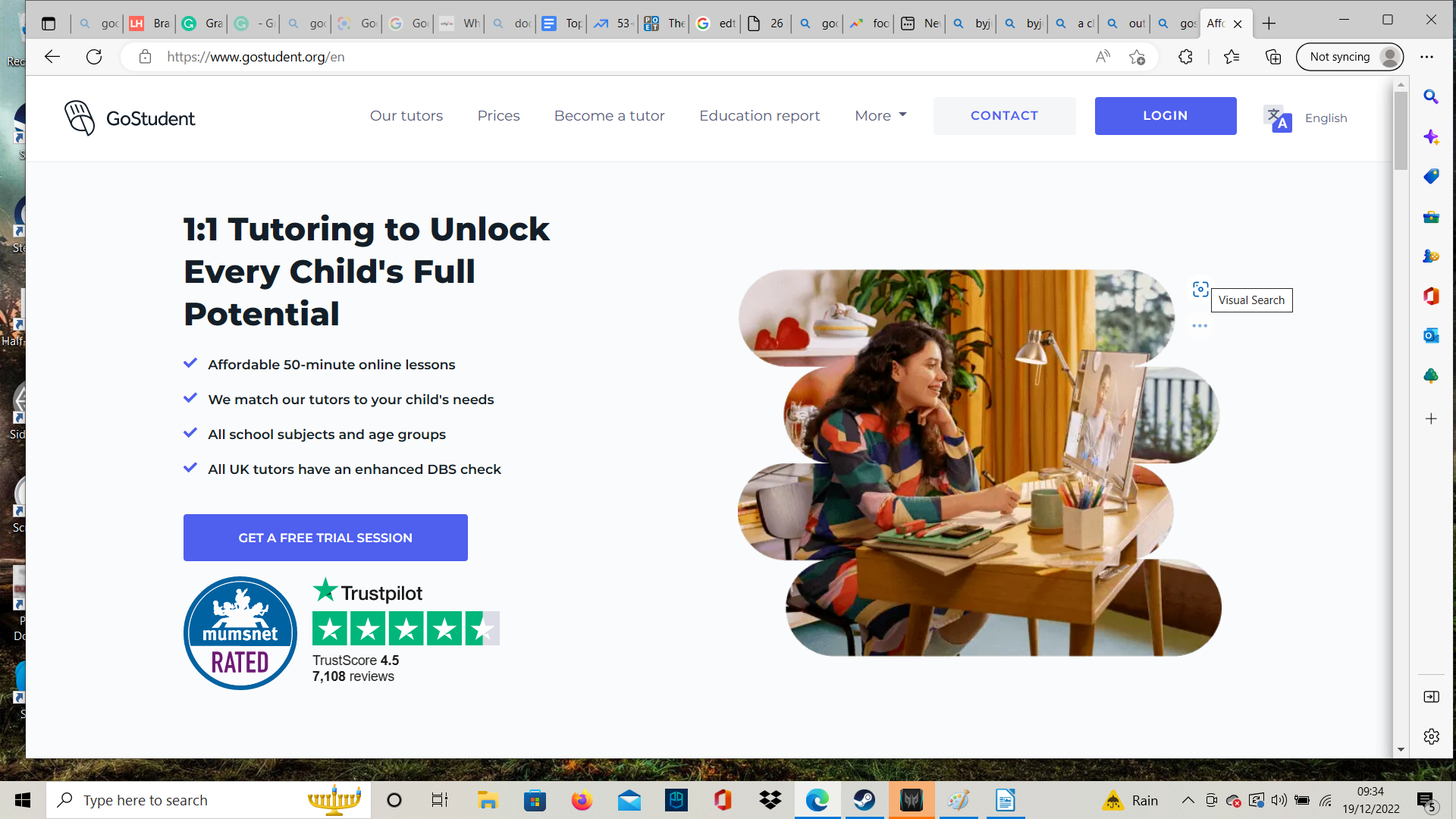 GoStudent is an EdTech platform centered around revolutionizing private tutoring. How? With the introduction of affordable, tailor-made digital learning.
The issues of traditional, archaic tutoring are over. The benefits of the new age of online quality education are countless.  But here are a few:
Tutoring no longer has to be expensive. 

Scheduling conflicts can be resolved with no fuss.

Lessons can be rewatched.

The cost of travel and the time to commute is removed. 

Personalized tutoring that matches your children's needs.

A virtual smart classroom at your fingertips.
Believe the hype about GoStudent. In December 2022 they acquired Studienkreis, the largest learning center-based tutor company in the Dach region. This acquisition aligns with their current goal of implementing hybridization into their business model.
In 2020, the worldwide online tutoring market is estimated to be worth $150bn. But, some market researchers believe this could hit $278bn in 2026. So, now seems like the time to start looking towards tutoring as the next big EdTech trend. And GoStudent is most definitely leading the march.
5. Cambly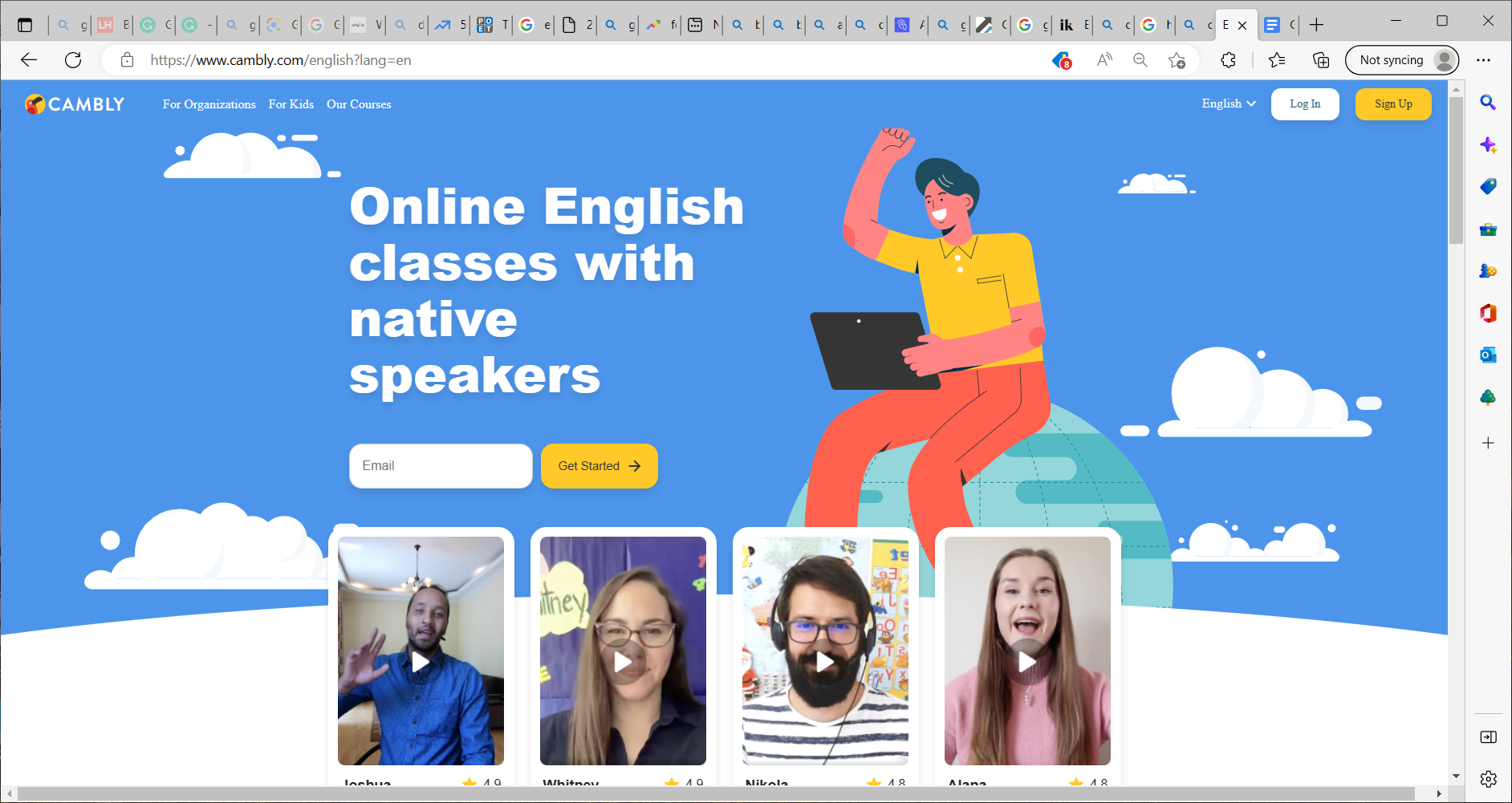 Based in San Francisco, Cambly is a language-learning tool with a few differences. One of the differences is simplicity, it only teaches English.
But the most important innovation is personalized online learning, Cambly gives the student the means to select the perfect tutor for them via numerous search filters. 
The personalization does not end there, the student can choose from an extensive range of topics for their lessons to be about depending on their skill level. There is even a sub-learning platform aimed at children, called Cambly Kids.
In 2022, Cambly received $60M in venture funding that will now be used to further expand and hire an extra 150 employees. This and the fact that this EdTech company has remained profitable for the past five years could mean it is shaping up to be one of the fastest-growing companies around.
Conclusion 
So, it is time to end our trip into the future. 
We first learned about the rise and subsequent decline of education technology. And how that was greatly affected by the 2020 pandemic. Likewise, we saw how Covid has influenced the future of the sector and how EdTech will seek out new formats and trends to thrive.
Then we took a look at the current unicorn leader of the EdTech world, Byju's. And how potentially their time at the top may be coming to an unfortunate end.
Finally, we examined 5 of the fastest-growing EdTech companies bound to make a splash in 2023. These EdTech platforms have ranged in type from tutoring companies to virtual laboratories. This only highlights the diverse, innovative, and lucrative nature of EdTech and its constant evolution. 
With the dawn of a new year in the shape of 2023 and all the bliss it will hopefully bring, remember to keep a firm eye on the following EdTech startups:
Guild Education

A Cloud Guru

Labster

GoStudent

Cambly
Hiccups and downturns notwithstanding, the combination of education and Tech remains as exciting as ever!