Dearest Most Perfect Tech for Good Startup Who Shall Not Be Named,
Let me count the ways that I love thee.
The Pulitzer Prize-winning US American poet Kendrick Lamar best summed up how I feel about our budding client-agency romance:
So give me a run for my money
Sippin' bubbly, feelin' lovely
Livin' lovely
Just love me…
Keep it a hundred, I'd rather you trust me than to (love me)
Keep it a whole one hund', don't got you I got nothin', ayy
-Kendrick Lamar, "Love"
It's true.
Without you, there's no agency. Just empty pockets and collective misery.
Keeping you happy is what keeps us going. (Literally, we need those monthly invoices fulfilled to keep the lights on.)
I'm writing this on the off chance that "words of affirmation" are your love language. (And because we already sent you that gift basket of dried fruits and nuts, which you said you loved!)
I know we're just at the beginning of this particular (very professional) love cruise but I had a few things I wanted to get off my chest. Here goes…
What Ex- and Future Clients Could Learn From Your Love
I've had my heart broken before.
There's a trail of unpublished blog posts and half-finished social media creatives to prove it.
I've even come close to writing a few burn posts about naughty clients.
There just comes a time in the romantic life of every agency when they have to say, "I would do anything for a client's love, but I won't do that."
I had reached that point.
But then you came along and brought out my better angels.
Somehow, awash in a sea of mixed emotions about my current suitors and client engagements of varying quality–you came along.
I wish I could write a letter to all of my ex- and future lovers clients to tell them about you and how you make me feel. They could learn a lot from you.
It's worth enumerating the ways in which your love manifests itself:
1. You trust our expertise and it makes us feel warm inside
It's the foundation of any great agency-client relationship.
You know enough about digital marketing to be dangerous, but you also trust me to execute our shared strategy alongside you.
You don't look over my shoulder and try to micromanage every single piece of content.
You ask questions to understand and offer ideas that build on my work.
You understand that I'm your partner and that our goals are the same–growth for your company!
Trust is something you can feel.
And it makes all the difference in our work together.
No careless whispers in this love story for the ages!
2. You pay your invoices early and it gets us so hot and bothered
There's nothing as disheartening as chasing clients for late payments.
It's truly the bottom of the freakin' barrel for agency owners.
So when I get that notification from Wise that you've processed payment for your invoice the day after I sent it to you… I get absolutely soaking wet in my knickers. 
It's like you wrote a new novel about the sexiness of prompt payment and called it Fifty Shades of Green because you keep those dollars flowing and it doesn't go unnoticed.
Honestly, THANK YOU.
When I don't have to sweat the small stuff like this, I can invest myself in your marketing strategy and help you meet your business goals! What's hotter than that? 🔥
3. You read my audits and implement my recommendations (which makes my heart go aflutter)
We spent the first month of our engagement really getting to know each other. We got up close and personal, that's for sure.
I put my eyes and (digital) hands over every inch of your business, there's no doubt about that.
But you knew this closeness was purposeful–we were building the foundation of our partnership.
You read every line in our website audit. You took our SEO optimization tips to heart.
You even began to implement our social media strategy recommendations!
At the end of that first month, you realized that our in-depth on-ramp was for you.
It breaks my heart to see clients tossing their comprehensive audits into a folder, never to be viewed again.
Talk about wasted money and more importantly, wasted opportunities for your business!
4. You don't leave me "on read" and that's just the sweetest
Frequent and fluid communication is the nucleus of any great love story.
When I ping you in Slack, you respond within hours.
When I ask you to review some content, you're on top of it.
When I pitch strategic changes, you suggest minor tweaks and then say "Let's go!"
Far too often, I've seen clients underutilize me simply by not prioritizing our partnership and keeping communication channels active. That makes me sad.
In short, you treat me like a true partner. We don't have to spend every minute of every day together, yet there I am, by your side just like Sade.
5. You're fun and focused
There's an inherent power dynamic, I get it.
I do work for you. You pay me. I am (more or less) "at your service."
That doesn't mean we can't be playful together, though!
Part of what makes work enjoyable is sharing laughs with the humans you work with, innit?
So I have to admit I was a little nervous when I chucked this cute, design-themed meme into our shared Slack channel.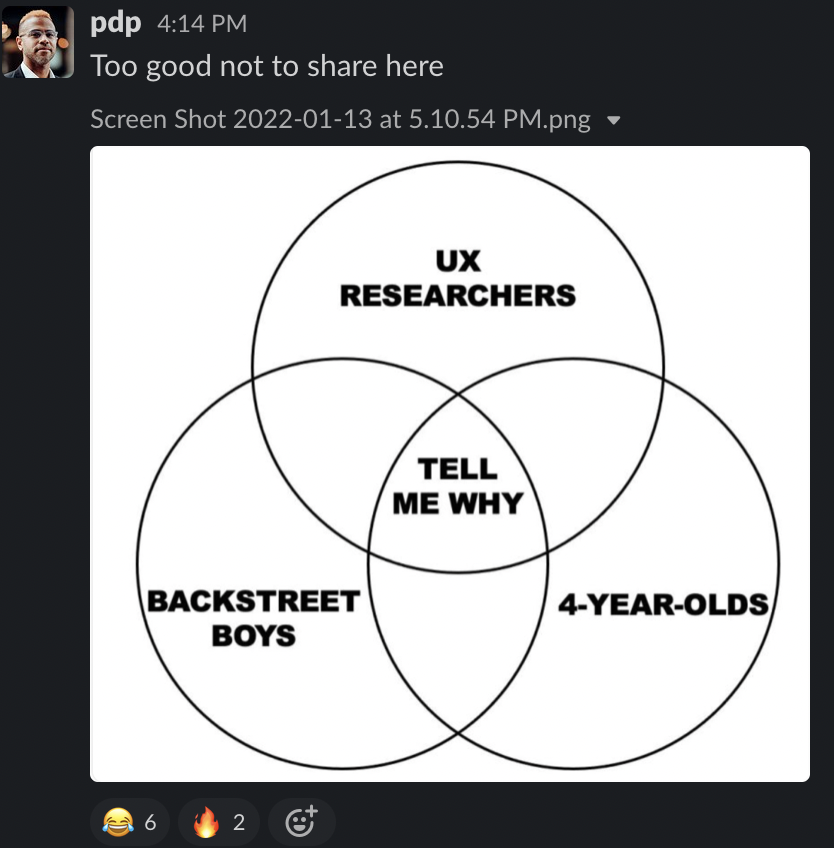 And then the darndest thing happened…you laughed! (Well, you left 6 "LOL" emojis and 2 "fire" emojis, but I know what you meant!)
What happened next?
We carried on with our work together. Specifically, we had a content brainstorming session and churned out 50+ SEO-optimized blog post ideas for our first quarter's strategy.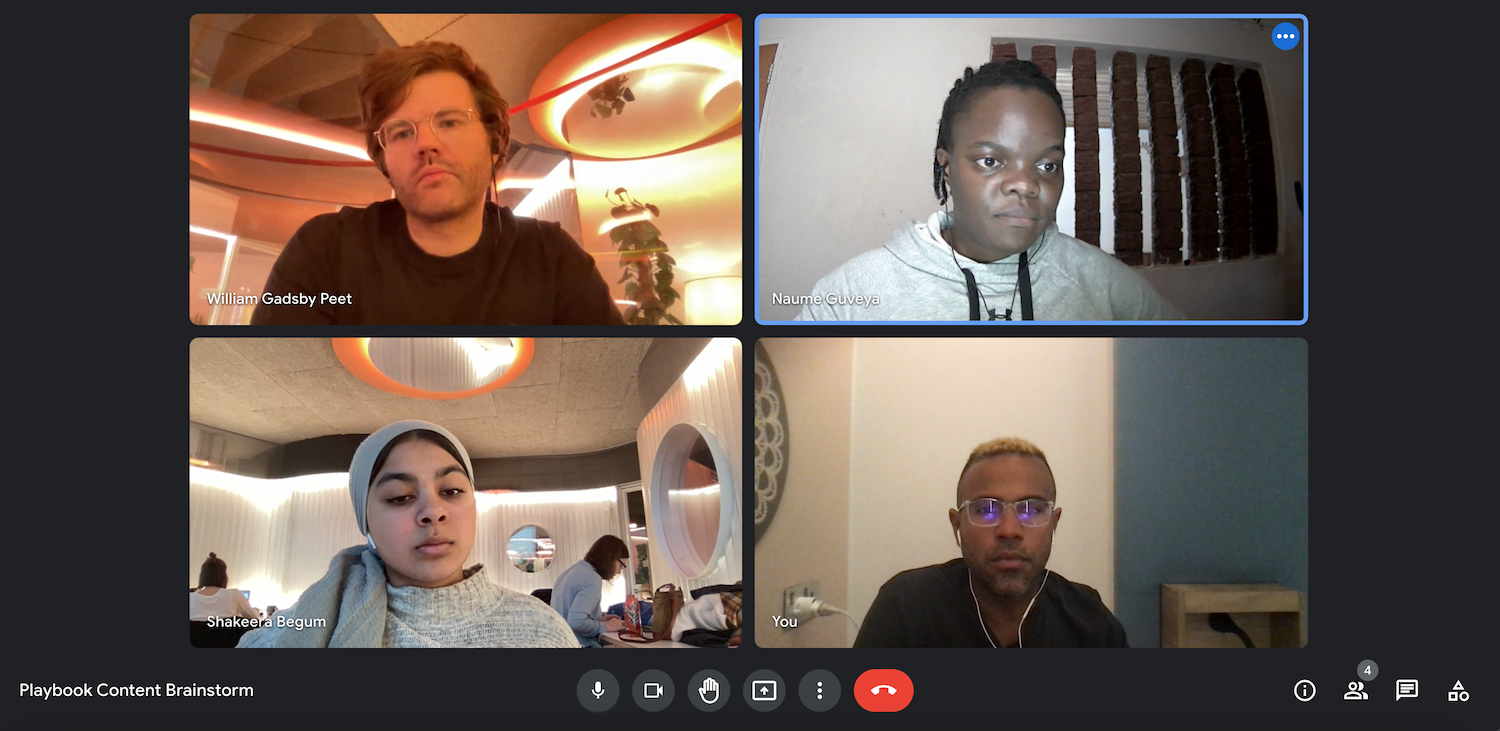 Knowing that we could giggle and grow with you makes our work together that much sweeter (and more effective I'd argue).
How to be a great marketing agency client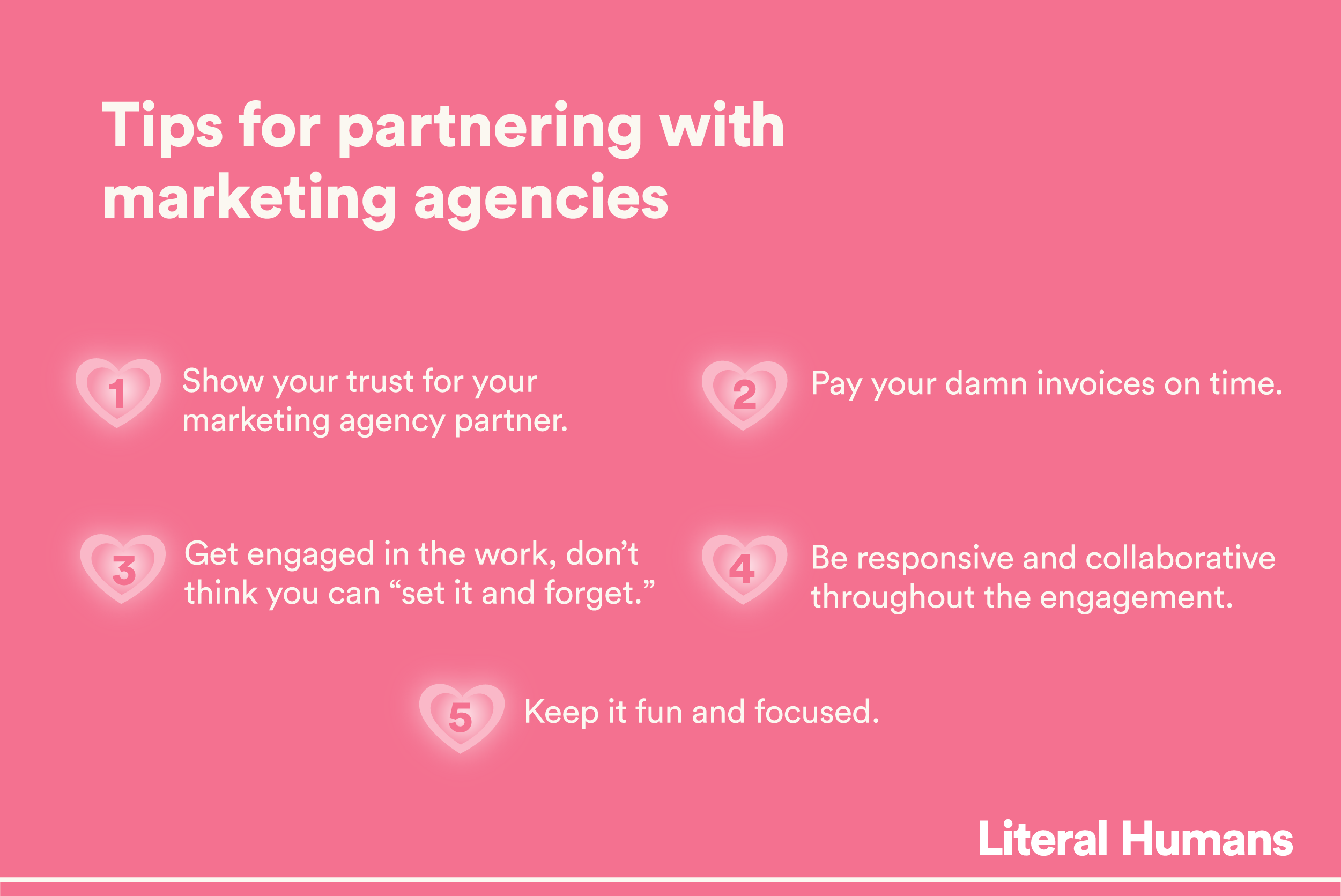 Like any great love, you inspire me.
You call me into a better version of myself.
When I was feeling down about less ideal engagements, you made me feel gratitude.
When I was bummed about this or that project snafu, you reminded me exactly how great agency-client collaborations should work:
Show your trust for your marketing agency partner.

Pay your damn invoices on time.

Get engaged in the work, don't think you can "set it and forget."

Be responsive and collaborative throughout the engagement.

Keep it fun and focused.
So, this one goes out to you, Most Perfect Tech for Good Startup Who Shall Not Be Named!
(And an honorable mention to every single fantastic client out there who realises that these partnerships are truly a two-way street.)
Don't you ever forget that all of that piping hot content strategy and sexy-ass execution are, like Ms. Janet famously said, all for you. 😍💖