As a nonprofit, you and your team probably spend hours each month drafting and redrafting grant application proposals, hoping to snag a slice of those precious funds that keep your programs running. 
But did you know that Google has a grants program for nonprofit organizations? Google Ads Grants allow nonprofits to place advertisements on Google virtually free of charge — and accessing them is much easier than winning your average grant application. 
Google is still the world's most-used search engine, with 84% of the global market share, and placing ads there can drive more website traffic, increasing awareness of your work and helping you create more impact. 
This is good news for nonprofits, many of which simply don't have the budget for paid search engine ads. You can use Google Ads Grants to: 
Increase your online donations

Raise awareness about your programs

Recruit volunteers

Gain participants for fundraising events, and more.
But of the estimated 10 million non-governmental organizations — or NGOs — worldwide, only 100,000 have taken part in the Google Ad Grants program since it launched in 2003. 
This means that those who jump on this opportunity will gain access to a whole new audience that your peers and competitors may not be aware of yet — even if you run a tiny local operation.
If you're ready to access free advertising money from Google, this article will provide the information you need to get started.
The Google Ads Grants Program
Gone are the days when getting the word out about your nonprofit was as simple as sending out direct mail, going door-to-door, or putting up posters around your local neighbourhood. 
As the world shifts to doing everything from working to banking online, nonprofits need to move with the times and find new ways to reach people through digital marketing. 
A great way to do this is under the Google Ads Grants program, which awards nonprofits up to $10,000 a month to advertise on Google.
Through the program, nonprofit organizations have the possibility to run paid search ads that appear at the top of Google search results pages and help them gain more visibility. 
Having the backup of a digital giant like Google can provide a significant boost to your nonprofit. According to websiterating.com, people are four times more likely to click on an ad if it's on Google than on any other platform.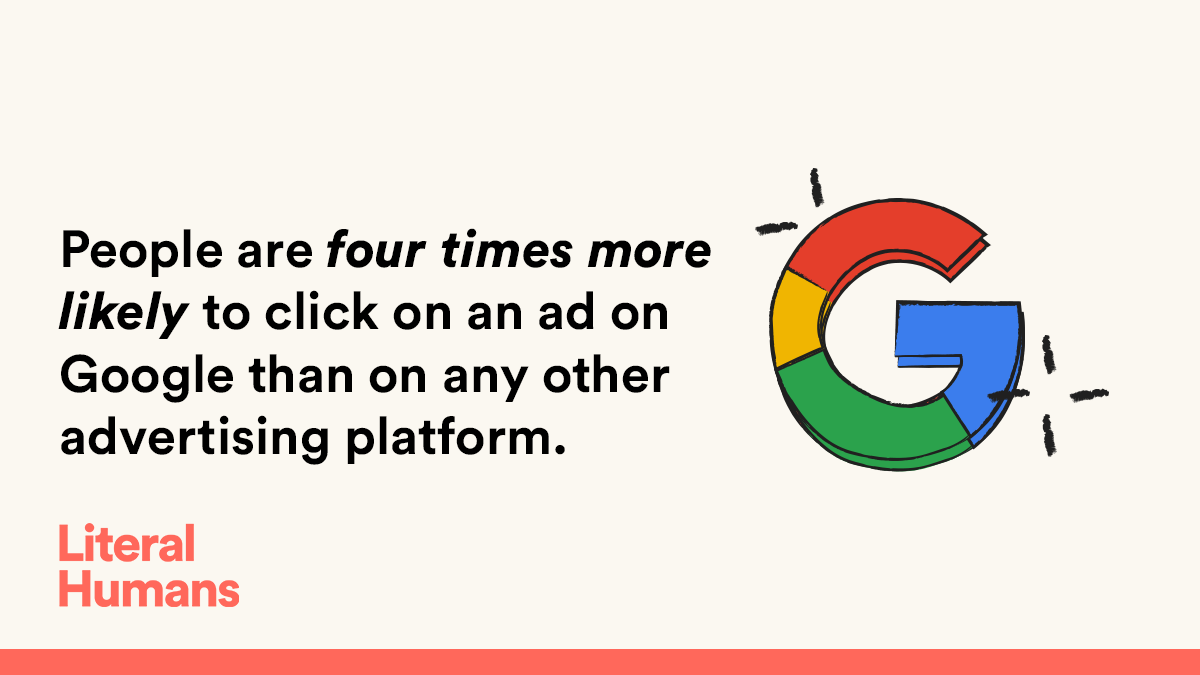 Some of the resources available to participants in the Google Ads Grants program include:
Google Workspace for Nonprofits

YouTube Nonprofit Program

Google Earth and Maps
The benefits of participating in the Google Ads Grants program for nonprofits are clear — free advertising money, higher click-through rates (CTR), and virtually unlimited reach. 
But you may be wondering whether your organization is eligible and, if so, how you can apply. The following sections will cover eligibility criteria and how to access and maintain your Google Ads Grants nonprofits account. 
Who qualifies for the Google Ads Nonprofit Grant? 
Eligible nonprofits may qualify for the Google Ads Grant if they are:
Not

a government entity or organization

Not

a hospital or medical group

Not

a school, child care center, academic institution, or university (Google has other options for

educational institutions

).
To be eligible for the Google Ads Grants program, your nonprofit must also meet the following criteria: 
Holds current and valid charity status (for example, in the US, you must have a current

501(c)(3)

status). If you're not in the US, you can check your

charity status

by country.

Agrees to the Google Ads Grant program's

terms of service

.

Has a website that is both functioning and provides adequate detail on your nonprofit work.

Has an SSL certificate verifying that it's a secure website.

Is verified by

TechSoup

.
You may be wondering whether your nonprofit is big enough to access the Google Ads Grants program. Don't worry — the grants are available to all organizations that meet the eligibility criteria, regardless of their size or budget. 
In fact, many smaller nonprofits stand to make huge gains by expanding their outreach through Google Ads. However, if your organization is fairly new, you might have to wait a few months before you're eligible to participate.
How to apply for a Google Ads Grant
Meet all the eligibility criteria? Here's how to apply for a Google Ads Grant in five easy steps:
Set up Google Analytics on your website

Register your organization on TechSoup

Sign up for a Google Nonprofits account

Get a token from TechSoup and add it to the sign-in page on Google Nonprofits.

Apply for your grant using the Google Ads Grants application form

.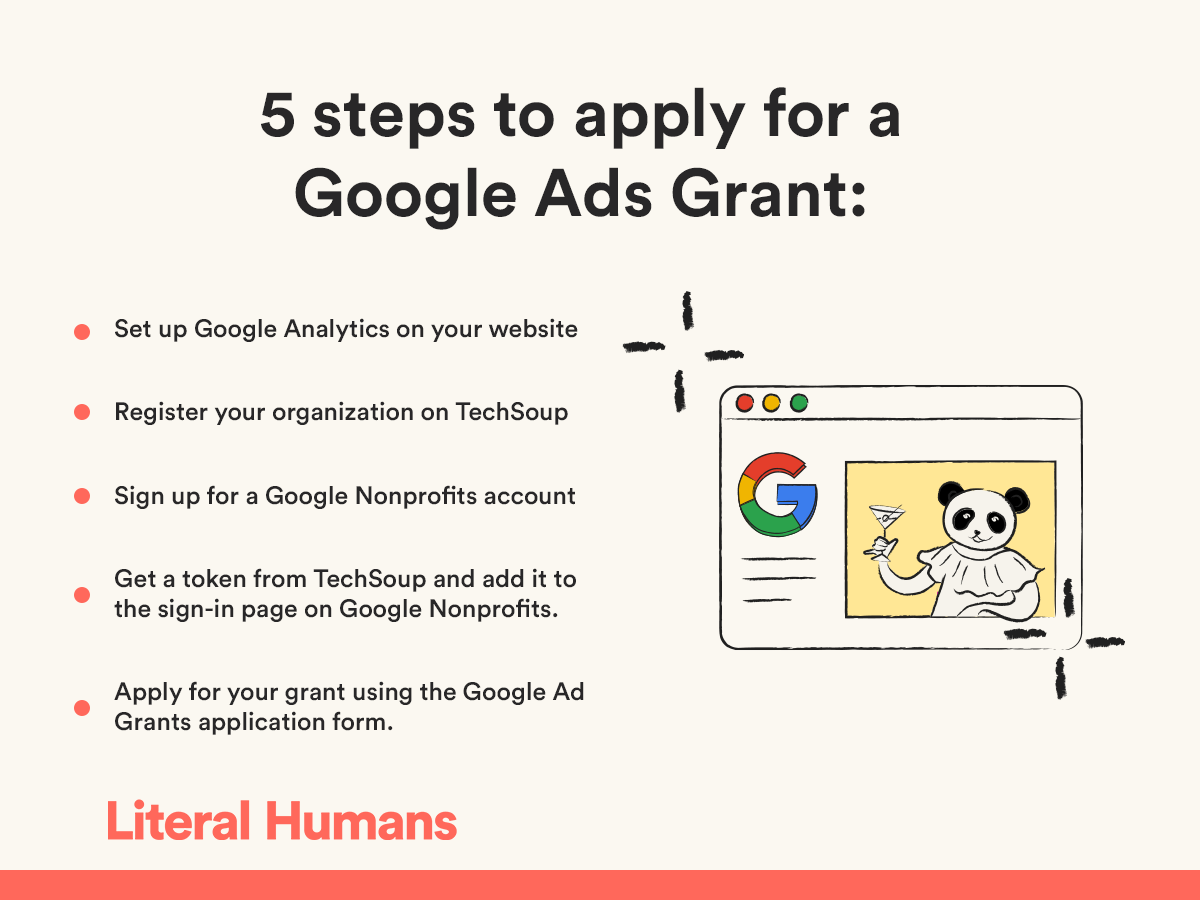 How to maintain your eligibility for a Google Ads Grant
Qualifying for the Google Ads Grants program is just the start of your journey. In order to keep your ads active on Google, you'll need to make sure you meet the following ongoing eligibility requirements:
All the ads in your account must link to the nonprofit URL that was approved in your application process.

Keep your Google Ads account active by logging into it at least once a month and making changes at least every 90 days. If your account becomes inactive, Google will suspend it, and you'll have to reapply for the program.

Your ads must reflect the mission of your nonprofit. You can advertise to sell products as long as 100% of the proceeds go to support your programs.

The ads you create mustn't point to pages that send visitors to other websites, such as your social media pages.

Your ads can't offer financial products, such as mortgages or credit cards. You also mustn't ask for in-kind donations in the form of expensive goods such as cars, boats, or property donations. Keywords related to this activity are also not allowed.

Your website can't display ads from Google AdSense or other affiliate advertising links while participating in the Google Ad Grants program.

Your ads must maintain a minimum CTR of 5%.

You must have two active ad groups per campaign.

Keyword quality scores must be above two.

The account must employ specific geotargeting.

Avoid using automated bid strategies, as they can take you over the $2 bid maximum. 
Make the most of your free Google Ad spend
Once you're set up, it's time to start creating your first Google Ads campaign. Here are six tips to help you get started.
1. Optimize your website for Google Ads
It's no good driving traffic to your website unless you have a strong landing page and clear call-to-action waiting for people when they get there. Your website should be easy to navigate and contain authoritative content that helps build trust in your brand.
Optimize your website for both mobile and desktop, and test your loading times to make sure they're not too slow. 
You'll also need to set up conversion tracking in Google Analytics and import it into Google Ads. This will help you monitor your conversions and make adjustments to hit the target of 5% conversions per month.
2. Define your target audience
Google Ad Grants come with features that allow you to define your target audience through geotargeting, demographics, and online behavior. These features will help ensure your ads are shown to the most relevant audiences.
3. Use lots of keywords
The more keywords you use in your ads, the better. With Google Ads Grants, you can use Google Keyword Planner and Google AdWords to carry out keyword research. Google requires your keywords to contain at least two words, and you should avoid keywords that are too generic. 
You might want to skip popular keywords that have a lot of competition, as your ad will be shown below all the other paid ads. Instead, target less common long-tail keywords that are relevant to your searcher's intent. 
Identifying negative keywords will also help you refine your target audience. Negative keywords are the keywords that you don't want your nonprofit to rank for — they're essentially the opposite of keywords. 
By defining your negative keywords, you prevent your ads from being shown to people carrying out unrelated searches, which will boost your conversion rate.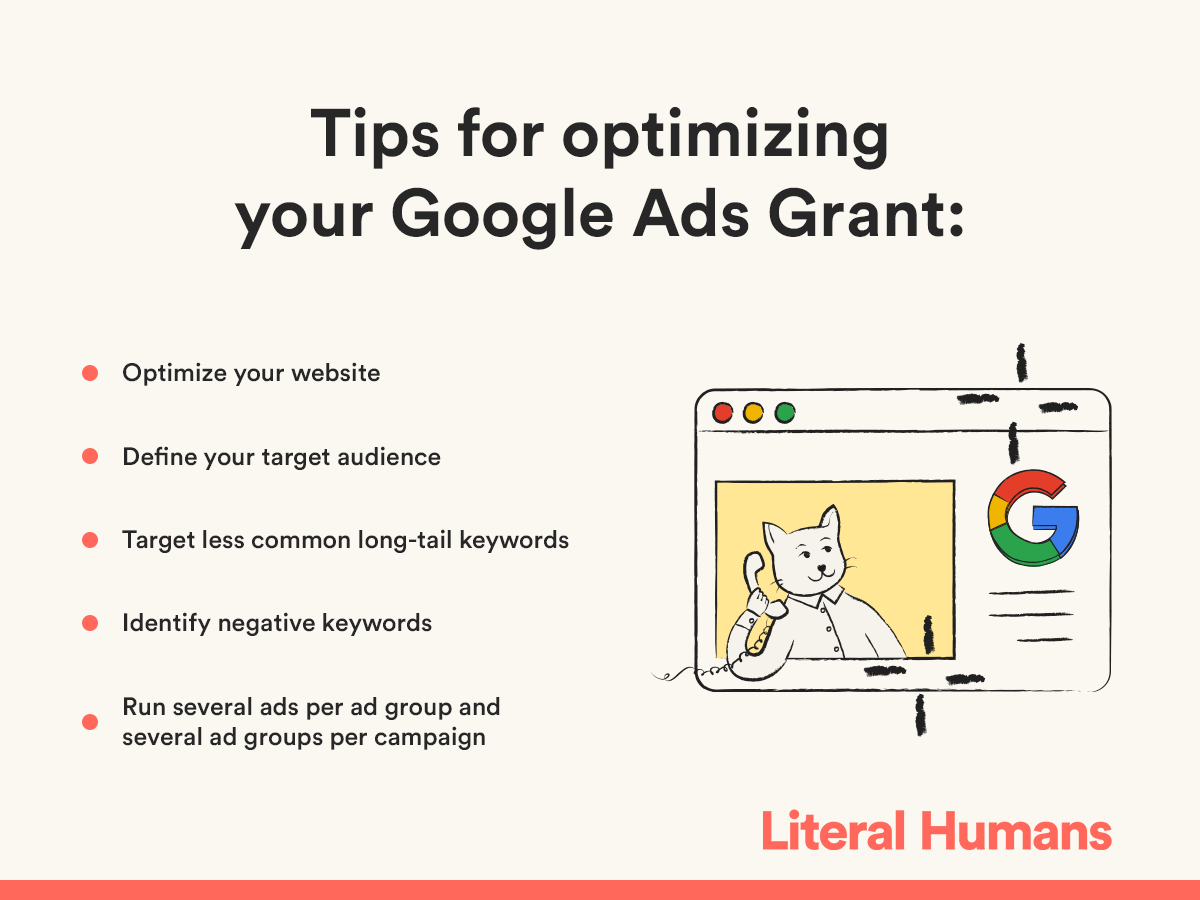 4. Use extensions
Using Google Ad extensions can buy you more on-screen space and drive up your click-through rates. Some of the best ad extensions for nonprofit organizations include:
Sitelink extensions: These are links to specific pages of your website. You must use a minimum of two per campaign, but for greater impact, you should aim to use six or more.

Callout extensions allow you to include phrases about what makes your organization unique and entice users to click on your link.

Call extensions add a phone number to your ad so people can reach you by phone.

Location extensions list your address, which can be helpful for people in your local area.

Message extensions provide users with the possibility to contact you via text message.

Structured snippet extensions allow Google to categorize your nonprofit more easily.
5. Create two or more ads for each ad group
Each ad group must contain at least two ads. However, it's best to have multiple types of ads as this gives Google a wider selection, and it can show the most relevant ad to each user. 
6. Run several ad groups per campaign
Similarly, the minimum number of ad groups per campaign is two, but more is definitely better. Each ad group should be tailored to a specific topic and group of keywords and should grab the viewer's attention. 
Boost your nonprofit's impact with Google Ads Grants and H2H marketing
Google Ads Grant management can be somewhat labor-intensive, which is why many nonprofits don't manage to use their full $10,000 monthly allowance. But maximizing this opportunity can make a huge difference to your organization's reach and impact.
Another way to improve your digital presence is to incorporate human-to-human — or H2H — marketing into your Google Ads. H2H marketing is a human-centric approach to marketing that can help you build a trustworthy image, win more donations, and have a greater impact on the world. 
To get started with H2H marketing, check out these six powerful tips for humanizing your brand.