Happy customers are important. But happy employees? Even more so. Because your employees are your business. Without them, the wheels stop turning.
You can't expect your team to deliver an optimal customer experience if they're miserable. As a leader, it's up to you to make sure employee morale is high, so they pass on those good vibes. Create this positive work environment, and you'll find it a lot easier to hang on to top talent.
In this article, we'll look at why employee retention is so important for saving money and keeping productivity high. Plus, six ways you can create an employee experience worth sticking around for.
What is employee retention?
Employee retention is an initiative that involves businesses doing everything possible to hold onto productive workers. It's about creating a culture where everyone feels respected and knows how they fit into the bigger picture.
While this is certainly a big goal to have, there are lots of different strategies needed to make this happen. The state of the economy and the industry you're in will also have a huge impact. 
When times are tough, and there's more competition for talent, you don't want to waste money losing your best employees and training new hires unnecessarily.
So, why else is retention important?
Why is retention important for reduced employee turnover?
When employee satisfaction is high, so is retention. Engaged team members who feel valued and connected to their work are far more likely to stick around than those who don't. It also creates a cohesive unit where people know they can count on each other to get the job done.
Losing an employee doesn't just negatively impact teamwork. It can also cost a company around 30% to 200% of a person's salary.
That's why employee retention is the goal. Do this right, and you'll contribute to:
More experienced staff members on your team

Increased productivity and revenue

Reduced human resources costs in advertising, recruitment, and hiring

Improved employee experience, culture, and morale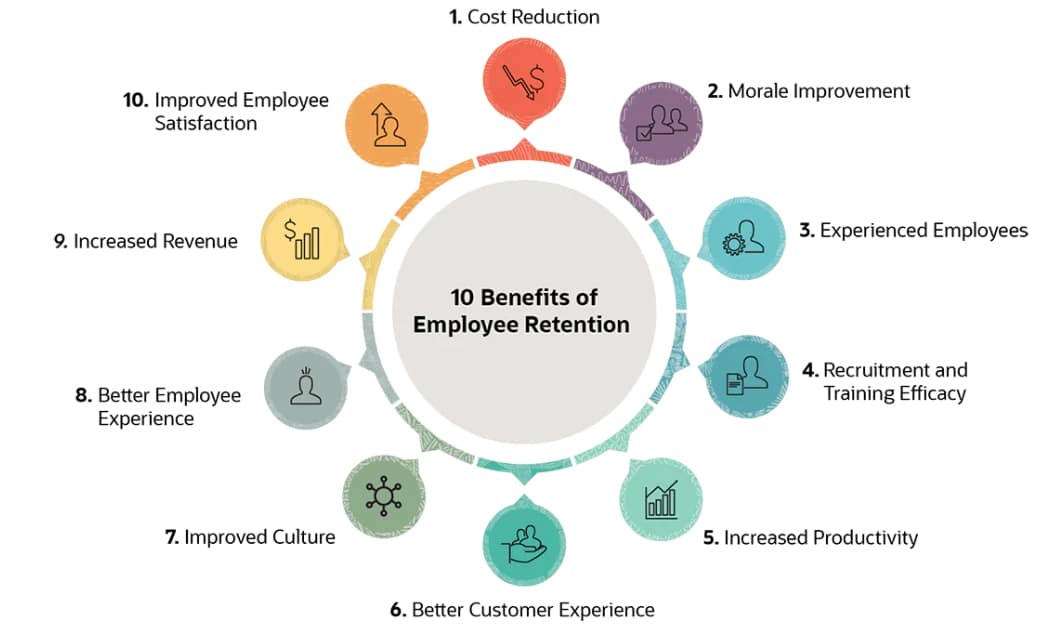 Turnover and retention are closely related. And a high employee turnover rate usually means there are deeper issues to fix. But team members will always come and go at different stages of their career path. It's just part of running a business.
6 effective employee retention strategies to increase job satisfaction
You can always improve your employee retention rate. Bowing down to every demand your team members have isn't the way, but it does mean being open and listening to their ideas.
It's not hard to increase job satisfaction. And these six employee retention strategies can help you hold onto your top talent for as long as possible:
Ensure a fair work-life balance

Ask employees the kind of perks they'd appreciate

Make wellness and well-being a priority

Create a positive company culture and work environment

Build an inclusive onboarding process for new employees

Hold exit interviews to find out why employees leave
1. Ensure a fair work-life balance
Most employees won't be happy when work eats into their downtime. Unless it's part of their role, that means evenings and weekends should be free from work-related stress. 
While employers can't be responsible for everything that goes on at home, they can do their part to create a more balanced schedule. 
In one recent poll, 81% of 3,500 employees agreed on the importance of flexible working. People want to be trusted to manage their own time and still get the job done. Employers who treat their team members like responsible adults (and not kids) are valued.
Another European study found the balance of leave and working hours ranked in the top three most important benefits for every country: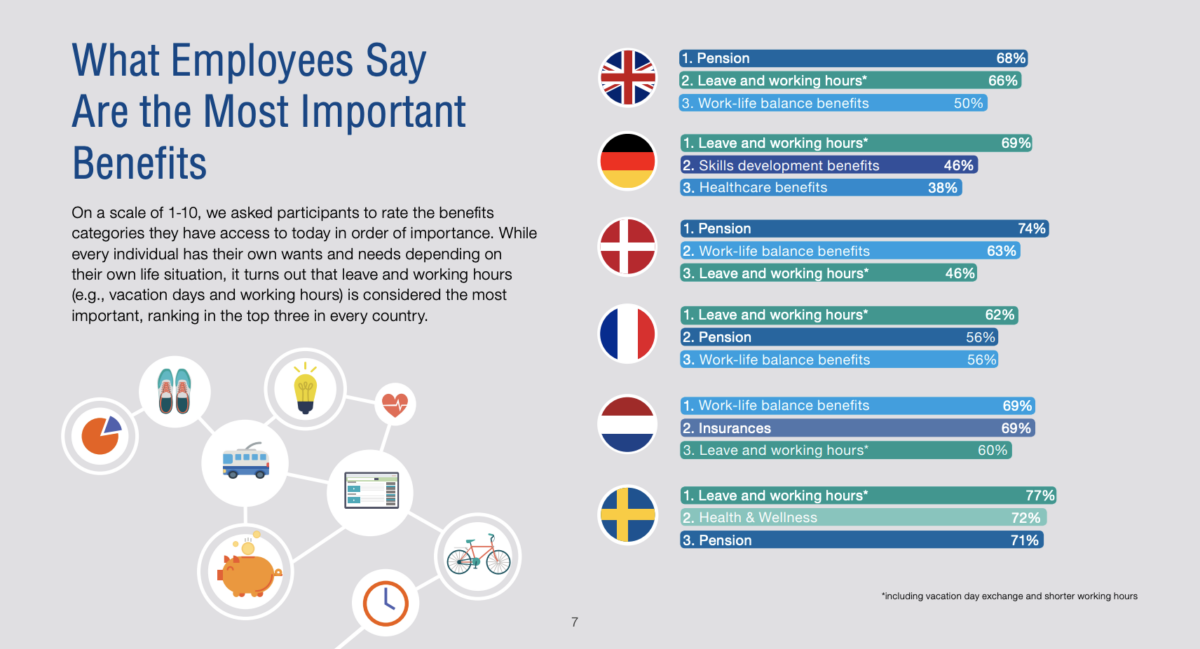 Whether that's remote work, a flexible schedule, or a four-day week, you want to make sure your employees have a healthy work-life balance to reduce burnout and turnover.
In 2021, Bumble's CEO gave all employees a fully-paid extra week off to combat pandemic-induced burnout. While that was related to unprecedented events, it spurred on the uptake of remote work.
It's easier for employees to overwork when they're not traveling to and from an office. So, it's best to know the signs of burnout in your employees to catch it early.
Some of the most common are:
Looking tired, drained, or overwhelmed most of the time

Feeling helpless or defeated

Having a detached, negative outlook

Procrastinating, doubting yourself, and taking longer to complete tasks
Every person is different. So, check in every so often to see how they're feeling. To create the best work-life balance processes, you may need to speak to employees one-to-one and figure out where there's overlap.
2. Ask employees the kind of perks they'd appreciate
Incentives like ping-pong tables and free snacks are cool, but they might not be what your employees really want. In a post-pandemic world with the rising cost of living, it's not surprising that employees want perks and benefits related to healthcare and income.
A recent study revealed the top benefits and perks British employees value most:
Paid sick leave (67%)

Flexible working hours (57%)

Pension contribution matching (46%)

Mental health

and well-being support (40%)

Performance bonus (39%)

Four-day work week on full-time pay (37%)
A Forbes Advisor study revealed similar insights. The top five benefits American employees want from employers are:
Employer-covered healthcare

Life insurance

Pension and retirement plans

Mandatory paid time-off

Mental health assistance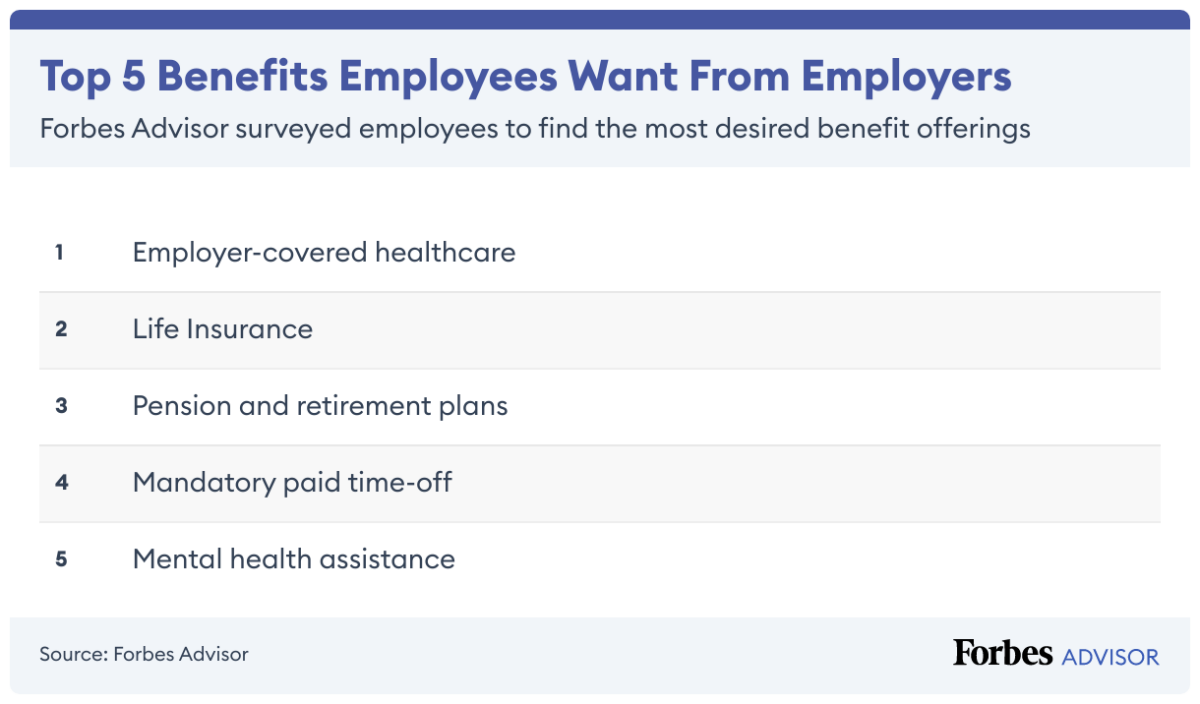 The results are clear. People value their time and health more than ever. If you're not supplying these "perks" for employees, they'll look elsewhere.
While we're at it, when was the last time you asked your current employees the type of benefits they'd prefer? You could be wasting money on a service or initiative that no one actually cares about or uses. Asking your team is the fastest way to find out.
Or, if you want to offer some alternatives on top of health insurance and extra time off, here are a few ideas:
Recognition programs

Team-building activities

Career development

opportunities

Childcare assistance

Gym membership

Cake on their birthday
Whichever you choose, get your team's input to make sure you're including valuable benefits that they really appreciate. Even the process of asking for their input will be looked at positively. Win-win.
3. Make wellness and well-being a priority
Employee wellness used to revolve around healthcare benefits. But things are changing. Because employers are starting to understand that well-being doesn't just mean how physically healthy you are. 
Wellness relates to your state of physical health—the ability and energy to function. Wellness is an essential part of overall well-being. But well-being is everything from your mental and emotional health to your finance management.
According to Gallup, there are five elements of well-being:
Career well-being:

You like what you do for daily work.

Social well-being:

You have meaningful relationships.

Financial well-being:

You manage your money effectively.

Physical well-being:

You have enough energy to do things.

Community well-being:

You're happy where you live.
As all these things improve, so does a person's quality of life. So, how many businesses are taking well-being into consideration?
One UK report found 46% of organizations have increased their employee health and well-being focus since the pandemic. Why? If an employee is physically healthy but is lonely and hates their job, it's unlikely they'll be engaged or productive. And that can be very costly.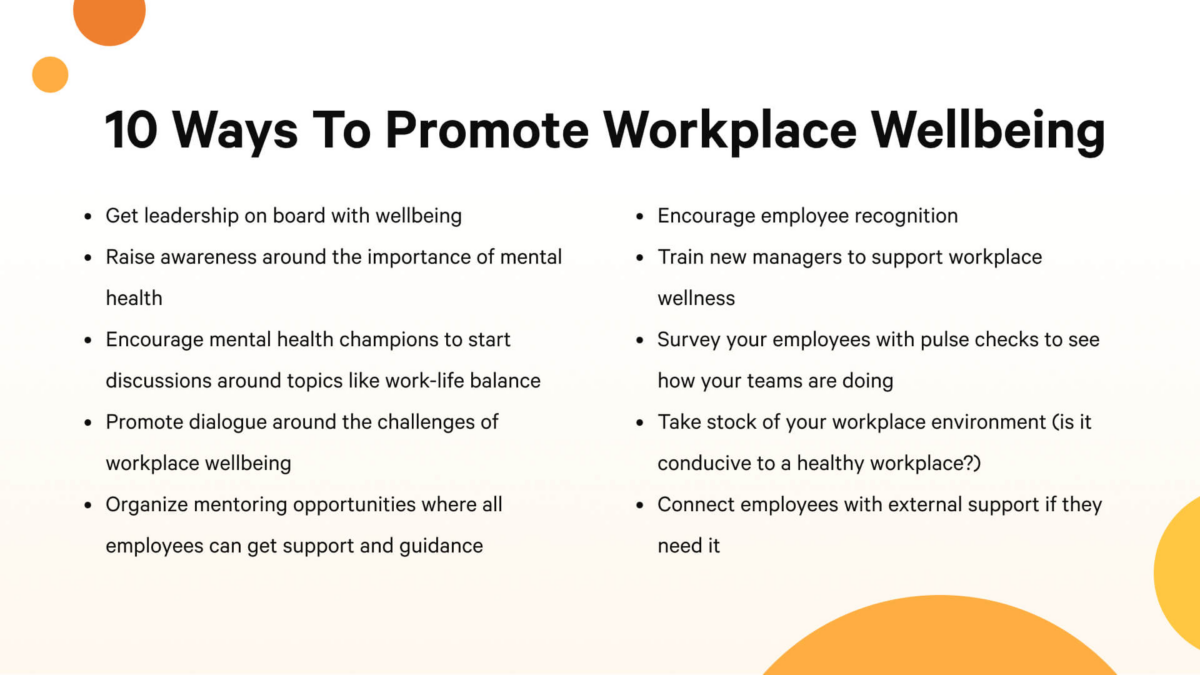 Employee engagement and well-being are also directly linked. When your team feels supported, they're more likely to do their best work. Well-being programs and initiatives can play a key role in increasing employee retention and engagement.
Unfortunately, only 46% of employees feel their physical and emotional health is supported where they work—despite 80% of employers claiming they meet these demands already.
So, how can your business make wellness and well-being a priority? Again, speak to your employees and find out. 
You could try implementing programs like:
Meditation and yoga classes

Lunchtime learning sessions on finance management

Coaching and therapy services

Fun fitness challenges

Volunteer days
Healthy, happy employees should be any employer's dream. They do better work and make your company seem more desirable to customers and prospective candidates. If you helped get them to that level of satisfaction, it's likely they'll want to stick around to maintain it.
4. Create a positive company culture and work environment 
You don't need any fancy retention programs to keep your employees satisfied. Your workplace culture and work environment simply need to be positive places where employees can feel psychologically safe and grow.
While your work environment is your physical or digital place of work, company culture is the attitudes, behaviors, and policies that affect the feel of your workplace.
More contributing factors to company culture include:
How employees are treated:

It's not rocket science. Treat employees well, and you'll have a far more positive company culture.

A company's core values and mission:

If everyone shares the same vision, there will be more collaboration and a driving sense of purpose.

How everyone communicates:

Employees that are asked for their input before decisions are made and are unafraid to suggest ideas can contribute to an innovative, welcoming culture.

The volume and style of work expected:

"High-performing" work environments can lead to unhappy, burnt-out employees if not managed correctly.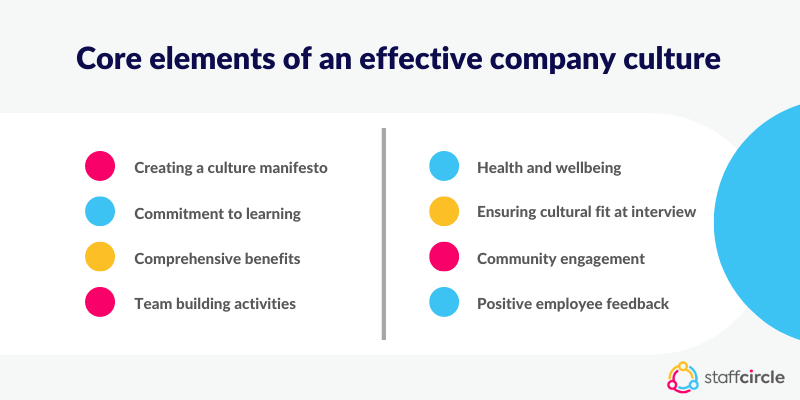 The right culture can help attract and retain talented employees. It can even give you a competitive edge over others in your industry. A toxic culture or work environment can do the complete opposite.
If others are offering a more pleasant day-to-day operation, why would team members stay somewhere that doesn't?
Retaining great employees doesn't need to be complicated. Most people are looking for these qualities from their workplace and management:
Make sure everyone knows what they're expected to do

Offer new opportunities for professional development

Work on your

leadership skills

to be the best you can be

Recognize both small and big wins amongst your team

Encourage open communication and honest feedback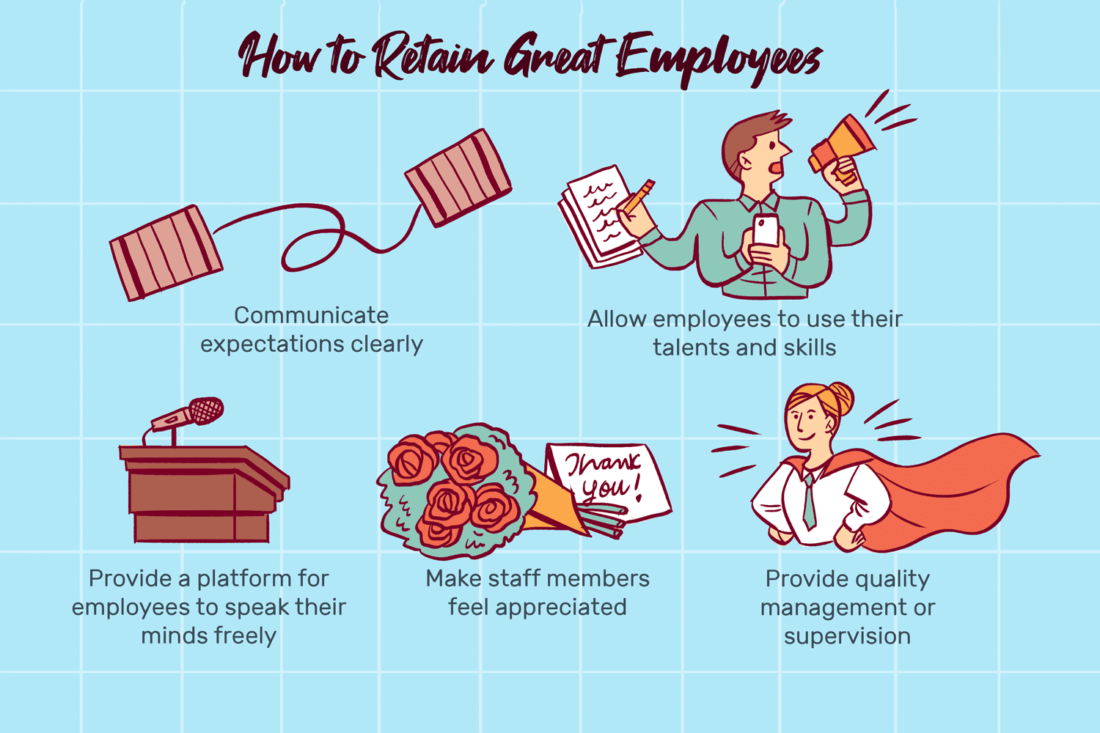 Studies show that a toxic culture has 10x more of an impact than compensation when an employee decides to quit their job. It shouldn't be surprising. If someone doesn't feel comfortable in their workplace, they'll probably do everything in their power to get out.
5. Build an inclusive onboarding process for new employees
Your employee retention strategy should start the second new hires walk through the door.
We all know the feeling. Starting a new job is a nerve-wracking experience. So, it's your job to make the onboarding process as inclusive as possible from the get-go.
Really, it's up to you how you do this. But there are some widely used tactics that other companies have found success with.
New employees at Zapier spend their first week getting to know their team and the company—including tools and systems they'll need to be successful in the role. By week two, they're given small tasks to complete. On week three, they collaborate on bigger projects.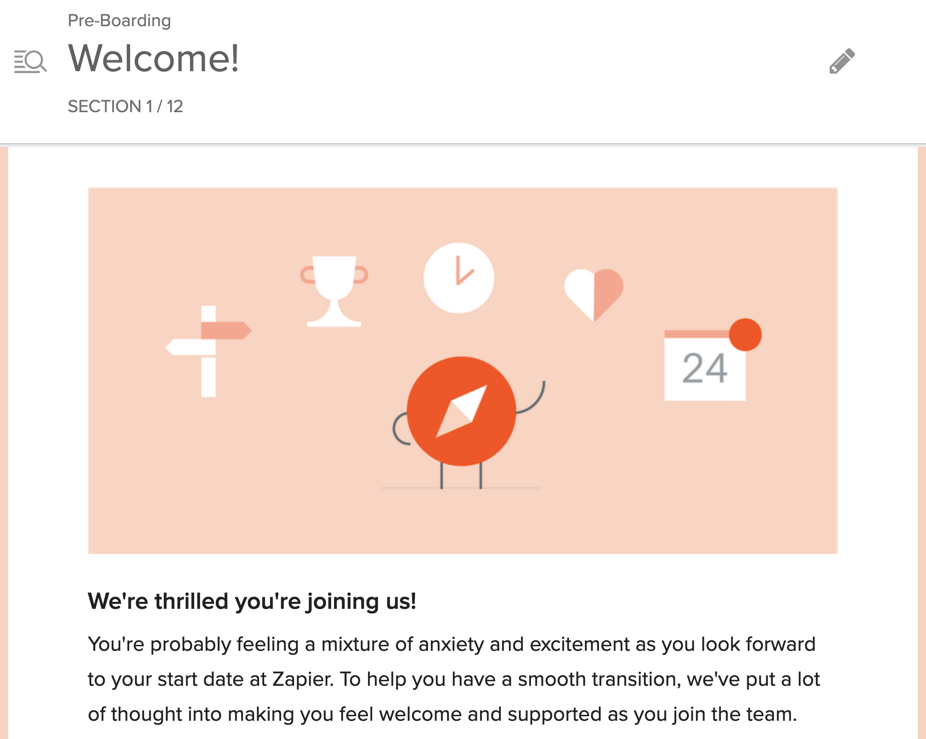 Instead of overwhelming people with a ton of information all at once, they're given time to settle in.
Managers at Google get a just-in-time checklist emailed to them before new hires start. This includes a few simple steps:
Explain the person's role and responsibilities clearly 

Match the newbie with an onboarding buddy

Help them build a social network

Set up monthly check-ins for the first six months
They don't have to complete this checklist. But a study found the team members of managers who did became fully effective 25% faster.
Buffer employees get five emails before joining to welcome them, collect and share important information, and set clear expectations for day one. They also give every employee three onboarding buddies:
A

hiring manager

to lead the onboarding process and various activities

A

culture buddy

to help share the

company's core values

and (no surprise) culture

A

role buddy

to help teach the systems used and expectations for the job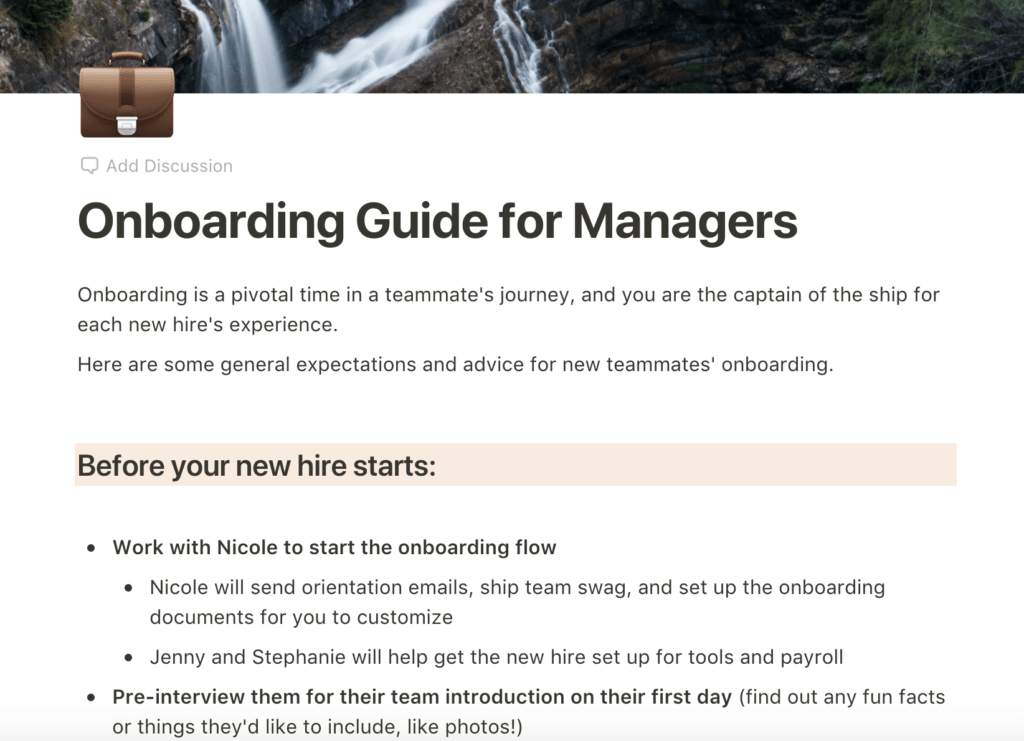 Buffer also has a master document for all commonly-asked onboarding questions to promote self-service learning.
However you onboard your new hire is up to you, but it's an experience you'll only get one shot at. Giving an employee the space to settle in, along with inclusion activities and buddies, can make them feel like part of the team faster and for longer.
6. Hold exit interviews to find out why employees leave
If it's too late to save your bottom line, there can still be a small silver lining. If someone's decided to leave, find out why. It sounds a bit strange, but exit interviews are a critical part of employee retention.
You may think you know the employee experience you're offering. These interviews are a way to truly find out. Better yet, have someone from HR or an external organization take the interview. That way, you're more likely to get honest answers.
If you have a high turnover rate, exit interviews can help you identify some of the common reasons why. You're losing a good employee. But you'll be in a stronger position by the end because you'll know where to target to make improvements.
It's a tough pill to swallow, but it could be that poor management style or lack of benefits are the driving forces of turnover.
Here are some different questions you can ask during an exit interview to find out:
What made you decide to start looking for another job?

Would you ever consider returning to this company? If not, why?

Did you feel like you had the tools, support, and resources needed to be successful in your role?

In which ways do you think this organization could improve?

Would you recommend working here to a friend? If not, why?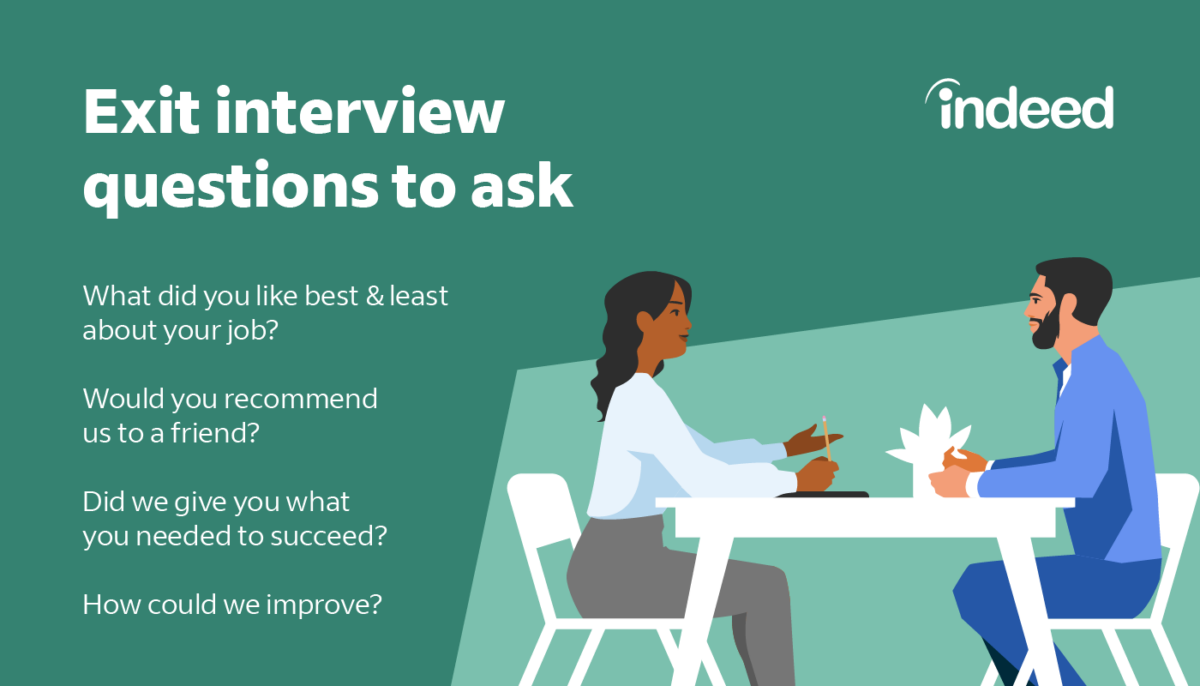 It's always best to ask open-ended questions or follow up with one. A "yes" or "no" won't give you much data to use to improve.
While it's easy to let emotions get the best of you here, use the opportunity to find out where you could have done better. Remember, turnover is a natural part of any business. Figuring out how you can reduce turnover spurred on by poor internal processes is what you're after.
How could you hold on to top talent for longer?
An organization's ability to hold onto its best employees comes down to one main goal—creating a positive workplace and culture where people are truly valued. 
You can't have happy customers and miserable employees. It just doesn't work. But if you ask for your team members' input, prioritize their well-being, and give them the opportunity to learn new skills, they'll go above and beyond in their roles. 
People make this process seem a lot harder than it actually is. Essentially, treat everyone who works for you as someone you care about (not just a metric), and you'll find employee retention comes naturally.