You don't have to go it alone
A content marketing strategy and tons of keyword research. That's what Oyster had when they got in touch with us in March of 2021.
And what were they looking for?
An agency to help them refine their strategy, scale their SEO efforts, and support their content marketing.
The request was clear and so were the results we got from this partnership. In the time we worked together (nearly two years), Oyster grew their organic search traffic more than four times.
It's bittersweet, really. Wrapping up a project with one of our longest-standing clients, but at the same time just reveling in the fact that during the time we worked together, we managed to get some great results. Not only that, but Oyster's valuation went from less than $100 million to $475 million to hitting the $1 billion unicorn valuation mark, all while growing to over 600 employees.  
Of course, we can't take credit for all this growth, but knowing that we played a part in it is something, maybe even a little bit more than something.
Here's a bit more on how we were able to help and support Oyster…
Building onto existing work
We pride ourselves on our ability to create winning content strategies from scratch, but Oyster was a bit different in that they already had some content. What they needed were comprehensive digital audits and assistance in building more robust content marketing efforts, with a particular focus on SEO.
Before we jump into the why and how of the audits, or how we developed the content strategy, let me just highlight that I loved that when they partnered with us, Oyster had a clear goal of improving their SEO.
Never underestimate the power of clear project goal. These are what will guide all the work you do and determine the effectiveness of said work. In this case, we ran the digital audits with our goal in mind; the goal wasn't an afterthought.
Running the audits
Digital audits—which are an assessment of all of a company's active digital marketing channels—are crucial. Take a website audit, for example. With it you can:
See the website areas that aren't properly optimized for SEO; think missing meta descriptions or image alt attributes.  

Evaluate content quality and how well-optimized existing content is.

Identify new SEO opportunities to implement on the site. For example, this can include identifying content gaps or opportunities for content repurposing.

Evaluate a site's links to identify potential issues and opportunities in the site's backlink profile.

Improve the information structure to make content easy to find for both website users and search engines.
A social audit would help Oyster take the guesswork out of their marketing efforts and help them refine the metrics they use to measure ROI.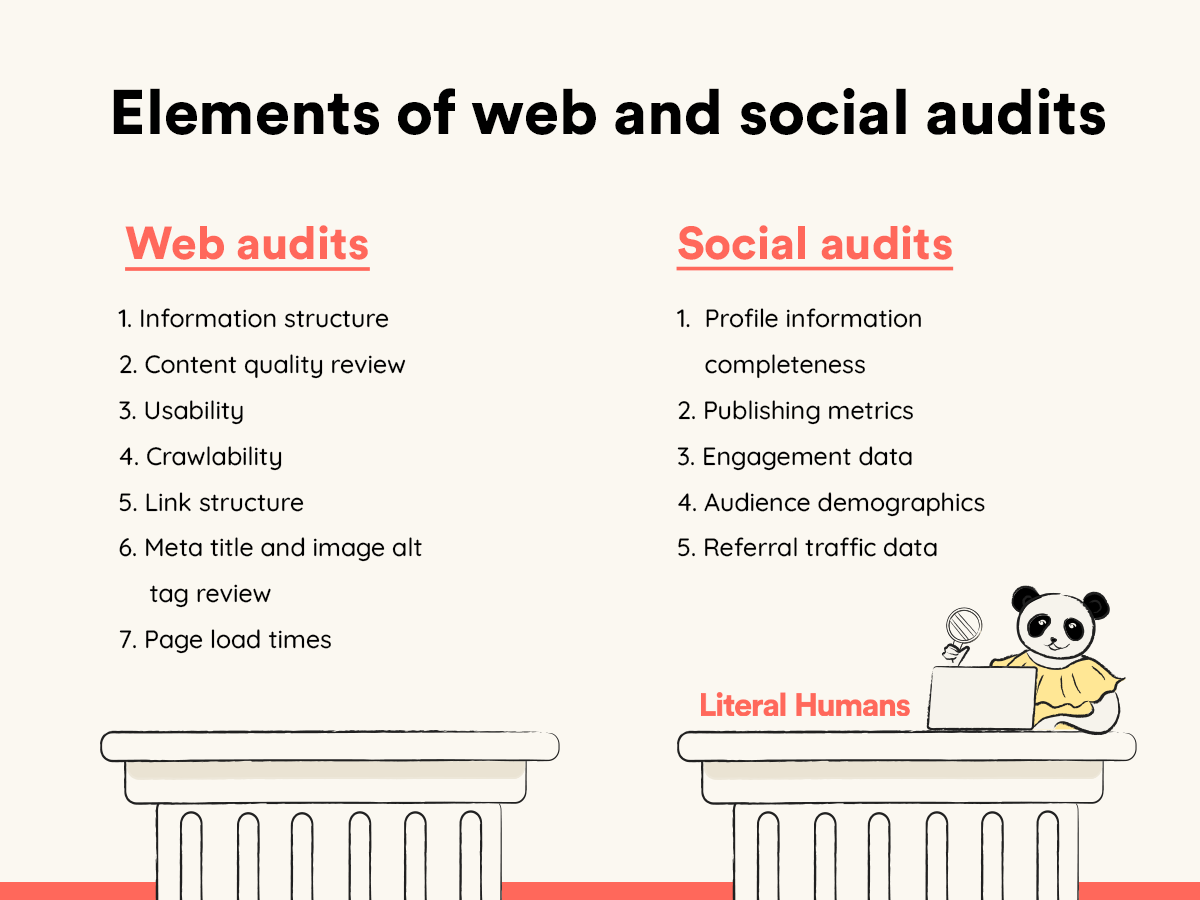 Running web and social media audits for Oyster basically meant we'd be able to show what was working, what was missing, and just how much value we could bring to this project, essentially making it easier to collaborate and come up with an action plan.
So, we ran full web and social audits, complete with some technical analyses, which we then used to map a way forward.
For instance, during the web audit we discovered that Oyster could potentially get some quick wins by making some slight UX tweaks and adding CTAs that would help move website users a bit further down the sales funnel.
I've got to say that when Oyster partnered with us, they already had an awesome website and a great social media presence, but the audits helped us identify opportunities to refine the existing content strategy and make it more solid.
Using the data and findings from the audit, we got together with Oyster's team to provide some feedback and guidance on how to best incorporate the audit results into their strategy.
A little side note…in the case of Oyster, we got some first-hand experience working with a brand that's experiencing hypergrowth, and it was a phenomenal experience, to say the least.
Just to give a bit more context on the kind of growth we're talking about: when we started working with Oyster, they were going after SMEs, but they have since grown to a point where they are looking to challenge big names in the HR tech space. That's how much growth they have achieved, and the best part is that we got to be part of it.
Now, back to working with Oyster's in-house team.
Working with an in-house team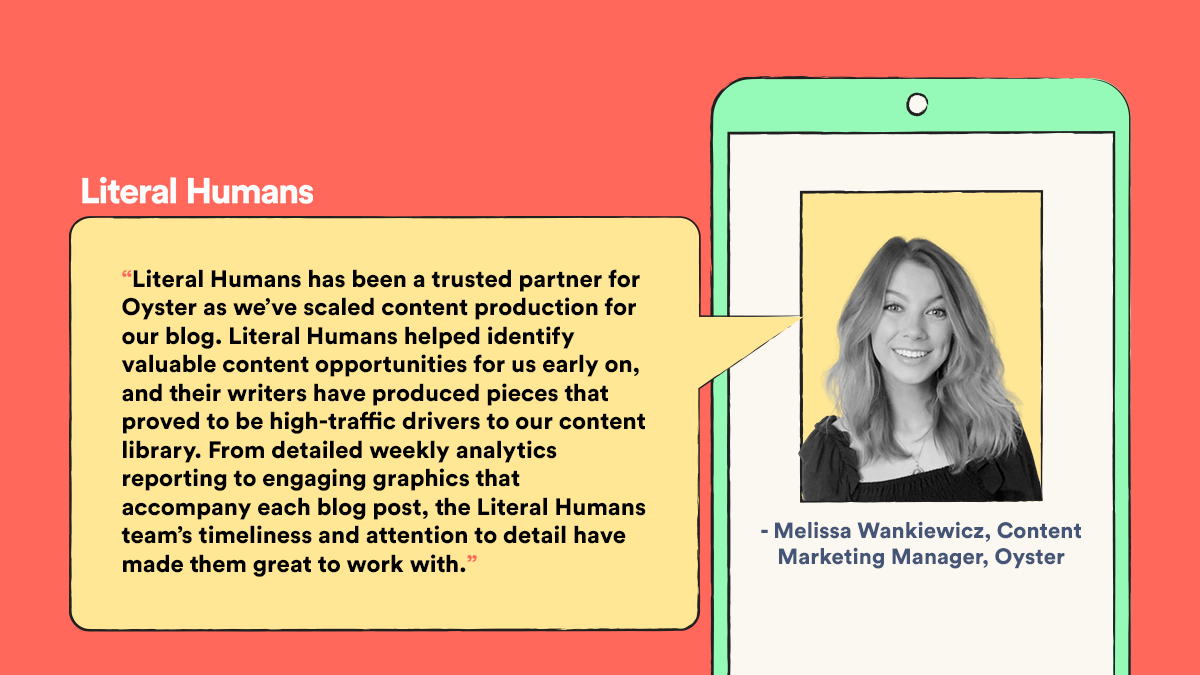 Once we had a strategy in place, we began content creation. A big part of the strategy focused on creating long-form, topical, keyword-focused, evergreen content.
The beauty of evergreen content is that it doesn't go out of style or lose its relevance. We understood this getting into the project, and so we knew we could use this content type to achieve our goal of increasing organic traffic over time.
How does this work?
Since evergreen topics are often searched, focusing on them means that your content will likely:
Make it easier to start ranking more quickly on search engines;

Get more people to check out your product or service; and

Enable you to achieve sustainable results.
That said, with Oyster, we also had to factor in the brand's different personas. We're talking about six different personas ranging from remote workers all over the world to Heads of People who are concerned about taking care of their remote talent to Heads of Finance who are concerned about compensating remote employees well to C-suite executives who want to grow their businesses with distributed teams.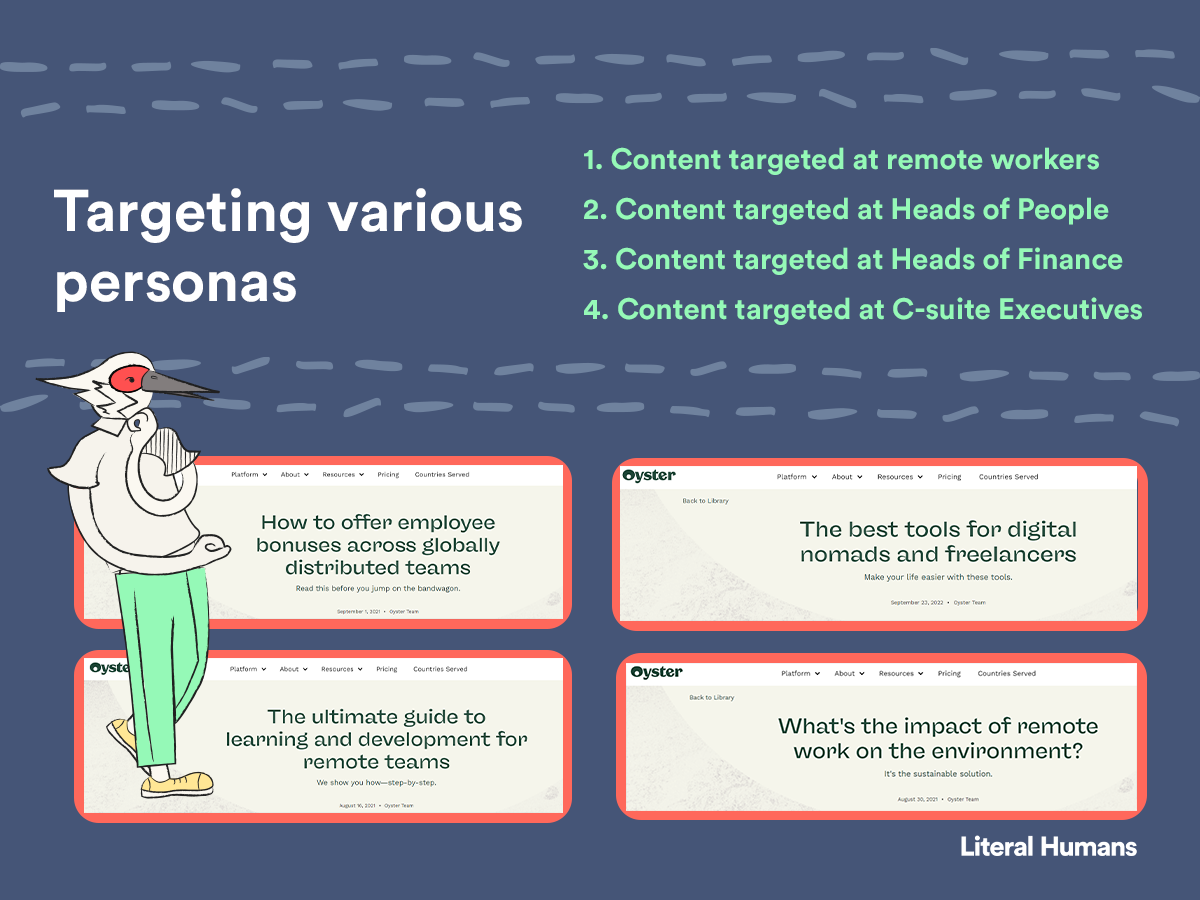 Creating long-form content for the various personas kept things interesting, but our team went beyond simply writing.  
Initially, Oyster came in with some design guidelines, but they made it clear that there was a bit more space for their designs to align with their branding, which had a preference for human-to-human-focused connections.
Our design team collaborated with them to achieve this alignment, putting people at the center of both the content and design.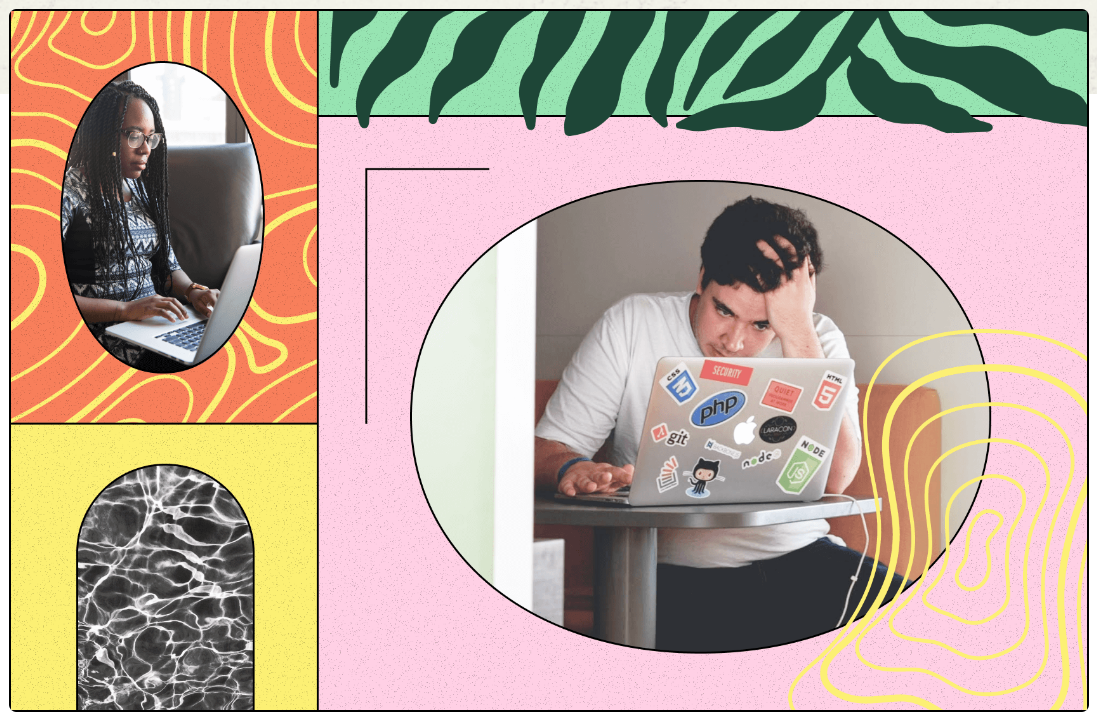 We also worked with Oyster's SEO team to continuously firm up keyword research and integrate it into the content marketing strategy. Plus, we also did some content promotion.
In content marketing, you can't create content, cross your fingers, and hope that it will do well miraculously.
So, we researched the best channels for promoting HR tech content (trust me, you can't have a cookie-cutter approach to promo, or any element of content marketing for that matter) and promoted the content we created.
Keep in mind that content promotion was essential for what we were trying to achieve—to rank well and bring in some traffic.
The results speak for themselves.
Results: More than quadrupling organic search traffic
During our partnership with Oyster, our main focus was on creating SEO content to drive organic traffic growth.
All I can say is "venimus, vidimus, vicimus." If this looks familiar, then it's because this is the plural form of the famous Julius Caesar "veni, vidi, vici" quote—"I came, I saw, I conquered."
Okay, so maybe this expression is used more to talk about quick victories, but I think it still fits. We may not have gotten results overnight, but together with Oyster's in-house team, we were able to more than quadruple organic search traffic over time, from when we started our engagement in Q1 of 2021.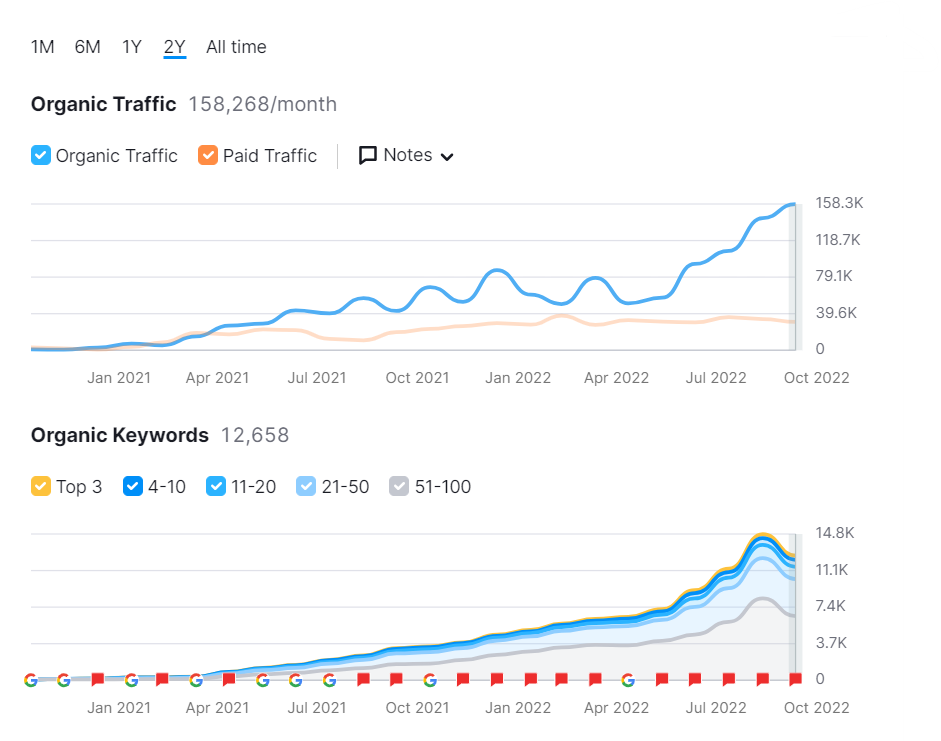 Behind the results
We were able to help Oyster achieve these results by employing several strategies.
For instance, we optimized some of the existing content for SEO. Moreover, we: 1) conducted some competitor and content gap analyses to look for opportunities where we could score some quick SEO wins, and 2) used findings from the analysis to prioritize the content we created.  
Oyster's 'Mexico labor laws' piece is an example of how we leveraged content analysis to get some good results in a relatively short space of time.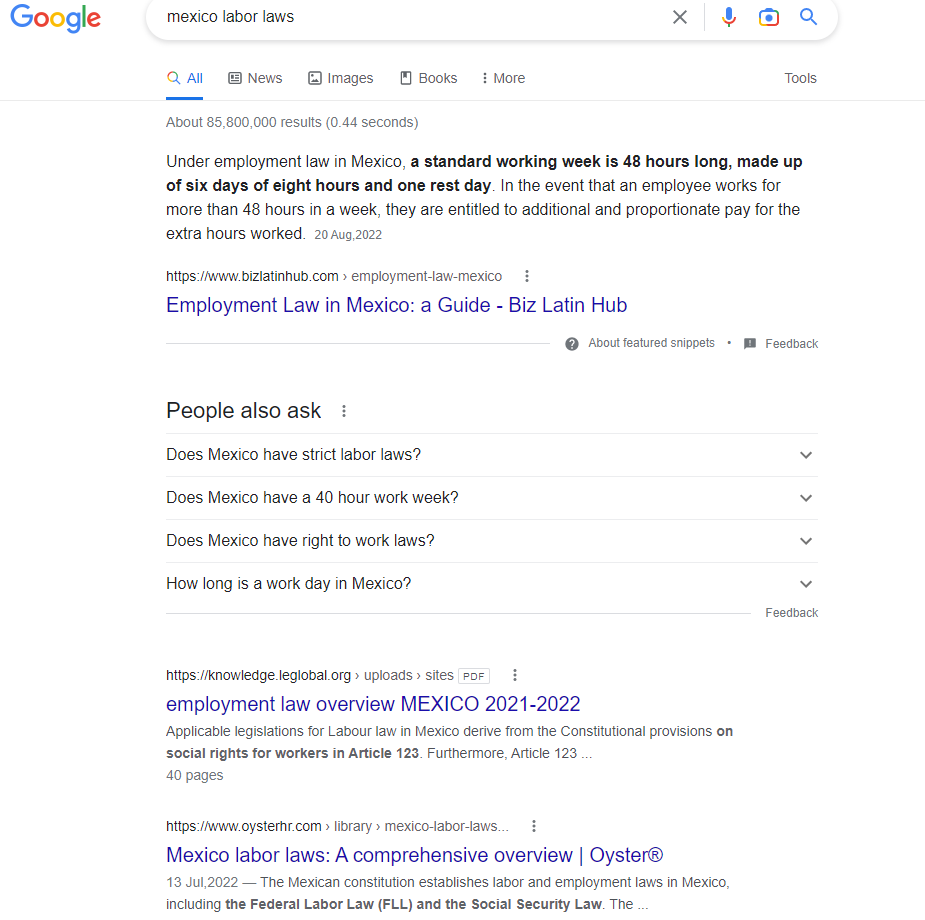 There was also the decision of leaning into what Oyster is all about. I think part of the reason why Oyster's content did (and still does) well is because of its nature.
You see, Oyster has such a powerful social mission—"to overturn the status quo and create a more equal world of work where companies everywhere can hire, pay, and care for talent anywhere."
The best part is that Oyster walks the talk. As a fully distributed company themselves, they are proof of the kind of value creation and explosive growth that can occur when a company has access to the best talent, no matter where they are located in the world.
The content we created resonated with Oyster's mission and social credentials, making it even more impactful and more likely to be shared widely.
What I'm saying here is that creating content that allows your mission to shine is a great way to get more out of your content marketing efforts.  
I'd also like to point out that as a brand that aims to drive sustainable growth for mission-driven brands, we definitely achieved our goal with Oyster.
More than just SEO support
Our work may have been SEO-driven, but we did support Oyster with other content types.
One of the main things we did was create thought leadership content as well as some reactive pieces on several timely topics. Here are some good examples of this:
The thought leadership piece we co-created with senior leadership at Oyster. Oyster CEO and Co-Founder,

Tony Jamous, shared all his insights on building a distributed

team in this piece.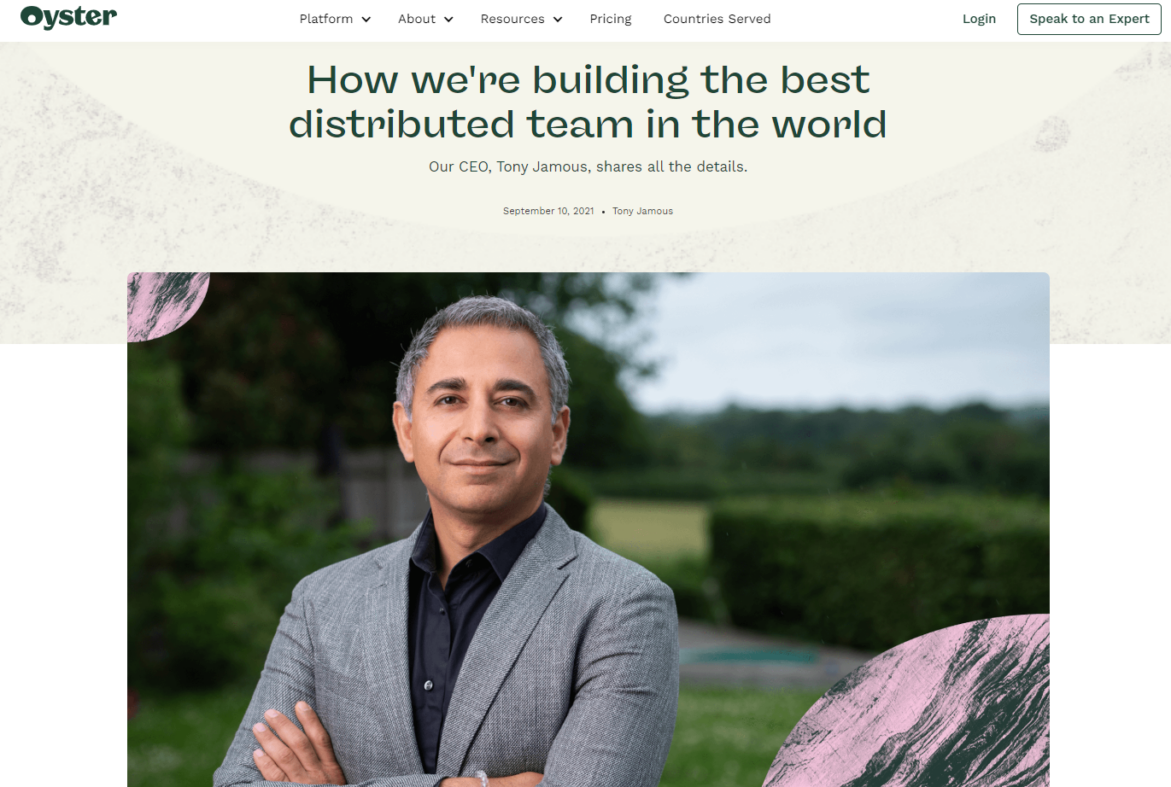 The reactive piece highlighting what Amazon's HR issues showed about the state of HR tech

— this piece was created at a time when

Amazon was under fire

over mounting allegations of having a culture that fostered discrimination and sexual harassment.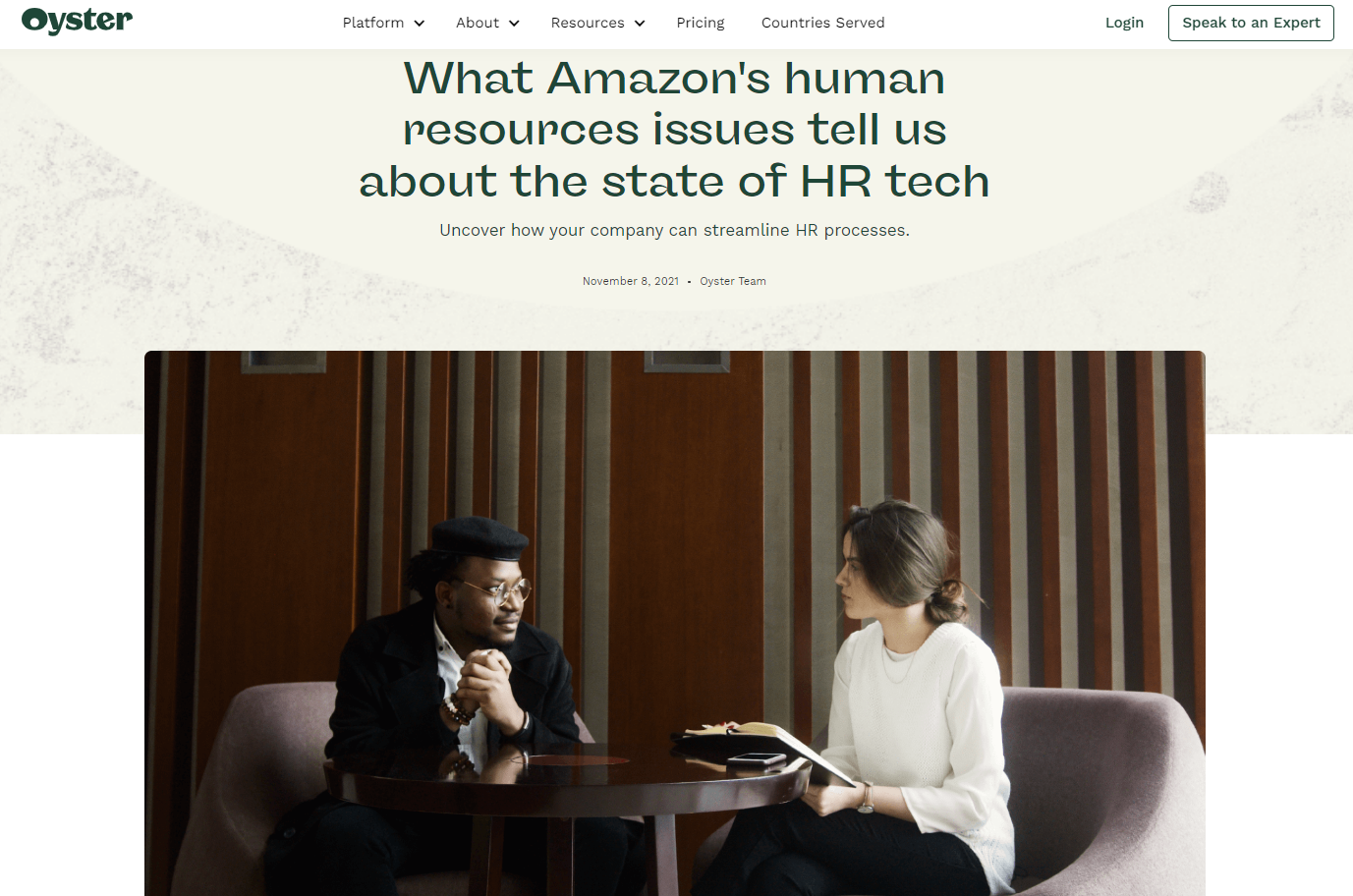 We also helped Oyster create an ebook. The premium asset drove thousands of ebook downloads to bottom-of-funnel customers. Simply put, those who downloaded the ebook were more inclined to purchase Oyster as a product.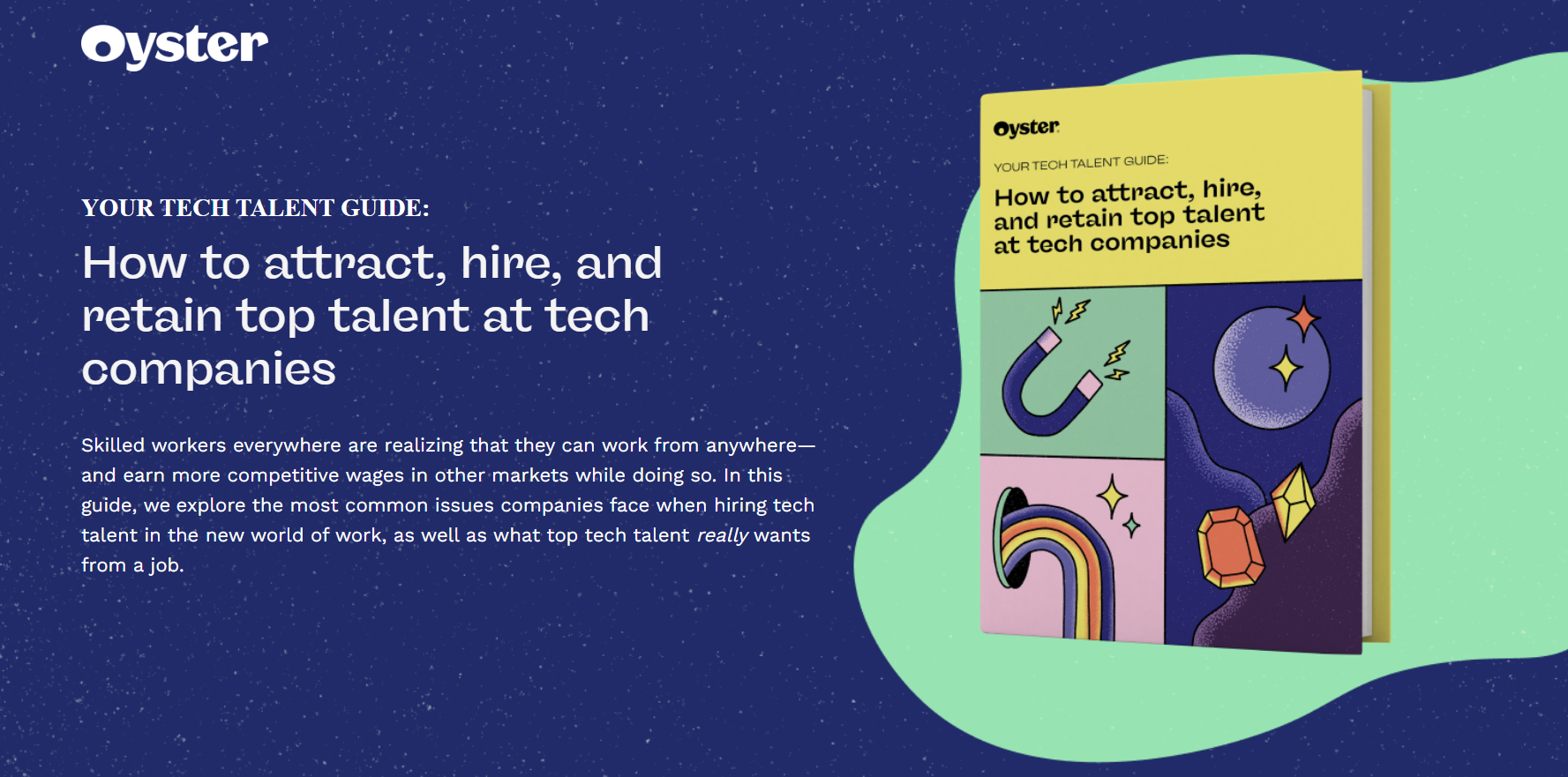 The results we were able to achieve with Oyster's ebook are proof of just how useful, or maybe even imperative, premium assets are for boosting engagement and taking a content marketing strategy to the next level.
It's easy to see why when you consider that the high value such content offers in comparison to ordinary content translates into better engagement and higher returns.
Remember this the next time you're thinking about supercharging your content marketing.
Of course, one of our journey's biggest highlights was getting Oyster Co-Founder, Jack Mardack, on our Tech Can't Save Us podcast.
The conversation was super engaging and undoubtedly thought-provoking. I've got to give it to Jack because he gave us what was one of the most interesting responses to our famous "What's one problem that tech can't solve, and why?" question.
Building relationships
One of our core tenets at Literal Humans is relationship building.
When it comes to Oyster, we were able to foster positive relationships that enabled us to work together, not only producing great content, but equally great results.
The monthly regular calls and all the chats in between meant everyone stayed on track to achieve what we set out to do. This may seem trivial, but don't forget that poor communication is the number one reason why projects fail.
I digress, but Oyster was a good reminder of how much you can achieve when you build a good partnership and work on achieving a clear common goal.
Strategies were refined, lessons were learned, growth was achieved, and relationships were built. That's what we do at Literal Humans.
Your content marketing needs may not be quite like Oyster's, but the principles of good content are pretty universal.
We can help you level up your content marketing with robust strategies that drive results.