In the branding and design world, you'll often hear about big brand redesigns that are driven by a freshly-installed business leader's desire to "put their stamp" on a company – a need to showcase an outward change, but often not too much thought put into why.
Sure, great design can help make your stuff look pretty. But truly successful brand redesigns start from an authentic place. If you want to show the world that you are a new kind of company, you have to deeply, intuitively understand your own why. To create meaningful design, the only place to start is your meaning and your intention.
MeetEdgar is a small bootstrapped start-up that launched a popular social media scheduling tool, used by all kinds of digital influencers and thought leaders. The tool itself allows users to create, schedule, and even automate social media posts, across multiple channels and accounts, all from a single dashboard.
This means that heavy social media users, who were previously spending hours everyday posting on social, can now let MeetEdgar's tool run their social operation seamlessly in the background with pretty minimal management on the user's part.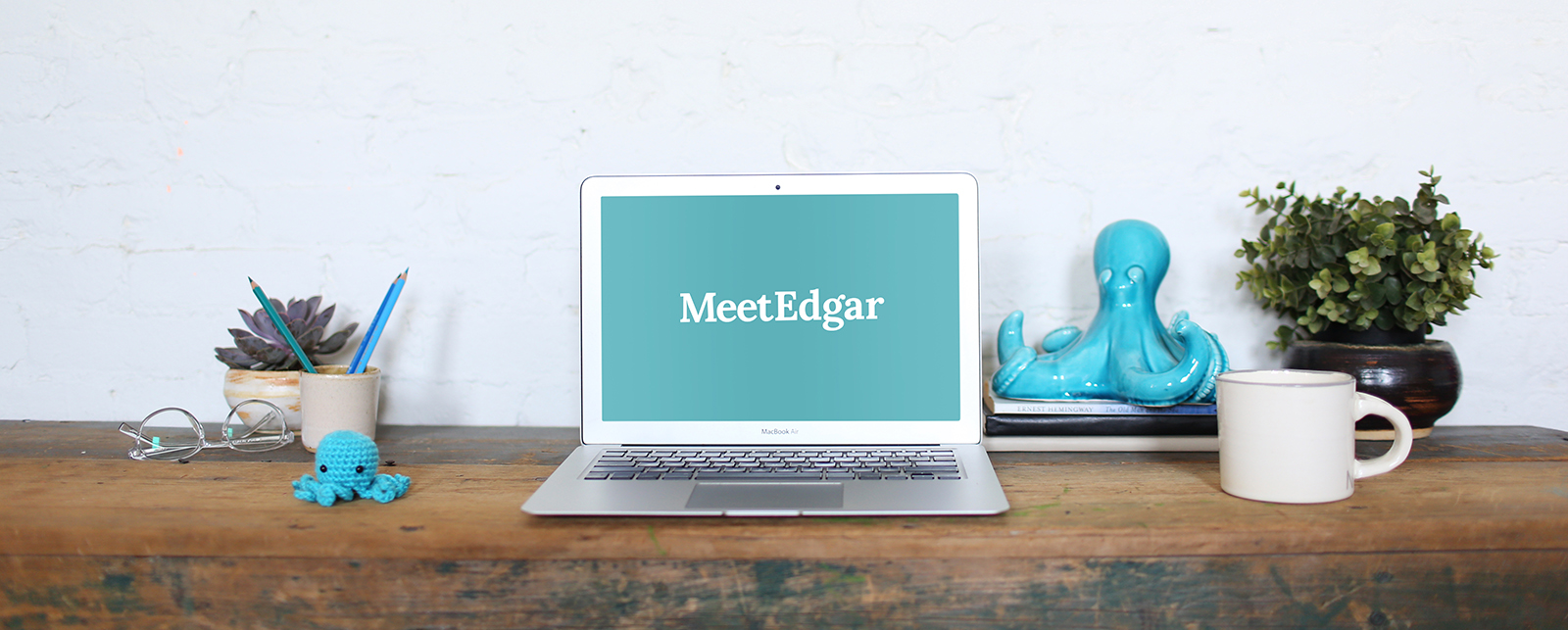 MeetEdgar had succeeded in creating a one-of-a-kind SaaS product for social, and over the course of its first couple years, MeetEdgar had done a brilliant job of gathering a strong, loyal customer base. But as time went on, their new initial rapid user growth slowed down, and MeetEdgar was eager to grow its following and revenue faster.
To get past this initial stage user plateau, the MeetEdgar team launched a number of simultaneous marketing initiatives, and we worked directly with their team to tackle a redesign of the brand and its marketing channels.
Design never got prioritized in their initial few years of start-up sprinting towards massive user growth, so we first started by refining and elevating their visual branding, followed by a complete overhaul of their website.
Through this redesign initiative, we aimed to 1) Clarify what MeetEdgar stood for, 2) Educate potential customers about the product, and 3) Generate more leads from the website, and 4) Encourage those leads to follow us down that sales funnel until they became users and even loyal advocates!
Here's what we did to help MeetEdgar…
Start with the Brand
Design can often feel like you're just talking about colors and shapes and patterns – you know, the fluffy stuff. But in order to really execute an authentic and thorough rebrand, we say, you always have to start with meaning.
We worked with the MeetEdgar marketing team to hone in on the brand characteristics we wanted to portray (playful, modern, energetic) and how we wanted to express the brand's message in a concise tagline (We ended up with a cheeky, casual tone: "Social Media, minus the time waste-y parts"). Getting clear on who we were and what we stood for allowed us to carve out our own memorable niche in a quickly growing market, filled with well-funded competitors.
Once we'd nailed down the core meaning behind the brand, we worked with MeetEdgar to build a new design system – new colors, typography, photography styles, illustration styles, icons, etc. – all with the intent of communicating the brand's newly defined personality.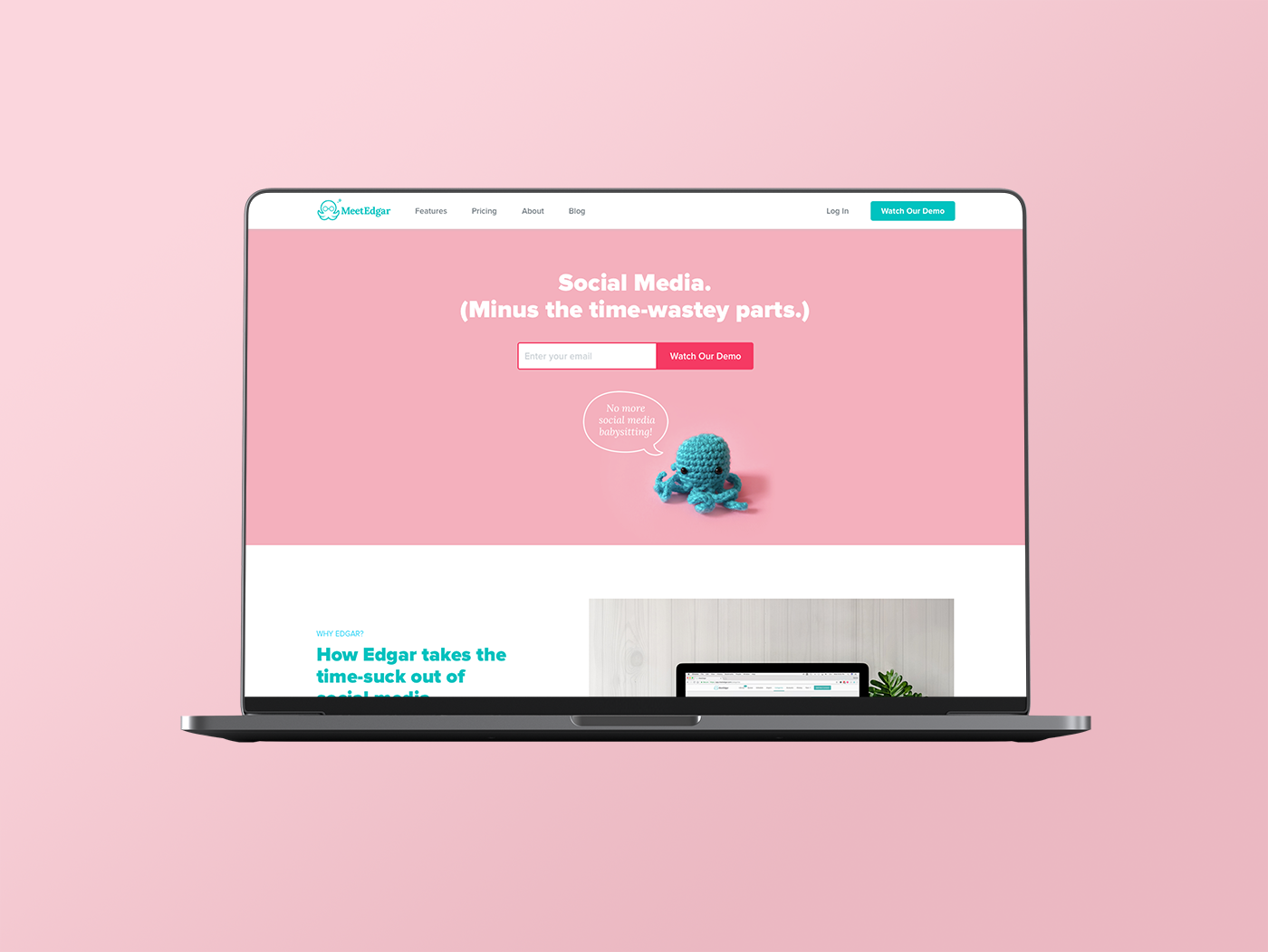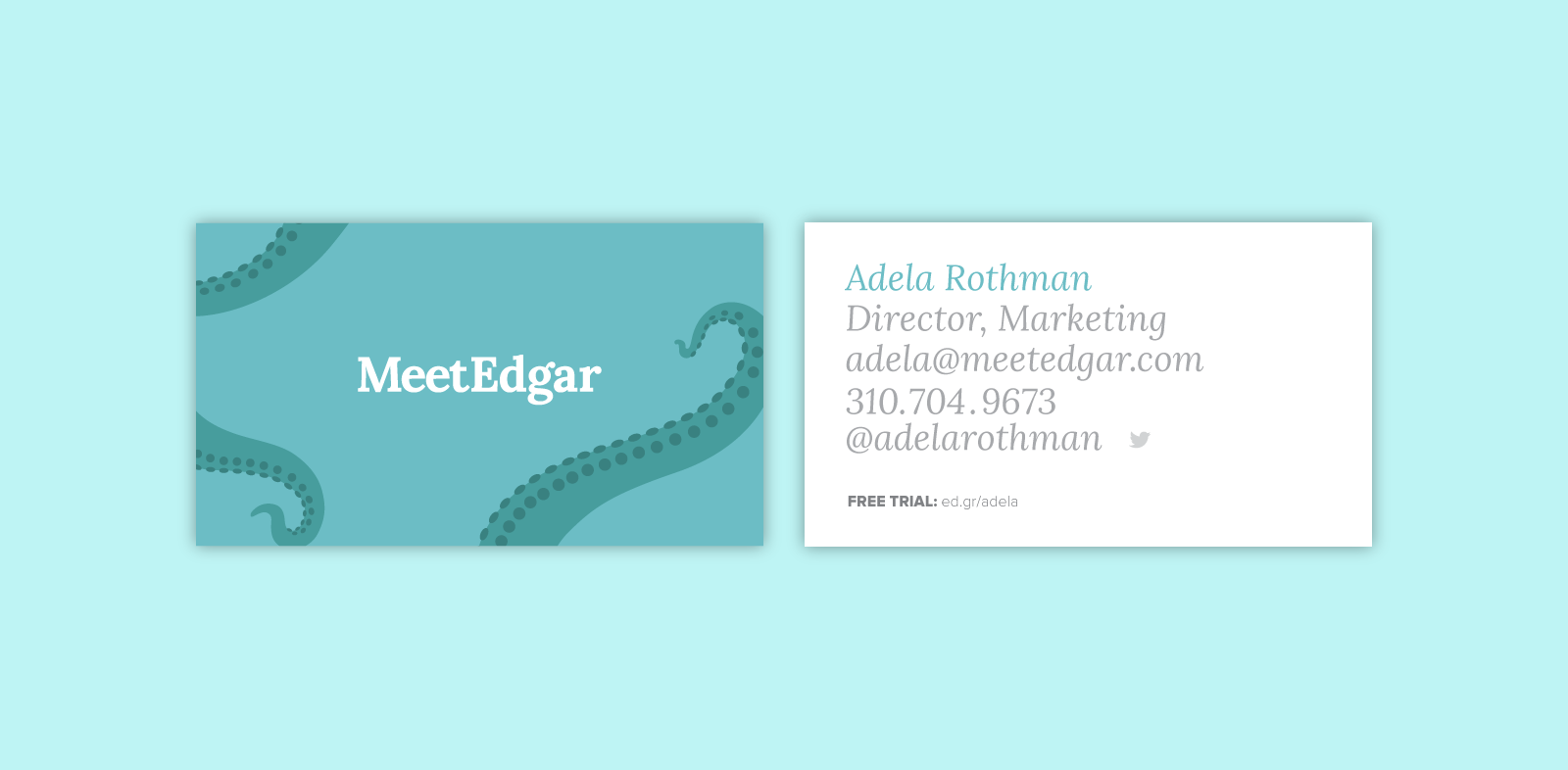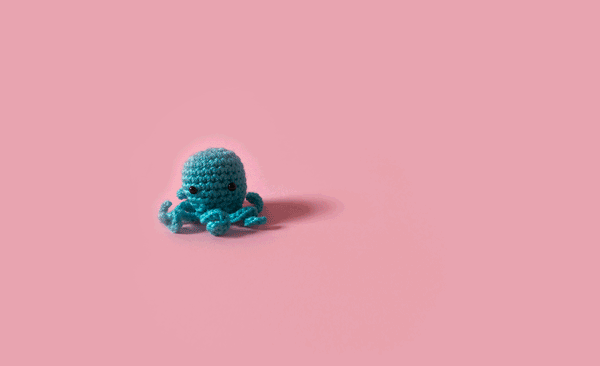 Beautiful Website, Beautiful Growth
MeetEdgar's website and blog are the company's primary product marketing tools. The founder is a very savvy content marketer and thought leader in her own right, and so she built the company from day one as a content-driven machine. MeetEdgar had been implementing a consistent content strategy for years to build up a base of readers and followers. From there, the company aimed to turn their casual blog readers and email newsletter subscribers into interested customers.
But in its previous state, the website was doing a pretty minimal job of educating and selling. While their content was killer, the website and blog looked and felt quite behind the times, and it failed to reflect the modern, playful tone of the brand.
In order to create a through-line of personality and design all the way from the first touchpoint to the last, it was imperative for us to focus on the website. I worked with the team to restructure the website content to create a more easy-to-follow narrative. Then I redesigned the full website to showcase the brand's playfulness, joyfulness, and authenticity.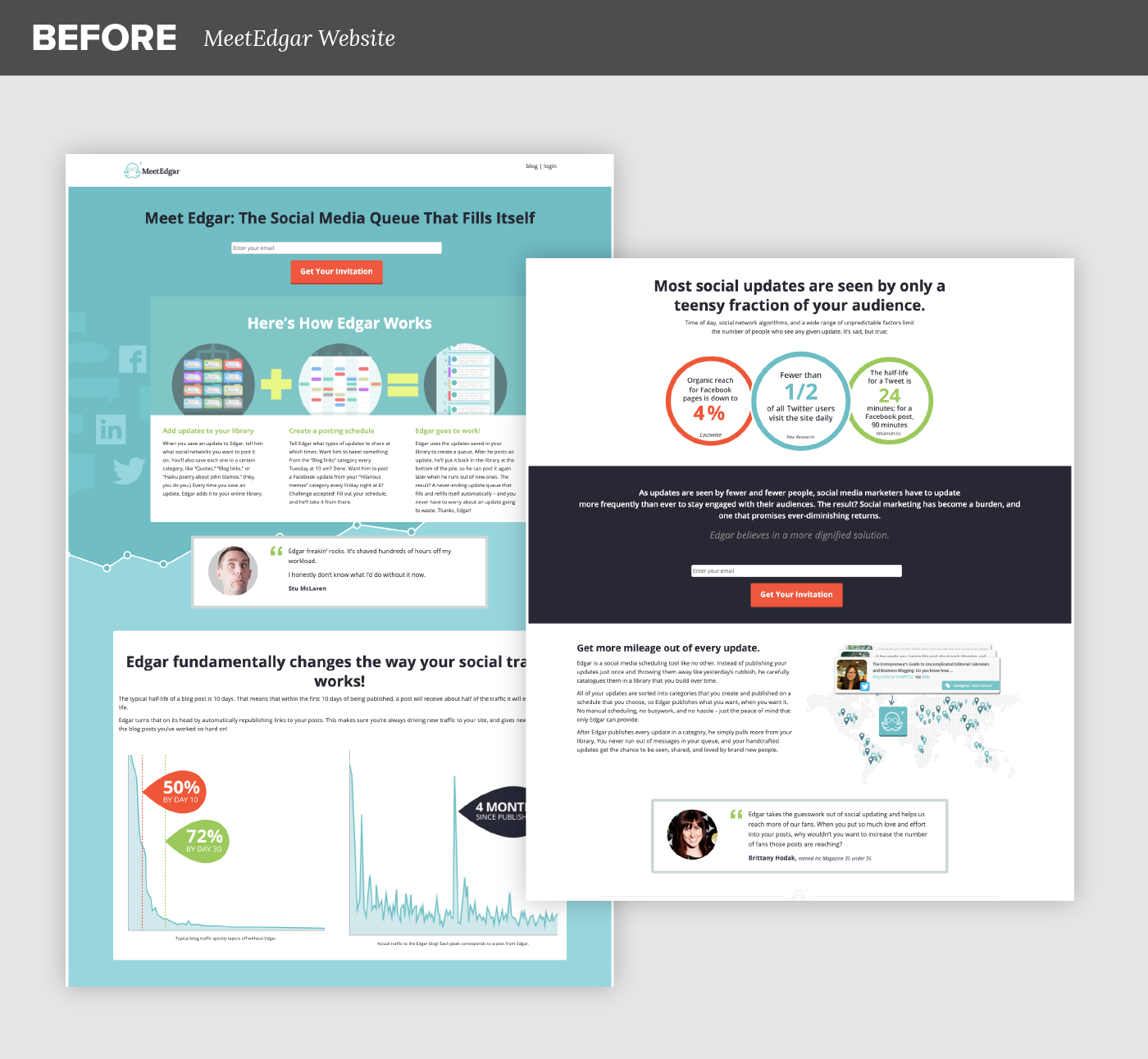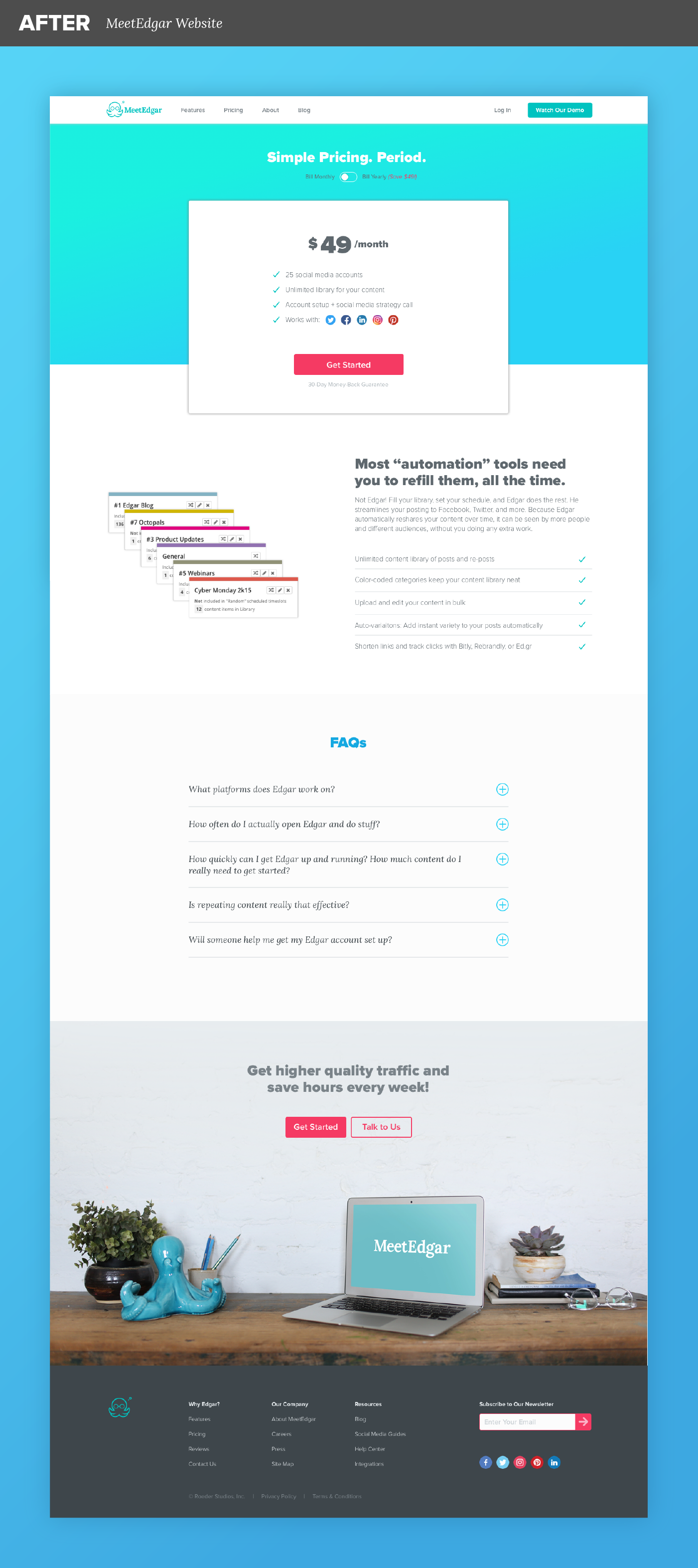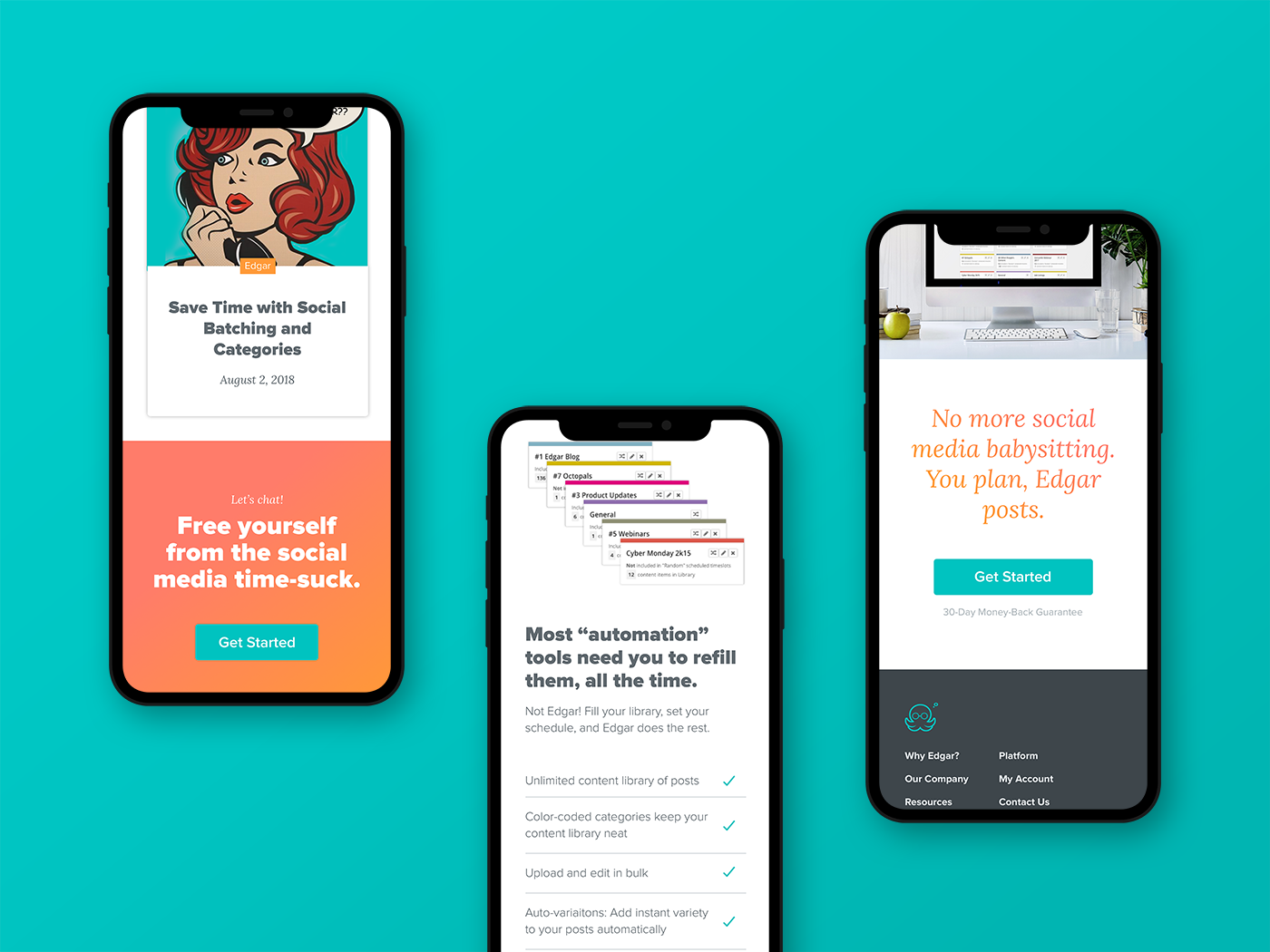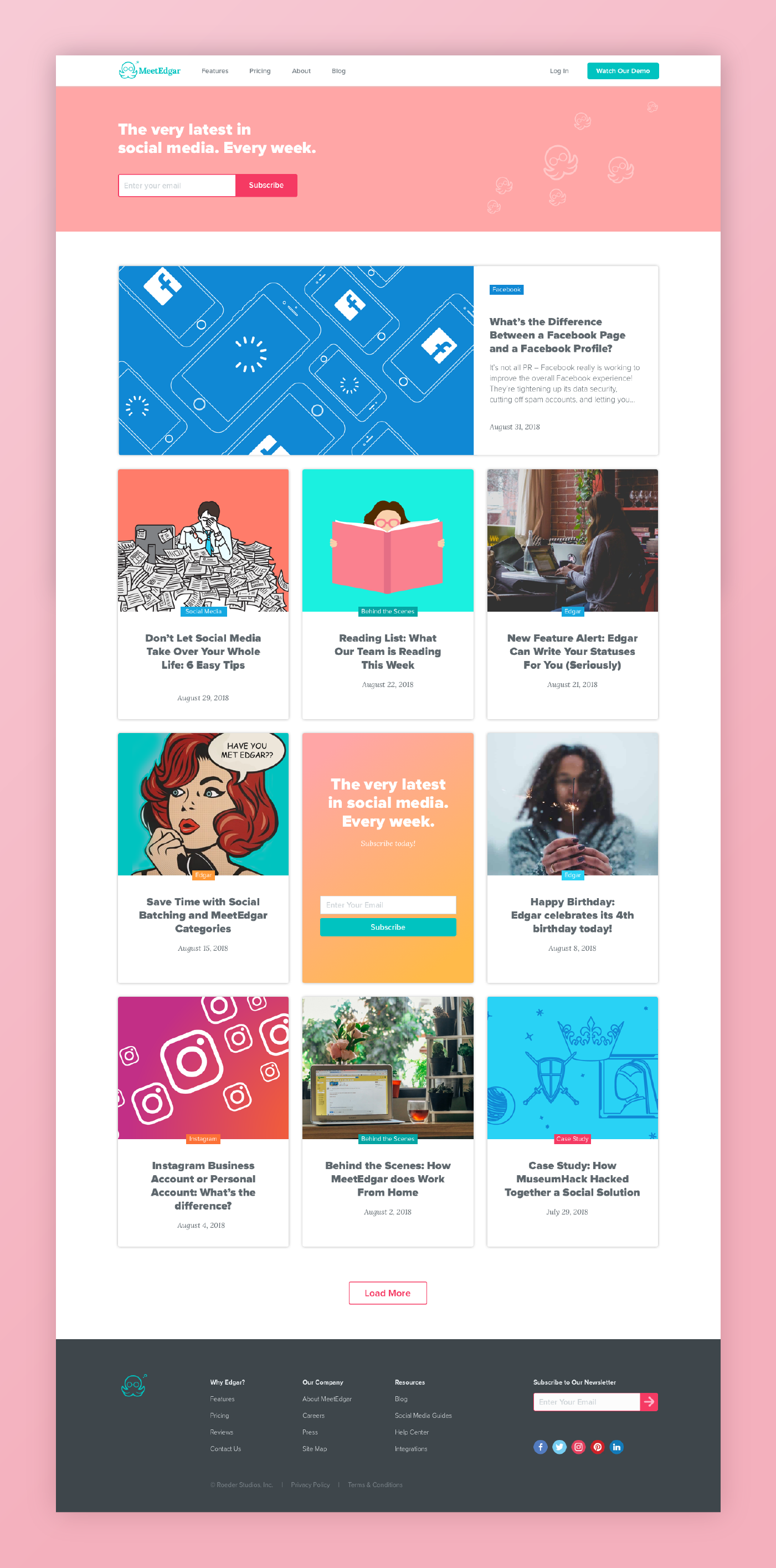 In the end, the work we did to redesign the brand and rebuild its website helped MeetEdgar to define and own its unique space in the industry and ultimately help grow its user base over time.
By pushing the company to reflect its values and personality through visual design, we elevated the brand from adequate to memorable – which in a crowded market makes a hell of a difference.
We here at Literal Humans believe that smart, intention-driven design is one of the most impactful tools in your marketing toolkit.
If you believe that too, get in touch.
Derrick Sun is a Creative Director & Partner at Literal Humans. The work described in this case study was done by Derrick Sun, while working as a freelance designer and marketer.