The Problem
A little help with moving past the challenges
Sometimes a client knows that something isn't working.
They may, however, be unsure of what it is or how to use digital marketing to achieve the desired results. This was the case with MDC, a US-based nonprofit organization that focuses on economic empowerment and racial equity in Southern states.
Our partnership with MDC started in January 2021. Things were going well for the organization, but something was missing and they wanted to get to the bottom of it. 
So, we got into the weeds with comprehensive website and social audits, showing MDC what was and wasn't working and providing recommendations for turning things around. 
Around June 2021, two things happened: MDC came back to us to work on basically everything we flagged in the audit. They also brought us on board to help them hire a Director of Communications. 
I know that getting a digital marketing agency to assist in the hiring process may seem a bit odd, but maybe not so much when you consider it from a strategic lens.
If you make your agency more of a partner to work with your talent, you will better align your strategic priorities and how you can work together to achieve your goals.  
We assisted MDC in selecting the best person to handle the overhaul that the organization needed. As soon as the Director of Communications joined, we dropped the rebranding and website redesigning into her lap, and we ran an interim content marketing campaign. 
The Problem
The challenges, aka the beginning of a great partnership
MDC had a number of issues we needed to address:
Outdated branding and a similarly out-of-date website. This is a common challenge for a lot of nonprofits — many of them do awesome work, but their websites look less than ideal. 

There was a general lack of sustained relationships with editors for content marketing efforts and PR. One thing about being in the nonprofit space is that the public decides your organization's fate, so the content you put out there and how well you put it will make or break not only your brand awareness, but your donor and volunteer activity as well. 
We became MDC's marketing team and addressed all of these issues. 
Embodying the marketing arm of an organization is something we do for a lot of clients. In this case, the arrangement added a lot of value to a time-poor, bootstrapped charity.
Here's how we did it…
Our Work
The rebrand: A fresh look for MDC
The rebrand involved working on all the crucial aspects, (no shortcuts or skimping on details):
A brand platform
This included refining the organization's mission and vision statements, as well as fleshing out the brand manifesto, tone of voice, brand pillars, and anti-brand.
Having a brand platform was important because this document is essentially a compilation of all the different elements (both visual and ideological) that make up a brand. The brand platform formed the strategic foundation for designing a cohesive brand identity and planning the communication and marketing strategy.
Visual branding
For the visual rebrand, we developed brand guidelines, and a whole visual system, including a color palette, fonts, icon style, illustration and photography style, layout examples, and even a newsletter design. 
MDC entrusted us with complete creative autonomy in this project, demonstrating their confidence in our capabilities, and we certainly lived up to their expectations with the exceptional skills of Kanacia, our talented graphic designer leading the way.
But even with all the creative freedom, we still wanted the MDC to be part of the process, so they could also fully immerse themselves in the new branding. So, we presented two visual systems: 'Southern Classic' and 'Modern Storyline.'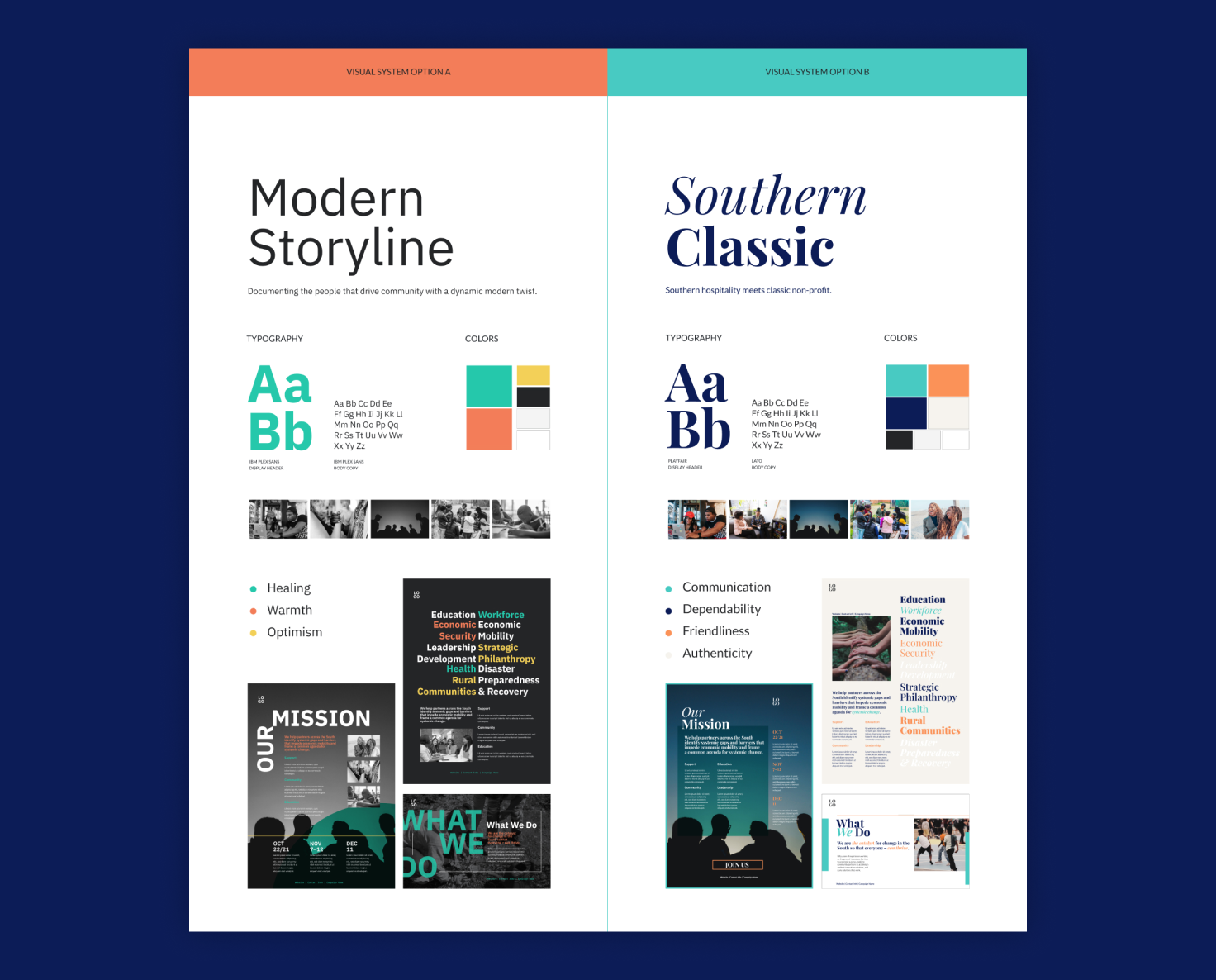 The MDC team selected 'Southern Classic' as their preferred choice, as they believed it best embodied their brand, mission, and values. We only needed to make a few adjustments to firmly establish the system.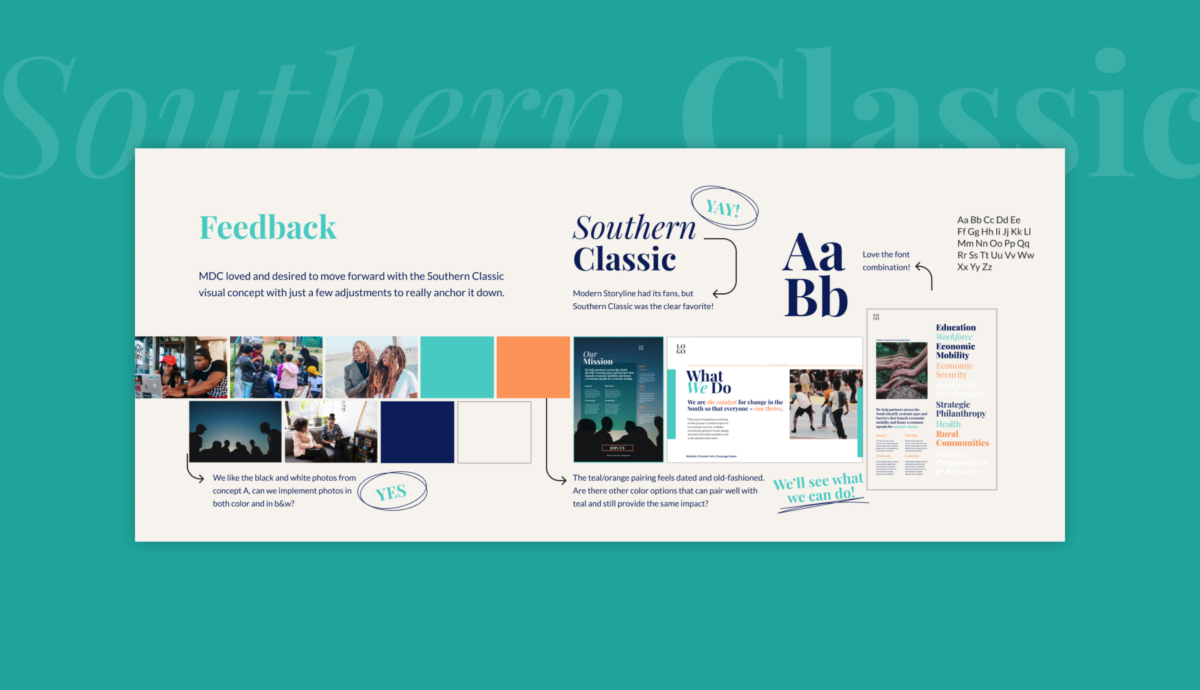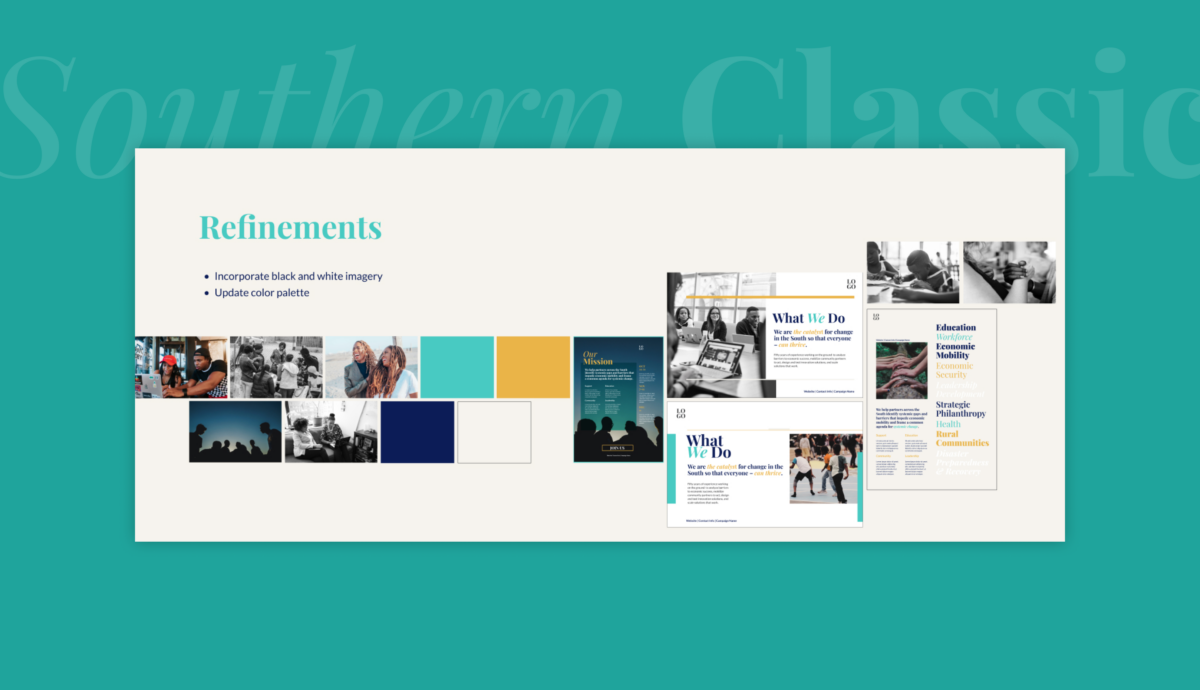 After receiving MDC's approval for the visual system, we immediately jumped  into logo creation. Leaving this step until the end was crucial to ensure that we developed logo concepts that seamlessly complemented the overall visual system.
Following hours of sketching, reviewing, and iterations, the MDC team chose their new logo — something that not only depicted MDC's long history of collaborating with communities and various organizations, but also elevated the key design elements that have been recognized by MDC and the people they serve.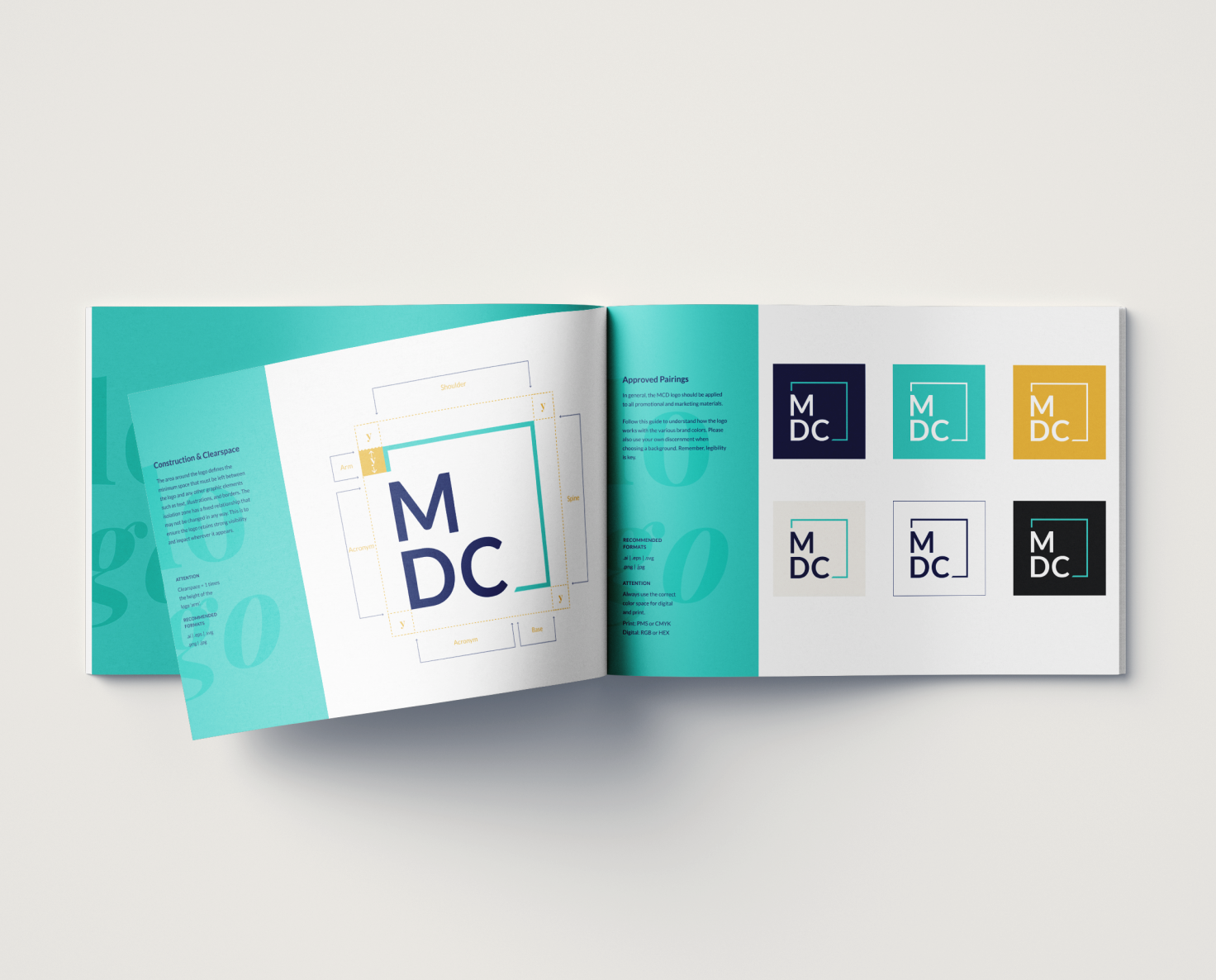 Once the branding and designing were done, we gave MDC a Figma crash course to show them where and how to access their branding assets, plus how to customize them when the need arises.  
Case in point: even if you're unsure what you want or you're not very familiar with the branding process, we've got your back!
Our Work
Website design and development
Every nonprofit's primary goal is simple: gain supporters and turn them into funders who support the amazing work we're doing.
However, achieving this goal is difficult because communicating with the organization's target audience is no easy task. A lot of the problems emerge from the website.  
For one, nonprofit target audiences are usually broad and organizations fail to create websites that successfully cater to the needs of these audiences. A lack of good structure makes it difficult for nonprofits to make the most of their sites to build brand awareness.
In addition, while donations are at the heart of charities' success, most websites are not built in a way that makes people want to donate. Nonprofits struggle to communicate their value and they often fail to provide clear calls to action that encourage website visitors to take action. 
In MDC's case:
The website was not doing its job of introducing MDC well to new users or expressing what the organization does. It was mainly helpful to people who already knew MDC…but, that's not much of a target audience. As such, the website served little purpose.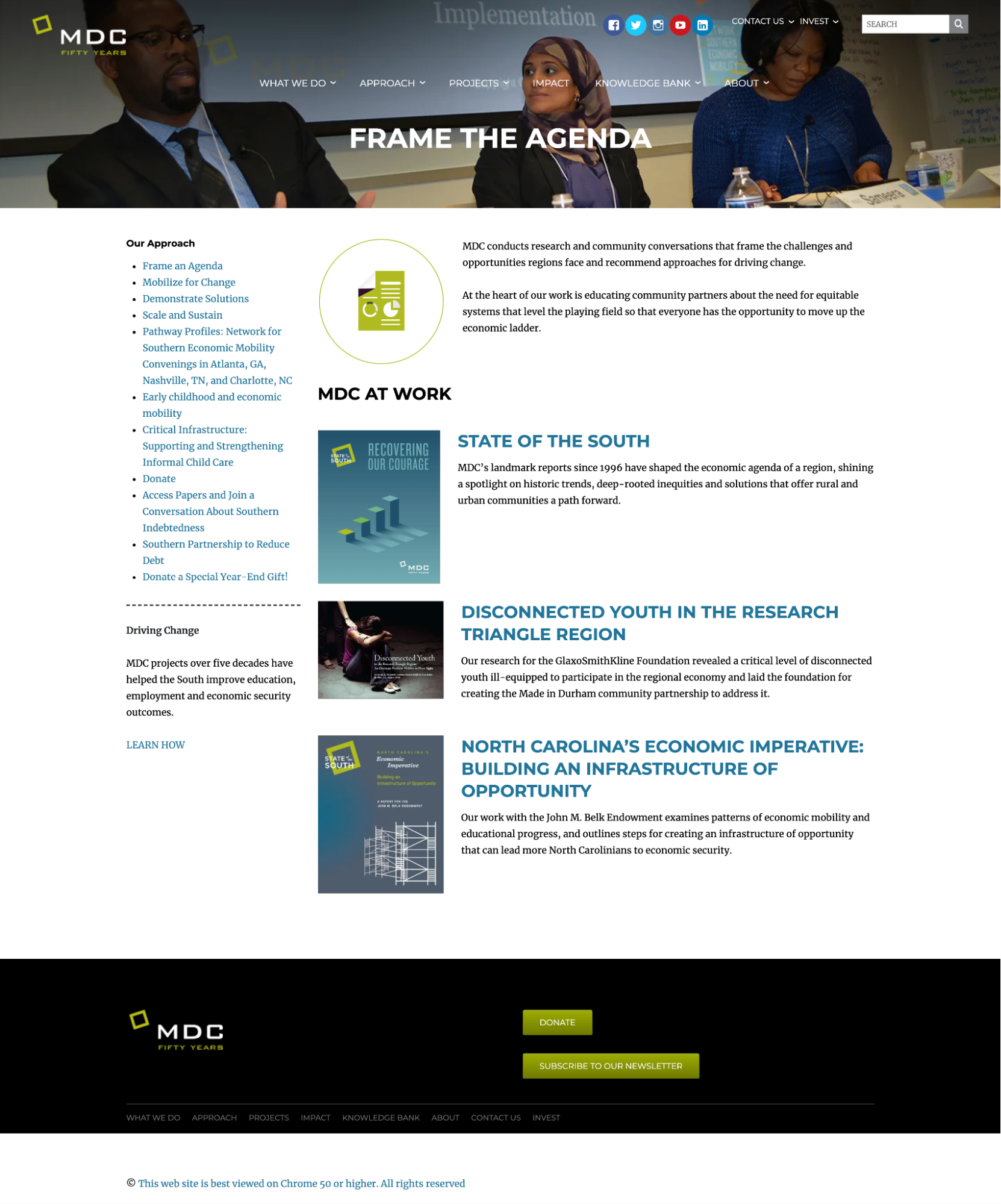 There was generally poor information architecture. For instance, between the various dropdowns and inconsistent sidebar menus, site navigation was confusing. There were also many content redundancies throughout the site, people struggled to find resources, and there was lots of confusion stemming from trying to highlight too many projects. This last problem is common for many nonprofits since they tend to work on many projects and programs simultaneously. The aim was to make the site clear, accessible, and easy to navigate.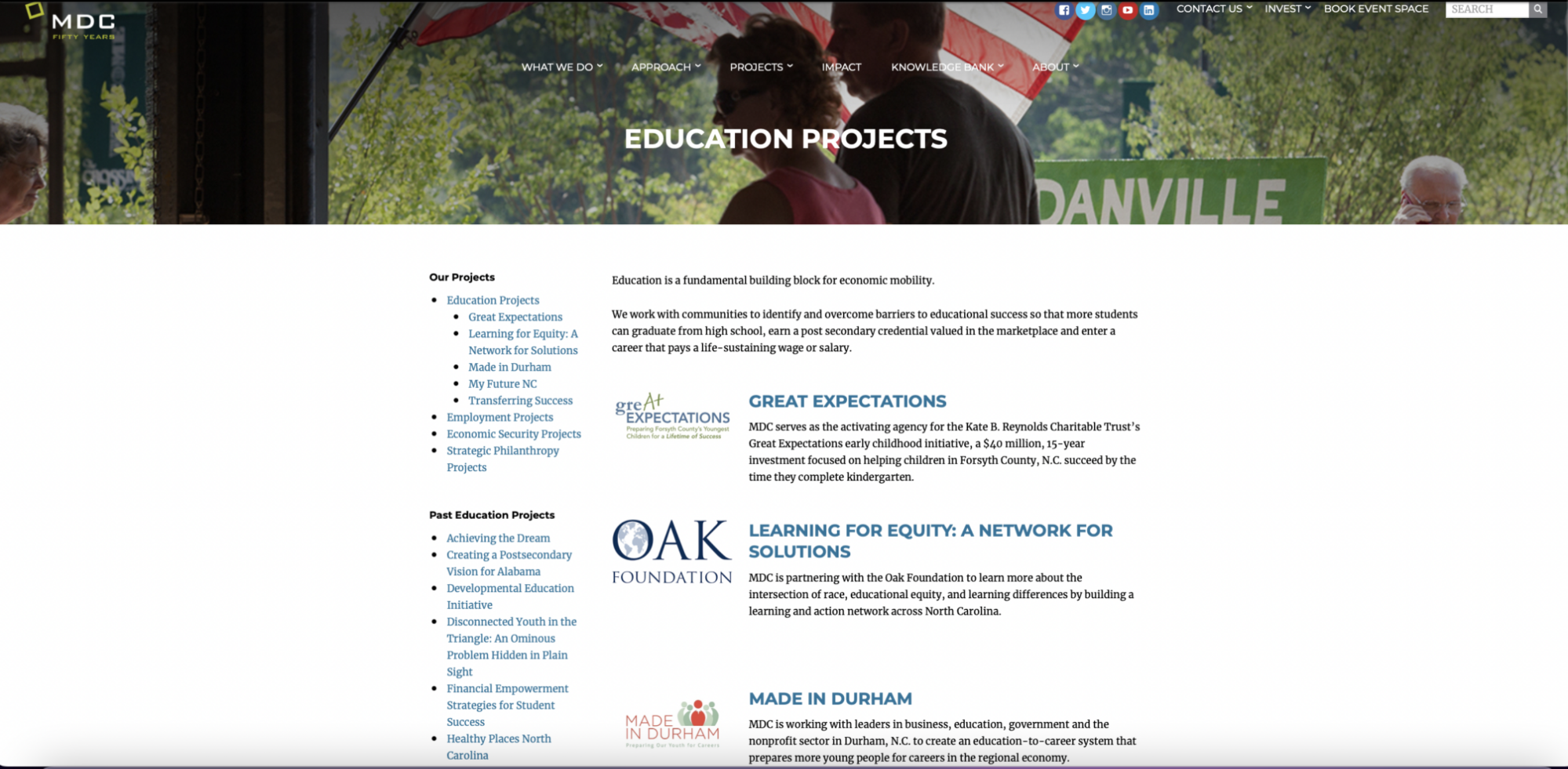 The site looked outdated (e.g., the Twitter integration looked very old). In addition to improving the navigation, there was a clear need for improved aesthetics — a more modern website that is reflective of how large and impactful MDC is. 
Finally, the old MDC site framed the organization primarily as a service provider. But in reality, MDC is more of a partner and a resource to the community and funders.
Besides breathing life into the site, the web design was also to serve as a morale booster for staff — something they could be proud of.
The website design and development involved several steps:
The competitive audit
We analyzed MDC's competitors (both direct and indirect) to see what they were doing well and poorly. This was important because it gave us insights into how we could improve the website redesign strategy — we discovered opportunities for garnering engagement and giving MDC a competitive edge over other organizations in the space.
Audience analysis
This analysis involved studying MDC's audiences and nailing what they need from the site. The main challenge here, as is common with many non-profits, is the diversity of the audiences given how much work is done in various verticals.
In the case of MDC, we were looking to create a site that catered to the needs of nine distinct but interconnected audiences. Through research and thorough audience analysis, we were able to identify seven needs that covered the various audiences.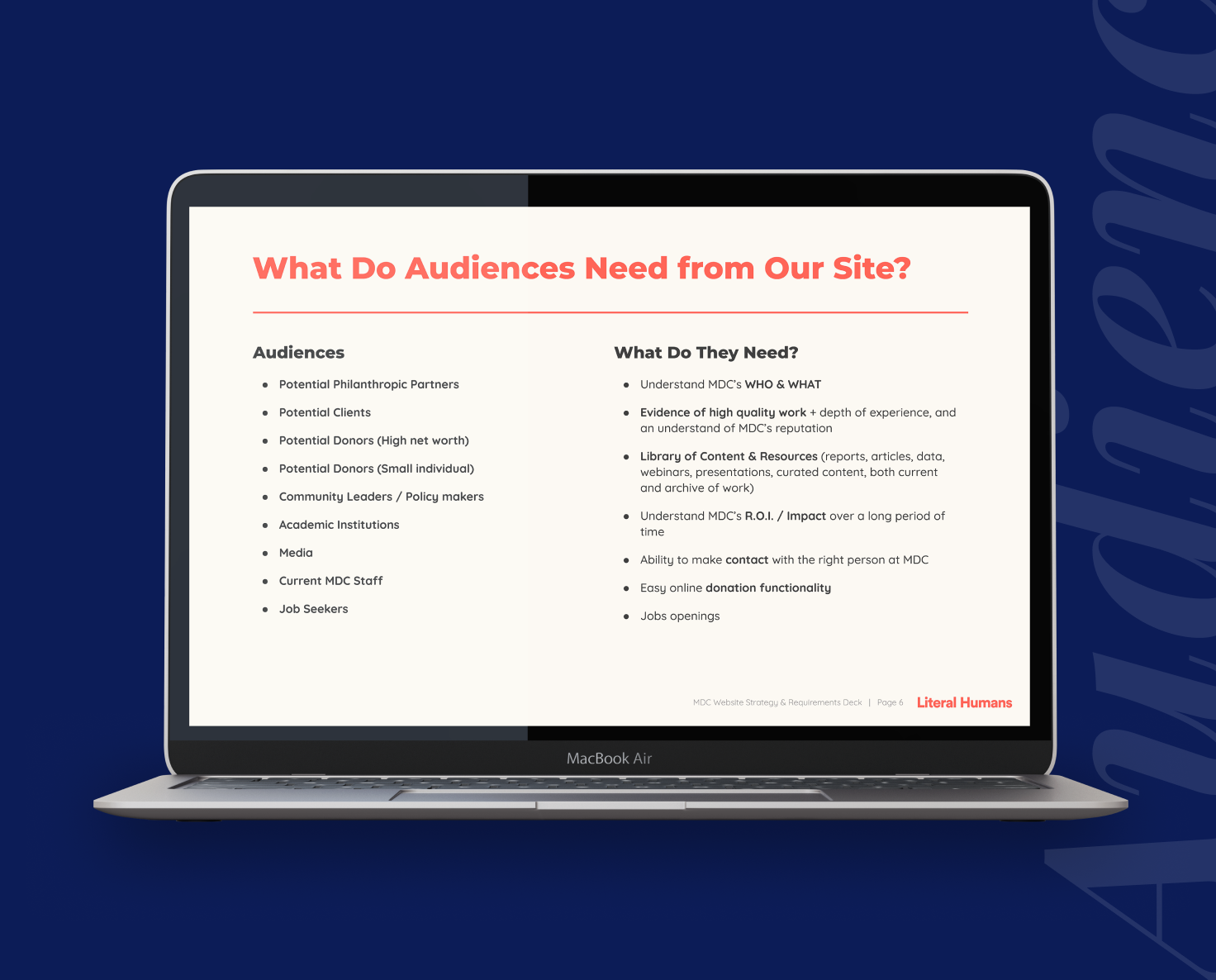 Then came the designing…
During the planning phase of the design project, we went through MDC's services and the different parts of the organization to better divide up the areas of work. This way, we could provide more context to better define what MDC does, allowing the different audiences to access the content relevant to them easily and efficiently. 
In the end, we helped MDC build a crisp, clear indication of what they do and who they are.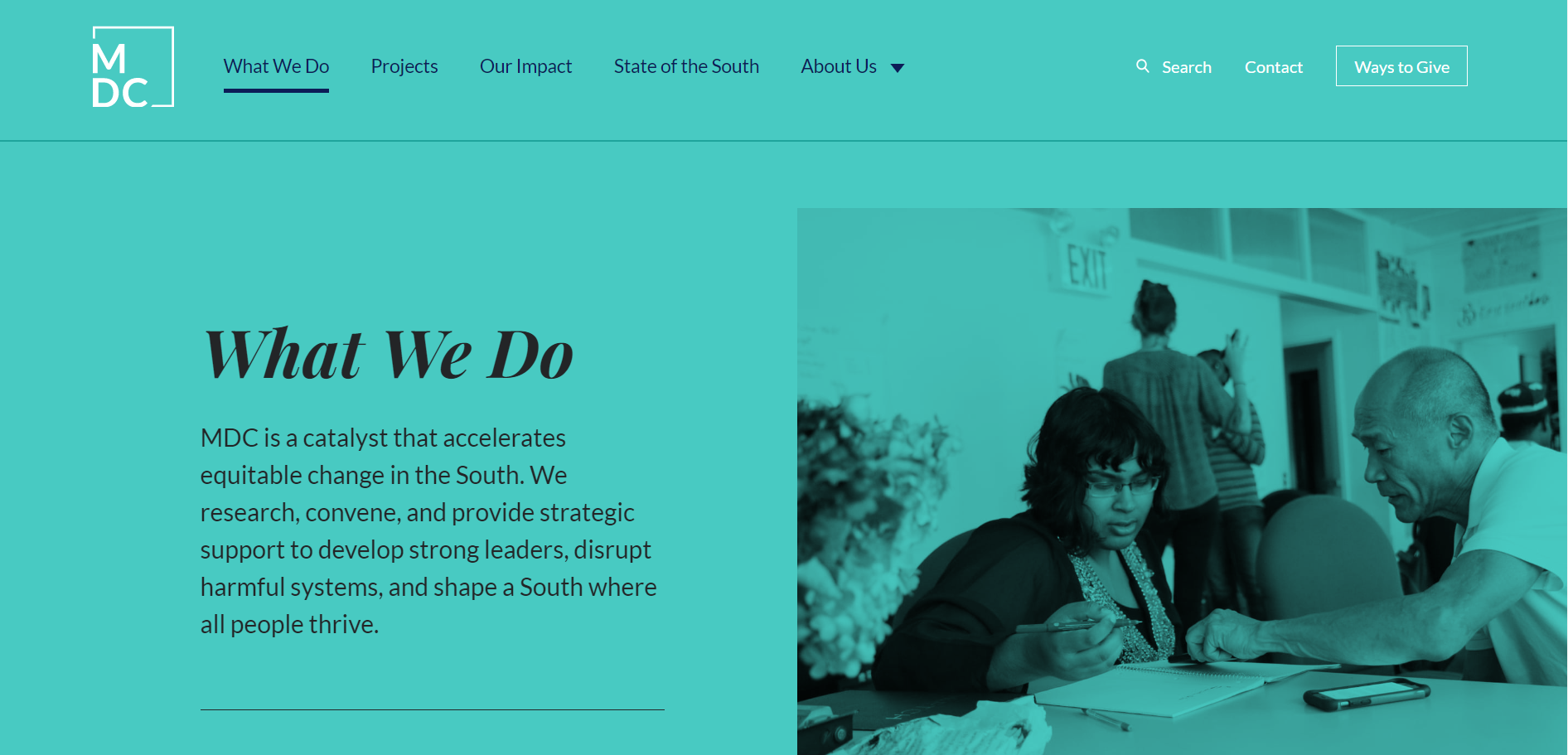 In addition, we worked on providing a robust resource hub, bringing The State of the South, which used to be a standalone site, into the main website ecosystem.

We always believe in good foundations, and for good reason. The branding had already established the look, feel, and aesthetic of the website, so bringing everything together was, well, pretty straightforward. 
We also designed the website for mobile. After all, more and more people are accessing the internet from their mobile devices, so if you're not designing for mobile, your users are likely to have a less-than-amazing experience. 
As is usually the case when working with nonprofits, a lot of stakeholders were involved and MDC wanted to make sure everyone was listened to. We kept this in mind every step of the way, making sure to keep everyone involved.
Of course, the process was smooth because MDC already trusted us given how well we worked together during the rebrand. 
What's the key takeaway here?
Building relationships with clients is crucial.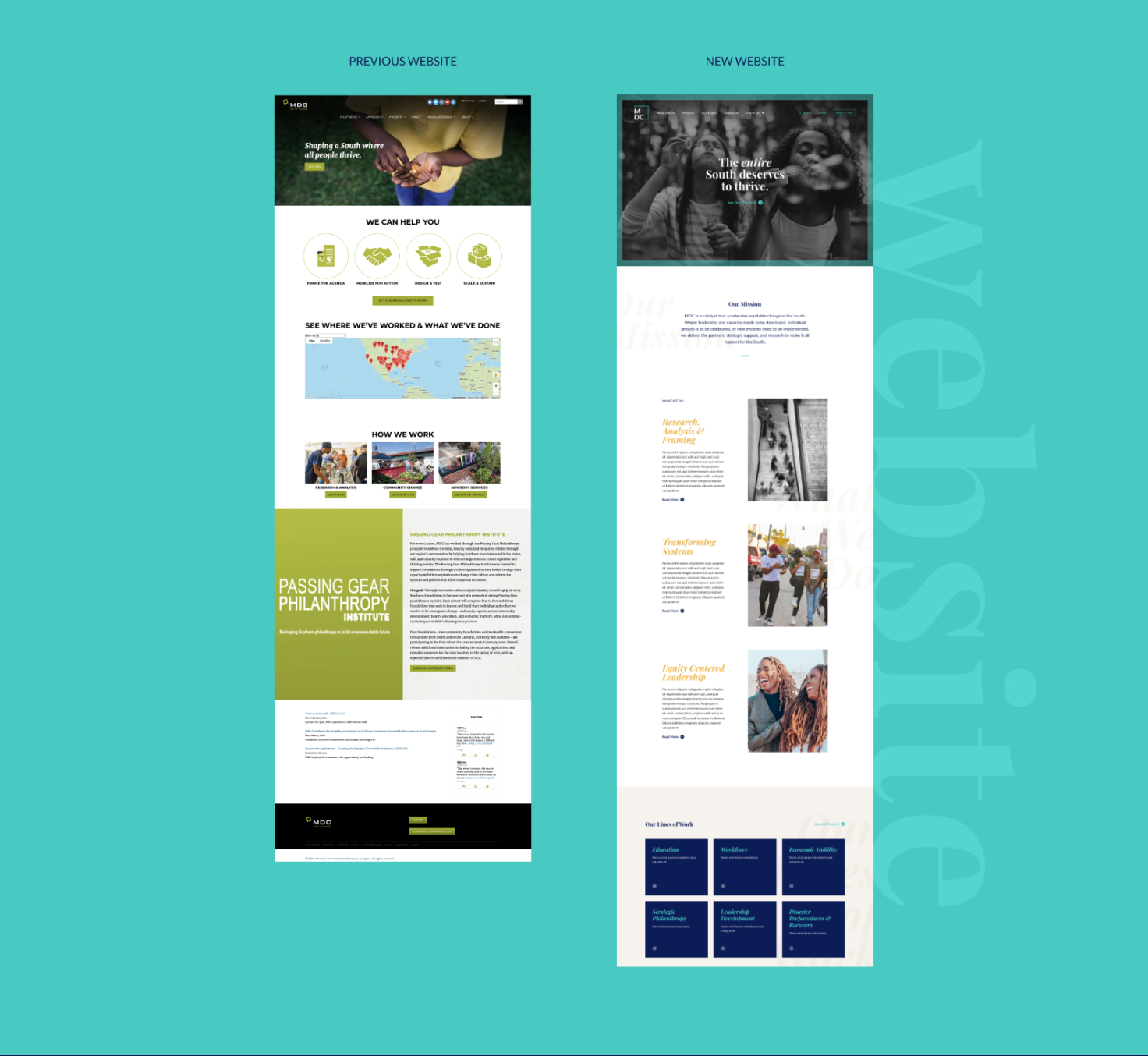 And lastly, the development 
Going into development, we looked at two main things:
MDC's old website was on WordPress so we stuck to the same content management system (CMS) to minimize content migration time. But because the new website was designed specifically for MDC's unique needs, we built it with a custom-developed WordPress theme, according to the approved designs. 

The custom theme came with multiple templates that fit MDC's new branding and general site requirements. We made the templates customizable so MDC can change the content (copy, images, etc.) as needed over time.
Before starting development, the development team met with the web design team to review the designs and how different parts of the website interact. 
This design-dev handoff is really important to the process as it ensures that the developers understand the intention behind design decisions, which then allows them to develop a website that completely matches the design specifications and the client's original brief.
Next, the dev team created a staging environment, where they could share a preview of the website, test it, and do some quality assurance (QA). The client could also provide feedback in the staging environment and we could migrate and update content collaboratively.
Below are some of the key highlights from the web development process:
As I stated earlier, the MDC site has tonnes of information, and two of the most critical areas of the website were projects and State of the South.
The dev team created the backend in a way that ensured it was quick and easy to add new projects. The site is now flexible enough that MDC can customize the content according to individual projects' specificities, and also flexible enough that MDC can easily change how projects are categorized should their internal strategies change over time.

State of the South is unique in that it contains different "media types" (articles, videos, reports, events, etc). To accommodate this, the developers created several templates, which MDC can use. A lot of development time was also spent on creating a filter in the system of systems (SoS), which allows site visitors to easily find the resources they need. 
As with all website revamp projects, content migration is a big challenge, especially if the website has a large volume of content. 
To streamline the migration process as much as possible, the dev team developed the site to match the structure of the old site as closely as possible, while incorporating new features from the new designs. This allowed us to automatically port over MDC's existing content with WordPress' built-in migration tools. We then thoroughly reviewed the content and manually corrected any content discrepancies and issues.
Another thing we pride ourselves on is our ability to work with clients' systems. MDC uses Salsa forms for collecting newsletter signups and donations, so it was critical for us to integrate existing forms with the new website. We worked directly with the MDC team to figure out how they use Salsa, which then allowed us to find solutions for them to update forms and add new ones to the site.
We also did a website crawl before migration to ensure we didn't miss any pages, allowing us to set up URL redirects as needed and avoid broken links and 404 errors, which, as we know, are bad for indexing and the general health of a website.
Finally, we provided some client training (i.e., how to use the backend, navigate the site, etc.) Our job is to take the guesswork out of everything.
Our Work
Solidifying the content strategy: The road to reaching over 640,000 readers
The final part of our partnership involved a monthly guest posting strategy. 
Initially, we were writing one guest post every quarter, but after some considerable wins, we knew it was time to drum up the strategy with more content. The aim was to boost MDC's traffic and authority. 
And the rationale behind the strategy?
If you're in the nonprofit space, you need to be known and your impact has to be seen by the people, otherwise, you will fail to reach your goals.
However, like many leaders in the not-for-profit space, or any space really, John Simpkins, the President and CEO of MDC is very busy. Handling the entire content creation process would eat into his already tight schedule, and obviously, this wouldn't be very helpful. So, we provided a premium service to a busy executive.
We sat down with John every quarter, mapping the topics we needed to cover, then assisting with the content creation and pitching processes. 
MDC is focused on the US South, which significantly informed our strategy since we needed to pitch to targeted publications.
The Results
The results
All of the 12 guest posts we created have been published — that's a whopping 100% acceptance rate. 
We got MDC into major Southern publications, including:
The Atlanta Journal-Constitution — the largest publication in the Southeast 

The Charlotte Observer and The News Observer — two of the largest publications in the Carolinas by circulation

The Courier-Journal — the highest circulation publication in Kentucky
The publications in which MDC has been published have a combined average daily circulation of over one million and hundreds of thousands of daily online readers.  
Some of the publications also have a national reach. For example, The Atlanta Journal-Constitution is one of the top publications in the US with a circulation of over 640,000 daily readers.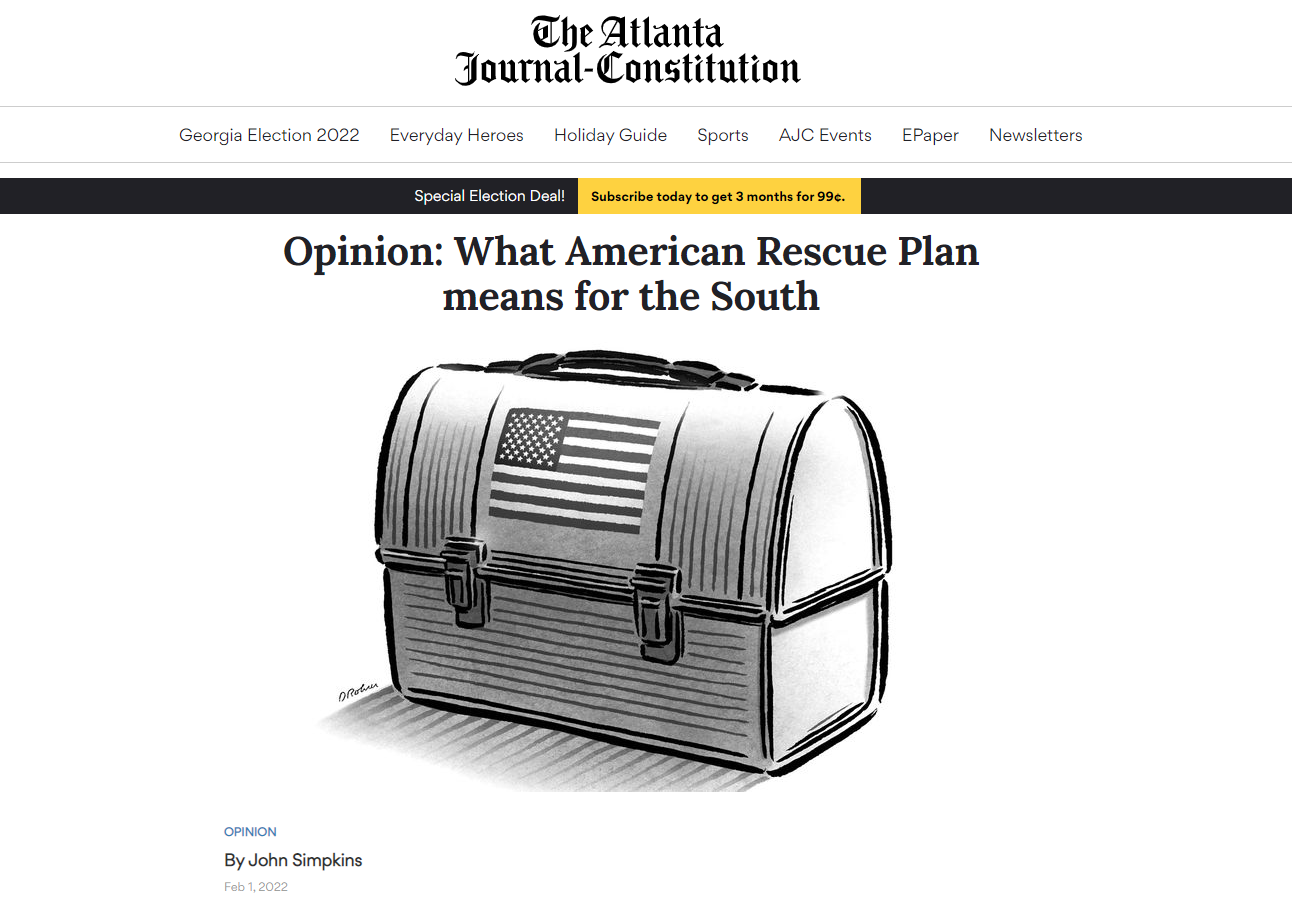 The lessons
One of our key learnings from the guest posting process has been how to tweak the content we create with the end publication in mind (Louisiana statistics for a Louisiana publication or Texan stories for a Texas publication). This is really important because relevance is the name of the game.
We also learned the power of building relationships with editors.
Guest posting is a difficult game, and it's also a numbers game. But once you start building those relationships (as we've done), publications begin trusting the quality of work that comes from you, and this makes it easier to achieve your content goals.
Regular, quality pitches build trust and put you in a good place with editors.
The Results
It all came together to make something beautiful
Our journey with MDC is proof of how you can take the many challenges that plague and often overwhelm nonprofits and turn them into something beautiful.
You just need a trusted partner to help you every step of the way.
Now, our journey with MDC continues, featuring a robust lineup of content marketing, design, and web development projects in the pipeline. To say that we are looking forward to MDC's ongoing success would be an understatement. 
If you're a nonprofit looking to revamp your digital marketing strategy or want to learn more about how we can help you get in front of your various audiences, get in touch!