The Challenge
An Outdated Brand and Website
CORE Learning is a US equity-focused educator development organization that provides comprehensive professional learning services to educators so that all students receive high-quality instruction.
In many ways, CORE is a dream client for LH. My background in the US education and nonprofit sectors and our experience working with edtech clients as an agency gave us a solid understanding of their work and target audience from the get-go.
So when CORE told us they were looking for a total brand makeover, I knew we were the perfect agency to help them. Not just because of my background but because I knew our incredible team of designers would be up to the challenge.
CORE is a major player in the US education sphere and has been operating for over a quarter of a century. Rebranding can be an emotional process in such a well-established organization, so we knew we had to take a sensitive, empathetic, and human approach to the project. 
Our job was to help the client feel safe while pushing them to make bold choices and involving as many internal and external stakeholders as possible to create a sense of buy-in. 
The task ahead was gargantuan: creating a new visual identity and migrating over 600 pages to a fresh-out-the-oven website — while CORE underwent not one but two mergers.
Here's how we did it. 
Our Work
Challenge #1: Reimagining the CORE brand
Before we could get started on the website, we first had to overhaul CORE's logo and visual identity — and it was quite the journey.
Over the course of several months, the LH design team immersed themselves in all things CORE — its work, current identity, and the message it wanted to convey with the new logo. 
Questionnaires, meetings, and feedback rounds with multiple CORE stakeholders helped solidify buy-in so that CORE team members felt included in the process.
Creating a visual brand identity
The first step was to choose a visual system that CORE would use on its website and all branded assets. We shared a discovery questionnaire with CORE to understand their brand, mission, needs, and preferences. Based on their responses, we created and presented two visual systems that we felt would be a good fit for their brand: 'Color Drive' and 'That's My Type.'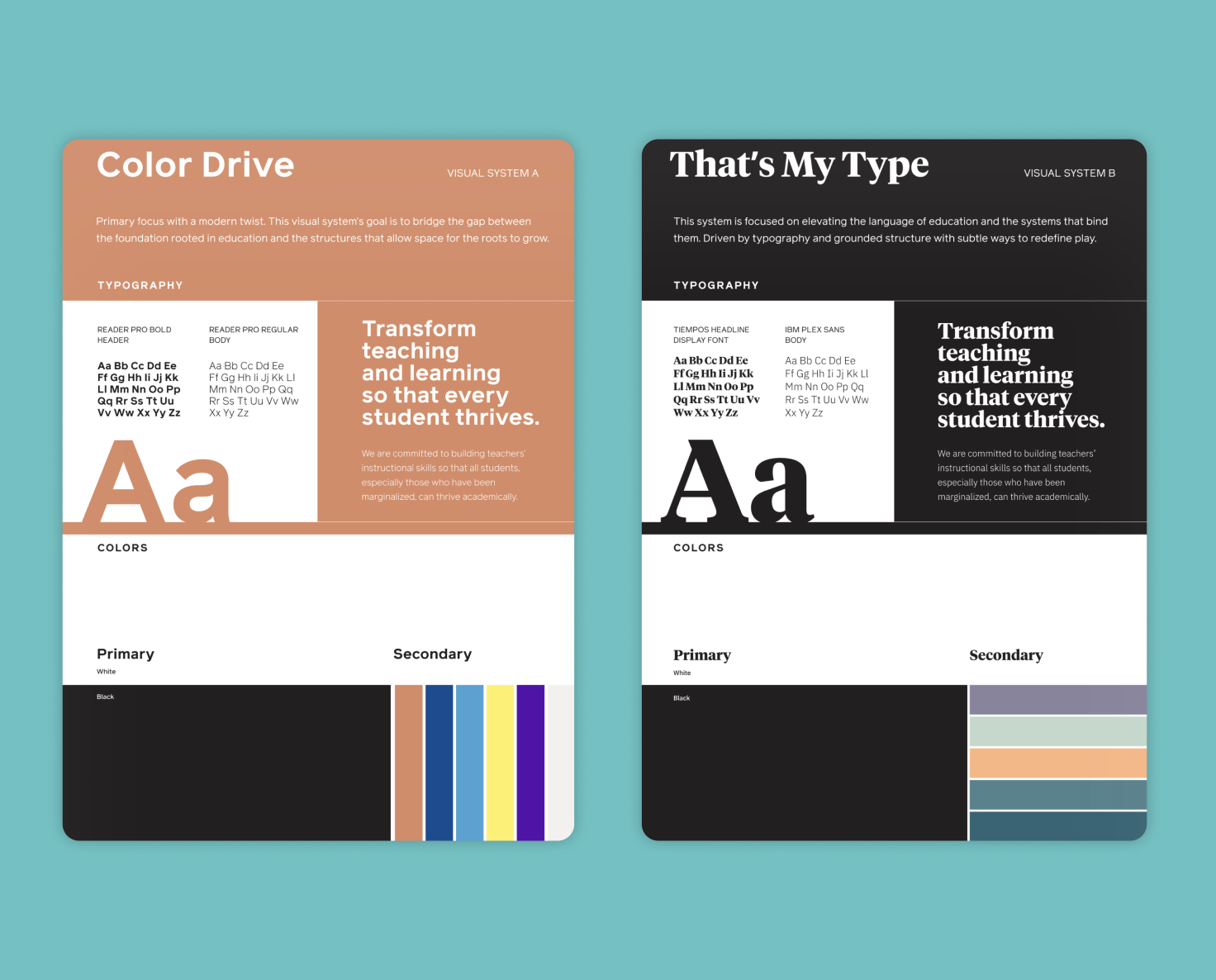 Following several rounds of consultations and feedback, the CORE team chose the 'Color Drive' visual system and brand colors, which they they felt were unique, compelling, and best represented their organization.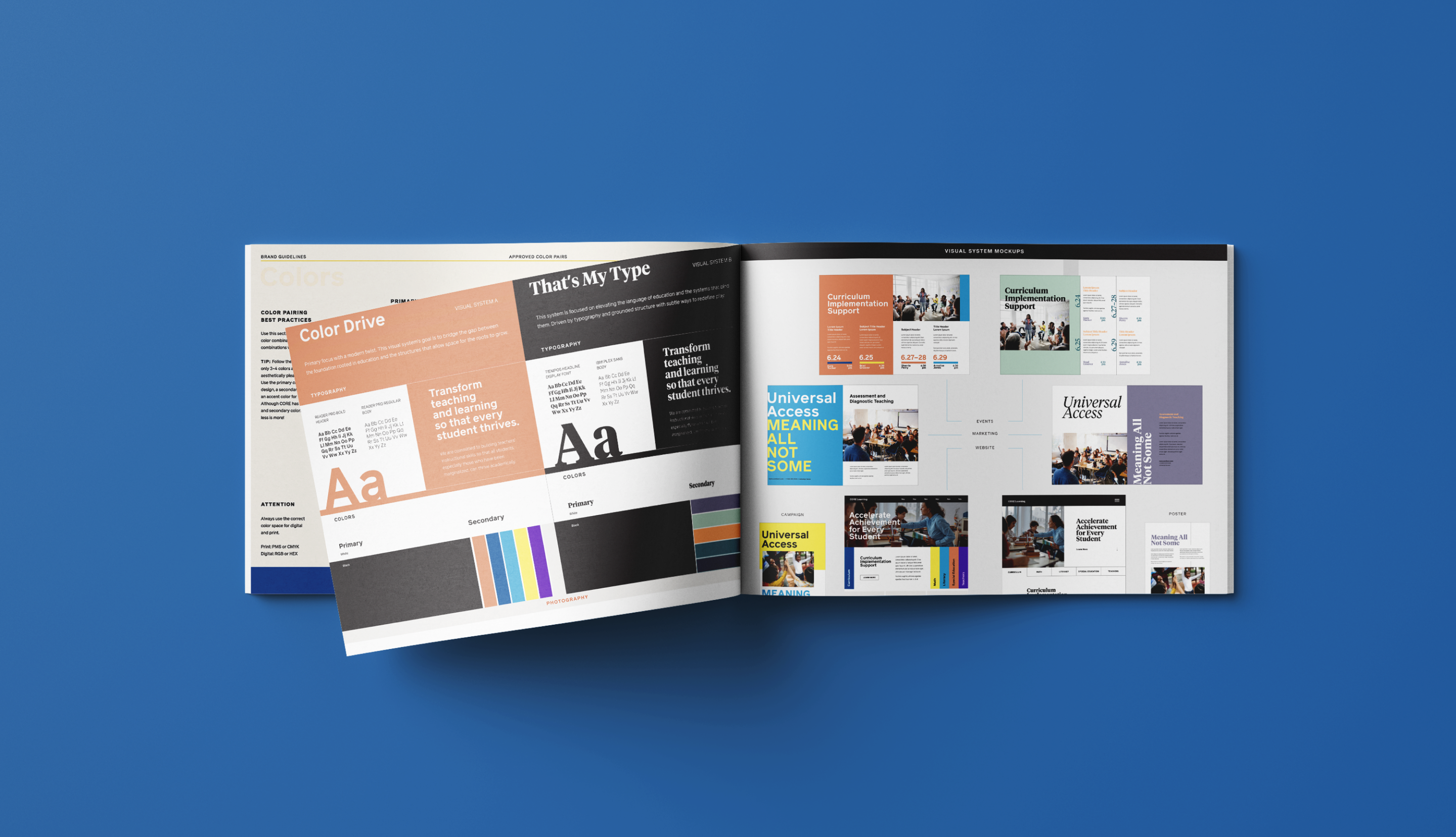 Then it was time for the logo. Although some CORE team members were keen to keep the apple theme, our brilliant graphic designer Kanacia pushed them to get out of their comfort zone. 
She felt we could do better than the old apple cliché and create a more original logo that represented learning and CORE's values and sub-brands. Plus, she backed up her opinions with solid research. For example, during the second round of the logo design, Kanacia highlighted the importance of creating a connection between the icon and wordmark to create a cohesive logo.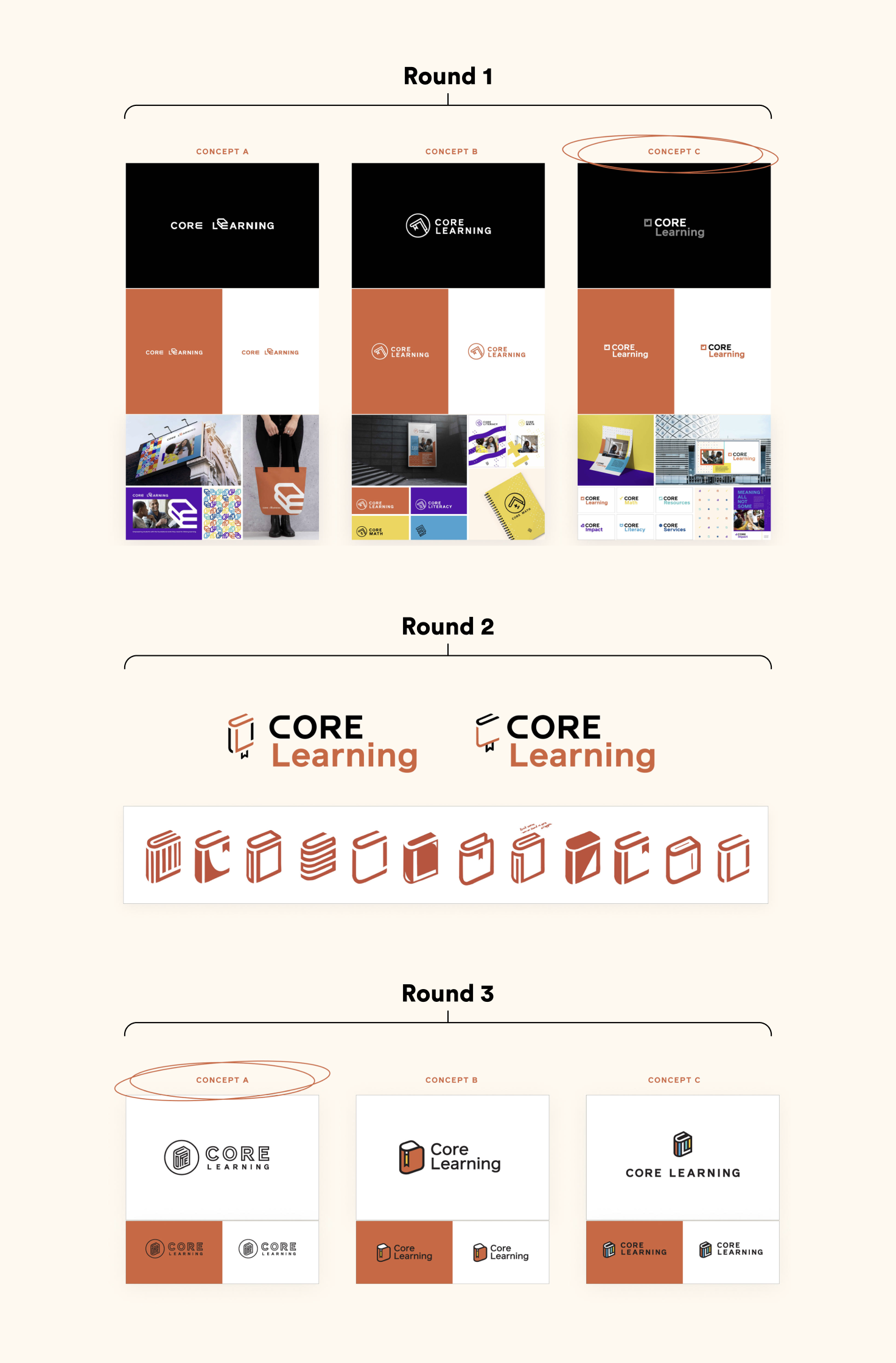 After hours spent sketching out designs and multiple feedback rounds, the book-shaped logo won, giving CORE a unique and eye-catching logo and brand identity that capture its values and work and stand out in the US education sector.

But the brilliance of the logo doesn't end there. It also doubles as the logo for CORE's sub-brands — CORE Literacy and CORE Math — with the book "opening" to reveal its contents.

Choosing a new name
"A rose by any other name would smell as sweet,"…or would it? Romeo may not have cared that Juliet was a Capulet, but in marketing, names matter — a lot. 
CORE understood this too, and wanted the new name to be de-acronymed, short, memorable, and politically neutral — without departing from the CORE brand. In short, it had to reflect the natural evolution of CORE's work. 
The LH team carried out extensive positioning and competitor research and enlisted the help of a branding expert to hold a naming workshop. 
Around the same time, CORE was in the process of merging with Pivot Learning, — adding another piece to the naming puzzle. 
Together, we narrowed the longlist down to a shortlist, and our branding expert recommended three options. In the end, CORE Learning was the winner.
CORE Learning worked well as a way to maintain Pivot's brand equity. It also meant there was no need to change the website URL (corelearn.com) or metadata tags.
Plus, the CORE team felt that "Learning" was more active and dynamic than "Learn" and evoked an ongoing journey or lifelong process for both educators and students.
Our Work
Challenge #2: rebuilding CORE's online home
Armed with a box-fresh name, logo, and visual identity, it was time to start the somewhat daunting task of redesigning CORE's website. 
CORE described the old website as being like a house they kept adding onto over time without planning or forethought.
Part of the reason for this is that the CORE website is aimed at multiple ideal customer profiles (ICPs) and serves multiple functions — including downloadable resources, an e-commerce store, and online courses. 
Over the years, CORE's website had become confusing and inaccessible. There was no clear hierarchy to the pages, the language was dense and academic, and the multiple service lines were difficult to navigate.
Add to this the poor visual branding that didn't resonate with the target audience, and it was clear that CORE's website needed an overhaul.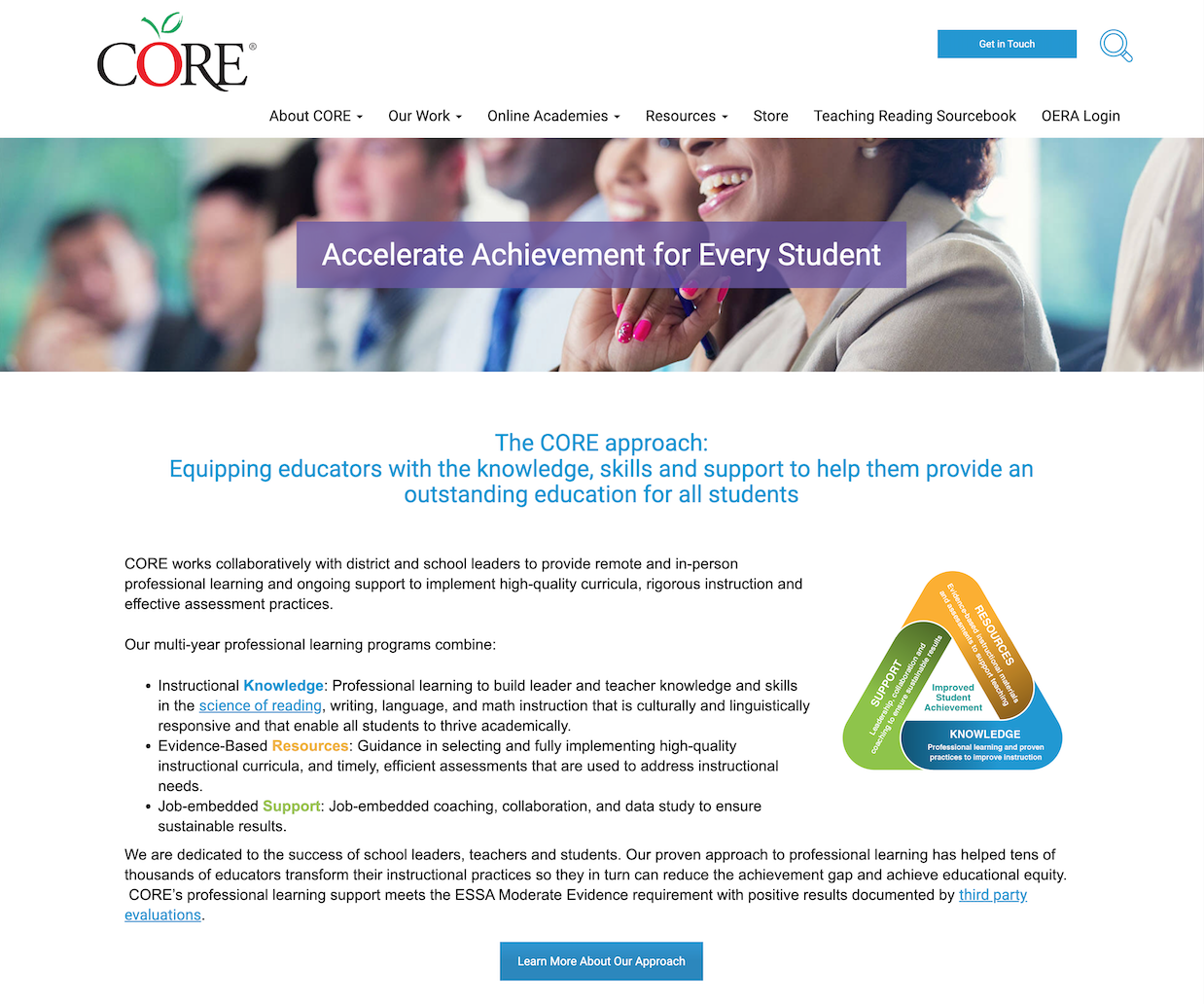 This was no straightforward website build for a startup. It required creating a structure that would house hundreds of existing web pages in a way that would make sense and be easy to navigate. 
Fortunately, our Creative Director and web designer, Derrick, was on hand to guide the process. He conducted extensive interviews with internal stakeholders and multiple meetings with Clay, CORE's Director of Communications, to build the wireframes. 
Once the design was finalized, Derrick trained the CORE in-house team on using the backend of the site and created custom web modules for them to use — empowering them to keep updating the site without our support. 
Meanwhile, our copywriter Victoria worked her magic on the copy and handed it over to the CORE team, who handled the migration with the help of Nina, our web developer. 
Together, they managed to import over 600 pages from the old site without breaking anything or losing organic traffic in the process. Which was pretty impressive!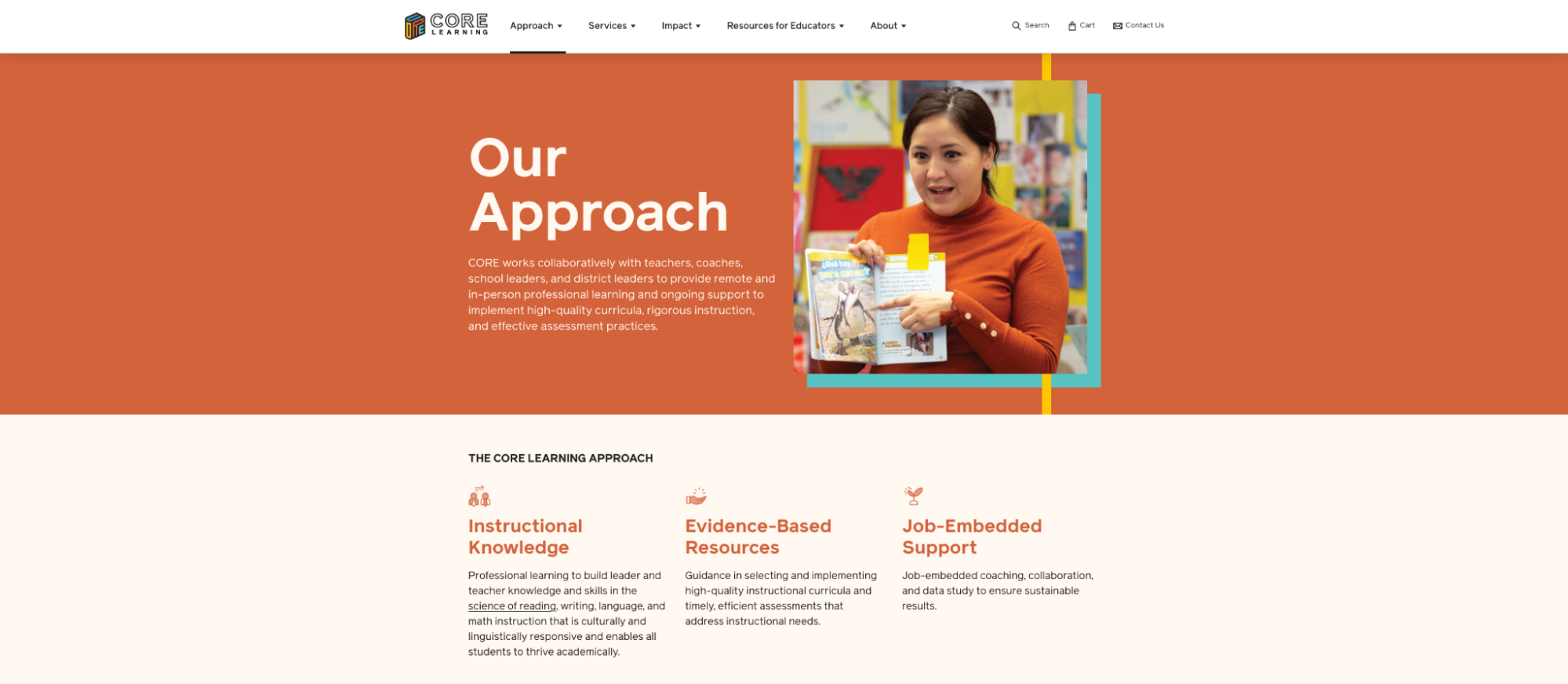 Our Work
Challenge #3: the importance of being flexible
As I mentioned earlier, CORE underwent two mergers during the rebranding process, which meant LH had to be flexible enough to adapt to its evolving needs.
For example, after the second merger was confirmed, CORE's President, Robert Sheffield, told us the website needed to be finished within two months instead of the four-month timeframe we had been working with. 
The news took us by surprise, but we kicked into top gear and successfully delivered to the new deadline.
The lesson I want to highlight here is the importance of being agile as an agency. Our ability to pivot helped CORE have enough of the website ready to soft launch it alongside the merger announcement. 
The Results
The results: A best-in-class website that educators love
In the end, all the hard work paid off. The final result was a best-in-class (if you'll excuse the pun) logo and visual identity and a fresh-looking website that visitors love. 
The website launched in Q4 of 2022, and by mid-January 2023, we could already see the results.
Page views were up by 207% compared to January 2022, page views per session increased by 122%, and the average session duration had soared to 191% compared to the previous year. 
Plus, bounce rates were down by 19%. 🎉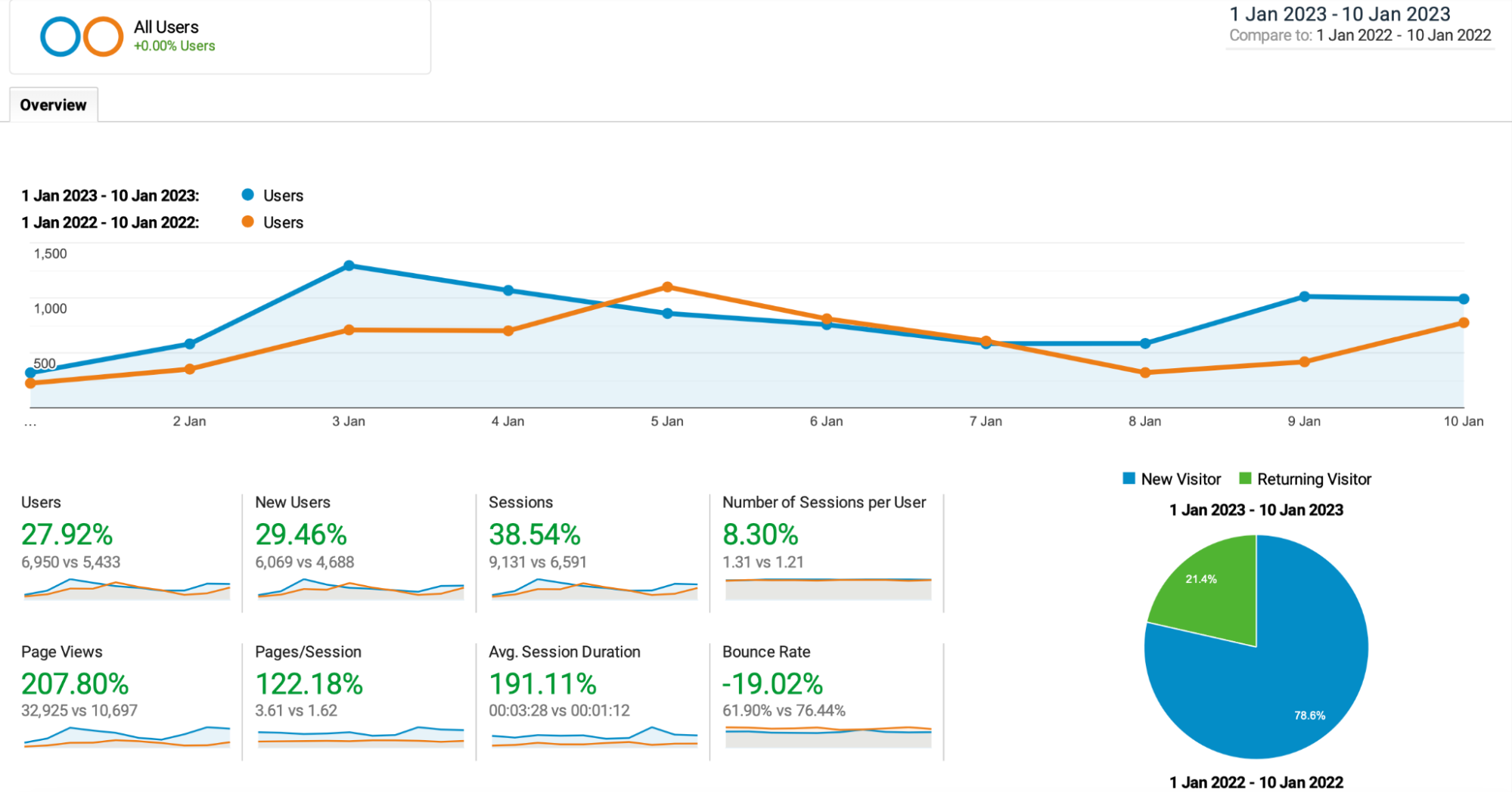 What Next?
What next for CORE Learning?
The new visual identity and website were only the beginning. As 2023 kicks off, CORE continues to rely on LH for all things content marketing. 
We're creating a whitepaper and other downloadable resources for educators and building a content strategy to drive traffic to the new-and-improved website. 
They're so happy with our work they even asked us to build the website for their sister company, Cal Curriculum. 
A large organization like CORE needs a flexible, dedicated partner that can adapt to its needs and provide 360° solutions to all things digital marketing — from design and copywriting to SEO, user journey testing, stakeholder interviews, competitor research, and more. 
And that's the LH added value — no matter how big the challenge, we'll always find a way to make it work. 
Does your edtech brand need a makeover?
Working with CORE has challenged us in all the right ways, helping us grow in our abilities as an agency and solidifying our position as a reliable marketing partner for edtech brands. 
The CORE rebrand was a vast and complex project, but LH pivoted, stayed within scope, and delivered to tight deadlines to create an attractive brand and website that reflect CORE's work and values. 
Like all of our best projects, the secret sauce to our success was the solid working relationship between CORE and LH that allowed for lots of collaboration and communication and enabled trust to bloom. 
Clay and his team took our input seriously and implemented our recommendations — which is what we love to see. Meanwhile, we proved to CORE that we're a dependable long-term partner that can adapt to its needs. 
If you're a leader in the edtech sector looking for support with your branding, website, or any other aspect of marketing, book a strategy call with me to learn more about how we can help you.